Ahluwalia's Sustainable Streetwear for the 21st Century
From patchwork tracksuits to multinational football jerseys, designer Priya Ahluwalia centers notions of memory and heritage using repurposed fabrics.
Photo by Laurence Ellis
When considering "What is a truly global fashion garment?," look no further than the track pant.
As Ayesha A. Siddiqi wrote last year, "A track pant is the single article of clothing as likely to be worn in a refugee camp in Calais, or by a south London DJ, an Asian grandfather on a walk, or a supermodel. Today's track pants are not a 'new trend,' they're a culture shift."
For her namesake label Ahluwalia, designer Priya Ahluwalia crafts perfect pairs of culture-shift track pants, constructed from deadstock fabric sourced from discarded garments. Take, for example, a pair from her latest collection: the patchworked nylon splices the classic Adidas three stripes, taking them from the side of the pant leg to the center, running diagonally down the curve of the leg, in turn lending an oddly human shape to what has become an ever-present visual symbol. With Ahluwalia's craftsmanship, the iconic stripes resemble swirled '60s textiles while recalling the ubiquity—and thus, diversity—of track-pant-wearers around the world. In addition to the '90s-inspired styles she recalls from her London upbringing, Ahluwalia cites as inspiration the waste-not mentality of her Indian-Nigerian heritage; she's also seen firsthand the staggering impact of secondhand fashion refuse during family trips to Panipat and Lagos. A graduate of the University of Westminster's first-ever MA Menswear cohort, the designer won the H&M Design Award in 2019; earlier this year, she was announced as a finalist for the 2020 LVMH Prize.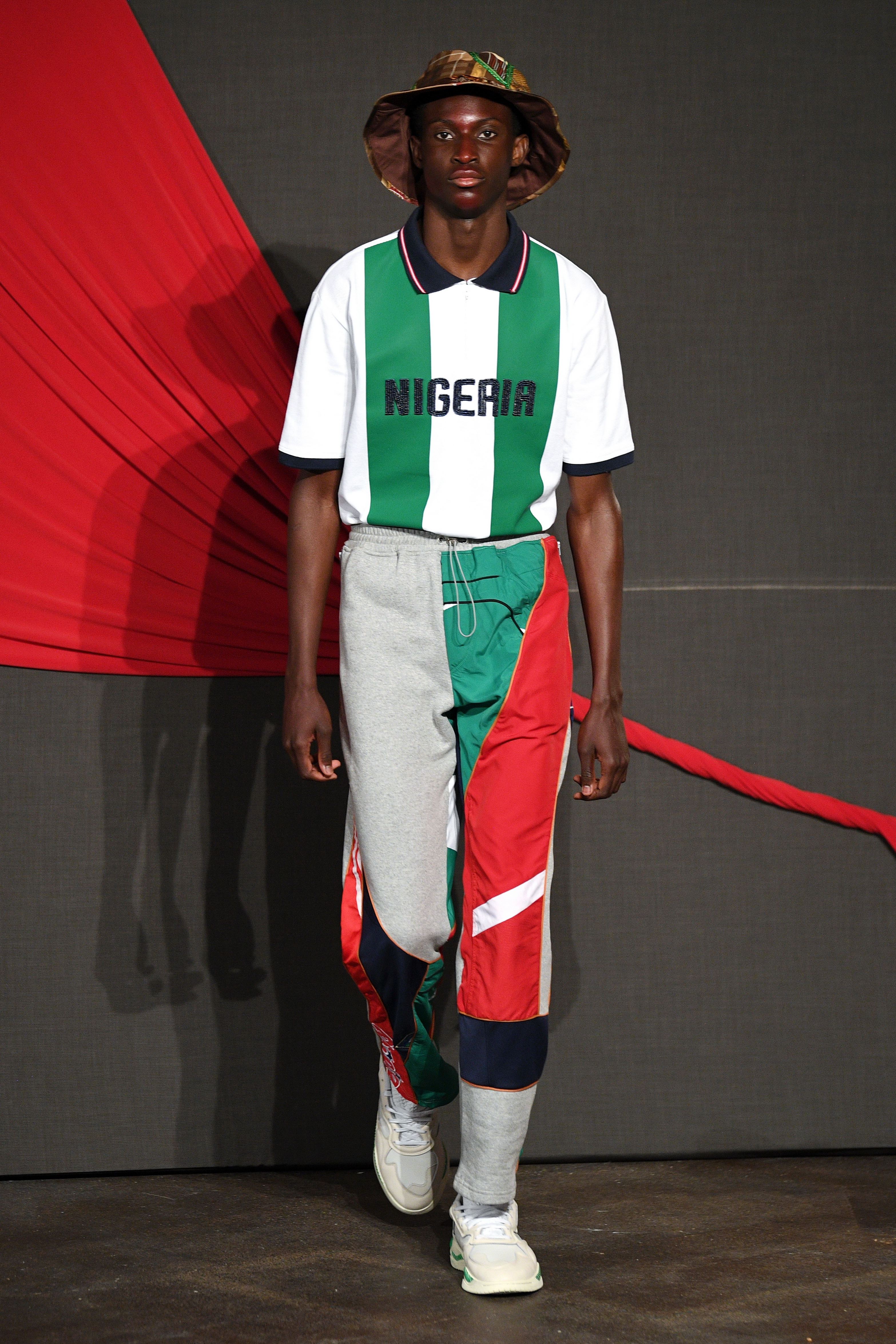 Her spring 2020 collection features reclaimed tweed blazers with silk scarf insets, patchwork denim suits, and logo-heavy football jerseys that rep the designer's multinational background. This past week, the designer wrote on Instagram that she's "been taking time to reflect on SS20, a collection that was deeply inspired by family and community. In these uncertain times of isolation it's more important than ever to check on your friends, family & peers (digitally please!)." This week, she plans to gear up her sewing machine to make uniforms for Britain's National Health Service.

Via email, Ahluwalia tells GARAGE about sustainability, what's inspiring her right now, and exploring memory through design.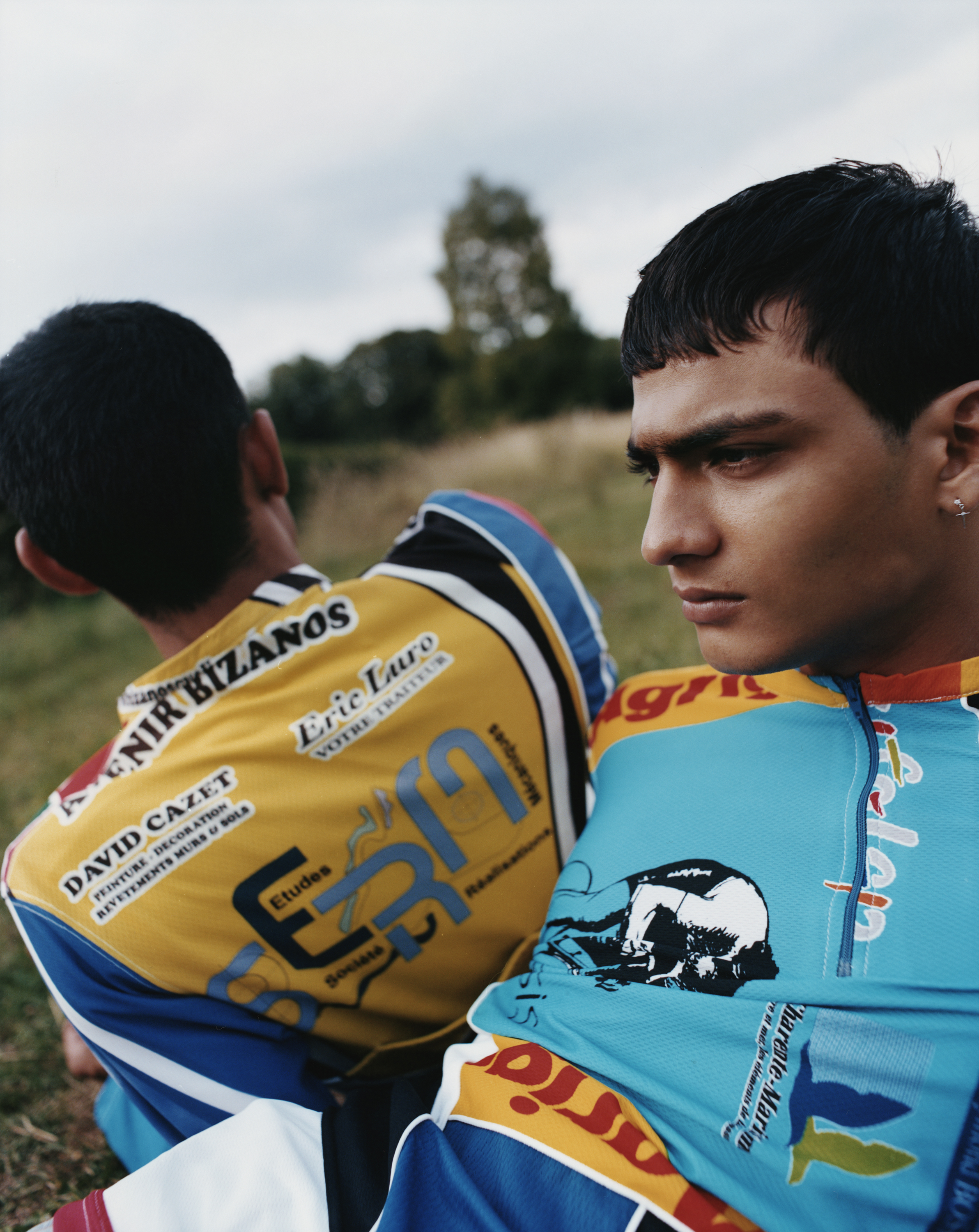 First off, how are you? What does life look like right now?
I'm ok, I'm feeling a bit bewildered. I am lucky that my studio is based at my home so I am working a bit but I have definitely slowed down. This virus has given me a reason to pause and reflect. I have been reading, trying to cook more, doing yoga and HIIT workouts that I host for my friends on Houseparty.
What inspires your designs, and what inspires you to make them sustainably?
I am always reading, watching documentaries, and visiting galleries, and I think a lot of my inspiration comes from a myriad of places. I often mix references in my work, rather than sticking to one strict narrative. On the whole, I am hugely inspired by my heritage and all the nuances around it. I am Indian and Nigerian and raised in London, I think it gives me a unique view on things. I have done so much research into the secondhand clothing industry, documented in my book Sweet Lassi, and it's been life changing, I really couldn't design without considering sustainability anymore.
There are just so many clothes that we discard that can be reused, so I try and reuse lots of them in my production. It means that when a garment is produced, each one is slightly unique and therefore it is one of a kind. For example, if you buy a grey patchwork jumper from me, the jumper will always be grey but what is actually in each patch will vary slightly.
In Sweet Lassi, you document how your visits to Lagos and Panipat had a big impact on how you see textile waste globally. How do those thoughts—on design, heritage, global fashion—manifest in your new collections?
Those thoughts on design, sustainability and heritage have manifested themselves as a part of my brand DNA. They are always going to be a part of the collections. For the AW20 show, I really researched the year 1965 across India, Nigeria and the UK, and the collection was a result of that. I included swirled motifs that were very present in that year and used sustainable fabrications such as recycled or repurposed materials. Everything from the music, casting and set was inspired by that year and the culture. My Matches capsule, which is launching on April 15, was a result of me looking through dozens of old photos of my family in India and their early years in the UK.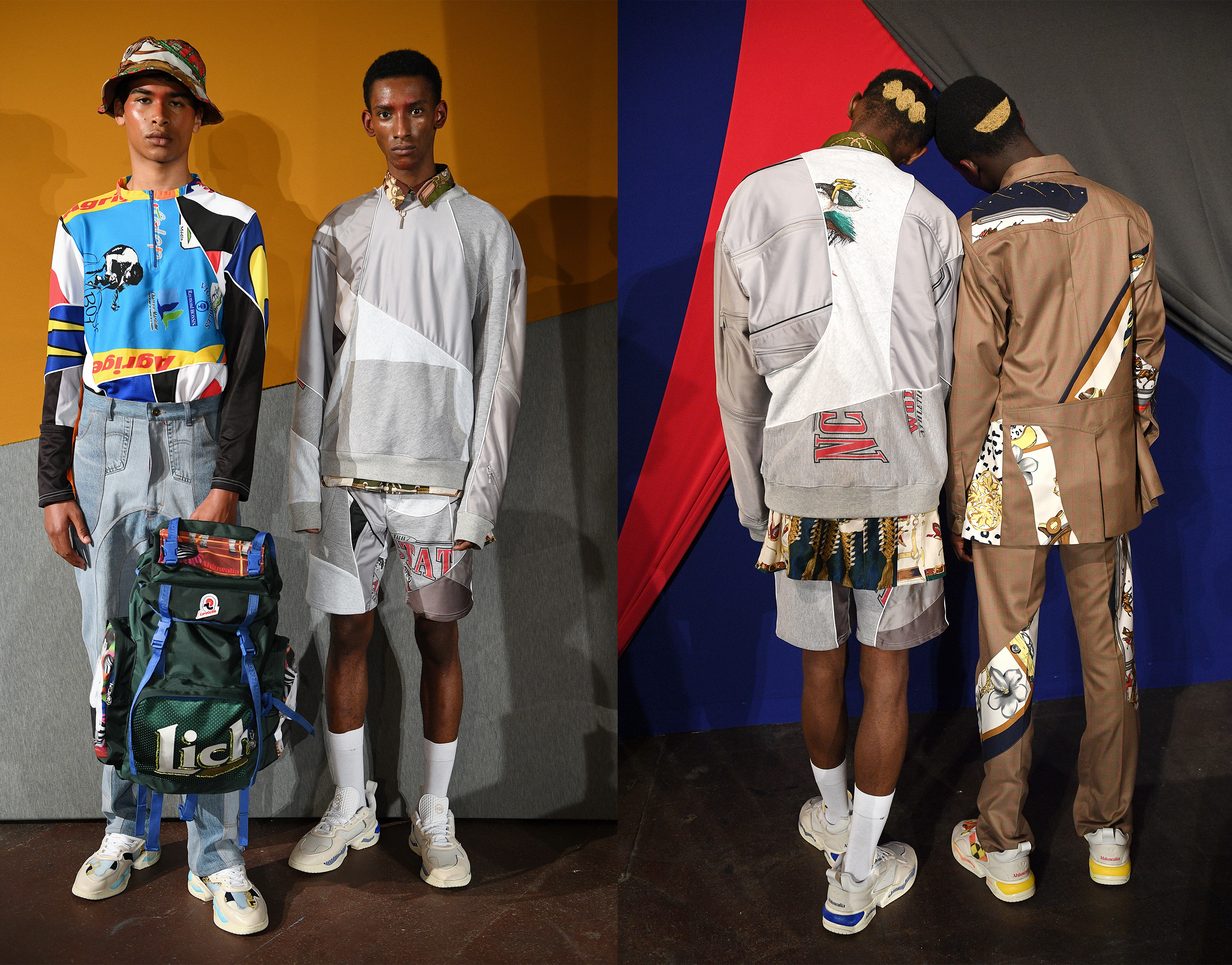 Old family photos are a key visual point in your work. How do you choose which photos factor into a collection? Why explore notions of memory through design?
A lot of the photos were taken by my grandmother, which I really love. I would say I choose the photos out of gut instinct a lot of the time. I think some of the photos are so funny or brilliantly stylish and I just feel like they need to be shared, I guess. I think memories are almost like stories, as each person's interpretation of a memory would be slightly different to each other. I really like the idea of storytelling and narratives so when I look at these old photos that were taken before I was born, I love to imagine what was happening during the time, what conversations were being had. It is like I am putting a spin on my family history. I have always been a big reader of novels, and I guess I just tell my stories through clothes and imagery rather than through words.
The way you piece together references, ideas, and cultural narratives feels very emblematic of how we process information in the 21st century. How do you choose what to put together? What are some of your favorite juxtapositions?
I definitely think that juxtaposing information is very prevalent in the 21st century because of the sheer access to information we have, and the huge amount of information we subliminally take in each day. I think it's inevitable that this comes across in our work. For me personally, when I research a subject, I look into it really deeply. So for example, with AW20, I looked into the year 1965 across India, Nigeria and the UK From there, I looked into the architecture, music, politics, art and general zeitgeist and began to pull references that spoke directly to me. Some examples are: the textile artist Barbara Brown, the increased use of psychedelics within science, the political tension between India and Pakistan, and the clay being used in some of the tribal architecture of Nigeria. I then pulled these references together. So although it seems quite random, it really isn't random to me at all.
How do you see the relationship between fashion and sustainability going into the future?
I think it will only get stronger as creators and consumers gain more knowledge on our impacts on the planet.
GARAGE is committed to ongoing coverage of the global climate crisis. Read all of our Anger Management zine here, and more of Vice's Earth Day coverage here.