GARAGE Wisdom: André Walker & Jimmy Paul
The designer and hair stylist discuss the importance of community, creativity, and going out to party with your friends. Photographed by Cruz Valdez.
Beginning in the 20th century, New York City has been the epicenter of cultural shifts that ricocheted throughout the world and changed our views of art, music, pop culture, and fashion, often thanks to the scores of young people who move here to find themselves, forming vibrant creative communities in the process. It is here that this story begins, in downtown Manhattan clubs in the 1980s, where the hairstylist Jimmy Paul, after making the pilgrimage to New York City fresh out of high school, met the designer André Walker, a Brooklyn native whose obsession with fashion magazines had beckoned him to the downtown party scene. Paul and Walker soon became part of an extended scene whose members partied together, but most importantly supported one another. In the decades since, the two have become cult figures in the industry: Paul is one of fashion's most versatile hairstylists, whose work has appeared on the covers of all major fashion magazines, as well as in countless ad campaigns, while Walker has designed for Marc Jacobs (both at his own label and at Louis Vuitton) and Kim Jones at Dior, in addition to heading up his namesake collection, which he has produced on and off since 1982. On a sunny day in September, GARAGE brought them together so that they could impart to us their wisdom on friendship, community, and the future of fashion.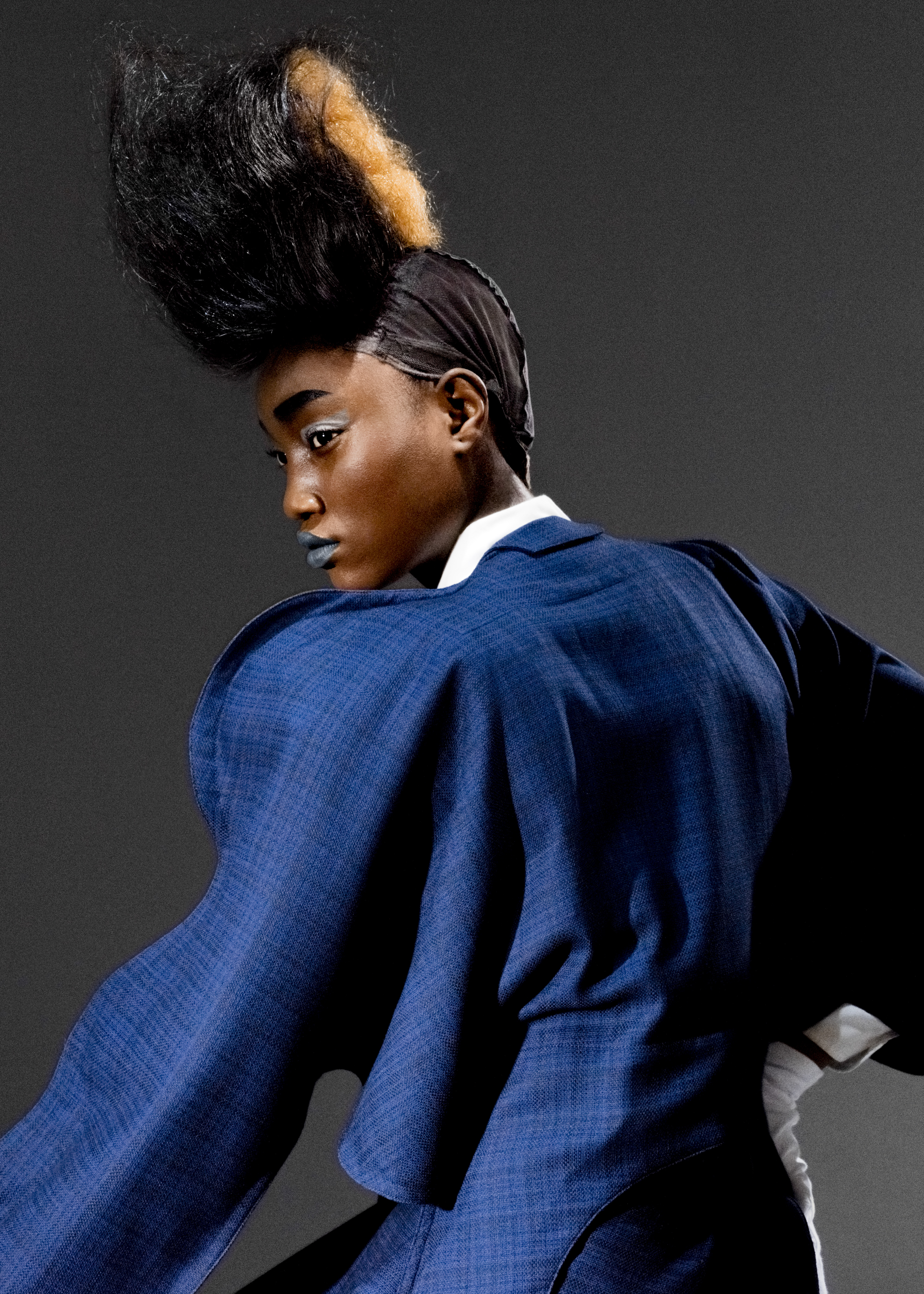 Jimmy Paul: I remember [when we met] really well. I [had] moved to New York in 1982 from a little town outside of Pittsburgh, and immediately I started to go out every night. And in the first few months I was here, I met André and his friend Robin Newland, and Richard Alvarez, and Pierre—we just met on the dance floor, and we just connected. They were high school kids, and I was just out [of high school], but you could already tell André was a leader. At some point somebody probably said, "Oh, that's André." They were really beautiful to me.
Move it up to 1984, and we were part of a circuit, part of an extended club scene. We all knew each other. I went to beauty school because I was part of the club scene. I loved fashion, but I didn't know what I was going to do. And then I met some hairdressers, like Danilo and Orlando [Pita], that were doing fashion stuff, and someone said, "You spend so much time on your hair and makeup, why don't you go to [beauty school]?" And I was like, "Oh no, like my mom?" I thought I was going to go beyond that, but well, maybe, okay, fine. I went to beauty school just to look at it, and they said, "You can start tomorrow." So then I was in beauty school, and I see Richard one day and [he] said, "Come work on André's show." André was 19 and had maybe done one little baby show or two before that, I don't know.
André Walker: This I'm so happy to hear. I have no idea what happened in those days. [Laughs] My first shows were [when I was] 17, 18. My first show took place in Brooklyn, at the Oasis nightclub. We were always doing fashion shows at the time. It was like, Herb's Dodo Birds of the fashion industry, Institution of Foolishness. I was the leader, of course.
JP: Lead dodo! [Laughs] So the casting process, the fitting, just to witness was incredible. There were new models that I'd seen in Vogue. I'd never seen anything like it. It was really incredible. Stéphane Sednaoui was a beautiful, young male model with long hair. He was in it.
AW: Yeah, Anouschka was in the show. It was crazy, that show. I don't know what happened. I was the one that was making all of the clothes as well. So there was obviously some kind of overactive hippocampus thing going on. I was maniacal about stuff.
JP: A lot of it was lost, and then you did a show that was called—
AW: "Nonexistent Patterns," we ended up calling it. So many people were telling me, "Oh, call it 'Redux,' go with 'Archive' or 'Restoration.'" We had about 80 working titles, [but] I didn't feel comfortable with any of them, because we were trying to explain the fact that the clothes were cut freehand on the floor just sporadically, without patterns. And it's like, how do you template that? How do you format that type of activity? We ended up with "Nonexistent Patterns," and that was just so beautiful and evocative, and just perfect for what it actually was.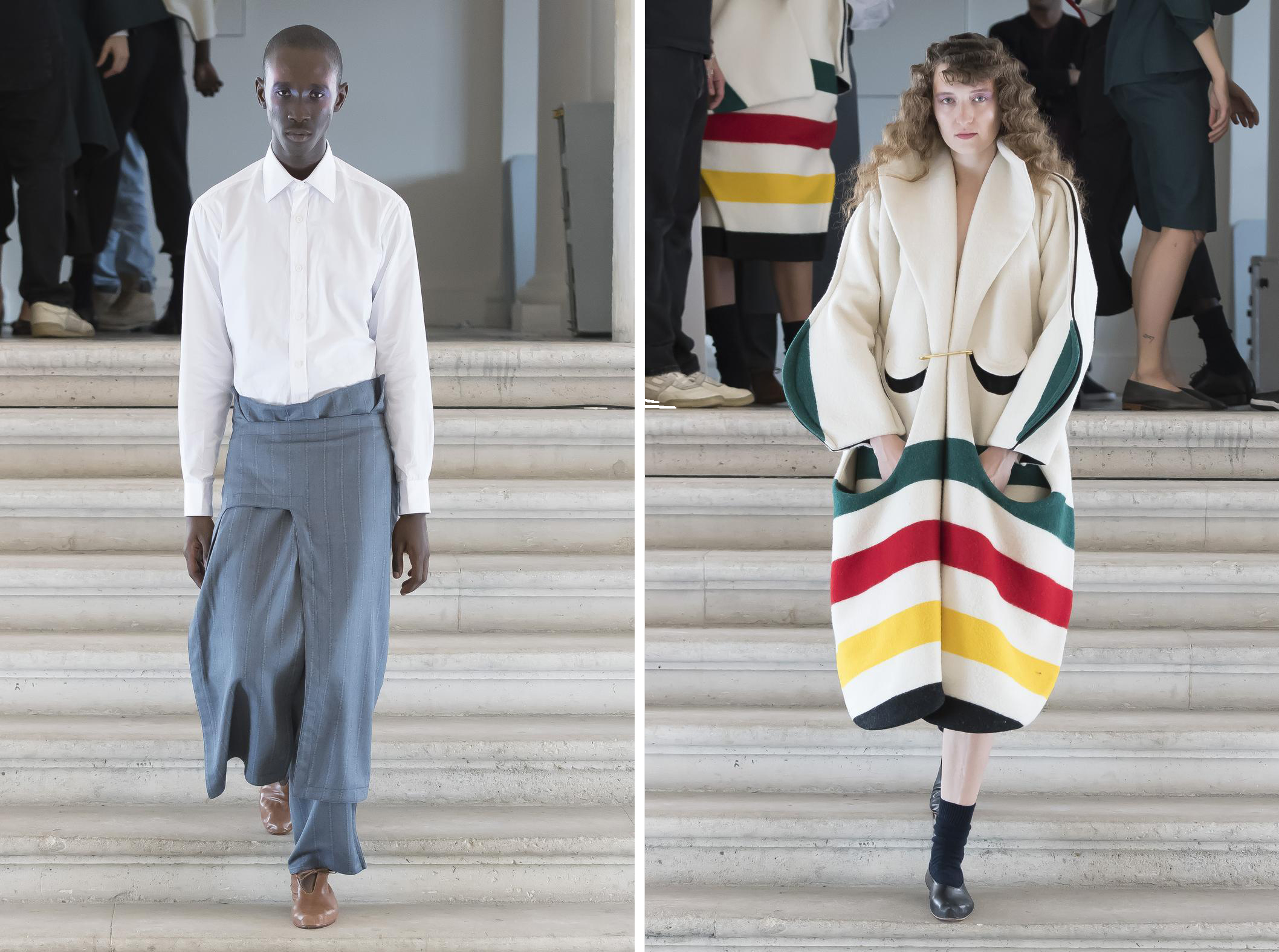 JP: The crazy thing is, I did the hair for that show. From 1984 to 2017, it came sort of full circle.
AW: After this "Nonexistent Patterns" thing we did at the Musée des Arts Décoratifs, invited by Pamela Golbin, we got massive amounts of press. So Kim Hastreiter from Paper sent me an email with this woman's name on it, Courtney Harmel. And I was like, "Well, okay, cool. I'll go and check her out." And Courtney was like, "I have videos from your shows you were doing when you were a teenager." And I was like, "Oh, my God, this is incredible." There's so much work that I did that I had absolutely no idea. I was just going on pure adrenaline and passion. And I was entirely mindless. I was at Brooklyn Tech. I didn't want to go to Tech, I wanted to go to fashion school, you know the story. Family, this, that. "You have to have good career training, blah, blah, blah."
But what my mom totally forgot was that she's the one that started buying W magazine, which I was reading and cutting out the little runway images [at] the age of seven years old, and putting them all over my room. I'd been fully indoctrinated by magazines. You open a magazine, and the magazine is in the format of a newspaper, right? It's glossy newsprint. In just two pages they would fit at least 200 images. They would have an incredible headline like, "Paris Is a Balloon," and it's three girls in tweed and bubble dresses by Kenzo. But this is 1976, so I was a kid. And by the time I was 11, 12, 13—forget about it. At 13, I was roller-skating to Manhattan in the summer from Brooklyn to go and look at magazines and buy Italian Vogue, Depeche Mode. What else? French Vogue, After Dark, Mode International.
JP: [Laughs] André happens to be an amazing athlete. I loved French Glamour, too.
AW: It was very good, but I never bought it because I wanted runway. I wanted to see looks. That's how I got involved in fashion, and I feel like I knew about everything. I was born in London, and my father's Jamaican, and we were going back to London every summer. So imagine, by the time I'm 13, I'm on a double-decker bus in London and I'm looking down and I'm seeing this guy with blue hair, and the girl that was with him had pink hair and a white face, and I was just like, "What?" And I had just seen the preview of it in W magazine, when they were doing a report on what was going on in London [with the New Romantics], because this is '77, '78. By the time I was 15, I was fully clubbing. I was going to Hurrah. I didn't make it to the Mudd Club. I am actually a nerd because I didn't go to the Mudd Club.
JP: I was too late for the Mudd Club, too. I think we met at Berlin, the after-hours place.
AW: Berlin was amazing, with those stairs all the way… Oh, good times.
JP: I remember seeing Leslie Winer and Jean-Michel Basquiat. I would see people like that. New York is major. It still is, but the history is incredible. You had to be out at 5:00 [in the morning], or you could miss it. You had to be out. It wasn't like you could see it in the day.
AW: It was really a club scene. You have to remember this was post-Summer of Love.
JP: Very post that. The beginning of Reagan, right? Beginning of AIDS, beginning of crack, beginning of… So, it was palpable. It was scary. New York was dangerous.
AW: Yeah, but that's the whole joke. I mean, New York was dangerous, but as a 20-year-old, you just don't sense that kind of danger.
JP: It was fun.
AW: [As a] 15-year-old, even less. You're just going, "Let's go."
JP: Fearless.
AW: Yeah, that was a joke as well. A lot of people, they immediately wanted to tag us as "from the street," but we're not from the street at all. We're just Caribbean or Haitian, or African American, or Dominican Canadian. That was our crew. Richard Alvarez, Rhonda Lewis, André Walker. Then there was Robert Lewis, this beautiful Nordic blond. He did all the hats for our first show at Roxy. He was a part of Concern.
JP: And tell me what Concern is, because I would witness this thing and think it was the best thing. But I never knew what it was, so—
AW: Yeah, it was called Concern Fashion Group.
JP: It was like a gang, and you all dressed a certain way. I still think of it as an influence on my sensibility, for sure. Who else was part of it?
AW: Rhonda Lewis, André Walker, Pierre, and Robert Lewis. Leslie Macayza was always there, but she was more of a muse than a model.
JP: [It's sort of like the team on this shoot.] They live together. They work together.
AW: Which is what's so cool. I mean, I see them and I just delight, because that's what community is all about. I feel like we still enjoy that type of community today, even now. When I think of the young people and what's actually happening with the Black Lives Matter, and all these different political or personal twists, implementing themselves within that movement based on Black Lives Matter, I think [of] when I was 17 and saying, "Oh, bondage, up yours." It literally was a slogan. It wasn't because I knew about domination between the Tories and the Labour, and that Margaret Thatcher was supposedly some kind of ideological threat, you know what I mean? It was the aesthetic. The reason you want big red lipstick on a white-skinned face is because you'd seen it on your mom, and then you'd got a confirmation that it was important in the fashion magazine with the New Romantics. And so you're just constantly reacting to these impulses that are coming from everywhere. You might see a statue, a cameo, or an old painting or anything, and you're like, "Oh, wait, yeah. This is art. Everything is art."
JP: People need art more than ever. And I think that fashion, in my opinion, serves a similar purpose of bringing joy and freedom of expression. You're showing your politics and your tribe and your associations. So I think fashion has a very important place right now. Fashion, at its best, is a community thing. It's a vortex that you enter. I felt like I entered a vortex just whenever André and that crew—we were dancing together. I didn't know it would be there for the rest of my life. That I would go back to it. Who would know, right? It's a gift.
AW: I'm really interested in preserving the ability, freedom of speech, for all sides. I just hope that we don't become cookie-cutter in our approach to recognizing talent, and I hope that violence and segregation do not take over our creative realms, because if the sense of discovery is only limited to tribe members, then what good would fashion have been anyway? I mean, what good would fashion have been if I didn't fall in love with Birkenstocks, and show them with my collection when I was 17 years old? There would be no shock. If it was just the pump that was really important—[that was] the status quo of the time—how could I change what I was seeing? How could anyone develop anything? As far as all this cultural appropriation and policing, I think scrap it all. I was furious when kids were getting outraged by the Comme des Garçons braided men's wigs by Julien d'Ys, because I was like, You know what, guys? If he can't do those braids, there's an enormous conversation that has to be had about everything else that's going on in 15 different communities around here right now.
I honestly believe that if anyone is forced to actually think, or to say, or to do, or to act in a specific way, then there's no learning that's possible. I'm guided in a sense by the ones who made the stars. That's my belief system. I don't believe that the world started from nothing. I think that's actually impossible. And I think that we're living proof of that impossibility. And the fact that you can go back to your parents' parents' parents' parents' parents, and every generation… We didn't actually start this.
Stylist MARCUS CUFFIE, Hair Stylist JIMMY PAUL at Susan Price, Makeup Artist DAN DURAN at Frank Reps, Model ENIOLA ABIORO at Next Models, Photographer's Assistant NICO NEGRON, Digital Tech DARA ALLEN, Stylist Assistant DARA PETERKIN, Hair Assistant FELICIA BURROWS, Production by JOHN HAYWOOD and RYKER ALLEN at Mini Title