Photo by Rebekah Campbell, Courtesy of Corey Olsen
The Gothic Romanticism of Lou Dallas
Raffaella Hanley, the mastermind behind Lou Dallas, chats with GARAGE about her latest collection.
Photo by Rebekah Campbell, Courtesy of Corey Olsen
During what she refers to as "high-COVID," Raffaella Hanley, the designer behind Lou Dallas by Raffaella, went on a lot of walks across the Manhattan Bridge. Hanley, a New York native, liked spending her free time on these treks where she found solace starring up at the structural beams, the orange mesh ensconcing the scaffolding, and the cheesy graffiti. Hanley's been making clothing as Lou Dallas since 2013. She studied painting in college at the Rhode Island School of Design, and with the exception of a brief stint at Parsons, is self-taught as a designer. In the past few seasons, she's honed in a more specific aesthetic, one that is decadent and romantic, but also punk in its ethos. The heart of Hanley's practice as a designer is sustainability, and she often works with upcycled and salvaged clothing as her raw materials, giving everything she makes a little bit of a purposefully unvarnished, DIY edge.
When Hanley began her quarantine walks across the bridge, she didn't have plans yet to start a new collection, although at some point in a bit of a fugue, she decided to purchase a ton of safety pins on eBay, and began working on a zine. The zine, which comes in the mail with the purchase of one of the label's signature Think Otherwise hoodies, features collages centered around climate destruction, peppered with slogans throughout like "No Action, No Change" and "A Future Without Fossil Fuel is a Future," alongside pictures of models wearing the hoodies, as well as images from older collections like a dress from her Fall 2020 presentation, which was inspired by an iconic rococo painting by Jean-Honoré Fragonard. Discussing the climate crisis is essential to Hanley's work. "I've been thinking a lot about how we are all not mobilizing on this topic. Nothing's going to change," Hanley explains over the phone. "And I've personally been just feeling, not frustrated, but just thinking, 'Okay, how can we make people aware?'" Her zine was an extension of that anti-capitalist, explicitly political work. It also inspired her to get started on envisioning a new collection.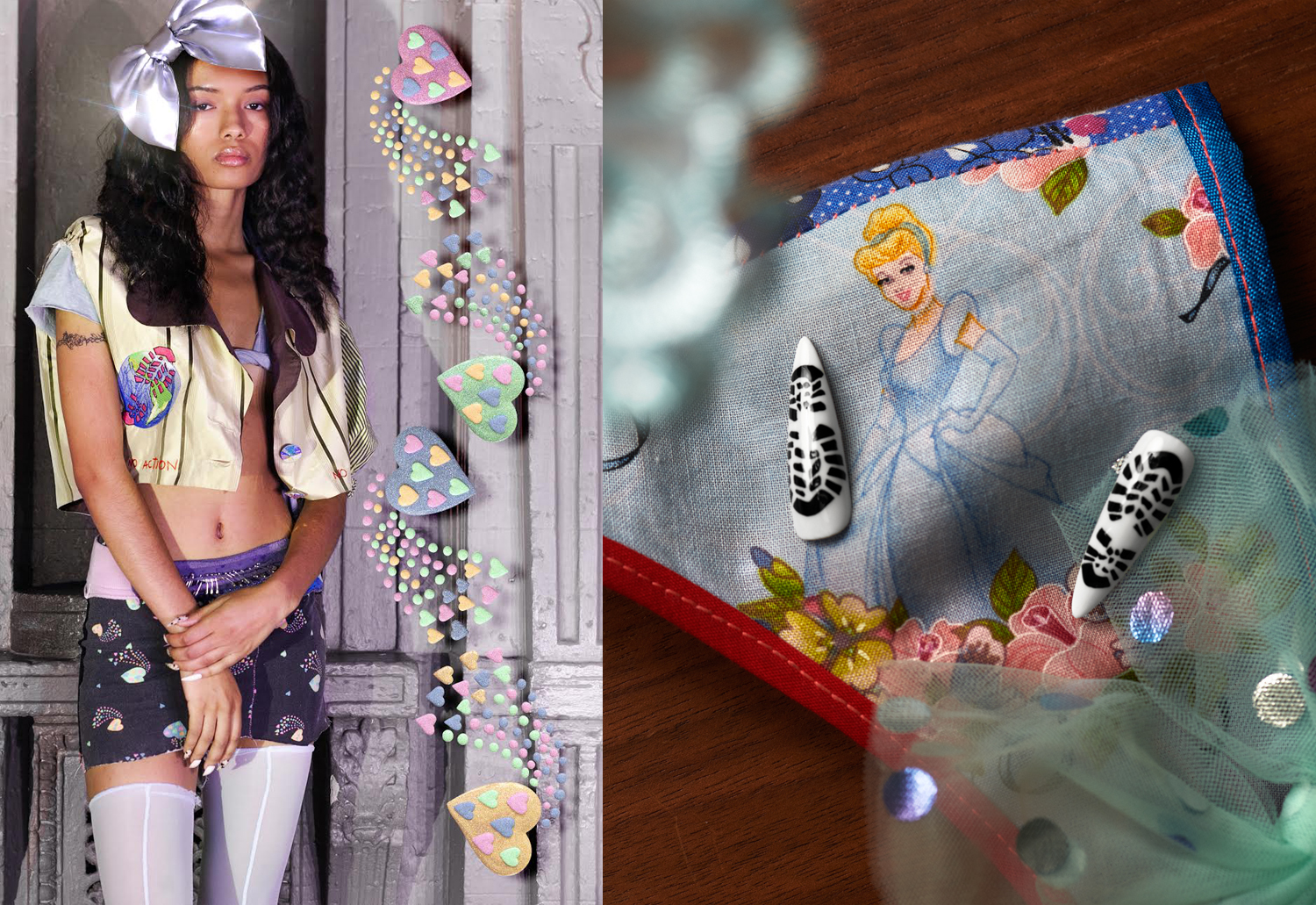 Hanley's zine was the first creative project she had completed in months. For the first part of quarantine, she found it hard to commit to making art, and instead found herself making many, many masks. "I was really excited about the eight-page zine I had made because it was probably the first thing I had done outside of making just hundreds of masks, which I don't even know how I got drawn into that rabbit hole, but it was a rabbit hole," says Hanley. Once she finished the zine, she envisioned a future wherein she'd have a zine release party, and started to get excited about designing new clothing again. Shortly after, a friend reached out to her about doing an artist residency at the Freehand Hotel. She was told that she could have as much space as she needed to shoot a new collection. She got right to work. "It was just really backwards how everything happened," says Hanley.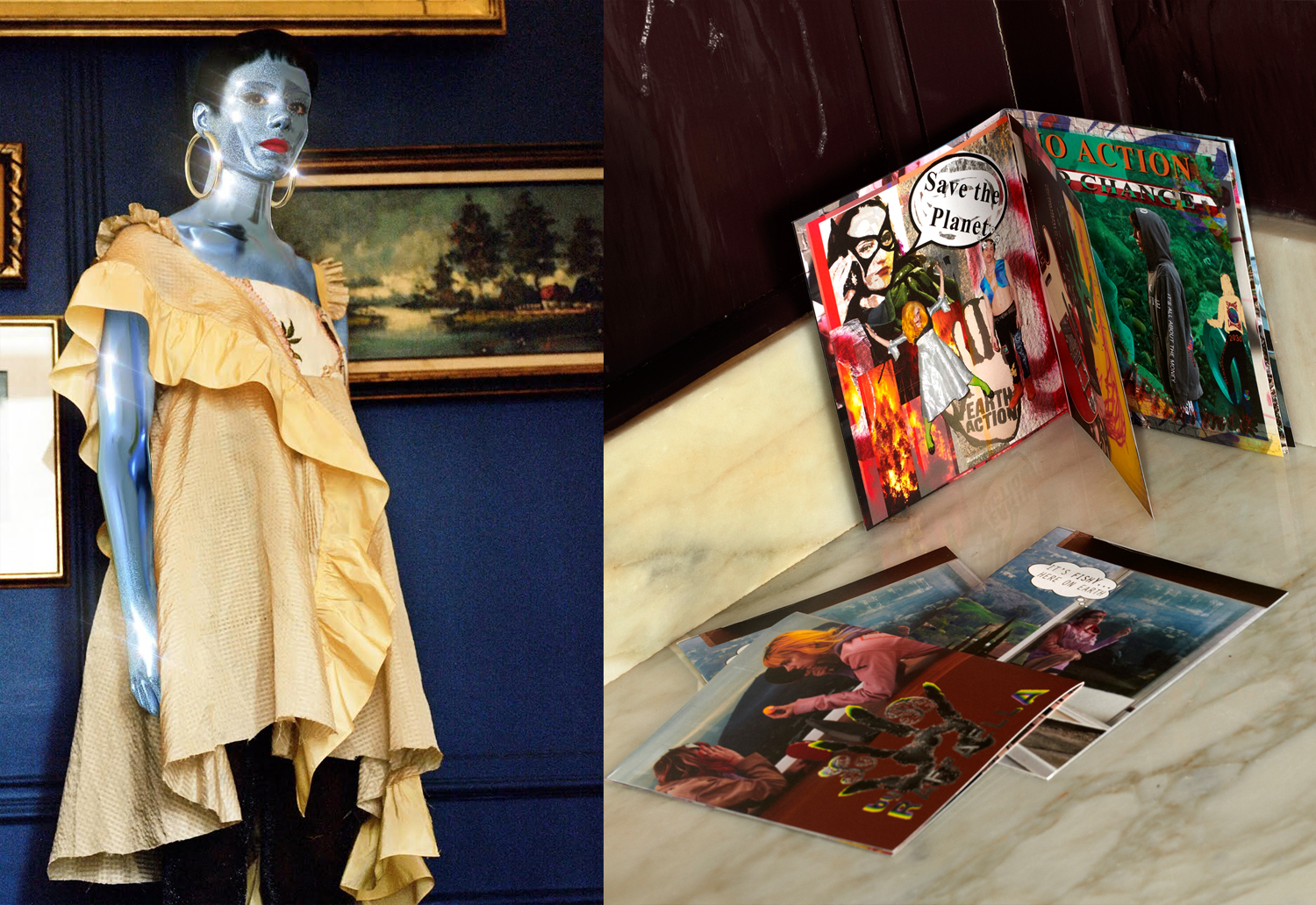 Shot by the photographer Rebekah Campbell, Hanley's latest collection feels like something you'd wear if you were standing in the moors of England in the 19th century and also happened to listen to punk rock. Like past iterations of Lou Dallas, much of her Spring 2021 collection is upcycled and uses vintage T-shirts as source material. There's a purple dress with delicate, practically confectionary little ruffles that appears to be made out of both a tie-dyed and striped shirt. There's also a two piece that features a little cropped bowling shirt with the same imagery from the zine on the left breast, and subtle embroidery and mismatched sleeves. Paired with some safety pin adorned bicycle shorts and some deeply baroque pearl-colored knee high socks, the look gives off the vibe of a cake or something you'd wear on the back of a motorcycle.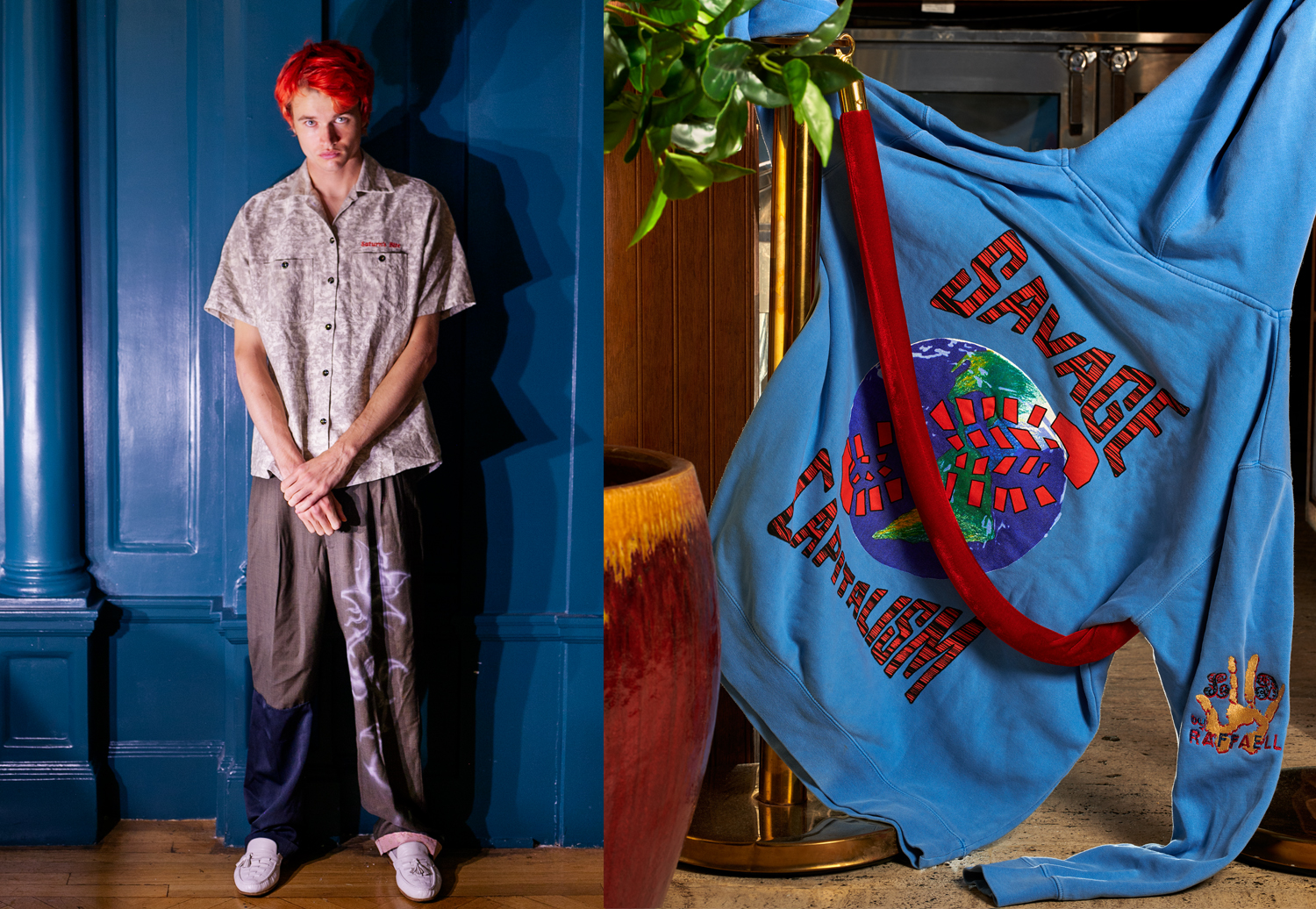 The collection also involved a little collaboration with some of Hanley's friends. The musician Leah Hennessey, whom Hanley connected with via DMs during quarantine, helped soundtrack little teaser videos. Meanwhile, the tattoo artist Will Sheldon, whom Hanley has worked with in the past, lent his airbrushing skills to some of the clothes. For Hanley, getting to collaborate with friends again felt exciting and creatively reinvigorating, something you can perceive just by looking at them. In fact, they may be some of her best work yet.
Tagged: