Salacia, 2019. Directed by Tourmaline. The Museum of Modern Art, New York.
Tourmaline Believes in the Power of this Moment
The filmmaker's 2019 film, "Salacia," was recently acquired by the Museum of Modern Art.
Salacia, 2019. Directed by Tourmaline. The Museum of Modern Art, New York.
"This moment feels alive with possibility and I am trying to focus that," the artist and filmmaker Tourmaline tells GARAGE. It is the morning after the (virtual) premiere of her film Salacia at New York's Museum of Modern Art, which they have recently acquired for its permanent collection. Salacia stars Rowin Amone as Mary Jones, a Black trans woman who lived in New York in the 1830s (in what is present day SoHo, next to the Louis Vuitton store on Greene Street, to be exact), was outed in the community with flyers pasted across town that called her a "man-monster," was eventually arrested for allegedly stealing a man's wallet, and sent to Sing Sing. In the middle of this dramatic retelling, is a scene of the activist Sylvia Rivera talking to some friends at the piers on Manhattan's west side, which are now the site of luxury condos, but were once home to queer and trans people with nowhere else to go. A place for cruising, for working, for surviving. Rivera says, "Every time you look at that damn river and meditate on the river you got to keep fighting, girly, 'cause it's not time for you to cross the River Jordan." She means the Hudson River. The film is a visual collage about history and its erasures, about displacement and community, about self-determination and representation, and the magic of believing in possibility. It's a film about hope.
These are dark times for sure, but there is no doubt that Tourmaline—whose previous films include Happy Birthday, Marsha!, about the life of Marsha P. Johnson, Atlantic is a Sea of Bones, and The Personal Things—is hopeful. "I think it took me some time to get here, because what I started thinking about is the bigger the problem, the bigger the solution," she explains. "If we have a really huge, huge problem, then the solution for it is going to have to be huge. That is just on the other side of the wave, and that is what I feel like we are making right now through our actions and through our reframing of structures and systems that were never [meant] for us to be alive in the first place. Through the dismantling of those, and imagining what we want and sourcing more of what has already existed that has been keeping people alive." Salacia is part of that work that nourishes, and keeps us alive. GARAGE spoke with Tourmaline about the current moment and the power of community.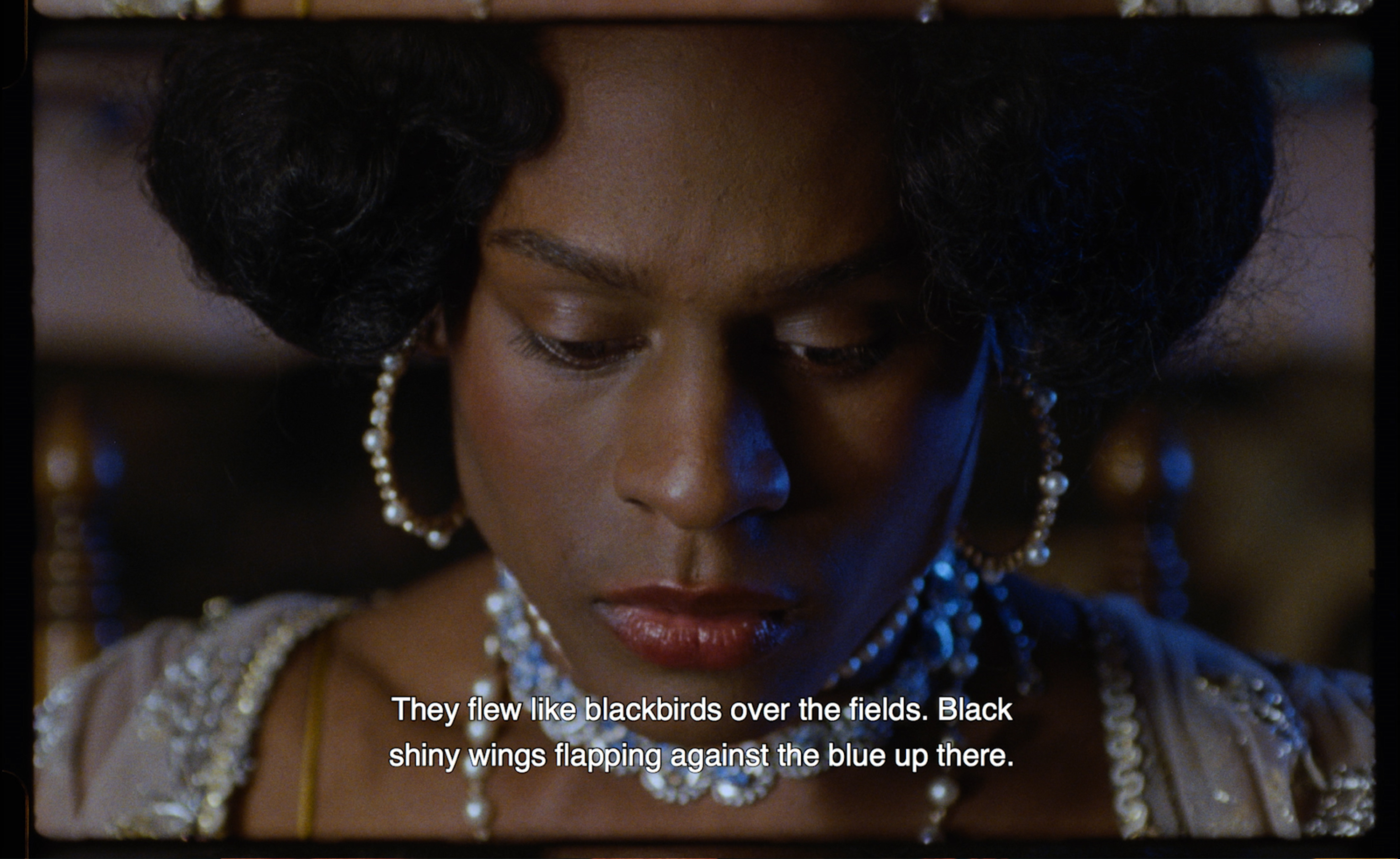 This interview has been edited for clarity.
How are you feeling right now?
Well, I feel really good to be talking to you. Before I was making films and art, I was an organizer for 15 years around the issues of prisons and police with queer, trans, and gender nonconforming communities. My filmmaking comes out of that work. I see so many people kind of urgently arising a beautiful awareness around the preciousness of Black lives.
There was a huge protest a couple of weeks ago at the Brooklyn Museum, [and] I can really feel the power of all of us coming together in this moment, and the possibility that that allows for. I can feel how we can never go back to a world where that didn't happen. There is no going back to a world where 15,000 people didn't come [together] and loudly proclaim "Black trans lives matter." It feels really healing that people are using their bodies, and their gifts, and their voices and their resources to come together in [this] mess of a thing and offer care for each other. Find joy with each other. Dream up the world we want with each other. Move towards the direction of that with each other. And that just feels... I'm like, "Wow, I chose the best time to be alive."
As someone who organized for so long around these exact problems, it just feels so meaningful. I remember in 2007, so that was 13 years ago, a group of us who were part of Critical Resistance, which is a national organization to abolish the prison industrial complex, we came together and we made a large convening around abolition. Angela Davis was one of the organizers, I was one of the organizers, Miss Major put a lot of work into it, she was part of the Stonewall uprising. I just remember talking about these things a lot, and the reaction that we'd get when we would talk about abolition, you know, like "Uh, nuh-uh," and now it's like in The New York Times, and people are really talking about it. People are like, "You can't reform a thing that never was here for us in the first place, we need to abolish it, we need a resource." I'm just like, wow, that is... that feels amazing.
Where did the idea for Salacia come from?
During my filming and research for Happy Birthday, Marsha!—I researched for a very long time, and I started learning about Mary Jones. My sibling found her courtroom transcript in the New York City municipal court archives. It was her interviews, her court deposition after she was arrested for stealing someone's wallet. And there was this real profound, firsthand account—I felt so lucky to be able to read her actual responses and words from the 1830s. Then you know, it's in the genre of Black folklore, like The People Could Fly, which is one of the earliest books I ever read in my life. And it's about remembering that we have magic, we have access to the immaterial, the spiritual realm. And so I knew that this was a story that I really wanted to tell.
Did you know right away that you wanted to include the Sylvia Rivera interlude or did that come after when you were putting the film together?
I think I knew it, but I really felt it in the edit. It just felt very right.
You have a background in organizing—did you study filmmaking? How did you come into filmmaking?
Yeah, so I never studied filmmaking. I didn't go to school. I didn't take any classes. I studied on set, you know, and I studied through my internships. So two people who had a particular profound effect on me were Arthur Jafa, who is a cinematographer and a director and filmmaker. He was the cinematographer for Daughters of the Dust, and Happy Birthday, Marsha! The first time I was ever really on set was Happy Birthday Marsha! and I was directing, you know? And then the second person is Dee Rees, who directed Mudbound. I was Dee's director assistant, and Dee is also a person who had a really profound effect on my filmmaking practice, and I just really learned a lot from that experience.
And before I started making narrative films, I was part of this group called The Welfare Warriors. And we were a group of previously or currently low income, LGBTQ, nonbinary, gender nonconforming people. And we made a film together called Taking Freedom Home, directed by Kagendo Murungi, who is a friend of mine who was part of the Welfare Warriors. So Kagendo took the lead, but we all were like the DPs. We all filmed it, you know? And so that was the first kind of film experience that I had, we made a documentary together and it was released 10 years ago, like to the day almost, because it was released for pride. It was pride weekend, and that was what really turned on the light. 'Cause I always knew that I wanted to be doing this, but the thing with film is that at least for me, so often we don't know that we can, it seems like quite the inaccessible realm because of structural gatekeeping. And so I really held on preciously to the few moments where people were like, "No, you can do this, here's how." And so, that was my education around film. Filmmaking is really a collective processing, so I am honored to have worked with a really incredible team of people.
Was there a movie that you watched when you were younger that made you fall in love with film?
Absolutely. I grew up in the eighties and I remember going to the movie theater with my dad and seeing Spike Lee's Malcolm X in 1993, I was in third grade and that had a real impact on me. I remember reading The People Could Fly and [that] kind of that speculative folklore that is Black, our Black history, and that had a profound effect on me. I remember being really confused and really intrigued by The Wizard of Oz growing from black and white to Technicolor. Like moving through a portal, you know? And so that had a profound effect on me. [They] all kind of pointed to the power and possibility of art making and the power of our aesthetics.
Tagged: