On Baby Goats and the #SoothingContent Economy
When we need our spiritual timelines cleansed, can the aesthetic livestock of Instagram save us?
How exactly does one cleanse the timeline?
Conversely, why do we seek momentary calm in images or videos we see in our social media feeds? Can we actually find a brief, floating pause in the endless abyss of terrible things… through content?
The internet being what it is (see: aforementioned abyss), there has always been a demand for—and thus, a supply of—feel-good media online. The world being what it is, we have never craved #soothingcontent more. The options for this on the internet are many: countless niche ASMR feeds (have you ever witnessed the destruction of floral foam?), YouTube videos and streaming sites that play rain sounds and crackling fireplaces on repeat, and visually pleasing "moodboard" feeds that populate Instagram. The ones that aim to create a certain "vibe" or provide "inspiration" unified by thematic elements or a color scheme, a compilation of pleasant images of things that are decidedly not online, like verdant far-away landscapes, textural tablescapes and clothing, baby animals and other seemingly innocent relics of nature.
And, if you find yourself in certain aesthetically minded sections (and/or designated customer demographics) of the app, you may notice your feed full of baby goats. And sheep. And alpacas. Just vibing.
While the internet and cute animals have long gone hand in hand (hand in hoof? I take it back), these shaggy, woolen creatures have found a stronghold in the online #soothingcontent economy. In particular, you can find them on these Instagram moodboard accounts with somewhat specific aesthetic parameters—soft, feminine, coy—championed by accounts like @mignonettetakesphotos, @stylemefresh, or the aptly named @simplicityarchives. Here, livestock of the woolen, bumbling variety have seemingly surpassed kittens and puppies as the digital emotional support animal du jour. These moodboard accounts often serve as inspo fodder for the social media accounts of millennial-minded brands, spreading the gospel of baby goats and their anthropomorphic #moods to an even wider audience, or more specifically, the brand's target audience. (A well-curated feed acts as an extension of the marketing tactic of, say, defining a fashion brand's "girl," or ideal customer.)
Ascribe a gentle #mood caption ("Hang in there!") to a visual of a baby animal (think: llamas roaming in a field, baby sheep cuddled side-by-side, a video of a tiny goat wearing a red cable-knit turtleneck while gnawing on a table), send it out onto our feeds as we're all losing our minds, and suddenly, we feel seen. We feel soothed.
Firstly, where does all of this goat, sheep, llama, and alpaca content come from? In many cases, the farm does, indeed, exist, and these images are sourced from actual animal farms that happen to maintain lively social media presences. Accounts like @itsagoatlife and @shamarra_alpacas provide heartwarming dispatches from bucolic places like New Zealand or northern England, which sometimes then gets recirculated on designated niche accounts like @alpacasofinstagram. They're pretty ideal internet animals; as Nicole Gallucci wrote about alpacas on social media last year, they are "cute — but not too cute — and bursting with personality, which comes across perfectly in photographs and videos. They're experts at sporting goofy grins and shooting skeptical stares, and often give off major IDGAF vibes that speak to me on a deeply personal level after scrolling through pages and pages of monotonous selfies and brunch shots."
The animal content also ends up on the aforementioned inspiration feeds. As undeniable descendants of the #aesthetic Tumblr blogs of yore, these accounts feel derivative of an earlier internet era, emblematic of the "soft aesthetic" of the 2010s web. Images of pink sunsets, gauzy green fields, and shimmery eyelids, their pixels deteriorated from being shared so many times, taking on their own sort of cinematic, low-res chic haze. (An online "aesthetic" is not necessarily a complicated thing to behold, though it is difficult to describe.) The soft aesthetic has even made a resurgence on—where else?—TikTok, as its young users partake in the "#softgirlchallenege," a normie, feminine visual counterpart to the darker, more emo vibe of the e-girl, as reported on by CNN.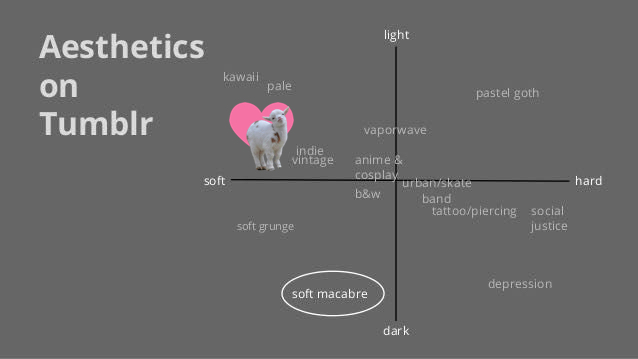 The soft aesthetic is all about seeming happy—even if you are, naturally, also a little sad. Its pink hue is, of course, not so distant from millennial pink, a pillar of the "millennial aesthetic" Molly Fischer wrote about earlier this year: "The millennial palette is the opposite of glare; onscreen or off, it's color softly veiled." Woolen creatures on rolling hillsides? Deeply pleasant, not a phone in sight.
So, can llamas save us from the coronavirus… in more ways than one? We are seeking and fielding positive, soothing content online at a fever-pitch rate, and we're finding it by way of the digital idyllic. We want cute farm animals that are able to, preternaturally, convey human emotions, moods, and vibes, to remind ourselves of the analog world… or, perhaps, so that we can reassure ourselves of its existence. We want the feeling of being one with nature (why else would there anything like the #cottagecore trend during the pandemic?). We want to live the simple life, but only online. But maybe that's because we have no other choice.
Tagged: