Junya Ishigami's Serpentine Pavilion. Courtesy of Iwan Baan.
A Slate Canopy For a Summer Pavilion In a London Park
The latest addition to the Serpentine Gallery in London's Kensington Gardens.
Junya Ishigami's Serpentine Pavilion. Courtesy of Iwan Baan.
Every summer for the past 20 years, an architect has been commissioned by the adventurous Serpentine Gallery in London's Kensington Gardens to design a temporary pavilion. It has become an eagerly anticipated event: a dash of daring in an idyllic landscape. For this year's entry, Junya Ishigami, an enfant terrible from Japan who looks more like the leader of a punk band than an architect, created a simple arched canopy.
The form is elemental: a triangle of rough slate shards supported on slender steel poles seems to grow from the earth and levitate weightlessly. It evokes roofs and natural rocks, and its jagged forms play off the lush vegetation of the park. From afar, its graceful curves complement the prim neo-Georgian architecture of the Serpentine, and the openings on each side draw visitors in—for a lecture, a discussion, or merely shelter from a sudden shower. Close-up, the contrast between mass and lightness is provocative; you wonder how such a heavy load of slates, invisibly joined, can be supported so effortlessly. All the best buildings engage the user, but this goes further than most in its tactility and grace.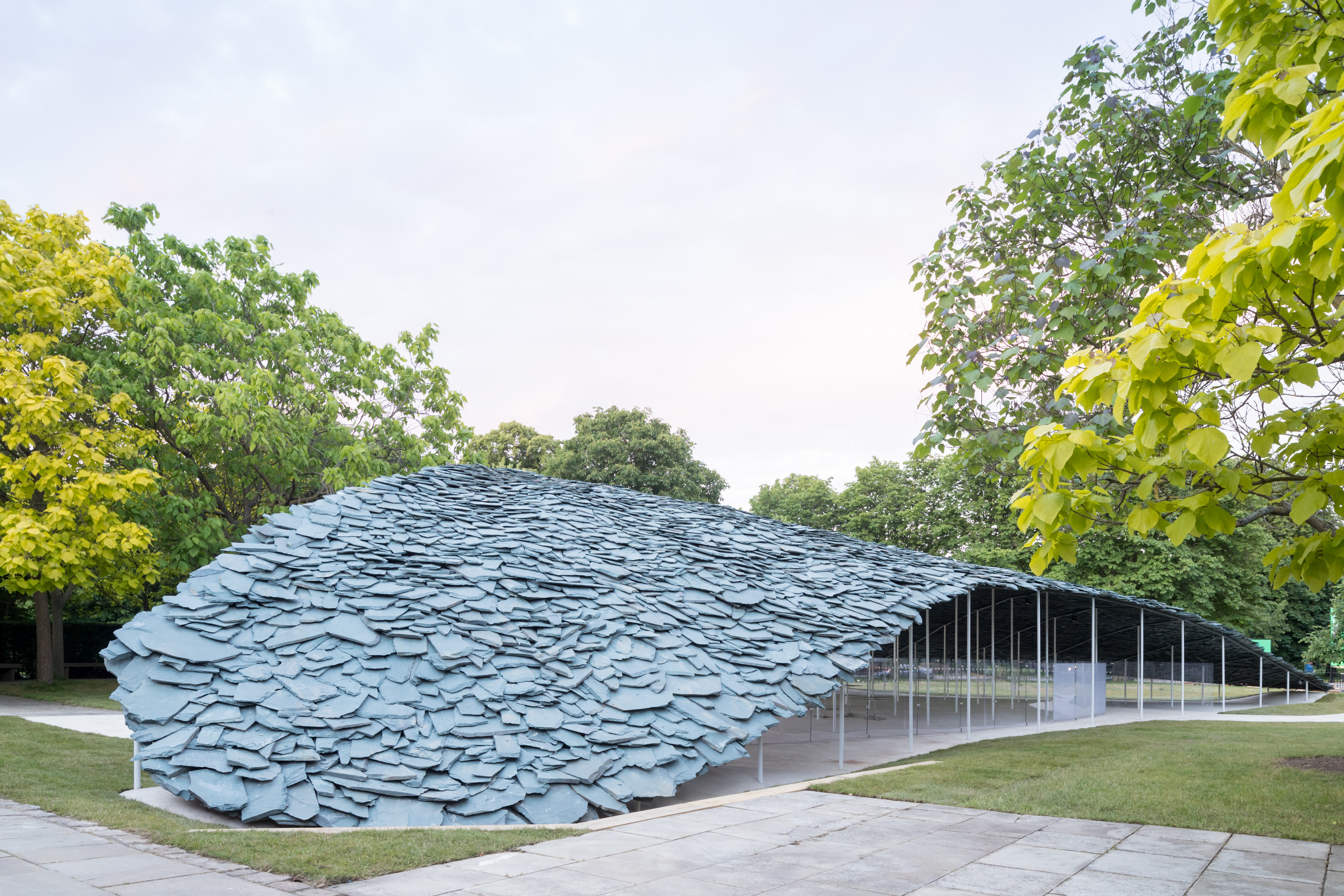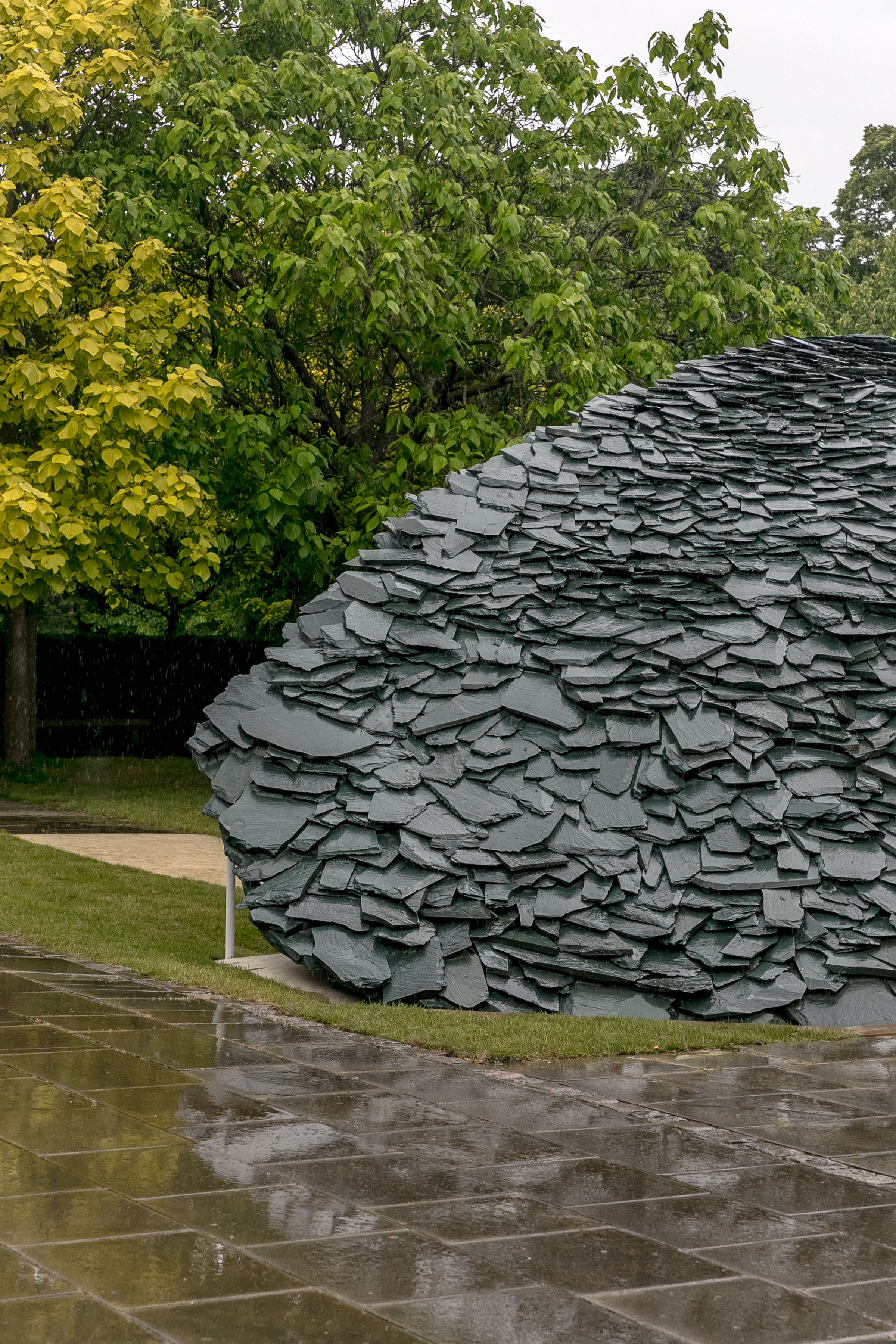 Ishigami learned about lightness as an associate of SANAA, a firm best known for Grace Farms in Connecticut and other transparent structures that seem as immaterial as soap bubbles. He founded his own practice in Tokyo in 2004 and has won awards for his installations and fame for his iconoclastic approach to architecture. Like other Japanese radicals, Ishigami has built very little, and success abroad should boost his reputation at home, as it did for Arata Isozaki when he designed the Museum of Contemporary Art in Los Angeles. Ishigami is only 45, a neophyte in a country that venerates age and experience.
What links him to his peers is a deep reverence for nature. His earlier work had a dreamlike quality; in London, he has employed a natural material that is widely used but seldom noticed, highlighting its special qualities. The shards vary in shape, size, and thickness, and they are stacked, not neatly laid. You are tempted to tug at the edges to see if the whole pile will collapse like a house of cards. That's unlikely to happen, and the solidity of the canopy offers a comforting embrace. The color of the slate shifts subtly with the light, and rain gives it a dark sheen.
Past pavilions—by such luminaries as Zaha Hadid, Oscar Niemeyer, Álvaro Siza, and Peter Zumthor—sometimes felt too enclosed or merely a variation on the architect's signature buildings. In contrast, SANAA's covered walkway was too exposed to offer sufficient protection from London's chancy weather. Ishigami has achieved an ideal balance of openness and shelter, with plexi screens to complement the roof. It rivals the best of the past as a brilliant response to the site and one that is sure to enjoy a second life after it's dismantled and sold in October.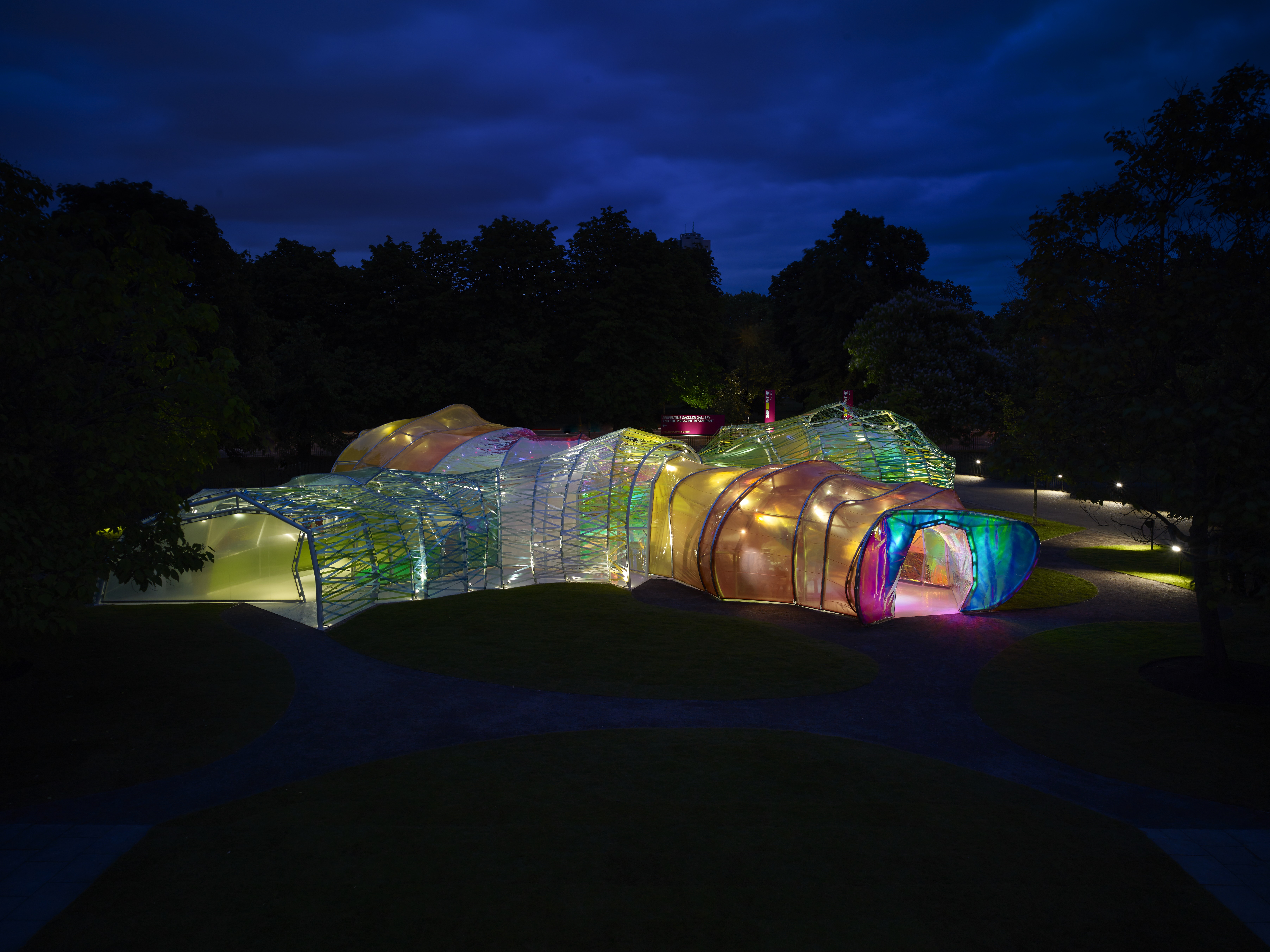 Another hit that is enjoying a second outing is the polychrome tent by SelgasCano, a husband-wife partnership from Madrid. They exploited their love of vibrant colors to the full in their 2015 Serpentine pavilion, taping sheets of synthetic fabric to a lightweight metal frame to create an enchanted cave full of soft-hued natural light. After dark, it glowed like a Tiffany lamp. It's been reinstalled in Los Angeles's La Brea Tar Pits, where it will be open daily through October 24. In London, its gaudiness shocked some; here, surrounded by palm trees and the tar pits that preserve animal bones from the last Ice Age, it seems entirely at home.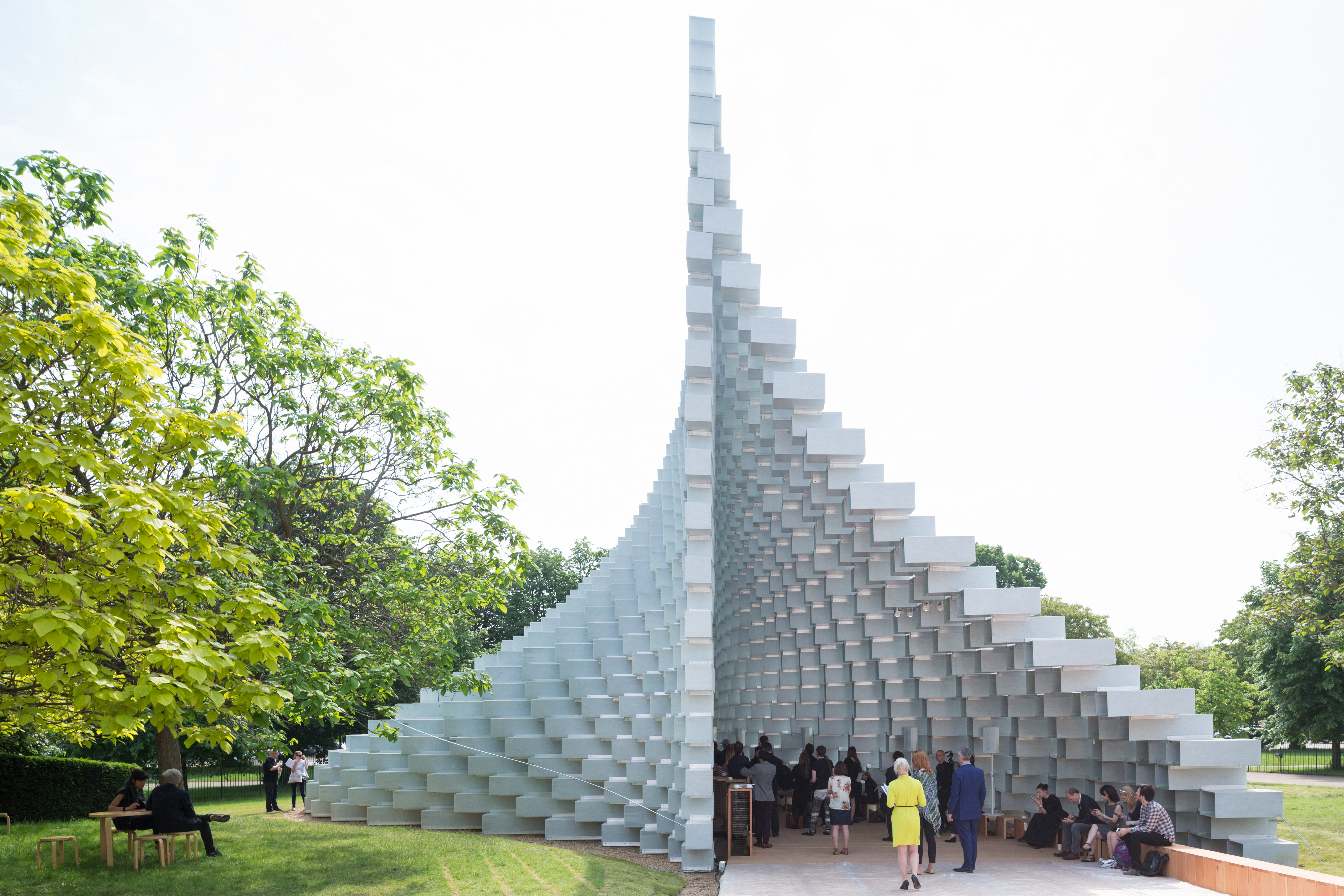 This installation is sponsored by Second Home, a shared workspace for start-ups that SelgasCano designed in London and will be launching in Los Angeles in September. Westbank, a Canadian real estate developer, promoted a residential complex in Toronto by Bjarke Ingels, of the Danish firm BIG, by re-erecting his soaring 2016 pavilion on the empty site to whet anticipation for what will follow.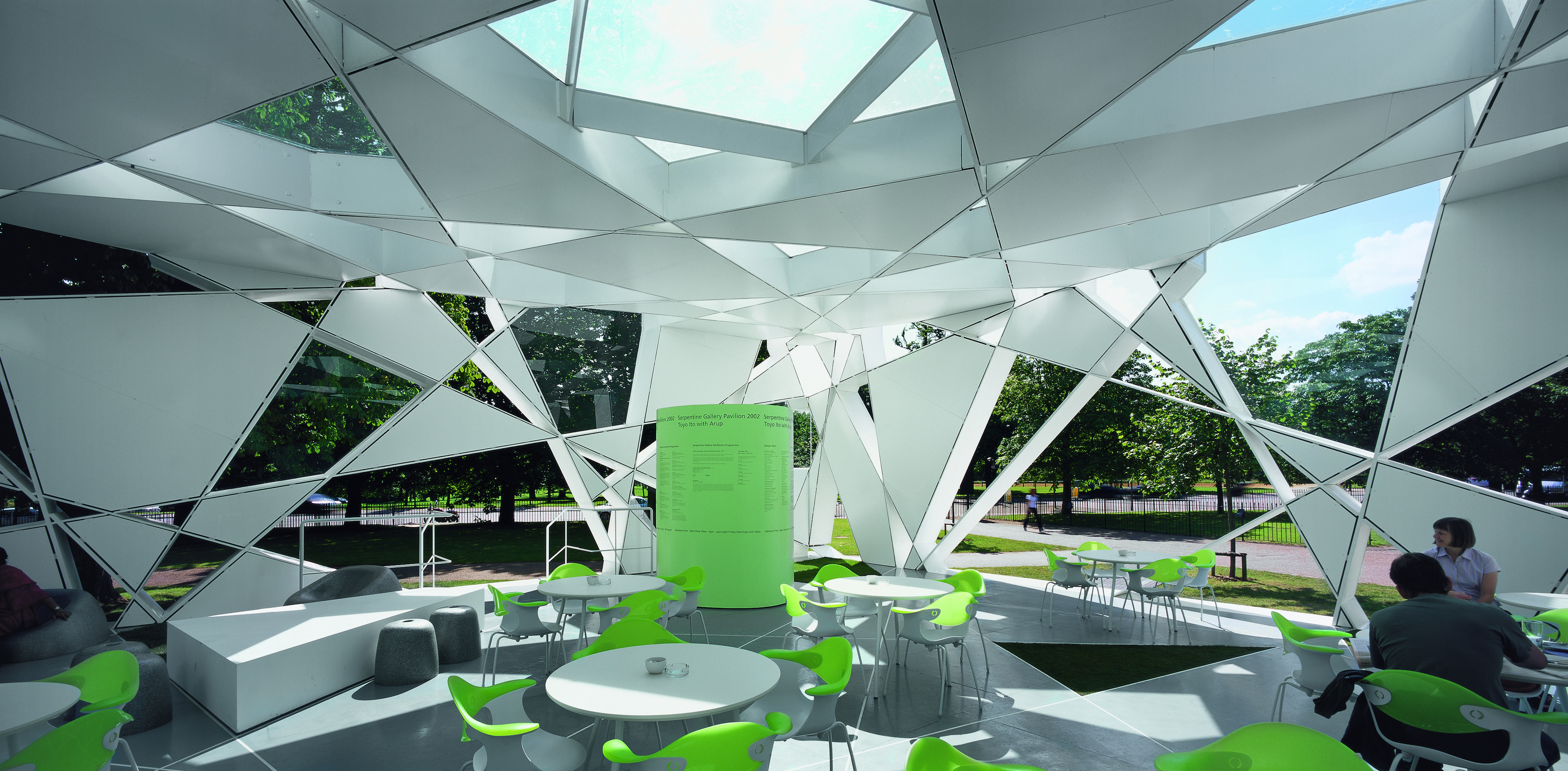 Two pavilions have achieved permanent status in the south of France: Toyo Ito's skeletal white steel block was re-erected as a beach pavilion at Le Beauvallon, an exclusive hotel-villa near Saint-Tropez. Frank Gehry's cats' cradle of wood beams and glass has a new role as a music venue at Chateau La Coste, a winery that doubles as an outdoor museum of art and architecture just north of Aix. And Chilean architect Smiljan Radić's boulderlike structure serves as a garden folly at Durslade, the farm-turned-gallery-complex established by Hauser & Wirth in the bucolic English county of Somerset.
From London's Crystal Palace, a prefabricated glass hall that housed the Great Exhibition of 1851, to Mies van der Rohe's German Pavilion in Barcelona and on to the present, architects have used temporary pavilions to test new ideas and engage the broader public. The Serpentine Gallery is enriching that tradition.