Masanori Umeda, "Tawaraya (Ring)," 1981, courtesy of Urban Architecture Inc. Image courtesy of Raquel's Dream House.
A Shoppable Soho Townhouse Will Help You Create the Ettore Sottsass Apartment of Your Dreams
Raquel's Dream House, a one-month furniture exhibition by Raquel Cayre, is trying to bring Memphis Group, Italian Radical, and contemporary design within reach.
Masanori Umeda, "Tawaraya (Ring)," 1981, courtesy of Urban Architecture Inc. Image courtesy of Raquel's Dream House.
The townhouse at 79 Greene Street in Soho—four airy, bright stories, with a brick red-painted facade—is a study in New York real estate turnover. It used to be a Kiki de Montparnasse. It hosted an independent designer pop-up in 2016, a Pure Leaf tea house in 2017, and now, Raquel's Dream House, a sprawling and ambitious exhibition-cum-store of Memphis Group, Italian Radical, and contemporary design invented by Raquel Cayre, a collector, self-described design nerd, and the curator of the Instagram account @ettoresottsass. (Cayre's account has no relationship to Memphis founder Ettore Sottsass's estate; she's just a fan.) "I found out about the house two weeks ago, I didn't have any intentions of putting on an exhibition," Cayre told me on Sunday. "A friend of mine had this property. He mentioned a townhouse in Soho, and I thought that was pretty interesting." The new tenant arrives at the end of May, and Dream House has rented the space until then. "I sort of convinced them," Cayre said.
The exhibition is proof that Cayre is pretty good at convincing people: She'd make a good fixer for Italian Radical design-related crises. The show was put together in just two weeks, its selection culled from ten galleries, 56 established and emerging artists, and her own collection. (With the exception of her own pieces, everything is for sale.) "When I called the galleries, I didn't have enough time to write a proposal, to be honest," Cayre said. "I only had two days for them to let me know." In Milan for the Salone del Mobile, she saw Evan Snyderman from design gallery R & Company and "convince[d] him again"; she wrangled Friedman Benda Gallery into lending a Shiro Kuramata chair made of angled sheets of glass. The weekend before the opening, "probably a thousand crates" were brought to the townhouse. Installation was ad hoc, except for a few pieces: "I did have a spot for [Masanori Umeda's] boxing ring, because that was the only spot that it could fit."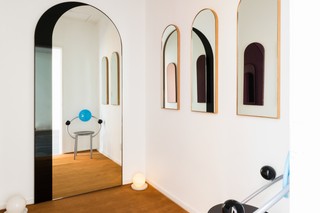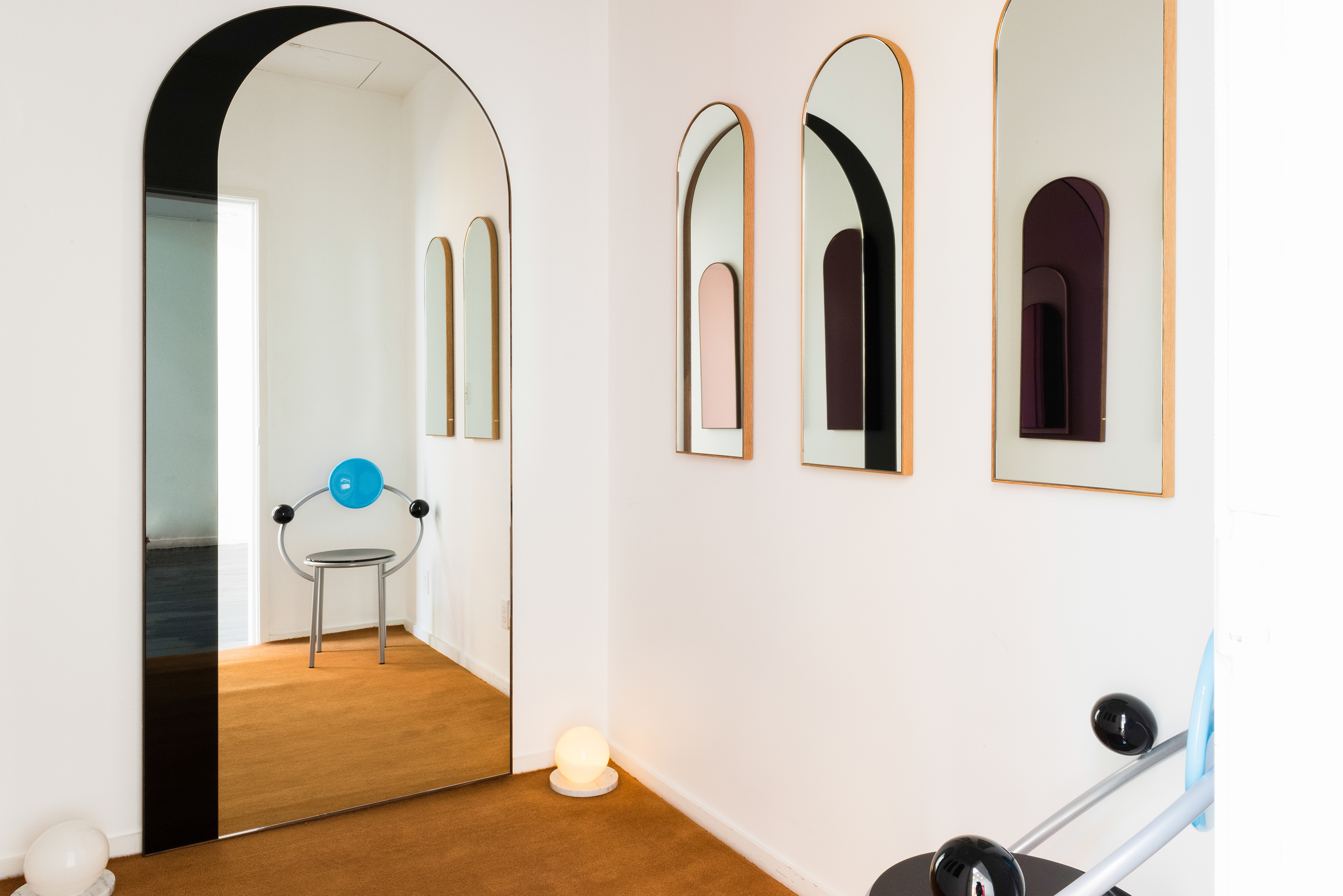 The mad dash, the Milan deal-making, the huge space, and Cayre's design fluency add up to an unusual space with some rare treats: you get to see hall-of-famers like Ettore Sottsass's Carlton room divider installed in a Soho storefront that, until recently, displayed a giant bottle of Pure Leaf with the slogan "Our Thing is Tea"; and a collection of Gaetano Pesce's witchy, slumping ceramic vases facing 25-year-old designer Thomas Barger's kidcore chairs—yolk-yellow and divoted with tiny holes like a Ritz cracker. You learn something from seeing the works in person: For example, that the mitochondrial, leopard-print "Safari" sofa by Archizoom Associati looks exactly as kitschy as you'd think, and that Peter Shire's wiggly-legged "Peninsula" table isn't for the long-limbed. It's like the home of a zany 1980s gallerist who got his hands on a time machine to add some contemporary polystyrene chairs to the mix.
Cayre told me that one goal of the exhibition was to bring great design to a broader audience: "I want people to be able to go back to history and focus on what's here, the furniture, where it's touchable." (Folded paper "DO NOT TOUCH" signs stand guard near almost all of the furniture, but theoretically, it's close enough that you could touch it.) Another goal was to remove design objects from the formality of a gallery. "Usually when we see these important works, it's in pretty overdone art fairs or full-on shows," she said, "So I wanted people to really be able to focus on these pieces, in this unfinished space."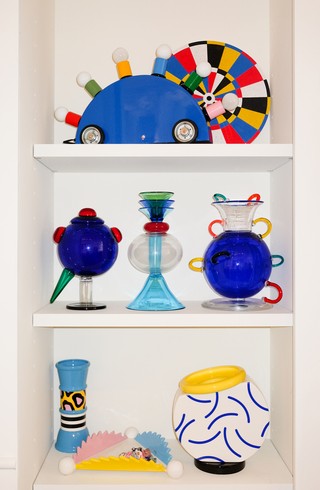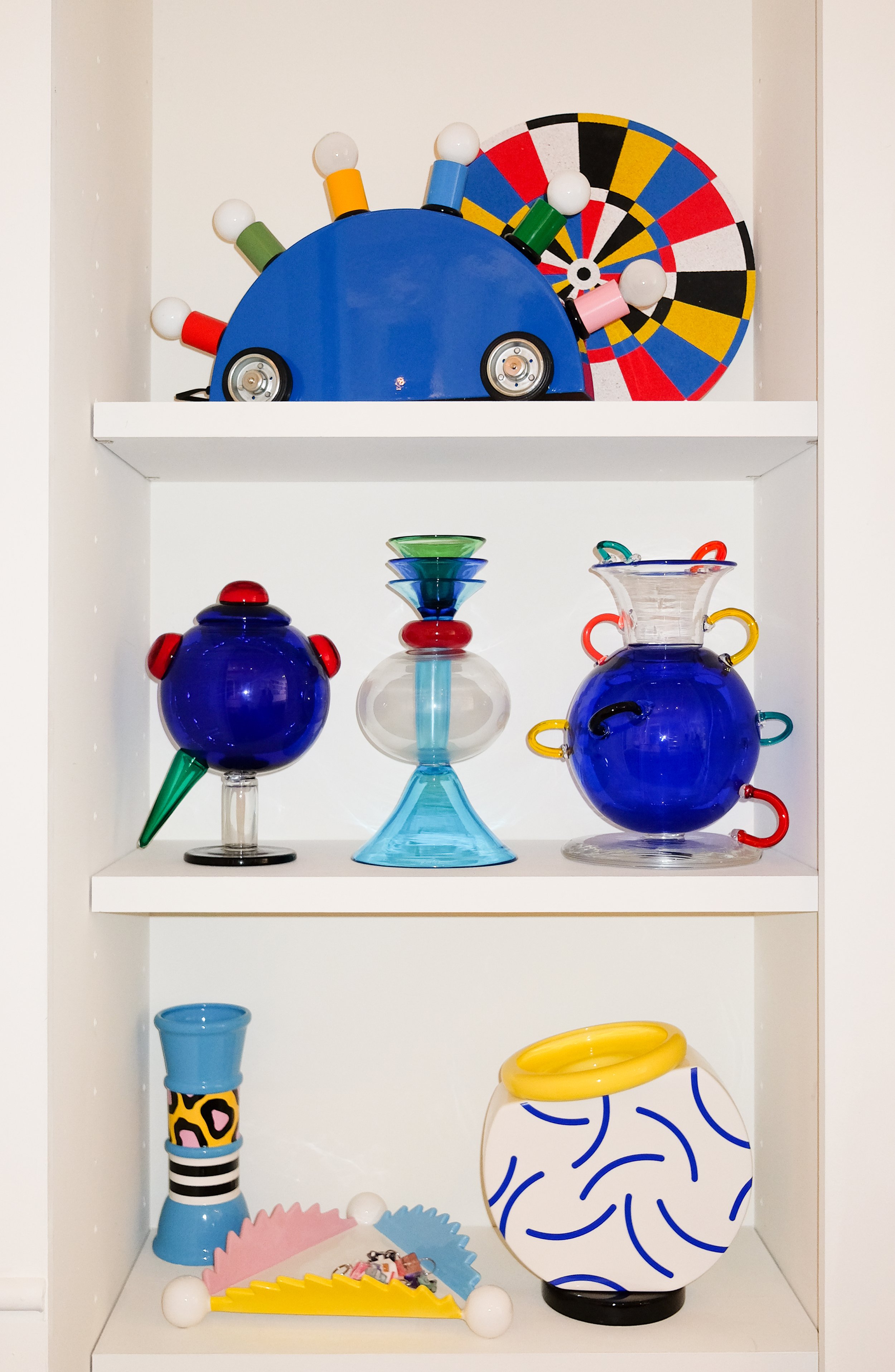 But there's a conflict between democratizing the history of design and presenting it without context; there's no wall text, so a visitor without an art background can be inspired by what they see, but wouldn't know where they're from without doing extra work. Of course, it's hard to squeeze the research, curation, and writing of such a sprawling show into two weeks, but not doing it risks excluding visitors who don't already know (I didn't know this a year ago, full disclosure!) that the Memphis Group wasn't based in Tennessee.
Dream House is trying to democratize design and challenge the traditional gallery model: two distinct goals, one narrower. The space does feel less sanctified than others like it, but still speaks to experts first and a general audience second. Talking about what visitors might learn from the show, Cayre started on an empowering note: "You don't have to collect the best, the best, the best. If you like it, if it talks to you, get a book, read about it."
"You don't have to listen to everybody saying, 'Hey, let's buy this; the artist is gonna be a controlled market.' I don't collect that way, to be honest," she continued. "I will fly out to Berlin to see an artwork. I'll get every single book on an artist or designer."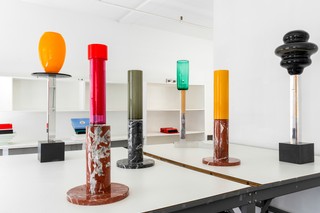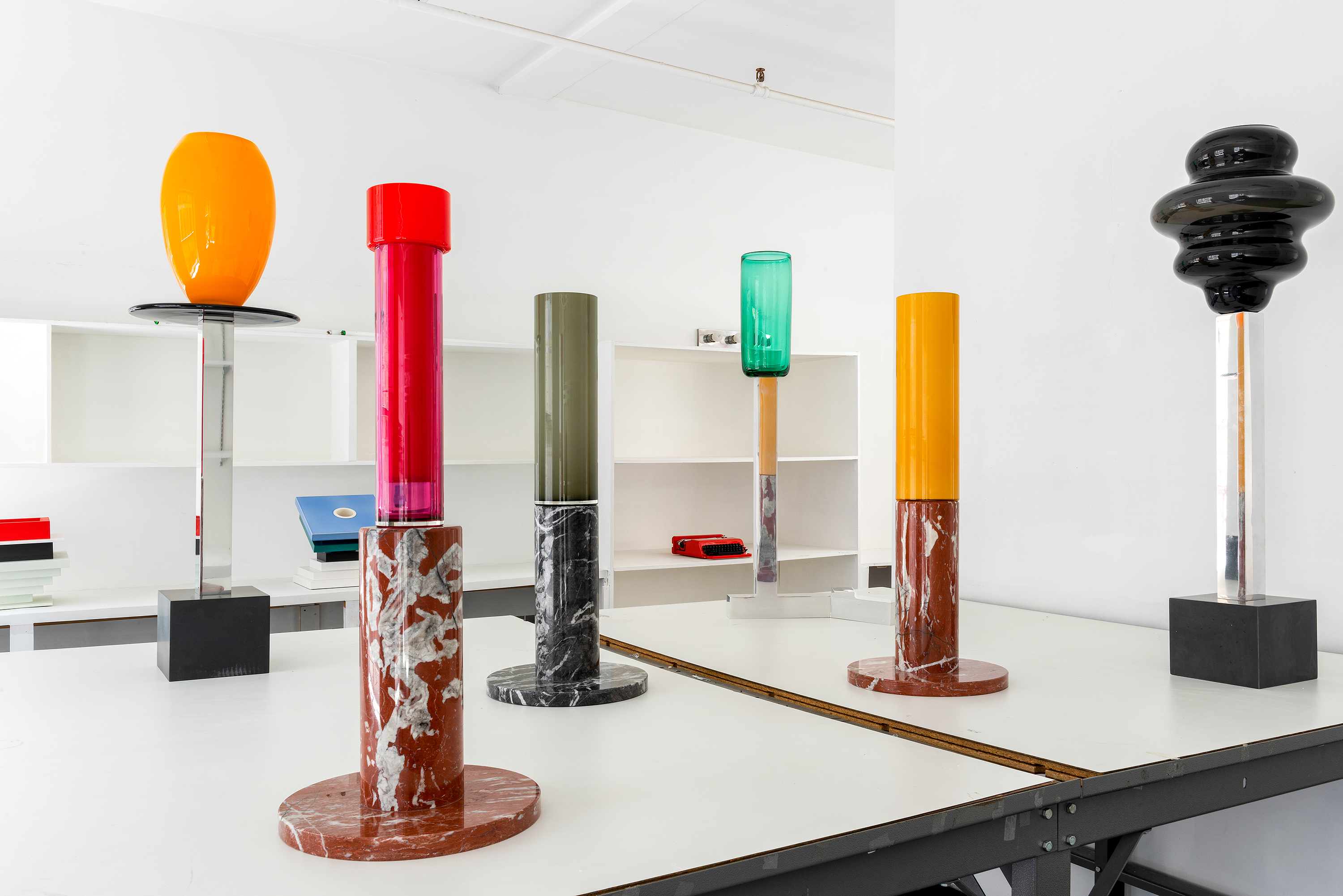 I loved seeing raspberry glass Sottsass vases and Campana Brothers lawn chairs half-swallowed by wicker in the same exhibition, but the facts of the space—a townhouse leased from a friend, filled with rare design objects borrowed from galleries by a curator who is also a collector—do not necessarily add up to an open forum. It's tricky to curate a space where anyone can view art without implicit barriers, because those barriers aren't just white walls and art fair passes: they're entrenched in politics and society, and to rip them up means challenging a lot of other things, too.
Still, if Dream House plants the wacky, brilliant seeds of Italian Radical and Memphis design in new minds, that's a win. As I left, a woman came to pay for a George Sowden platter, excited and very slightly anxious. She described it—red and green, circular—and told me: "It's Memphis! That's what she said."
This article was updated on 5/8/2018. Due to a fact-checking error, 79 Greene Street was referred to as rent-free; Dream House pays rent for the space.