How the Met Gala Shows Us Celebrities Are Ready To Be More Than Pretty
The red carpet was once a source of anxiety and confusion, but this year showed that celebrities want their clothing to do more than flatter.
The red carpet has always been a fraught space—a garden of good and evil whose offerings hold a mirror to our relationship with fashion and celebrity. For a long time, it was a conservative place, where women were expected to embody an anachronistic notion of "movie star" in strapless fishtail dresses, often at the behest of Harvey Weinstein and his wife's fashion brand. Slowly, over the past decade, it became a place for the delicate and intelligent choreography between stylist and celebrity subject, where a woman's wardrobe could help set her apart from the milieu as a person who approached the professionally necessary task of looking impossibly beautiful with intelligence and grace. In between all that, the Grammys and MTV red carpets have been a cloister for self-expression, and streetstyle has emerged as a more potent space for fashion, as celebrities and their followers grow tired of asserting that they are their best selves when at their most artificially manicured.

And this past year, the carpet emerged as a space for sobriety and protest, as women wore black to call attention to Time's Up. What had for so long become the valley of vanity suddenly became the mountaintop of conviction, or at least the façade of it—for better or for worse.
Dressing for the Met Gala, which requires adherence to a theme and approval from Vogue editor Anna Wintour, has long been a source of anxiety and confusion for celebrities, who for most of history, have, like the rest of us, just wanted to look famous and thin. In 2015, for China: Through the Looking Glass, the carpet was a walk on the tortured tight rope of giving deference without appropriating; to the eyes of many critics and casual viewers (and in this age, the latter are most certainly the former), Rihanna, in one of the few dresses by a Chinese designer, was the only person who did it right. And at last year's gala, which celebrated the work of Comme des Garçons designer Rei Kawakubo, a handful of stars, like Rihanna and Caroline Kennedy, looked fabulous in Comme, but most skipped the theme altogether, going for a vaguely future vibe that made the carpet a bore. Kawakubo's garments are often anathema to celebrity, designed to obscure or even mock the wearer: why risk looking daffy?
In this way, the Met Gala red carpet is a cup of tea leaves for how pop culture intersects with fashion: it shows us our concerns (appropriation; looking like a fashion victim), and our principles (looking cool in Comme; being taken seriously).
This year, it was those who went all the way, who used clothing to create an elaborate ambiance, or in effect created their own iconography, who were most richly rewarded. It was not so long ago that people on the red carpet were mocked for being outrageous—think Bjork in her swan dress at the 2001 Oscars, or Lil Kim at the 1999 VMAs in her purple pasty, or Justin Timberlake and Britney Spears in their matching denim formalwear at the 2001 American Music Awards—but now, going big shows that you are confident and fluent in the language of clothing. Cardi B looked radiant and fun in a bedazzled Moschino, like an Angelo Bronzino portrait. Frances McDormand wore a full look from Pierpaolo Piccioli's celebrated Valentino Spring couture show, down to the Philip Treacy hat that obscured her head with a swarm of feathers. (I love fashion; I hate fame, it seemed to suggest.) Donatella Versace came in costume as Donatella Versace. Only two attendees were bold enough to address the dark side of the evening's theme: Solange, in reptilian dress by the brilliant couturier Iris Van Herpen that spoke of sinister constriction, topped with a du-rag and disk halo; and Lena Waithe, who wore a rainbow flag as a cape, reminding us that the Church still struggles to accept gay members.
People wore headdressesand too-long trains and bizarre makeup—the kind of things that might have landed you on those dreaded "worst dressed" pages a few years ago. Gossip used to leak about who would and wouldn't dress whom for these kinds of events—so-and-so isn't an insert-brand-here girl. But fashion, once a very withholding and exclusive lover, is now an echelon that allows you in if you are willing to love it fully, at its most eccentric. If you don't love me at my Nicki Minaj in sprawling ombre tulle by Oscar de la Renta, you don't deserve me at my Nicki Minaj in sprawling ombre tulle by Oscar de la Renta!
The key is to look celebratory without looking costume-y. Was this really the right moment for Jared Leto to play out his Christ complex? Is Blake Lively going to Scarborough Fair? There is iconography, and then there is Halloween; at the moment, we reward those who are inspired by something, rather than quoting so directly. We like references because it likes the hunt—figuring out that something is referring to a Renaissance painting, rather than being informed that Katy Perry is an angel because she's dressed like one, makes us feel smart.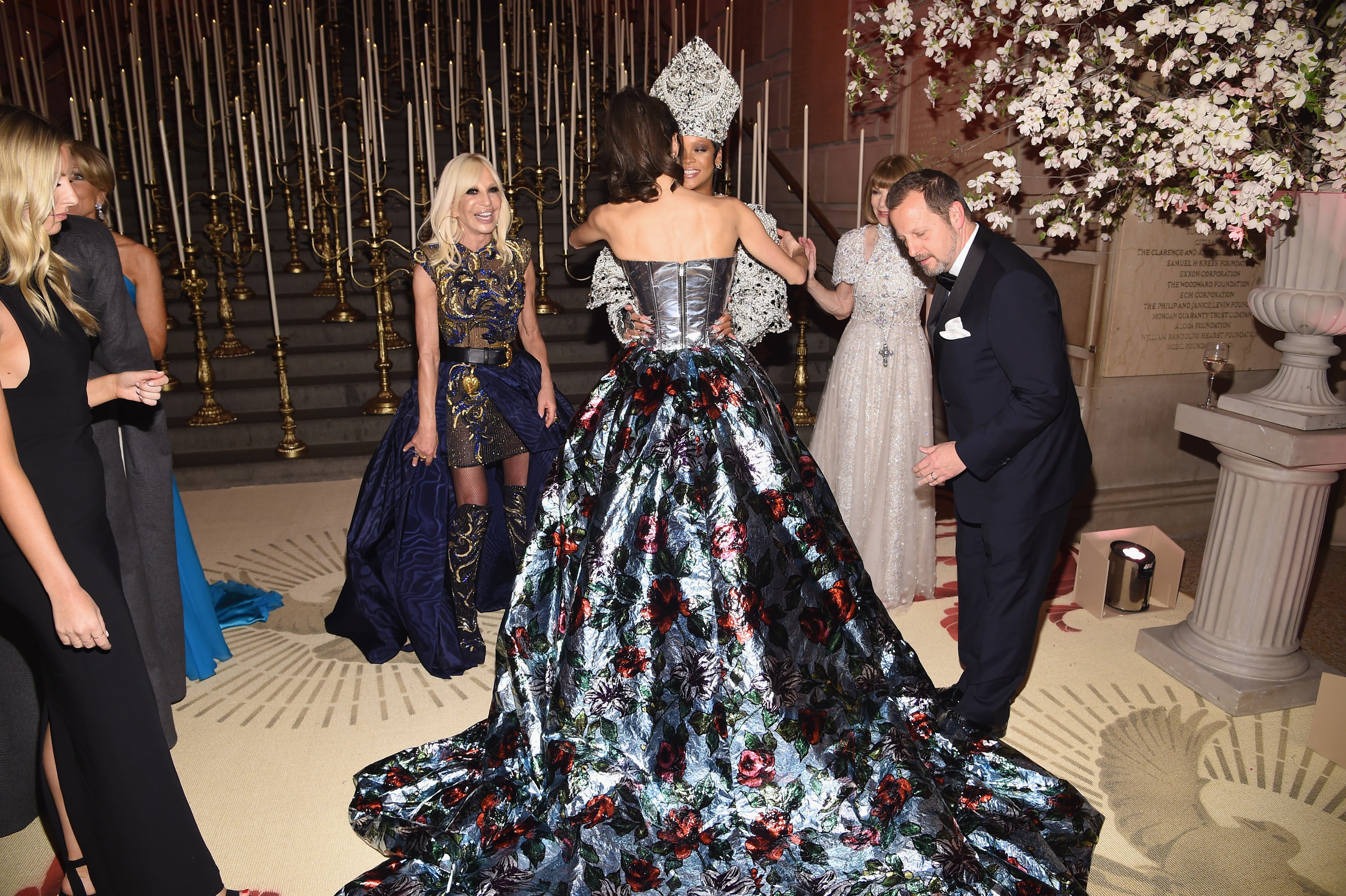 Which brings us to Rihanna, who dressed as the pope in a densely beaded mini-dress, mantle, and miter by Maison Margiela Artisanal, a brand designed by John Galliano, who often uses Catholic imagery in his work (a pope swung incense sinisterly at his Dior Fall 2000 show, and this look is featured prominently in the exhibition). It transcended costume because it spoke to Rihanna's place in the fashion industry; she chose to dress as the pope rather than, say, Virgin Mary, or God herself. She is our interpreter, our shepherd, our compass. She doesn't run heaven, but she has the keys—which is more important to us right now. You can't help but wonder if this new delight in looking eccentric is the latest wave of the Rihanna effect.
In another era, or an alternate universe, a pop singer donning the pope's headdress might spark religious outrage. Theme dressing is always a troublesome opportunity for appropriation, which is a major concern in the fashion industry right now: how do we let something inspire us without trying to capitalize off of it at its most authentically expressive? But the Catholic Church is at once so powerful and so irrelevant that the question of whether a look is "sacrilegious" may be moot. This is the best PR the Catholic Church, which has been haunted by sexual abuse for decades, has gotten in ages. But now the Archbishop of New York is posing in a Met Museum baseball cap with Donatella Versace, extolling fashion as a way "to thank God for the gift of beauty." Religion, at this point, faces a more challenging uphill battle to be taken seriously as a part of culture than fashion: Kim Kardashian, her body glittering in Versace with all the divine artifice of her perfume bottle, is an easier miracle to sell than immaculate conception and a glorious afterlife. Bringing pop culture full circle, Madonna performed "Like a Prayer" on the steps of the grand hall—a song that the Vatican declared blasphemous when it was released in 1989, with Pope John Paul II calling for a boycott of the singer. Is nothing sacred? In fact, one thing is: everyone was absolutely horrified to see the dazzling singer Grimes appear with Elon Musk as her date.