Lynn Hershman Leeson, Dante Hotel (detail), 1972/73. Courtesy the artist and Bridget Donahue Gallery.
The Artist in an Age of Invisible Forensics
Meet Lynn Hershman Leeson in her hotel room, and she'll show you who you are.
Lynn Hershman Leeson, Dante Hotel (detail), 1972/73. Courtesy the artist and Bridget Donahue Gallery.
Did you ever meet Roberta Breitmore? If so, congrats, you're part of an artwork by artist Lynn Hershman Leeson, who invented Breitmore—a character often replete with a blond wig and theatrical makeup as well as a backstory and checking account—in 1972 as part of a durational performance. That same year, she also initiated her immersive, site-specific installation The Dante Hotel at the eponymous hotel in San Francisco. This establishment was a rundown but cheap place to live, so the story goes that when Breitmore, then only a figment of Leeson's imagination, arrived in the city she checked into a room. Whoever visited the character's alleged quarters—or later on, when Leeson began embodying the character, met her—was her audience, collaborators even. Then, in 1978, she disappeared during an exorcism in Ferrara, Italy. But this Saturday in Berlin, you'll have a rare opportunity to introduce yourself to someone similar when Leeson unveils The Novalis Hotel at another actual hotel, an offsite work in her exhibition "First Person Plural," focusing on the artist's video and installation work, on view at a warehouse in Kreuzberg.
"The work is of its time and we're in an age of invisible forensics," Leeson told me when speaking about her resurrection of the performance. "You can no longer tell anything about someone by the diary they keep or clothes they're wearing, but rather by the invisible finger prints and DNA and internal surveillance that they don't know they're leaving or realize they're imposing on themselves."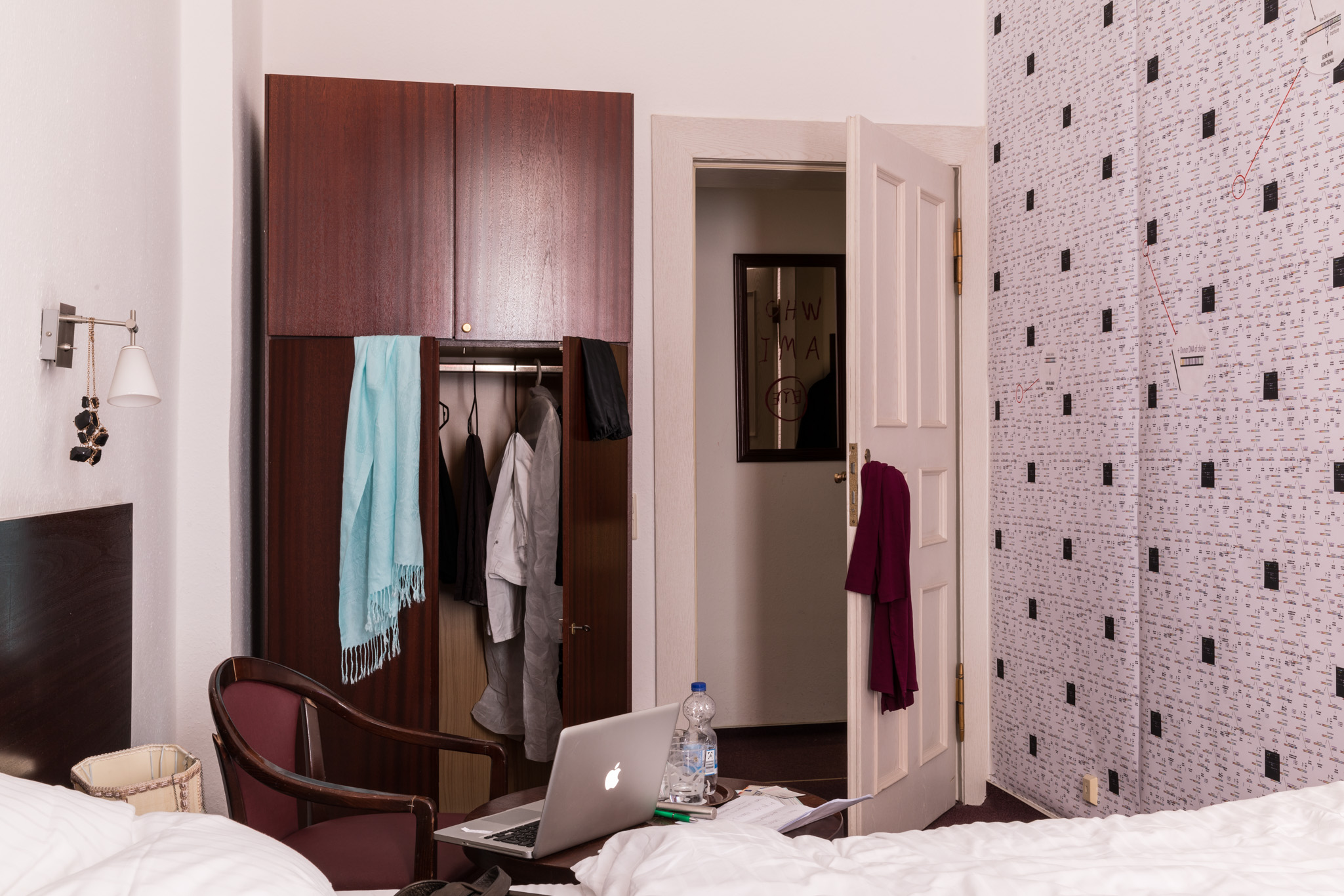 While visitors could enter Breitmore's room as part of The Dante Hotel and experience her life through various physical objects—cast in the roles of her personal possessions—in the contemporary update, Leeson's new anonymous alter ego has left only her MacBook and iPhone in a room at the Hotel Novalis. An audience can show up at her room any time during opening hours and browse through these devices, eventually piecing together a story that their owner, an elderly woman, is out roaming the city in hopes of finding a partner. Visitors learn that she uses facial recognition software on the street to digitally identify and investigate potential matches before actually meeting them. But at the same time, Leeson's guests are also being watched: DNA particles left behind will be forensically analyzed, with a visitor's consent, and the data sets generated from the people who engage with this installation—such as age, gender, ethnicity, eye color—will then be discussed in a public forum on June 17 as an official end to the piece. Here, as often in modern society, a woman's very existence is positioned as a lure for another end.
It's not coincidental that this kind of organic, real time data mining so closely resembles surreptitious browser tracking and consumer purchase history online: "Identity, freedom of speech, and giving voice to voices that have been shut out of culture have always been key issues of my work," Leeson explains. "By both being an individual in culture and by representing individuals in culture, these fictional characters embody the presumptions that culture places on them. They are a mirror of and a way to read culture in a way that we normally can't." The artist suggests that everywhere we go, everything we touch—everything we do—can and will be stored. It's a kind of afterlife, whether you want it or not. And the eerie part is, when you're trading it for access to everything on the internet, who needs consent anyway?
Lynn Hershman Leeson's The Novalis Hotel will be on view at Hotel Novalis in Berlin, curated by the KW Institute for Contemporary Art, from May 19 to June 17, 2018. "First Person Plural" will be on view at The Shelf, also in conjunction with the KW, from May 19 to July 15, 2018.