While We Wait in the Cremisan Valley. Photo courtesy of the V&A and the artists
A New Sculpture on the Jerusalem Border Does Anything But Divide
For two Palestinian architects, it's not about building a wall, but making a brick.
While We Wait in the Cremisan Valley. Photo courtesy of the V&A and the artists
On August 17, 2015, families living in the green sprawl of the Cremisan Valley were confronted with the construction of a separation wall between the West Bank and Jerusalem. "They raised a double wall: a wall on the ground and one in their hearts," announced priest Michel Sabbah during a mass calling for peace in the valley a couple of weeks later. "One day the wall of their hearts will crumble, and the wall on the ground will collapse, too... while we wait."
Elias and Yousef Anastas, the Bethlehem- and Paris-based Palestinian brothers behind architecture and design firm AAU ANASTAS, were moved to borrow Sabbah's words for the title of a touring installation, While We Wait. Commissioned by London's Victoria & Albert Museum for the London Design Festival, the heart of this complex work was constructed with materials imported from Palestine, and using traditional regional building techniques.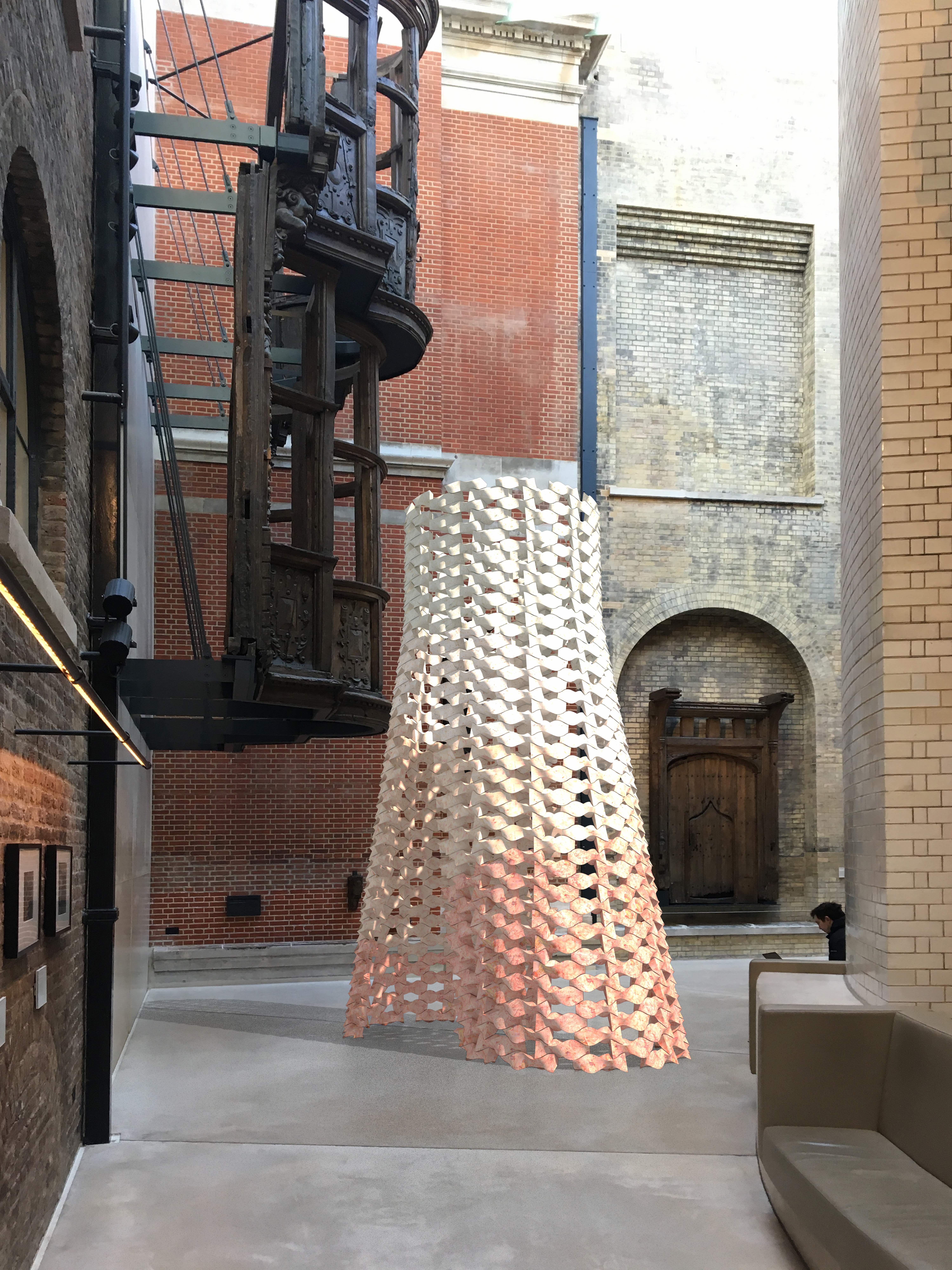 While We Wait incorporates a space for meditation, and when shown in a museum, provides the context for an associated film and sequence of stills by Mikaela Burstow. The latter details the Cremisan Valley's sandy environs and is accompanied by Witness, a haunting soundtrack by Palestinian musician Tareq Abboushi. The music mixes samples from the area with other sounds made using stone, interweaving both with a spoken text by Karim Kattan. After its initial London stop in September, While We Wait was shown in Dubai at the OMA-designed multidisciplinary space Concrete at Alserkal, and finds a permanent home in the Cremisan Valley this month.

"The project isn't about the wall itself," clarified Yousef to GARAGE. "It's more about the relationship between architecture and nature." Three different types of limestone from three areas of Palestine were used to fabricate the structure's 600 interlocking pieces. The architects used stereotomy—a technique for slicing objects into flat shapes—along with computational design software and computer-controlled machines to carve the parts, which were hand-finished by local artisans. Once complete, the blocks were shipped to London for assembly. "The idea was to create a correspondence between the structural behavior of the structure and the surrounding landscape," Yousef explained.
The installation's primary structure is everything that the separation wall is not; where the latter was built using large, rectangular concrete slabs with jagged edges, the Anastas brothers' project is elegantly curved and rendered from local stone. Its color blends in with its setting, while a delicate latticework design—and a lack of canopy—creates an impression of translucency. But the primary difference isn't aesthetics, of course, it's that the Anastas' structure is not a wall; it's open and one can walk through it. "It's a project that contrasts with the violence of the 12-meter separation wall, creating something that is very smooth, very porous, and accessible to all—something that has been extracted from the earth itself," confirmed Yousef.

But as the structure goes up in the Cremisan Valley (the brothers hope it'll be complete for Christmas), there is a risk. Its site is a Palestinian zone under Israeli control, which means new construction is forbidden. But Elias and Yousef hope to get around the law: "Something is considered construction when it has a foundation and a roof." Yousef explained. "We don't have foundations and we don't have a roof." Even so, there's still a chance that the structure may be disassembled by the government. "We are trying to play on the structure's monastery-like aspect," said Yousef. "It's in some way protected; it's something that brings people together."