The "Nipple Duster" Is Our New Favorite Jewelry Trend
And thanks to Marine Serre, LUAR, and Marni, it will be yours too.
Photo by William Tyner.
At his debut show for Louis Vuitton in the spring of 2014, Nicholas Ghesquière presented a widely-praised collection filled with delightful surprises. Not least of which was that Ghesquière had managed to invent an entirely new woman for the storied French house, embodied by Freja Beha Erickson, who opened the show. Freja was bold, brazen, a little bit punk and devastatingly cool, and from her ear dangled a sleek, collarbone-grazing column of gold, worn solo rather than as a pair. That week in Paris, the single earring unseated the ear-cuff as a perennial staple that's just as wearable on the Lower East Side as it is uptown. The single earring is jewelry for the woman who normally doesn't wear any. It's an incredibly chic contradiction: the understated statement piece. It's the perfect accessory, and nothing could ever replace it. Until today.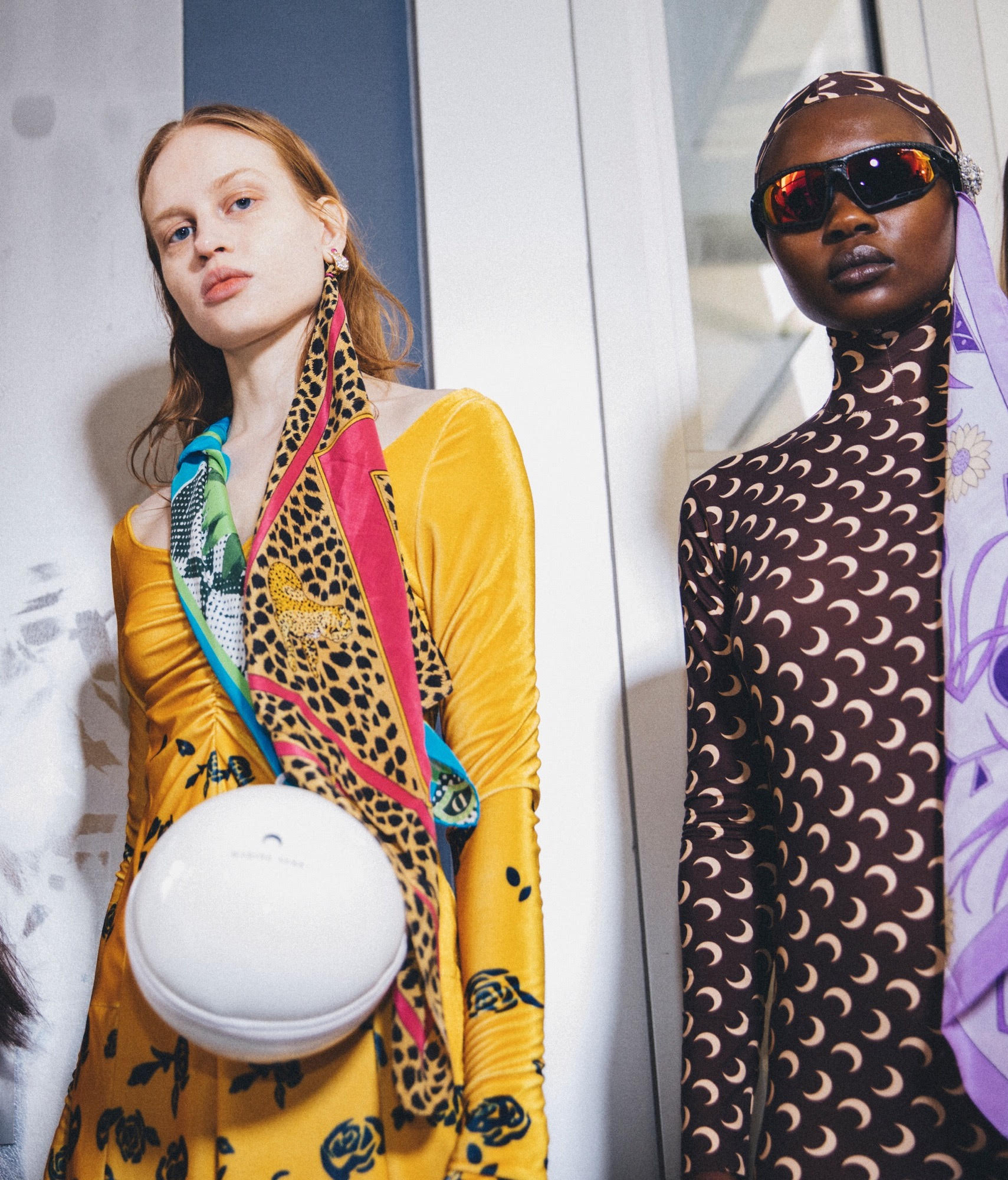 This morning, on the first day of Paris Fashion Week, Ghesquière's former protégé and LVMH Prize winner Marine Serre made her mark on the earring game. The designer's sophomore collection included extra-long clip-ons, with streaming ribbons and multi-print scarves that fluttered behind their wearer. This is the third appearance of what I'm now calling the "nipple duster." Like the terms "shootie" (combination shoe-boot) and "stocking-shoes" (leggings which seamlessly flow into a stiletto, à la Balenciaga), "nipple duster" describes earrings that fall below the breast bone—so far below, in fact, that they might offer the kind of coverage necessary to get past Instagram's anti-areola censors.
From New York's newest purveyor of cool, LUAR, where we saw crystal chandelier earrings affixed to outwear earlier this month, to the hand-dyed plumes that Marni showed in Milan, we assert that the transcontinental nipple duster is here to stay.