Victor and Claire wear Vaquera, socks by Falke, vintage work boots from Uncle Sam's Army Navy Outfitters; Patric DiCaprio (designer), Bryn Taubensee (designer), and David Moses(designer) wear their own clothes; Calvin and Ange-Marie wear Vaquera, socks by Falke, vintage work boots from Uncle Sam's Army Navy Outfitters. Photograph by Reto Schmid.
These Designers Are the Next Generation of American Luxury
They're avant-garde, they're business-savvy, they're empowered, and they have a great sense of humor: Vaquera, Matthew Adams Dolan, Phlemuns, LRS, and Luar are redefining American fashion. Photographed by Reto Schmid.
Victor and Claire wear Vaquera, socks by Falke, vintage work boots from Uncle Sam's Army Navy Outfitters; Patric DiCaprio (designer), Bryn Taubensee (designer), and David Moses(designer) wear their own clothes; Calvin and Ange-Marie wear Vaquera, socks by Falke, vintage work boots from Uncle Sam's Army Navy Outfitters. Photograph by Reto Schmid.
Vaquera
A sateen Tiffany & Co. dust bag as a cocktail dress; a men's T-shirt dress silkscreened with Abraham Lincoln's face; a terry-cloth bathrobe with a train to rival a couture wedding gown: Are these runway memes? Fashion stand-up comedy? A big laugh at the fashion industry's expense?

"We take what we do seriously, but we are very unpretentious," says Bryn Taubensee, one-quarter of the team behind the label Vaquera, which launched in 2013. "We think everyone should be less pretentious and have more fun with it"—meaning, you know, fashion.
"People laughing at our shows is a compliment," adds Patric DiCaprio (whatta heartthrob name!).
Vaquera is designed by Taubensee and DiCaprio, along with Claire Sully and David Moses, who are all in their mid-twenties. The fun they're having has a point, too. Their collective model speaks to a younger generation's desire for equal billing and recognition, in contrast to the traditional fashion house masquerade, where the work of many is hidden behind the nom of a single maestro. And their "fashion fan fiction," as they call it—a Tumblr- and Instagram-fueled mishmash of shout-outs and obscure pop-culture references, such as a paparazzi photo of Shia LaBeouf carrying a bag of ice ("It's not that deep—he's a funny dude and has good real style," says DiCaprio)—has cracked open a conversation about what constitutes copying in the industry. The anonymous Instagram activists Diet Prada have been particularly vocal critics of Vaquera's very direct nods to the back catalogues of Yohji Yamamoto and Kenzo, for example. "They think they're like, getting us, and we're like, 'That's great, let's talk!'" says DiCaprio. "These clothes are about starting a conversation."
"It's an homage more than anything," says Sully. "We would never reference anything that's currently in a store."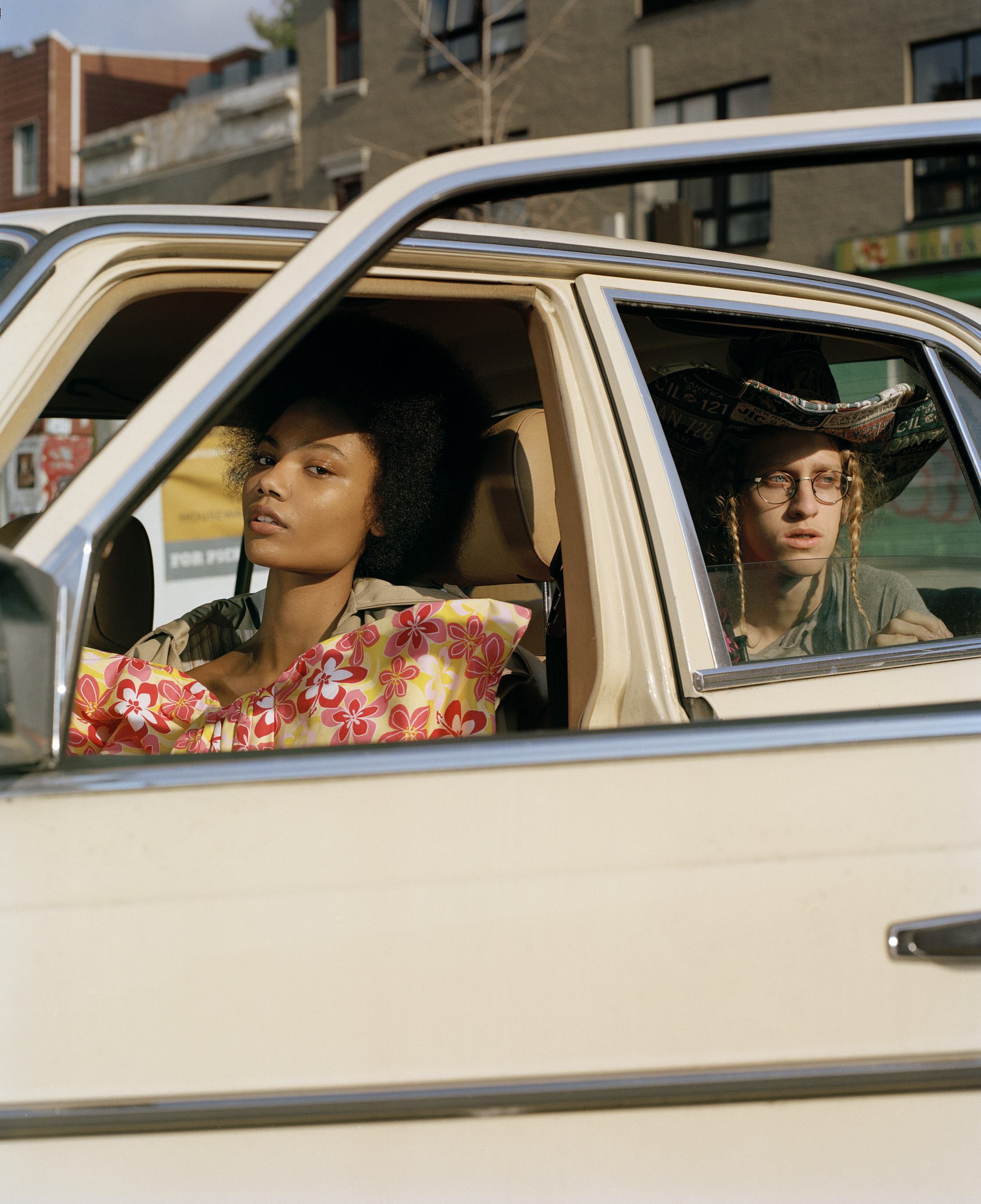 Are they ready to get serious? "Vaquera comes from a really punk origin, where we're like, 'We're going to do this our way!'" says Taubensee. "But more and more we realize that we do want to infiltrate. So we're very willing to accept advice now, but still remain true to what we do."

Matthew Adams Dolan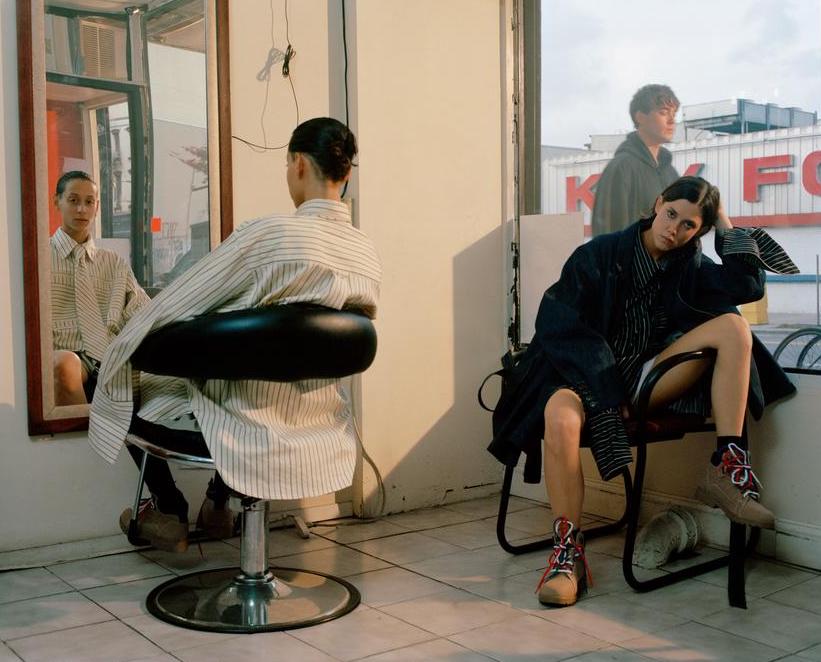 "I've always been obsessed with American fashion," says Matthew Adams Dolan, 29. His sunny confidence makes you wonder about all the fuss New Yorkers made about a creative brain drain when several star designers decamped for Paris in 2017. Dolan draws a line from the Pilgrims' rejection of ornate dress to the simply dressed patrons at Lucien: "It's so interesting to see how that evolves into jeans and a T-shirt."
But these are not your mother's jeans. Dolan designs in layers and layers of textiles—but simple ones, sturdy ones. The overgrown but finely tuned proportions come, he says, from "the idea of something being ill-fitting, or wearing something that is not your own. The way that changes how you stand, or how you wear a jacket, you know—it's falling off."
Rihanna wore his signature denim jacket in just that way—rolling off her shoulders, with a big denim belt—and a handful of other times, too: with just the top button fastened, with the sleeves pushed up, over a T-shirt dress with a backwards baseball cap. That jacket was the turning point in Dolan's success story: "People still want to buy it," he says. "I've probably sewn that jacket 100 times. I could do it in my sleep by this stage."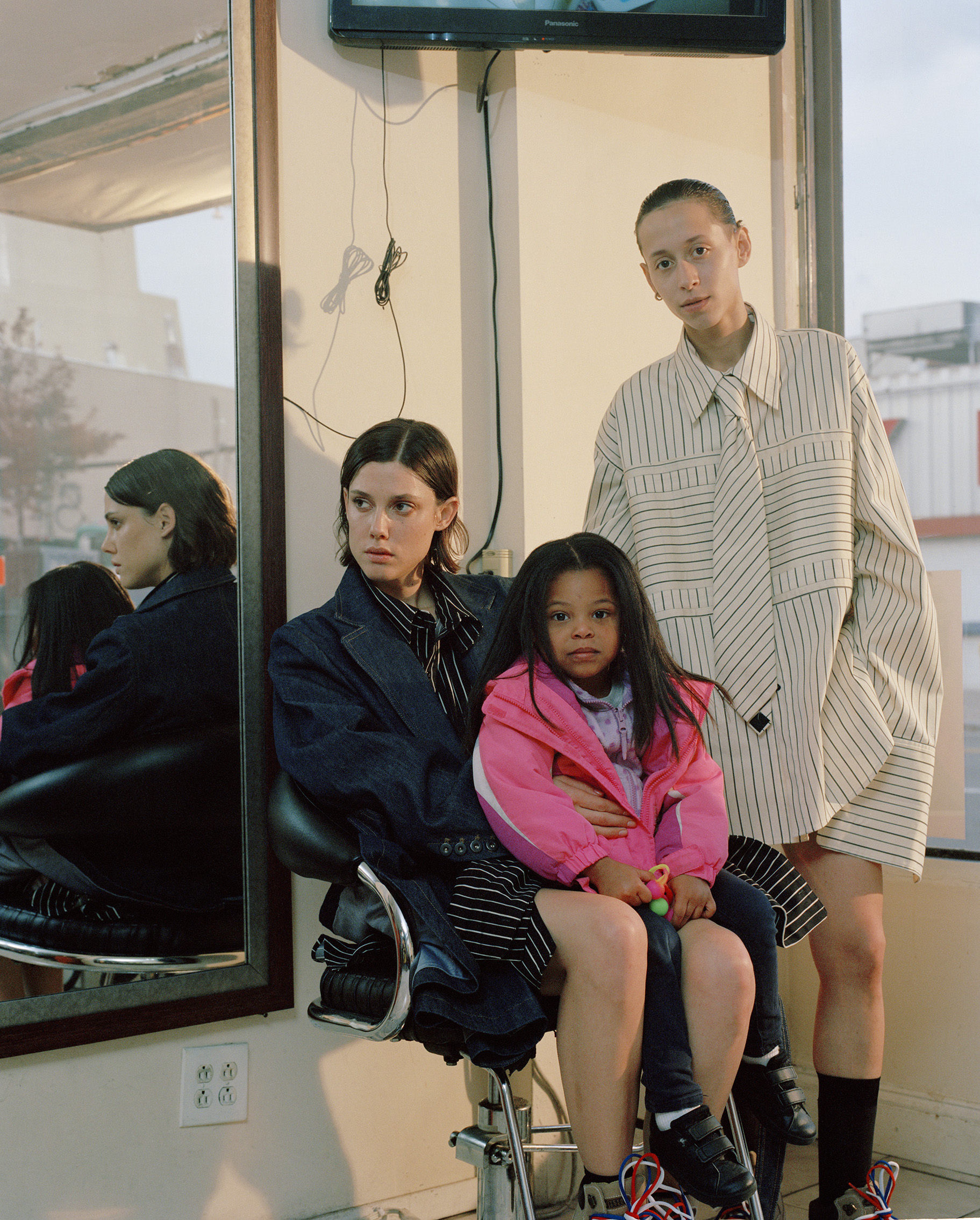 Dolan's relationship with Rihanna feels emblematic of the new paradigm. It's no longer creator and muse, designer and his phantom "girl." It's a creative collaboration, a sharing of ideas. He has now formally joined the Fenty army, as a designer for Rihanna's line for Puma. "She's very interested and curious and loyal," Adams Dolan says. "She has a thirst to know what's happening, not just in fashion but in everything. It's who she is."
In response to New York's "designer exodus," Dolan added a prepster flavor to his most recent collection. "I wanted to do something that felt very American," he says. In fact, the sense of creative possibility that pervades all of his work is very American, very New York: you come here for the promise that an audience for your vision is waiting for you.
Phlemuns
"I didn't grow up knowing about fashion," says James Flemons, the 29-year-old designer behind the brand Phlemuns. "My interest in design and style came from music videos, so my introduction to fashion came through music."
Perhaps that's why musicians like Solange and Kelela have forged such a bond with Phlemuns's clothing. Musicians have always used fashion to architect their image, and for women who like their glamour to look intimate, Phlemuns has become a frequent collaborator.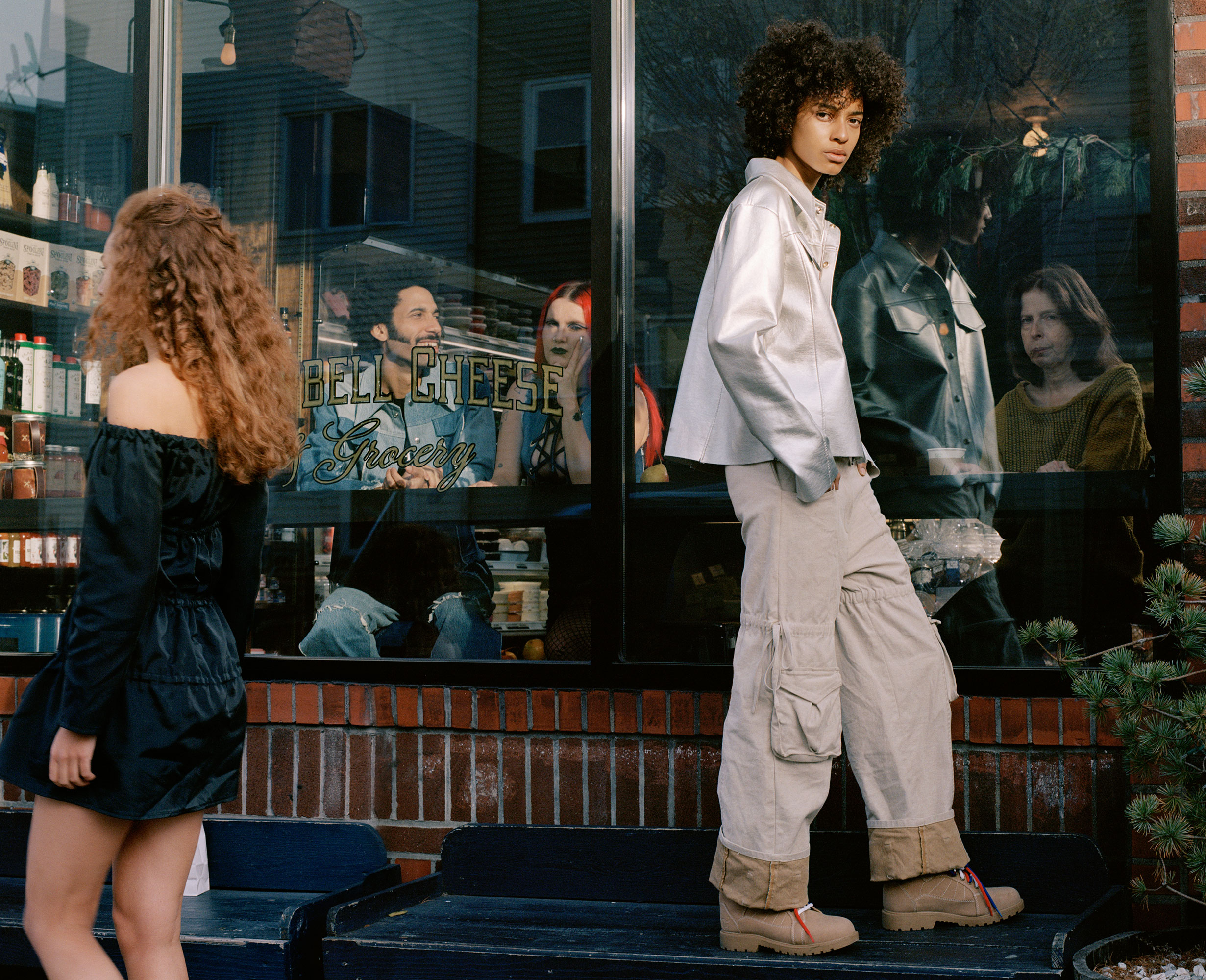 He's also doing something that would have seemed unthinkable even a few years ago: running a successful clothing line out of Los Angeles. A California native, he tried to break into the New York design world, but the fates weren't having it. "Once I moved back to LA, I started harnessing my sewing skills," he says, "and developing what my design aesthetic and style really is."
That aesthetic is super groovy. While for the past few years the fashion world has gravitated—almost to a fault—to the 1970s, the pull has been toward the dark, seedy, cheesy underbelly, the crass commercialism, the difficult art. Phlemuns draws from the cool, with denim ripped apart and collaged back together into bell-bottoms and patchworks and shuffled plaids. Every garment breathes the intimacy of a designer's touch in its considered assemblage. Flemons makes each one himself, by hand.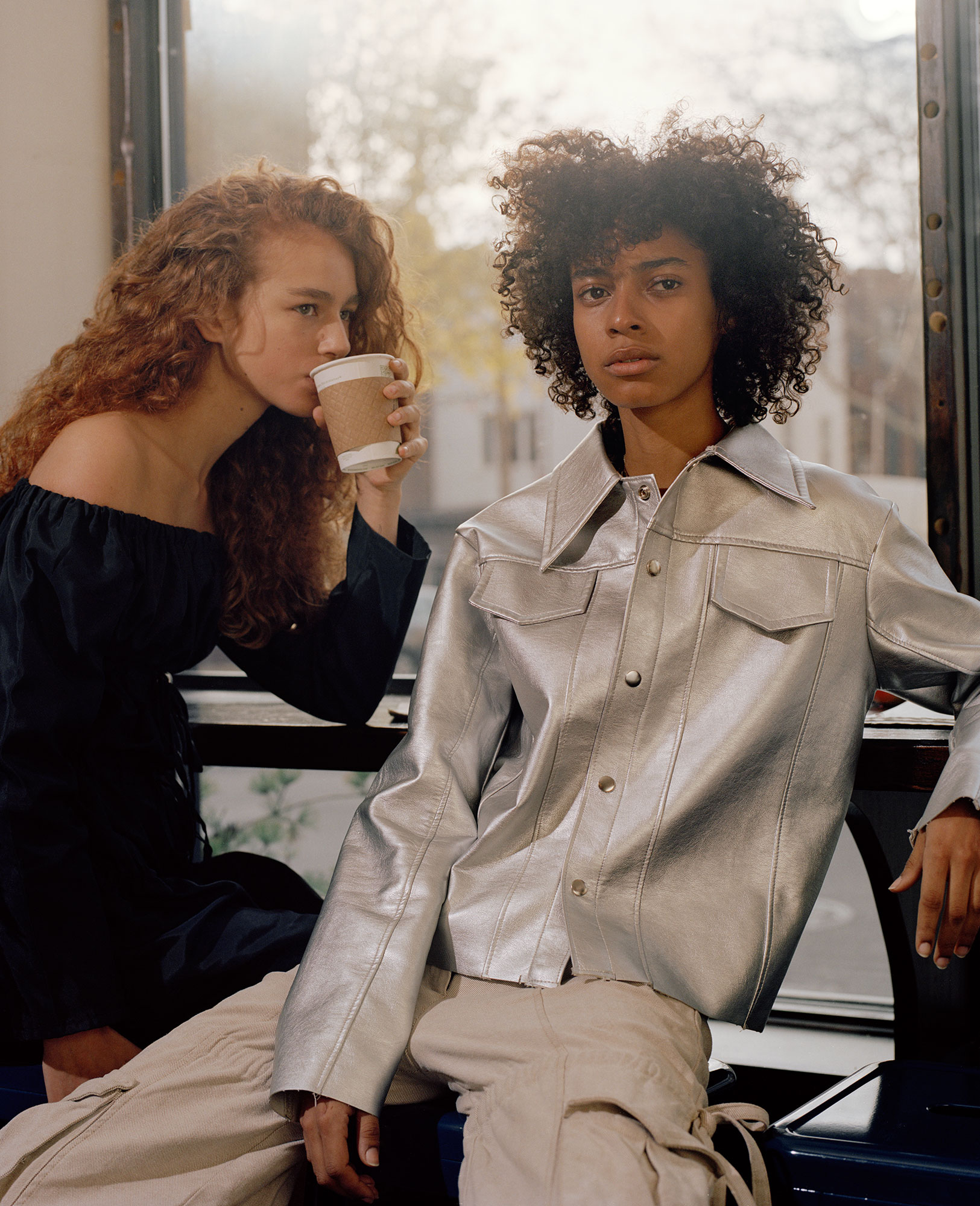 But it doesn't feel flashy. "I like things that are subtle but have an impact," Flemons says. "It could be very minimal but have character and say something, which is how a lot of musicians like to dress."
Perhaps it's his LA pedigree, but when he talks about what's next, Flemons doesn't brandish big-business ideas or speak of taking over the world. He smiles wryly as he remarks that now everyone is doing denim; he's thinking it's time for him to do linen. "I love taking something that people hate," he says, "and making them love it."
LRS
When a designer emerges from under another brand's wing, it's tempting to draw parallels between silhouettes, moods, and customers—anything visual, in a business that seems to be all about the visual. But LRS designer Raul Solis, 34, learned something different from Proenza Schouler, where he spent almost five years: a focus on sellable clothing. "It taught me how to create a business," Solis says of his tenure at the brand. (Kids today—so professional!)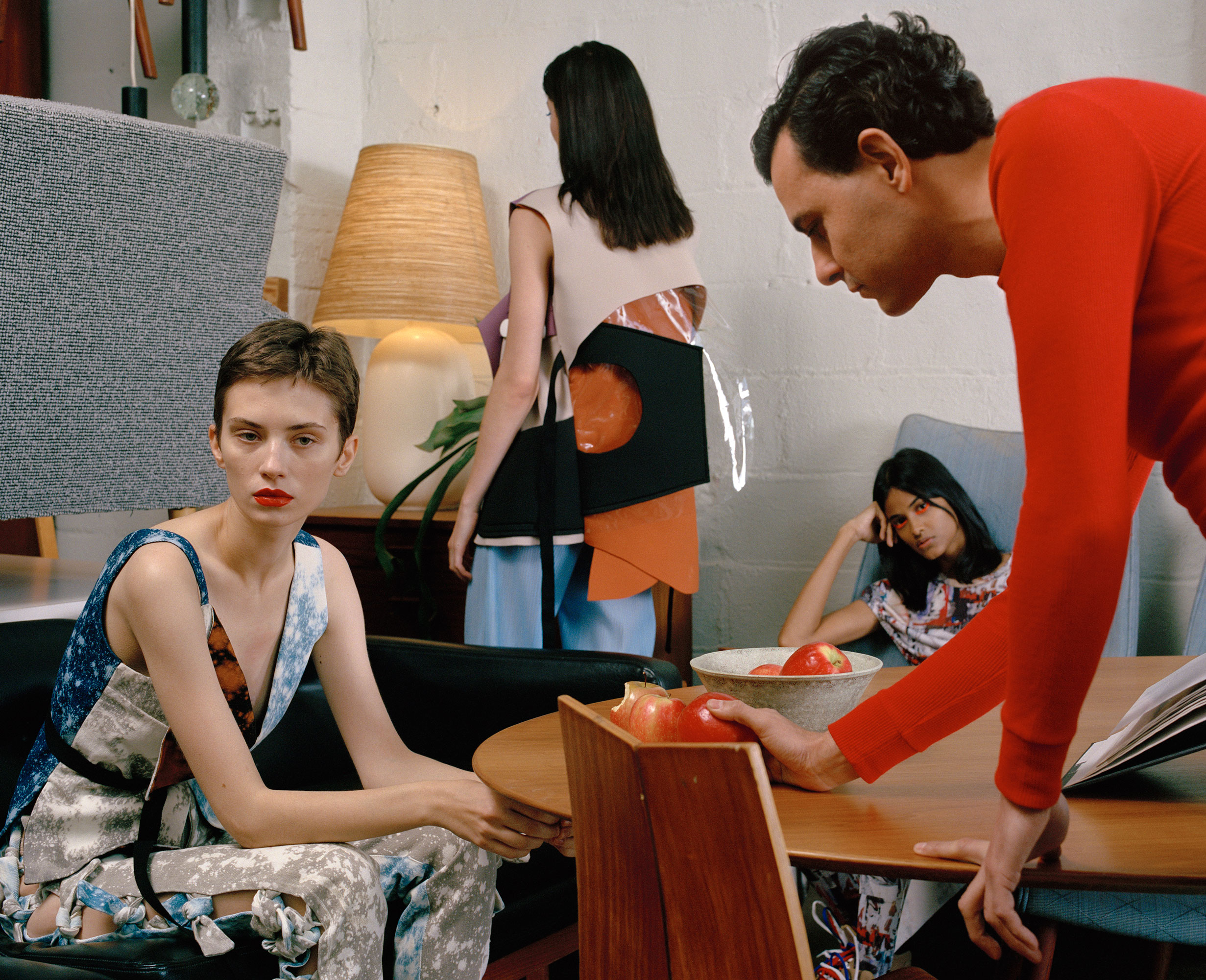 That head-for-business, bod-for-avant-garde-fashion mind-set makes LRS's freaky output stand out. Solis takes the weirdness of Club Kid style—amoeboid shapes, single-sleeve shirts, the prints you see when you close your eyes after being awake for 36 hours straight—and combines it with the clean cuts that define the best-dressed skateboarders. (He makes, of all things, a killer wide-leg cargo pant.) "I like the idea of odd garments," Solis says, "but I like the idea of not feeling left out. Because when you're doing something strange or something not a 'norm,' garments tend to feel a little bit colder and isolated."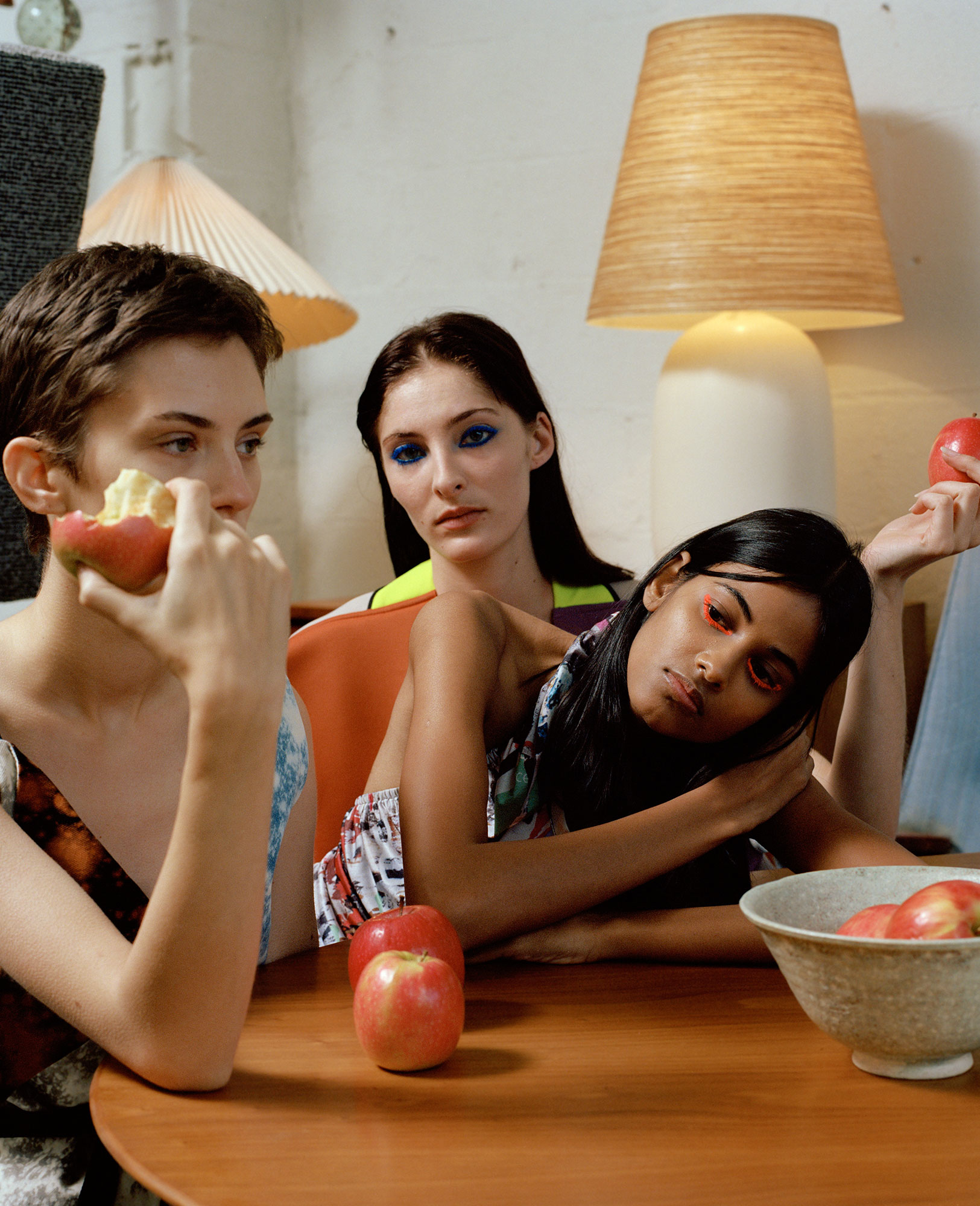 Between the wearable performance art of Vetements and the camp kook of Gucci, it seems that people are feeling more at ease with looking a little weird. LRS's best-selling item is a $230 red Lurex turtleneck bodysuit with built-in gloves that hang, like appendages, to the wearer's knees—but its sparkle and Seussian proportions feel fun rather than alienating. "Girls enjoy wearing it," Solis explains.
It comes in a more subdued version, too: a turtleneck shirt, with gloves short enough to function as actual gloves—so sci-fi, yet so practical! "Product is really important to me—not just pure aesthetic," Solis says. "It has to function. You have to relate."
Luar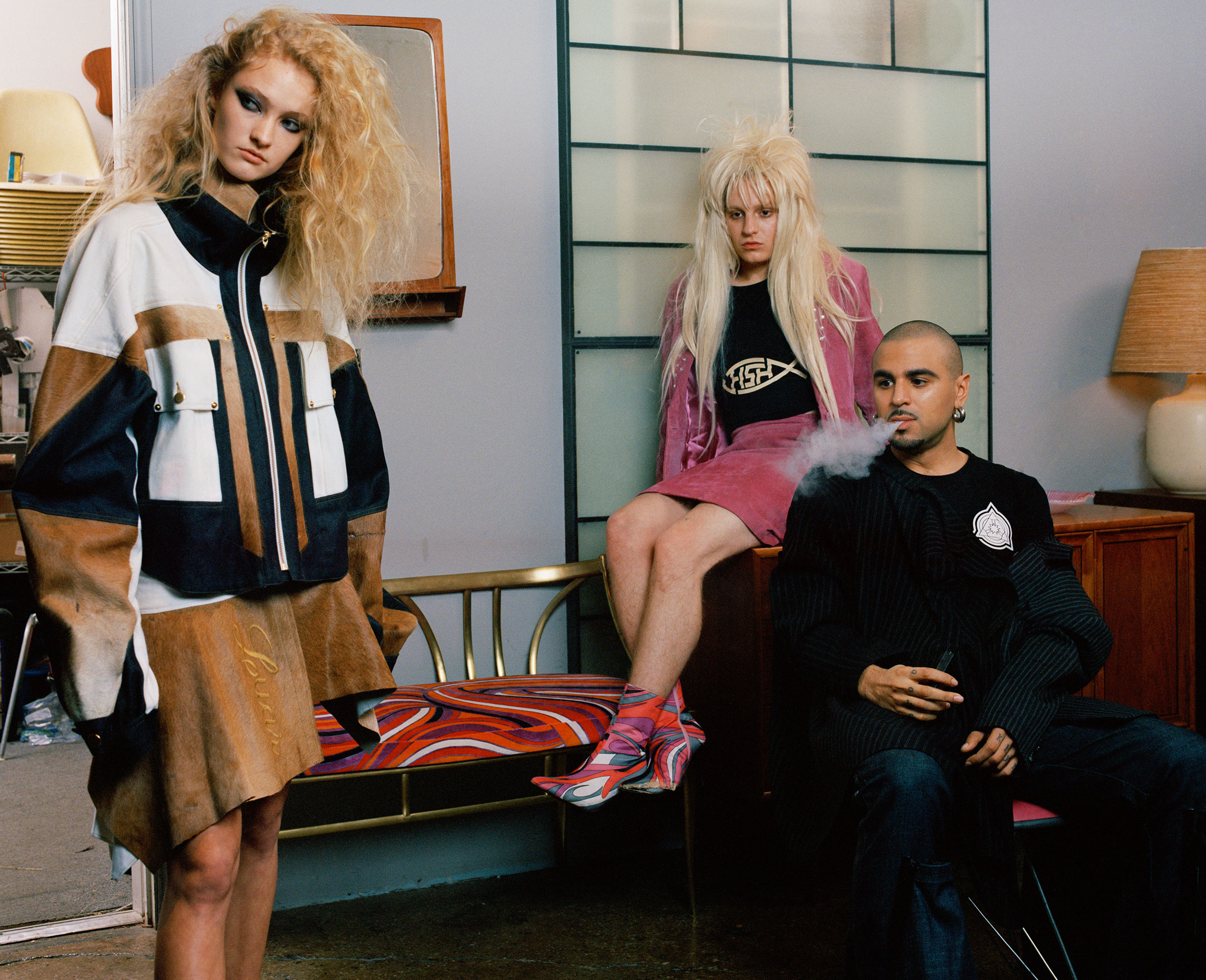 "Luar is just a reflection of me," says Raul Lopez, 29, who named his line in a literal reflection of his own: Luar. "It represents everything I am, and I'm super fluid. I've always been fluid. The brand represents who I am, and everything I stand for."
It's not merely attitude, but identity. The brand conveys a sense of power, but also of humanity; the clothing draws attention to the hips and the swing of one's arms, as if a striking walk is the secret to a perfect outfit. That said, it also incorporates a strong mood of voguing and drag culture, which, along with Lopez's previous tenure at Hood by Air, leads many to describe his aesthetic as "underground."
Lopez dismisses this. "Why am I underground? Because it doesn't comply with what's going on in the Ralph Lauren world? They're the subculture," he says of the more mass-market brands, suggesting that perhaps he's thought of as "underground" because larger brands have to "dig in so deep to knock us off."
Luar understands the power balance between wild and graceful. A camel coat, with flattering pin tucks at the waist and on the sleeves, is emblazoned with the Wu-Tang Clan mantra, "CASH RULES EVERYTHING AROUND ME." Lopez makes the inexplicable elegant: he slings wrestling belts over skirts over pants; mixes beautifully draped horsehair and jersey yanked around a model's hips; and puts elephant sleeves on halter tops—then adds strappy, sparkly sandals that would make Carrie Bradshaw swoon.
Lopez is a New York designer through and through. "It's a way of giving back, also, to minorities who work in these factories," he says, adding that his mother worked in a garment factory. "It makes me feel good that I can share my story through my clothing," he says, "and people can just pick it up and carry it all around the world."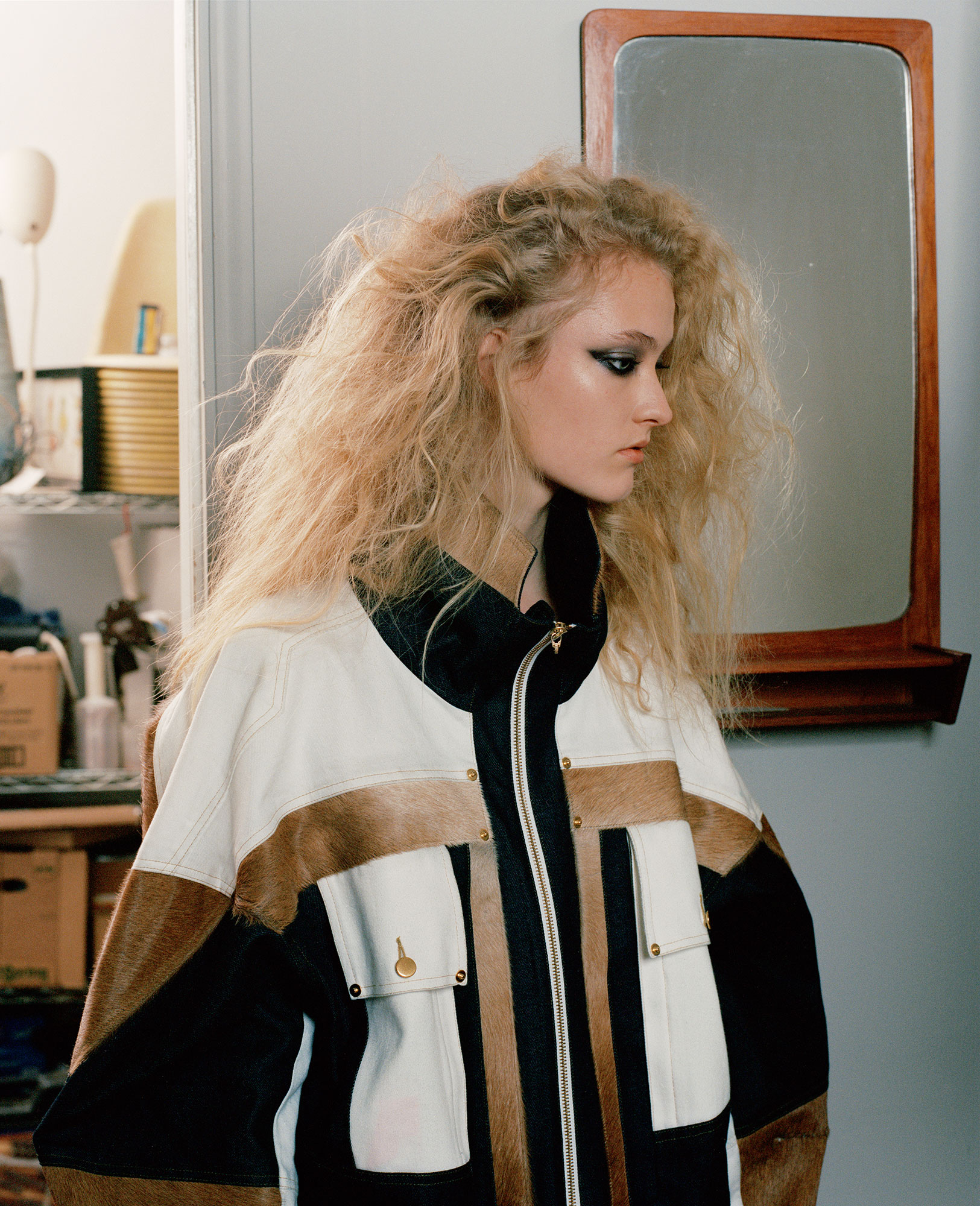 Photographer Reto Schmid; Fashion editor John Colver; Hair Tomi Kono at Julian Watson Agency; Makeup Allie Smith at Bridge Artists; Models Cleo Cwiek at One Management, Elki at Model Mayhem, Samuel Eugene, Calvin LaPorte, Ange-Marie Moutambou at Heroes Model Management, Raquel Nave at ANTI Management, Alanie Quinones at The Society Management, Amelia Rami at Heroes Model Management, Lois Schalkwijk at Women Management, London Scully at Elite New York, Annie Tice at Heroes Model Management, Urvashi Umrao at Elite New York, Victor Vegas; Set designer Eric Mestman; Photographer's assistants Kristoffer Ohlsson, Kevin Vast; Fashion assistant Jameson Montgomery; Hair assistant Chika Nishiyama; Makeup assistant Coco Zhu; Executive producer Travis Kiewel; Production manager Roberto Sosa; Equipment Root Studios.

More from GARAGE No. 14:
Anti-Prep Fashion is Disrupting the Americana Aesthetic
Andy Warhol's Polaroids Are His Most Influential Work
In Art, Fashion, and Even Politics, We Are Living in a Warholian Moment
A version of this story first appeared in GARAGE Issue 14,
available to buy here
.