View of Digging for Diamonds at the Disco, Club Rhubarb, New York. Photo: Brendan Stumpf
Make a Connection at Tony Cox's Disco-Inspired Show
The former pro skater's new apartment exhibition is woven from the fruits of after-hours encounters.
View of Digging for Diamonds at the Disco, Club Rhubarb, New York. Photo: Brendan Stumpf
I wasn't quite sure what to make of Tony Cox, the pro skater turned artist, when he arrived at a mutual friend's Grammys-watching party in the East Village, sat cross-legged on the floor, and proceeded to offer sardonic commentary while drinking glass after glass of red wine and smoking cigarettes until it became necessary to crack a window. At some point, while everyone else was complaining about Bruno Mars, he told me about a group show that he'd curated at his studio/crash pad on Canal Street called Digging for Diamonds in the Disco. He emailed later to say that it's "best seen with ambient light"—meaning when the sun's still up.

Daylight viewing is not a good idea in most actual discos, which hold on to their tinsel glamour only at night, when your brain's under chemical duress and your social defenses are compromised. "When I went out, I was looking to connect," Cox is quoted as saying in his project's press release. "I was in search of knowledge, of people who would help me grow." And the show is, on some level, about who he met and what he learned at the disco of his life. So it's appropriate that we, too, met at a party.

Cox's studio is a sunny box—"my houseboat," he called it on my recent visit—as tall as it is wide, with big windows on two sides, a lofted sleeping area, and a comically cramped bathroom. Every surface is deployed to display the work in the show. Some of the artists featured—Rita Ackermann, Bjarne Melgaard, Raymond Pettibon—are highly successful, or at the very least members of the contemporary art deep state, like Lola Schnabel. This is, after all, a show about the curator's "personal canon," and the "digging" conceit is about making visible artists who've introduced him to new ways of thinking or making. This goes way back: rifling through papers on the $6,500 Vonnegut Kraft coffee table that's almost the only piece of furniture in the room, Cox talked about how he was introduced to art by Pettibon's punk zines—he grabbed one to show me—and ended up having friends in common with their maker.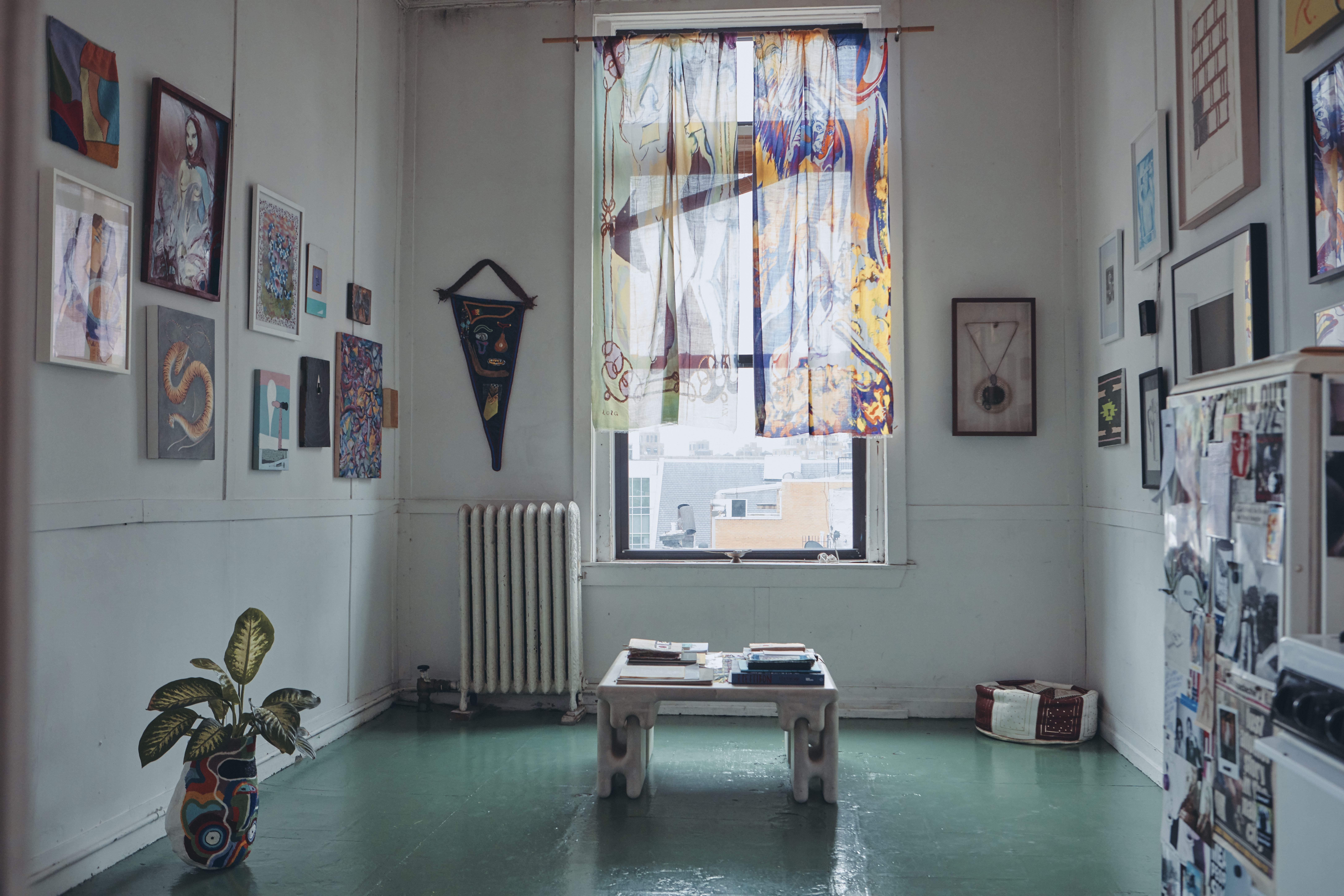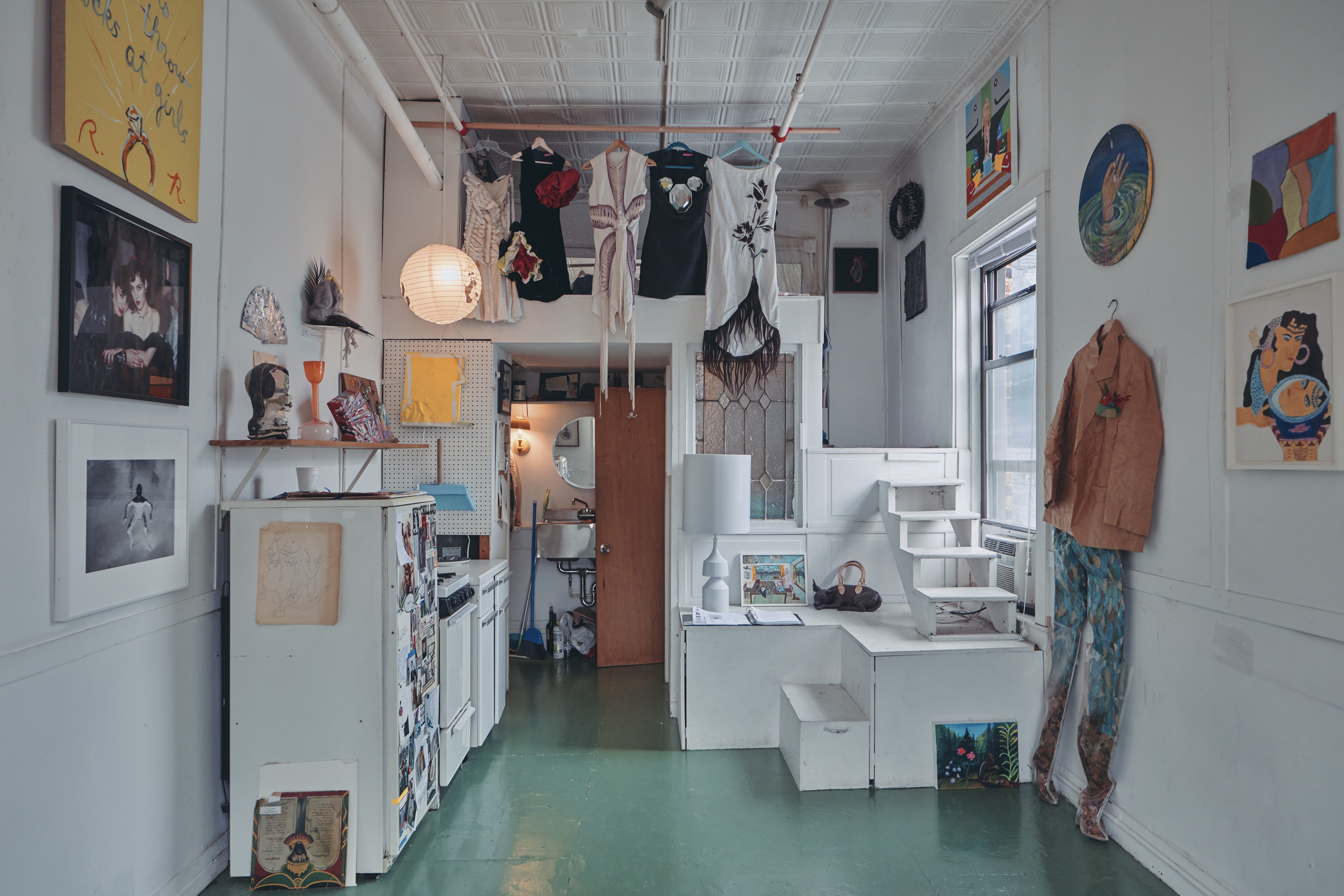 Several of these friends and influences have died. Included in Digging are dresses by his friend Ben Cho, as well as Leo Fitzpatrick's shrine to the fallen, Memory Homage Collage to Deceased Loved Ones on Fridge Door. There is gallerist Colin de Land, Nathan Maddox, the lead singer of Gang-Gang Dance who was struck by lightning in 2002, and, for some reason, the very much alive Ryan McGinley.
When I arrived, Cox again sat cross-legged on the floor, with a glass of wine, and smoked. Because the show is appointment-only and the place is so small, its restlessly confessional organizer is unavoidable, making private contemplation of the work impossible. So we sat and talked and the room became vast with all the talking. Cox is a collector of observations, enthusiasms, longings, and complaints. And artworks. It all adds up. Here, he told me, "everything from the coat rack to the medicine cabinet is used. It's a time capsule."
Since Digging is a kind of biography, here are the basics: He was born in 1975 and grew up in Louisville, Kentucky, where he found his identity—and later profession—as a skateboarder. He moved to New York in 1995, and later to San Francisco, where he became thick with the Thrasher magazine crew. By the early aughts, he was living in Barcelona, working for a shoe company. "Then they fired me," he related. "I was stuck in Barcelona, and I decided to flip to working on art. I sold all my skate product on the square to live." The designer Cho, who he'd known since 1997, "saw something about my show in Spain online and invited me back to New York." The skate world and the art world have long been mutual-appreciation clubs for outcasts. Cox arrived in New York in the wake of Kids, after all, when the original Max Fish was a mashup of the two cultures. When he returned, post-Barcelona, he lived with his boyfriend uptown, then, for a time, in part of Ackermann's midtown studio (his friend Agathe Snow had the space before him) before getting this place in 2010, though these days he lives upstate most of the time. Through Cho, he met Pascal Spengemann, who eventually took him on at Marlborough Contemporary, but a planned show was waylaid by illness. In the meantime, Cox needed a project, so he started asking friends for work to make this show. "Originally it was only going to be a couple," he said. But once he started, it expanded rapidly. He began to run through how he knew everyone represented in the room—all the friends of friends of friends—and I pictured a Mark Lombardi flowchart.
Go up the stairs to the loft and you'll find the rest of the story: a painting, by Jim Krewson, an artist he met on "one of the apps"—today that's where you connect, after all—depicting an erection with Liza Minelli's head. Next to it is a droopy penis-shaped ceramic vase by Giles Round, who Cox met on Scruff, titled Ettore, Sorry (it riffs on Sottsass's perky Shiva Vase). There's also a quilt made of vintage porn by Greg Woolard, who painted the walls of Max Fish. You can even buy a copy of Catholic Morality, a book that Cox picked up in parochial school and jerked off into. "It took nine months to fill up," back in 1993 or so, he remembers. He calls the work Loads for the Lord.
Many of the items in the show aren't for sale; they're present just to tell his story. Cox's own works are included too—delicate outsider-art mementos of his dumpster dive for meaning that are redolent of a whimsically inchoate spirituality. Most of his work has involved sewing: notebooks, thick with thread and found or saved objects, glued and stitched together. Think stitched samplers—he's from Kentucky after all—mixed with the detritus of his life to form everyday reliquaries of self.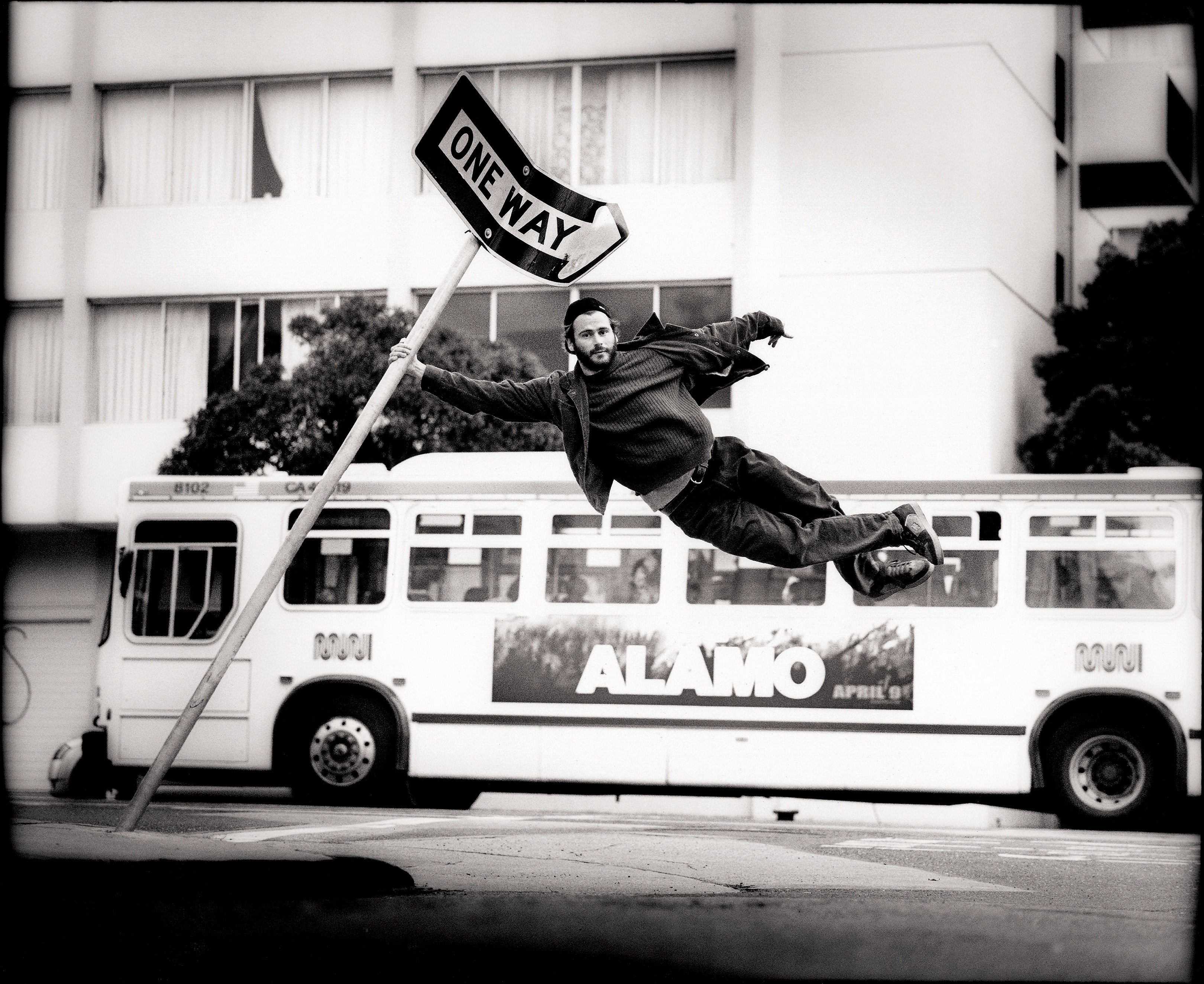 I asked Cox how he could live in this magpie's nest of his own past. Sometimes, he admitted, he de-installs the rubber sheets and porno quilt and sleeps in his bed. "Being here, I've been able to process what I've done," he said. Digging is about that search for something profound, something transformative, deep in the after-hours. He mentions Gavin Brown's old bar Passerby, on the border between Chelsea and the Meatpacking District before both were transformed into luxury entertainment zones, with its sequentially lit Saturday Night Fever-style disco floor by artist Piotr Uklanski. He used to hang out there, too.

Before I left, we discovered we'd met before, without remembering it—hey, it was dark, and there were lots of woozy distractions—appropriately enough at that same Grammys party host friend's house, in Fire Island Pines. His double-exposed photos, part of a series titled Big White Cloud in which the natural beauty of the island is overlaid by ghostly go-go boys and disco balls, were projected on a screen, or maybe just a sheet. I don't really remember. It was a bit hard to focus, which, after all is the idea of the Pines, and also of his photographs, and also, of course, of any decent disco.

Digging for Diamonds at the Disco is on view at Club Rhubarb, New York, by appointment only through February 14. For more information, please contact Tony Cox at ronlittles@hotmail.com, or Nichole Caruso at nicholecaruso@gmail.com.