Morris painting in her midtown studio. Photo courtesy of the artist.
Sarah Morris Paints An Ever-Changing Midtown, Sans Nostalgia
Morris's show, 'Midtown Paintings: 1998-2001,' is on view at Petzel Gallery's Upper East Side outpost.
Morris painting in her midtown studio. Photo courtesy of the artist.
An Upper West Side baby boomer (rock critic; thinks Lou Reed is a deity) once told me that my generation (Chinatown/North Brooklyn; thinks skincare is a religious ritual) is too nostalgic. "Oh, remember yesterday?" he teased.
I bristled a little at the time, but watching Sarah Morris's 1998 short film, Midtown, which is being screened as a part of Morris's show, Midtown Paintings: 1998-2001, at Petzel Gallery's Upper East Side outpost, I wondered if he was right. Romanticizing the Strokes on the Lower East Side or Patti at CBGB or Warhol with his fauxcialites is one thing, because it's easy for glamour to fester on society's outskirts, and of course glamour is appealing. But what about the parts of New York where art is missing? Against the odds, looking at Morris's Midtown film and paintings, I felt that familiar millennial swell: Oh, remember the neon advertisements instead of the hideous LED ones? Oh, remember when you saw middle class people in New York who weren't wearing $500 Rachel Comey pants? Ah, office jobs looked fun. So much downtime. Remember smoke breaks? REMEMBER SMOKING?!
Morris—Midtown East; artist; much more interested in corporations than God—is Gen X, I guess, because she told me, "When I went to school, basically everybody around me made film, and then I didn't make anything. I just did a manifesto." Her paintings and short films focus on places, mostly cities—in addition to Midtown, there's Miami (2002), Los Angeles (2005), Rio (2012), a forthcoming film on Japan, and several others across the past two decades—and aren't architectural, per se, but have the kind of maniacal orderliness of a city map or a blueprint.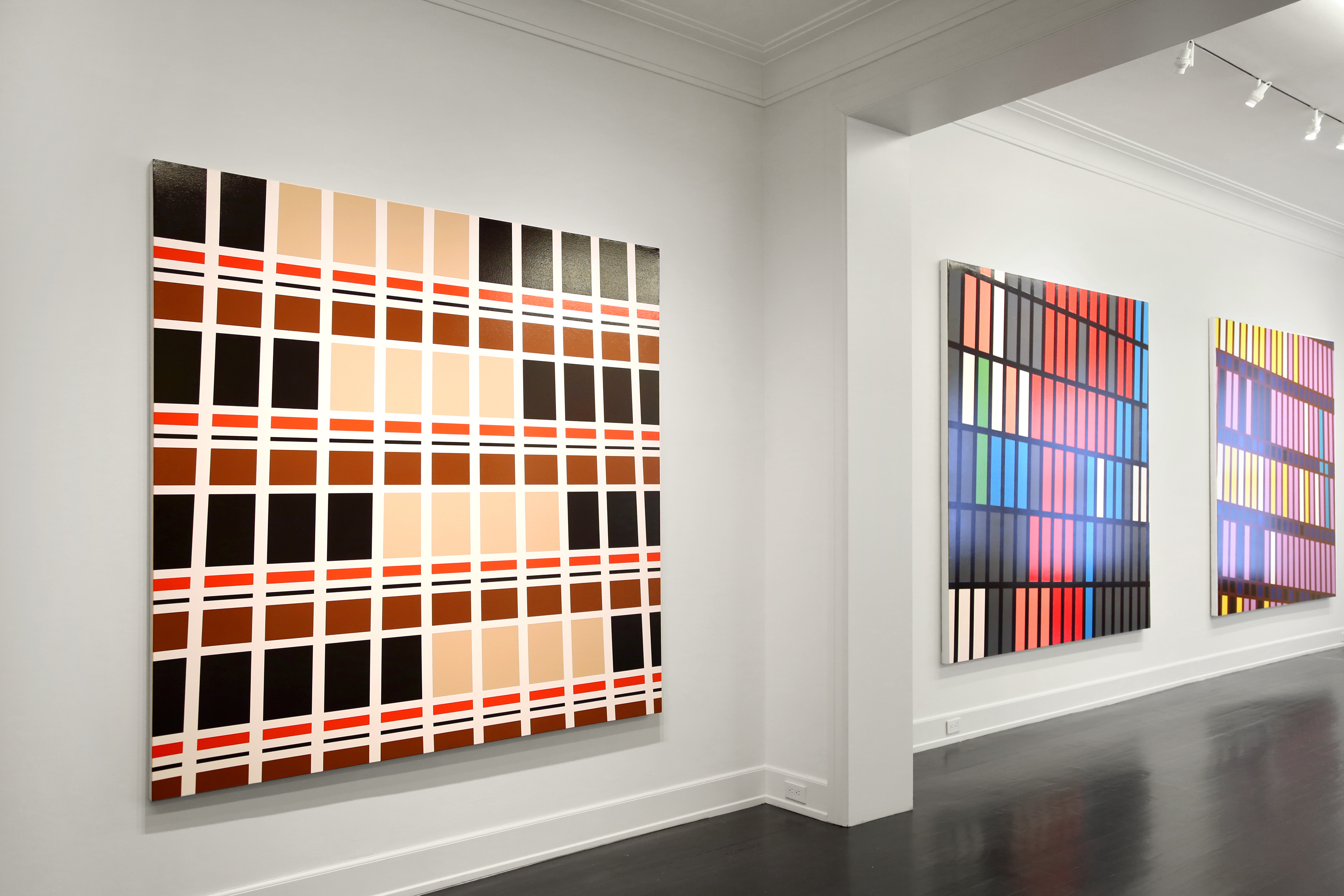 Midtown was made, for example, by filming at specific times at specific coordinates, regardless of what was happening there, and her paintings are the product of an insanely time-consuming process involving mathematical equations calculated on a computer and mocked up at a ratio of 1:10. Then she uses automotive tape: "Well, it used to be from Japan; I don't know if it's still from Japan. Japan seems to have a monopoly on pigment, tape, all these sorts of funny things—paperclips, T-shirts—anyways, basically we build up layers of paint, and then we use an automotive tape in relation to the coordinates," she told me. We were talking in her Long Island City studio (and because this is a story about a woman who is interested in political progress: her lipstick was Tom Ford Pink Tease).
Morris decided to make art about Midtown, of all places, because she had a studio there when she first arrived in New York in 1994. "There were a number of other artists in the building—like Christian Marclay was in the building, and Rita Ackerman was in the building," she said. Her rent was "$250, $300, something like that," she said. "And the building had this weird insurance law—we had to leave the building by nine o'clock every night. You'd either lock yourself in the studio or you'd go out to bars. Basically, my stomping ground was 42nd Street, and at the same time it was slotted to get completely destroyed and changed because Giuliani had sort of sold it to Disney."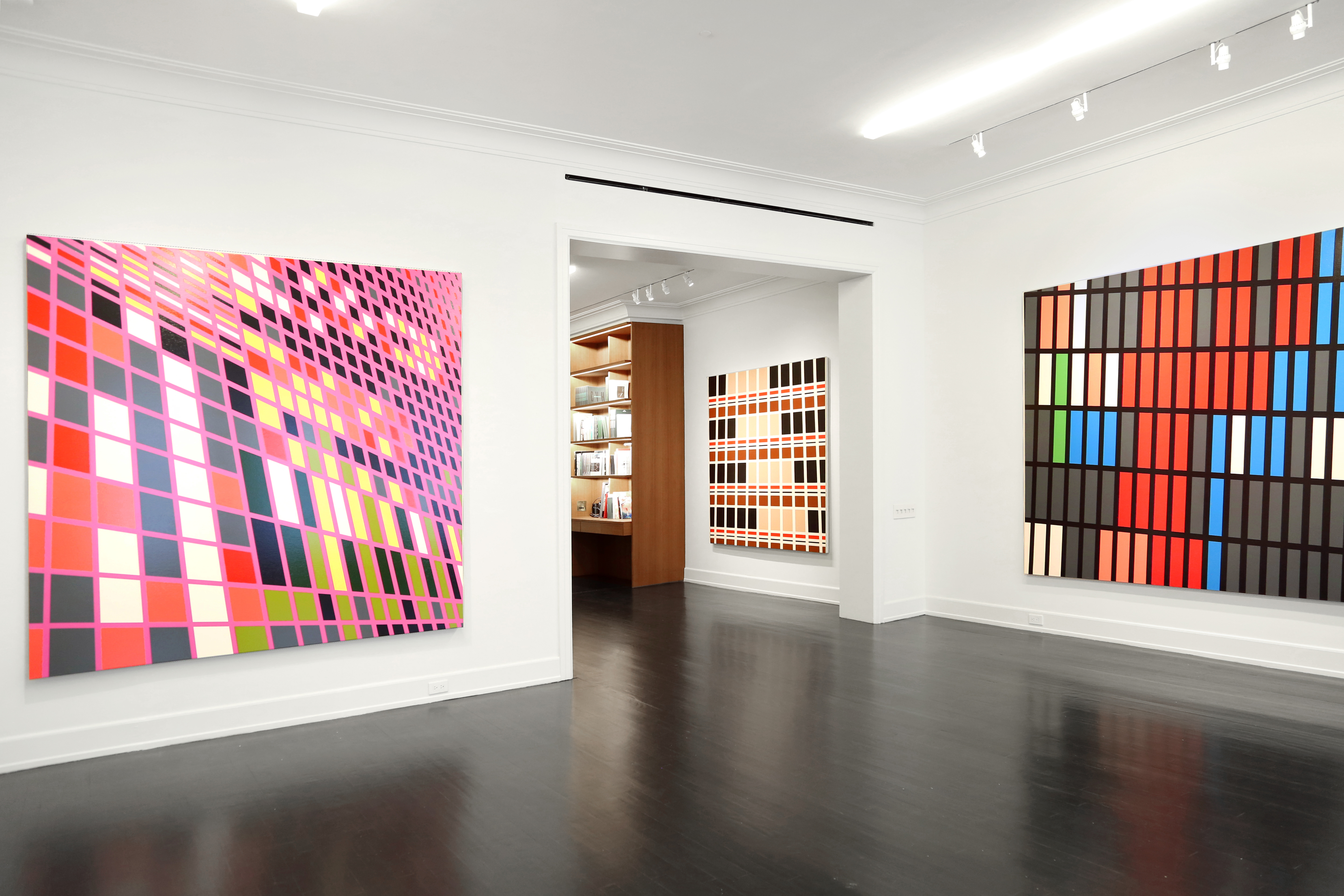 Morris is a great talker. She speaks with power and poise, and she makes dazzling proclamations. She would make a terrific cult leader. But she doesn't sound, you know, sad about the passage of time, and I was somewhat disarmed by her mixture of repulsion and delight. "It was a funny location to have a studio. It was great. It was really great. It was really cheap." Halfway through our interview, I asked her how often she goes back to the neighborhood. "I live in Midtown East, but I'm pretty attracted to Midtown. I like Midtown!"
I was ready to sadly rhapsodize about the cheap porn shops that closed before I was even born, but even as Morris laid down sinful names like "Disney" and "Giuliani" like trump (and also Trump) cards, she wasn't angry or bitter or upset. The root of millennial nostalgia is a belief that changes in the cityscape, for example, represent a decline in society. Gentrification. Corporatization. Etcetera(zation). Morris's work certainly posits the corporation as a threat, but she also seems to view it at a kind of sublime distance: sprawling, terrifying, and maybe too stupid to be truly evil.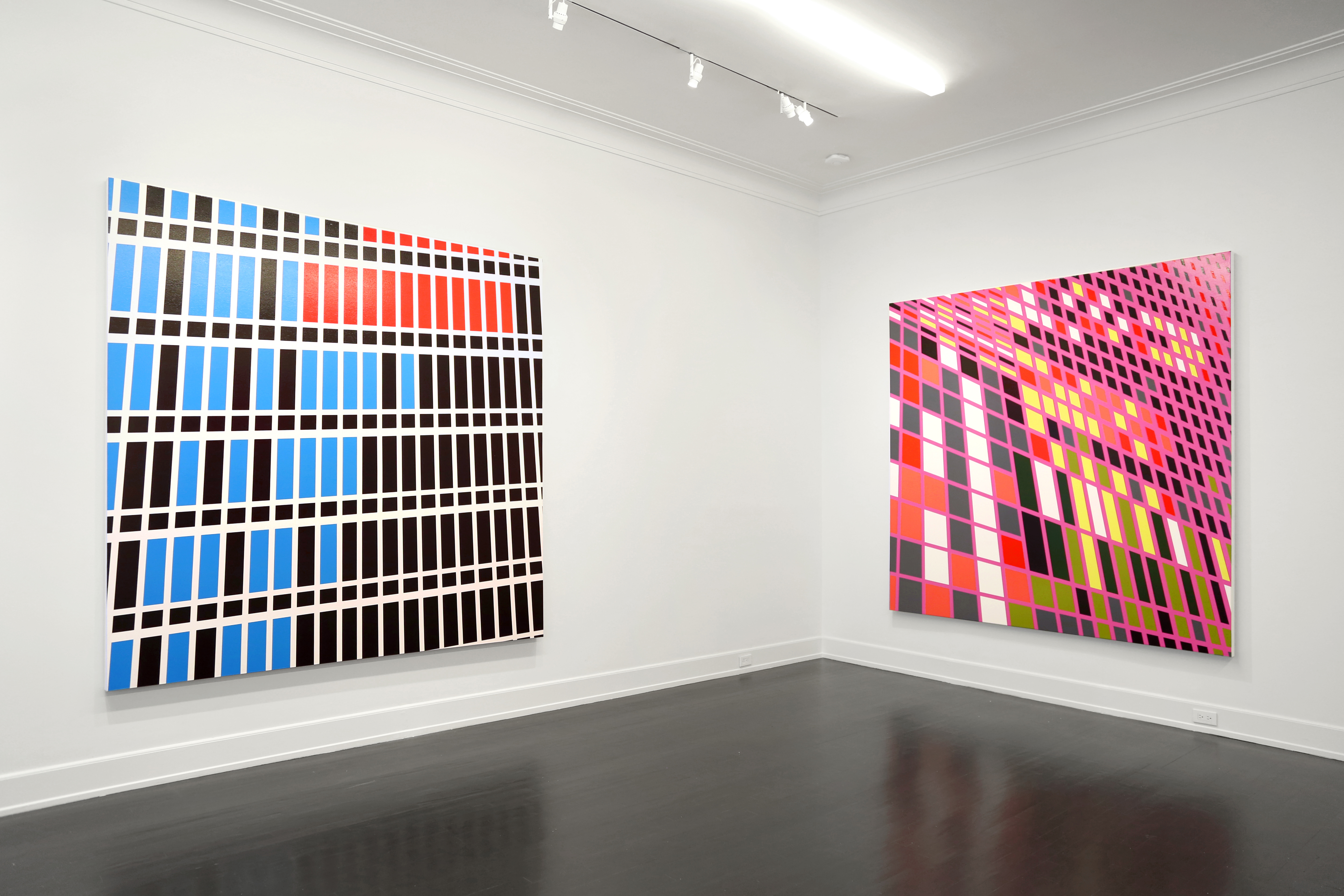 When Morris was filming Midtown, she noticed a small line of brass in front of major corporations "to designate where the corporation stops and where it starts, which is funny because there is no boundary." We had spoken about the use of corporate logos on bodies—"the sponsorship of human beings in relation to brands; it's sort of endless." I thought about the trend of rappers and influencers wearing head-to-toe logos, and suddenly thought about how luxury brands have made people into billboards.
"In actual fact, your eye is trespassing all the time, and actually any good art is about theft and is crossing that line," she said. "And it actually doesn't even matter if your tripod is on the other side—you still can have a zoom lens, which I use all the time, and go right into wherever I want to go."
Morris first showed some of these works, and the film, in Soho, and when she said that, of course, a siren went off in my dodo millennial brain wondering what a film of Soho in 1994 would have looked like. "I really like that idea of being in the epicenter, I like the idea that art should not be a marginal activity," she said. "If you look at Warhol or Judd or even Richter, even some of Pollock's work: who says that artists can't deal with the mainstream? Where did this idea [come from] that art has to treat the marginal?"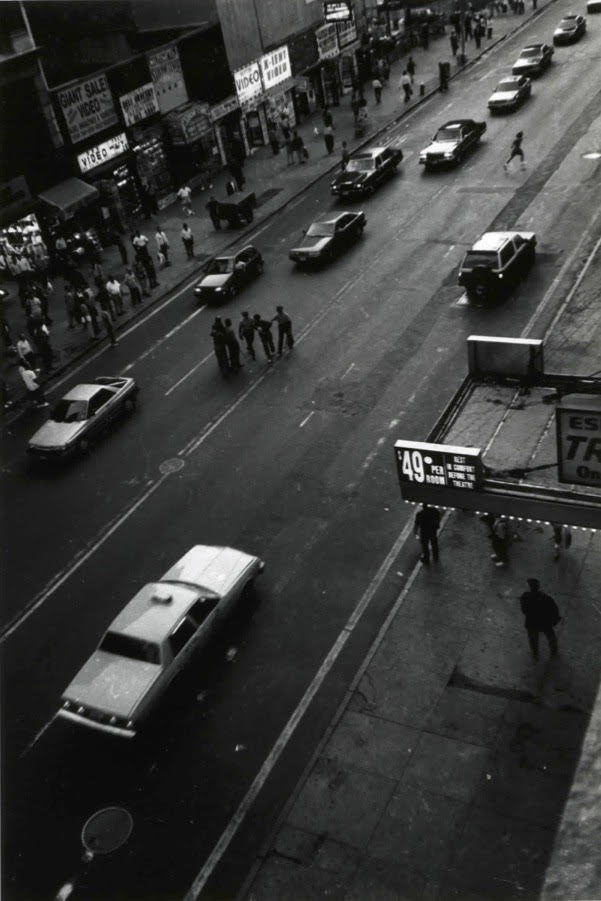 She continued, "And something about Midtown is that it's like this slightly compromised zone, you know? Where you would not think it would be an inspiring arena, but actually, it really is. Because there's a lot of resilience and a lot of resistance, even though it is the dominant American mainstream thing entering the city."
I asked her if she felt…you know…nostalgic for that time, when she worked in the Midtown studio. She said the area was already nostalgic. "When I had my studio on 42nd Street, I mean, I knew that this was the end of something, because it was clear that that was the terms of my lease." Nothing had been touched or renovated since the '70s, she said. "I had no lease, because it was clearly like, the whole block was gonna get redone, and you didn't know when, and that's why it was so cheap." (You know, I feel like we're at the end of something now, too, though I admit it seems like what is slated to appear after the demolition is not clear at all, and perhaps that's the point.)
But does she get mad? She told me that a few weeks ago, she went to a favorite Dominican restaurant of hers uptown and found it had closed, unexpectedly, after 15 years. "Yeah, of course I get angry. It's very frustrating! The deck is being shuffled while you're playing. It's not okay!"
"But on the other hand...I'm not at all trying to be apolitical. It's just like, yes: this flow of capital is repulsive. It's constantly going on, and it's up to us to find another space. I think that 'other space' has to be made, and that's the space of art. I am optimistic. Even though this is going on, I sort of feel like that's the space of literature, that's the space of music, that's the space of good art. It's the only thing you can really believe."
"I don't really know what's going on in DC, but it's the same thing with the financial markets: does anybody really know exactly what's going on?" she said. "Maybe it's a conspiracy, or is it actually a bunch of people who don't really know what's going on?"
The stuff—the advertisements, the people, the clothing, the demolition and rebuilding and "improvement"—is all a distraction. It was Giuliani who ordered the "revitalization" of Midtown, Morris reminded me, and it's Giuliani, now, who's on television telling us that "truth is not truth." Perhaps there's nothing to be nostalgic about because, after all, nothing has changed.