Photograph by Gustavo Caballero for Getty Images.
The Fabulousness of Cardi B: A Visual Analysis
Cardi B's Louboutins are just the beginning of her ultimate fashion flex.
Photograph by Gustavo Caballero for Getty Images.
There's a covetable allure to a woman who decides to forego comfort in the name of style, who feels more at ease centimeters off the ground in a pair of towering stilettos. Add an $800 dollar price tag, and a mere pair of heels becomes a symbol of wealth and aspiration—the ultimate flex.
Cardi B's flex of preference: her Christian Louboutins, identifiable by their distinctive bright red soles.
On her single "Bodak Yellow," the Bronx rapper trenchantly raps a warning to all her haters: "Said, little bitch you can't fuck with me if you want ed to / these expensive, these is red bottom, these is bloody shoes." Later she brags, alluding to her newfound wealth: "Hit the store I can get em' both / I don't wanna choose." For the 25-year-old former stripper turned social media star turned chart-topping rapper, her Louboutins serve as an tangible accessory to her invincibility. In the past four years, she's become known for her hilariously honest Instagram videos, which earned her a spot on the VH1 reality show Love and Hip Hop New York. She left the reality show at the end of last year, releasing two mixtapes in one year, and then made history in September when she became the second female rapper to hit #1 on the Billboards, which hasn't happened since 1998. Earlier this week, she won five BET Hip Hop Awards.
Sure, she can fervently spit that she's made it, but showing you is proof. Cardi B isn't newly hip to Christian Louboutins; wearing and owning a pair is "what it means to make it in the Bronx," her stylist Kollin Carter told Billboard in an interview in September. As Cardi told The New York Times, her first pair was a 19th birthday present from someone who fancied her at the strip club where she worked.
Nor is she the first rapper to profess their love for red bottoms in a song. The designer shoes have become synonymous in hip hop with club attire, sexual prowess, attractive women, and enviable style. These songs are mostly by other men—save for Trina's "Long Heels, Red Bottoms"—and usually consist of some bragging about what their money buys for women, or being able to spot out a suitable woman based on the color of her soles. In "Bodak Yellow," Cardi B takes control. Stunting is obligatory, but she has options to her execution. She can blow her own cash, or your man's, to buy her Yves Saint Laurent and a new whip. As her iconic Love and Hip Hop New York proverb goes, "Ever since I started using guys, I feel so much better about myself. I feel so damn powerful."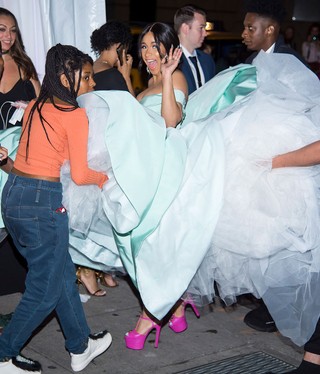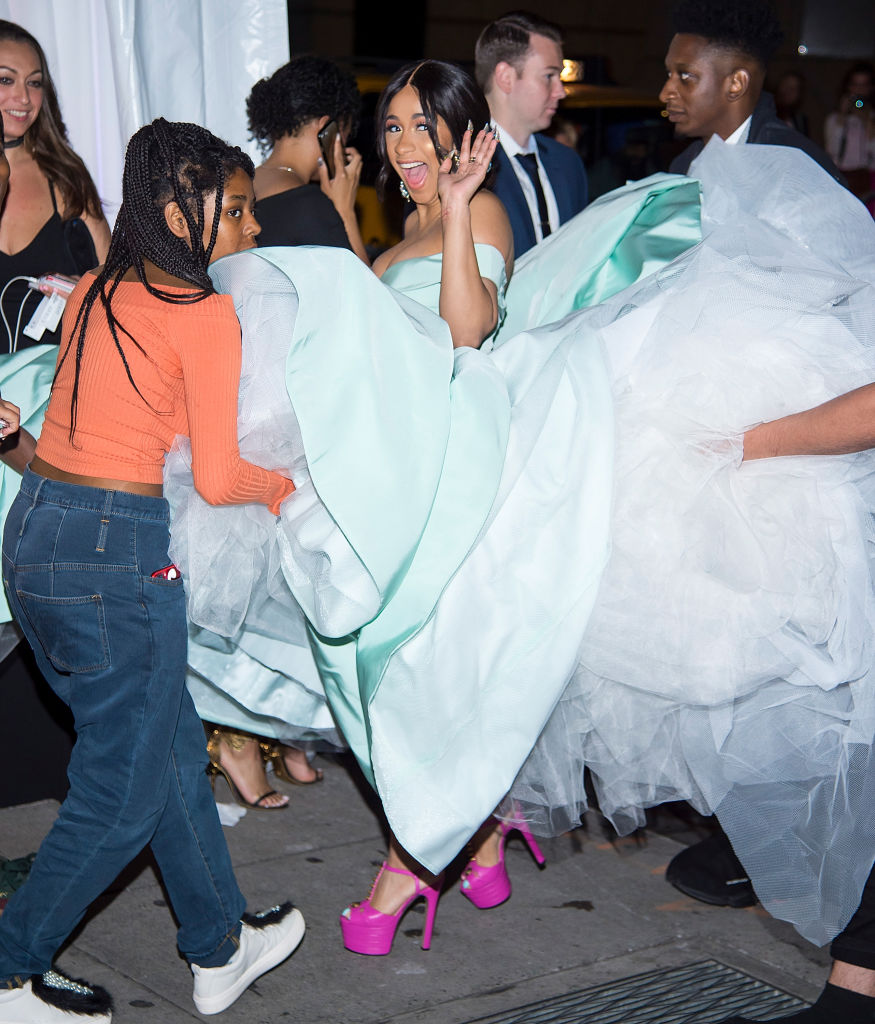 A deal with Atlantic Records and two mixtapes later, and now the Bronx rapper adorns her soles in new pairs of Christian Louboutins every couple of weeks: she reportedly now owns over 90 pairs. She's stepped up her fashion game too. Enlisting the help of Carter for her red carpet looks, Cardi's wardrobe is now flush with luxury designer garb from Gucci, Helmut Lang, and Balenciaga. There was her multi-patterned colorful oversized fur coat, velvet hot pink trousers, a caged rhinestone bra, Miu Miu oversized shades, and a waist grazing ponytail for the BET Hip Hop Awards. A platinum blonde wig with a deep-cut Givenchy red pantsuit for the MTV Video Music Awards. An Alexander McQueen shearling red and black coat with thigh-high Balenciaga boots on The Tonight Show With Jimmy Fallon. A Mia Wallace bob, Helmut Lang patent leather trench coat accompanied by her equally stylish boyfriend, Migos member Offset. She even bought herself a bright orange Bentley, though she doesn't yet have her license. "I am a rapper…I need this car," she said, justifying her purchase.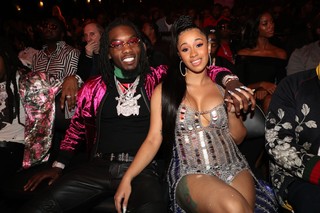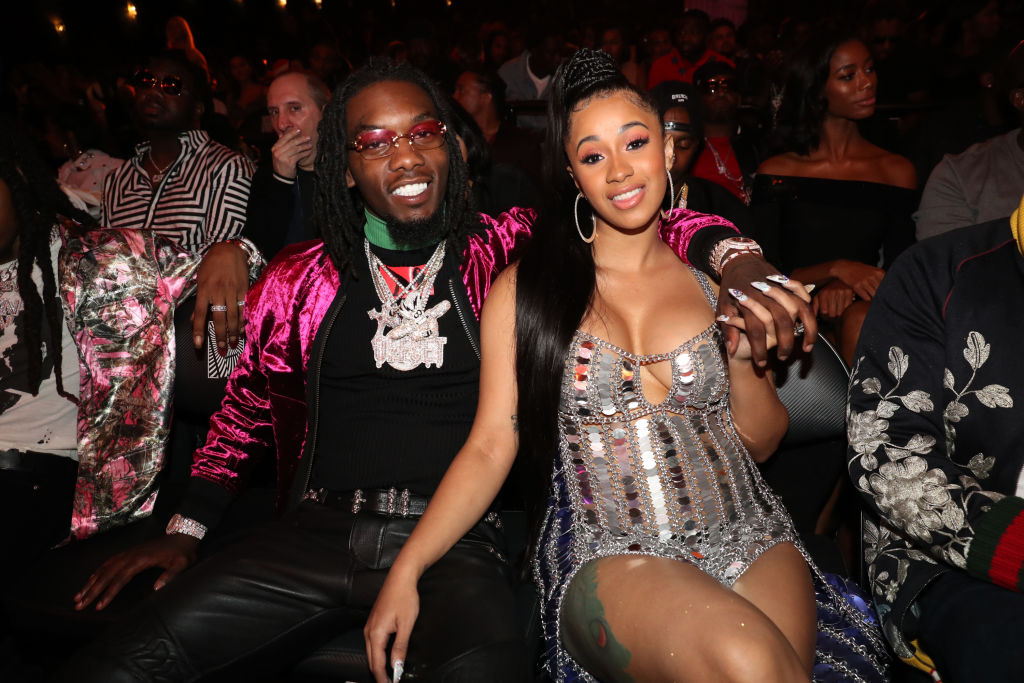 Following in the footsteps of other female rappers before her (particularly Lil Kim, Foxy Brown, Nicki Minaj and Missy Elliott), Cardi B understood early on the importance of fashion as a part of her image—that it was necessary to become the icon she wanted to be. In an April interview with HotNewHipHop, she makes her claim for the fashion throne: "A lot of designers, they did tell me no. They didn't really wanna work with me. I said to myself, you know what, I'm gonna buy their pieces until they wanna work with me.… I'm gonna prove to them that I'm a fashion fucking icon."
In 2017, Cardi B has money, and she wants everyone to know. The unapologetically flashy, label obsessed style of Cardi B obviously nods to the ghetto-fabulous era of 90s hip hop: it's a DIY attitude, immersed with swagger, that has long been a part of the narrative of growing up poor and black in the hood and making it out without alienating your roots. The look was popularized by Diddy, singer Mary J. Blige and rappers Lil Kim, Foxy Brown, Notorious BIG, by way of stylist Misa Hylton: an overabundance of furs from the late Nija Battle, dripping with diamonds, and designer labels from Chanel to Fendi to Versace, mixed with oversized gold hoops, long embellished acrylic nails, and excessively long weaves or intricately styled manes. Hylton pioneered an aesthetic for women in the music industry who didn't fit into the "palatable to white people" box, putting black girls from the hood in looks from the runways, giving designer clothing a completely different vibe. A total rejection of boring, conventional ideas of what good taste was, proclaiming that loud, glam, and excess could be just as chic. "When people hear 'ghetto,' they think derogatory. I want people to understand it as a movement where things can be equally aspirational, unique, attainable, powerful. It's not taking off the earrings when you're asked to," Misa Hylton told The New York Times last year.
On "Lit Thot," Cardi raps: "They mad cuz my time came and I ain't miss my flight / Fuck you thought bitch was going to be down her whole life?" The self-proclaimed "regular degular schmegular girl from the Bronx" has been putting in the hard work to get her "schmoney" for years now, so why wouldn't she indulge? Critics who diminish the materialism in hip hop as frivolous are blind to the aspirational aspects. Stunting is a form of resistance, a push-back to the haters to who doubted your talent, and a fuck-you to poverty and a system adamant on keeping you there. And who really wants to take themselves that seriously? Stunting is also fun.
Yet, being ghetto-fabulous is as much about showing that you made it by dressing to excess as it is about staying true to where you came from. A new tax bracket doesn't mean you suddenly change up the way you speak and present yourself. Speaking to the New Yorker about the term in the mid-90s, Uptown record label founder Andre Harrell said, "Without question fifty per cent of fabulous is attitude. You still gotta be who you are." It's why mainstream fashion brands who attempt to imitate so often fail and run back to embrace the Lil Kims and Cardi Bs.
Six months after Cardi B talked about being rejected by fashion designers, she was a star of New York Fashion Week, performing at Alexander Wang and sitting front row at Helmut Lang and Fenty x Puma. Didn't she tell us? She's a fashion fucking icon.