Tianzhuo Chen, Scapegoat 01 / 替身 01
(detail), 2015.
 Gold-plated copper, medical model, imitation fur, LED, plastic sword, and Styrofoam, 
210 x 130 x 118 cm, edition 2/5. Copyright Tianzhuo Chen, courtesy Sadie Coles HQ, London. 
Photography: Robert Glowacki
What Does the Future Hold for Chinese Art?
A new exhibition in London takes a cult sci-fi novel as the jumping-off point for an exploration of possible futures—not all of them dystopian—for contemporary art in China.
Tianzhuo Chen, Scapegoat 01 / 替身 01
(detail), 2015.
 Gold-plated copper, medical model, imitation fur, LED, plastic sword, and Styrofoam, 
210 x 130 x 118 cm, edition 2/5. Copyright Tianzhuo Chen, courtesy Sadie Coles HQ, London. 
Photography: Robert Glowacki
In early 1989 a writer called Liu Cixin began a novel that imagined China two hundred years on. He went on on to become one of the country's most celebrated sci-fi writers, but the novel, Zhongguo 2185, was never formally published and has since circulated online. The opening scene is set in Tiananmen Square where a young computer engineer (Liu Cixin's own profession at the time) is on a mission to scan the brain cells of Chairman Mao' s remains in order to produce VR simulations of his and five other dead men's brains. The virtual avatars of these five men build opposition to the government from within the virtual realm before the young president shuts down the internet to contain the threat. In the real world of 1989, student protestors had began gathering regularly in Tiananmen Square, demanding that the government consider democratic reforms. On June 4, the military would brutally suppress the students' democracy movement, and to this day public discussion of the events that day are still the subject of Chinese government censorship.

While Zhongguo 2185 never refers directly to the student protests and government clampdown that followed, its plot does involve rebellion, national crisis, the possibilities and ethical dangers posed by the post-human condition, and the ways in which technology (the internet in particular) will transform identities. For the curator Victor Wang, the novel and its themes provide a framework to understand not only contemporary Chinese society, but also the methodologies of a new generation of artists. Now Wang, who divides his time between Shanghai and London, has titled a new exhibition after the novel.
Wang chose the novel as a conceptual framework for the show in order to sidestep the problems associated with group exhibitions organized around national or regional scenes. "There is a problem with that sort of categorization," he says of the many exhibitions that have claimed to reveal what say, "Chinese art" is all about. "Once we begin to canonize, we begin to standardize. Certain narratives become normalized and others remain untold." This is a particular issue for contemporary Chinese art, which since its emergence as a pet subject for Western curators in the 1990s has been the subject of a number of supposedly authoritative but actually divergent surveys.

In 2008, for example, the Saatchi Gallery opened its new London premises with The Revolution Continues: New Art from China. Perhaps unsurprisingly, from the standpoint of that exhibition, all 'important' Chinese contemporary art looked remarkably like the previous type of art Charles Saatchi had bought, with lots of bright, market-friendly painting interspersed with eye-catching installations. A year earlier, Tate had titled its show about Chinese art, The Real Thing: Contemporary Art from China. This focused on artists who had gone in quite another direction, producing much more nuanced and intellectually layered work. It was entirely unclear which 'authoritative' view lived up to the label.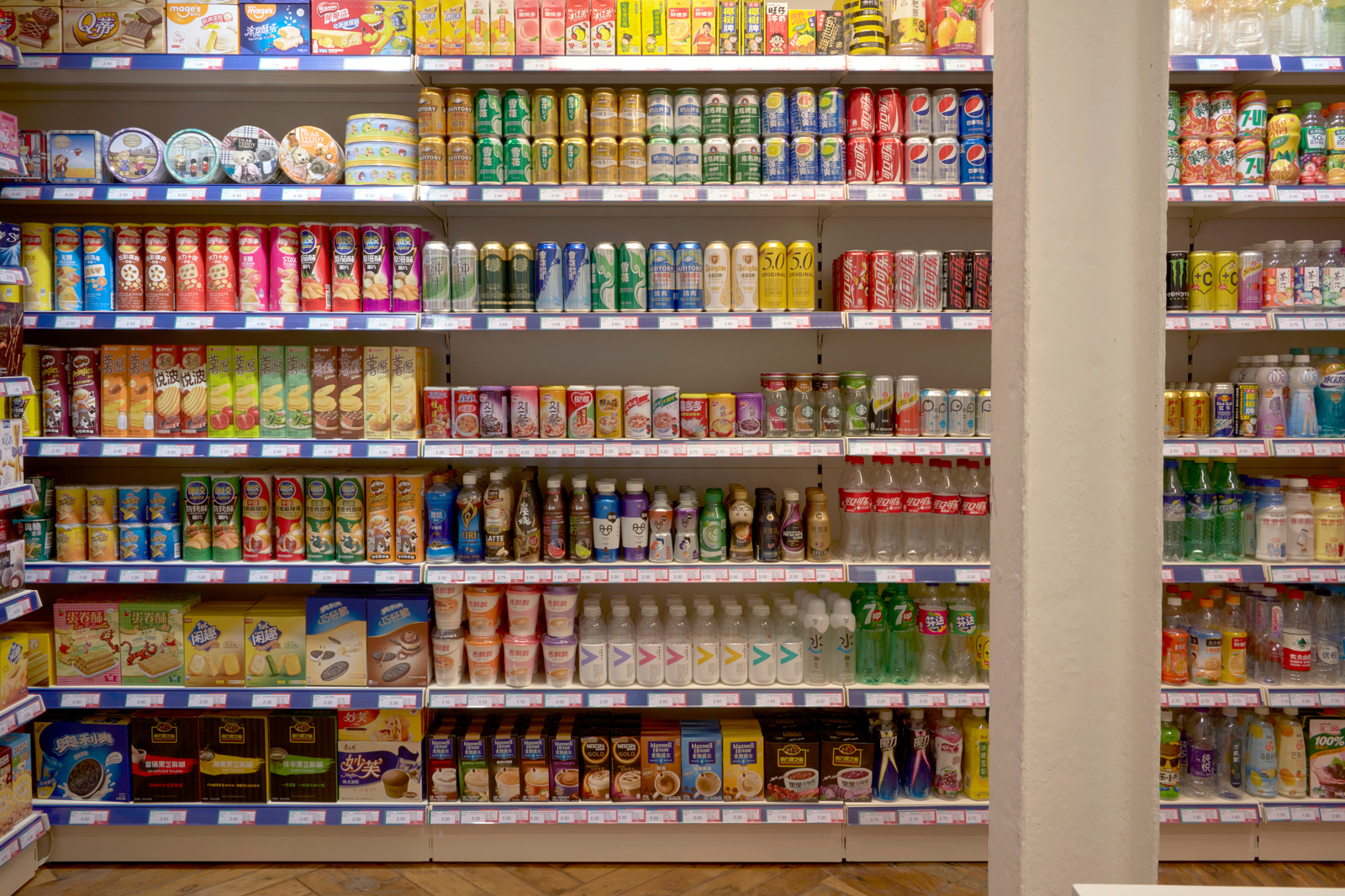 Wang is wary of any attempt to be definitive one, hence the turn towards sci-fi as a metaphorical structure. Science fiction often has a political subtext, and has often been used to dodge government censorship of more direct critique. Wang's Zhongguo 2185 features ten artists, all born after the end of the Cultural Revolution, linked by a learned ability to creatively elide state oversight. They're are also connected through their comfort with technology in general and the web in particular, albeit with significant limitations. "It's important to remember that Facebook is banned in China," says Wang. "Gmail is banned. So the way they go online is different from here, but for them it's not different, it's just the normal way of doing that." That is, the way the artists in the show use technology is both "worldwide" (that unknowingly neocolonial way of describing a web that is in fact far from truly global) and specific to contemporary China.
Lu Yang, one of the best known artists in the exhibition, has said in response to being asked if she feels like a Chinese artist: "It is kind of inevitable that you're labeled as one. If I have an exhibition abroad they always say 'This is a Chinese artist'. But that's why I say that I want to live on the internet. That way, nobody knows who you are." Her works show how neuroscience and digital technology are changing the concept of the self, moving the idea of the self-portrait through the digital so that the self is actively reconstructed. Her installation Power of Will—final shooting is the physical manifestation of an ongoing digital deconstruction and virtual reconstruction of her own body. This giant inflatable of the artist's digitally rendered face is the most striking work in the exhibition, seeming to have burst in through the side of the gallery. Lu Yang's works in general chime with a trend toward examining gender identity through the filter of a manga-inspired aesthetic, distinguishing it formally from work being made in London or Berlin.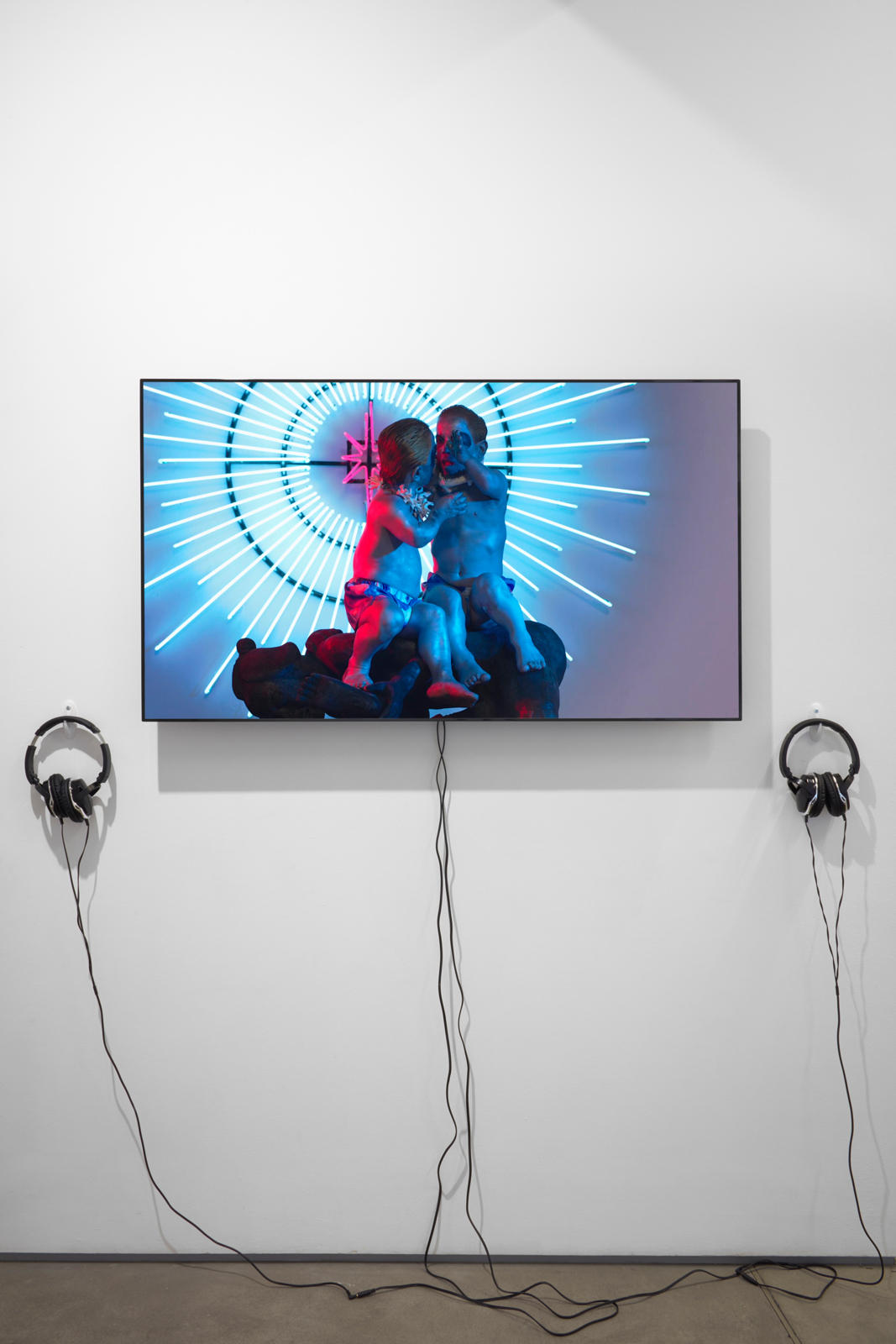 Chen Zhe's work also concerns the construction and deconstruction of the physical self, but from a very different starting point. Drawing on her own history of self-harm, the artist visits online forums to make contact with people who've gone through similar experiences and convince them to collaborate with her. The resultant photo book, The Bees and The Bearable, is represented here as a wall-filling installation of text and images, immersing the viewer in a highly personal set of reflections on the sometimes-hazy line between self-expression and self-destruction. "Bees sting in order to protect life which they end up losing," Chen Zhe has said, "that is, to jeopardize existence for existence itself." She has also stated that it was during a meeting with one of her subjects over fried dumplings and beer that she had self-harmed for the last time.
An undercurrent of violence also colors Xu Qu's work. His Occupation looks at first like a giant bracelet suspended from the ceiling, but turns out to consist of 108 used cameras. While harmless individually, grouped together these form a suffocating chain of surveillance. Previously works by the artist include Custom II, a video of a helpless upturned turtle under a human foot, and another, Zebra, in which a human hand slowly pulls the hide from a dead horse so that its torso acquires zebra-like stripes. Xu Qu's violence is of a controlled and considered variety, linking it to Chen Ze's measured study of self-harm; both artists' work also hovers in an uncertain present, and offers no predictions about what might be next.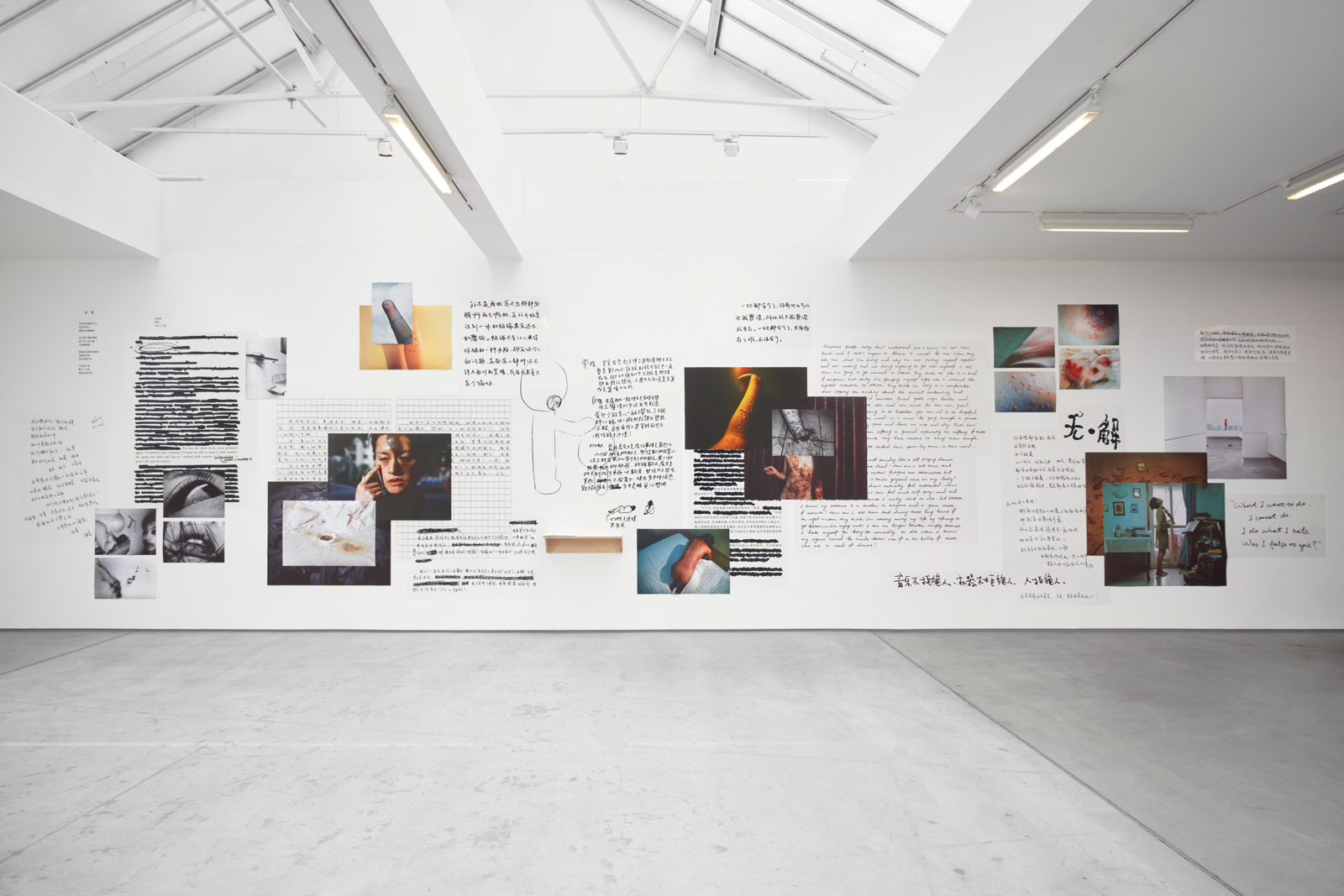 Other works in Zhongguo 2185 also hint at divergent but incompletely knowable futures. Chinese history often has a part to play in this. In Sun Xun's One Hundred Years of Solitude, for example, there's a direct nod at Chinese scroll painting. But for the most part, the emphasis is on reimagining future identities, social bonds, and the relationship between the individual and the state—all of which are recurring themes in science fiction. This makes perfect sense to Wang: "The current state of China is almost out of science fiction," he observes. Yet perhaps the most important characteristic of this show is Wang's clear aim at a more strategic framing of Chinese art, even down to the location. "I could not realize this exhibition in China," he explains. "The text alone, that the exhibition title invokes, is banned in China." Zhongguo 2185 seems to be as concerned with talking to a Chinese audience from a distance as it is about showcasing recent art from China to a western equivalent. The show doesn't want to tell you everything about contemporary Chinese art; rather, it wants to invite you to listen in on a complex set of conversations around it.
Niru Ratnam is a London-based writer and co-founder of the gallery STORE, which operated between 2003and 2009.

Zhongguo 2185 is on view at Sadie Coles HQ, London, through November 5.