Photograph via Getty Images.
Dries Van Noten on Designing One of His Best Collections Ever
The designer told us about his fresh collection, his business changes, and how he lives beautifully.
Photograph via Getty Images.
Everything about Dries Van Noten, whose most recent show is being hailed around Paris one of the highlights of the Spring 2019 season, and a highlight in the designer's 32-year career, is fresh. The colors—greens as vivid as flowers just before they bud, pinks as pink as its floral namesake, blues as true as nature—feel crisp, deep, alive. "It's the same approach," Van Noten said of putting together the collection, in an interview at his Paris atelier last week. "But we said: we want everything fresh. And we want fresh in color." And when it came to those crisp and simple shapes, of clean white and orange work coats cinched with mountaineering cords: "I love something extremely simple which works very strongly."

Van Noten has a fresh attitude about his business, too. In June, the company announced that it sold a majority share to the Spanish luxury group Puig. Many wondered what that would mean for a designer who has been cherished for his independence, but for Van Noten, it simply means more of what the brand's customers love. "People always say, 'Oh, you're independent, you're completely free to do what you want.' Forget it. No," he said. "Because you carry all the responsibility yourself, and I have a lot of people working for me."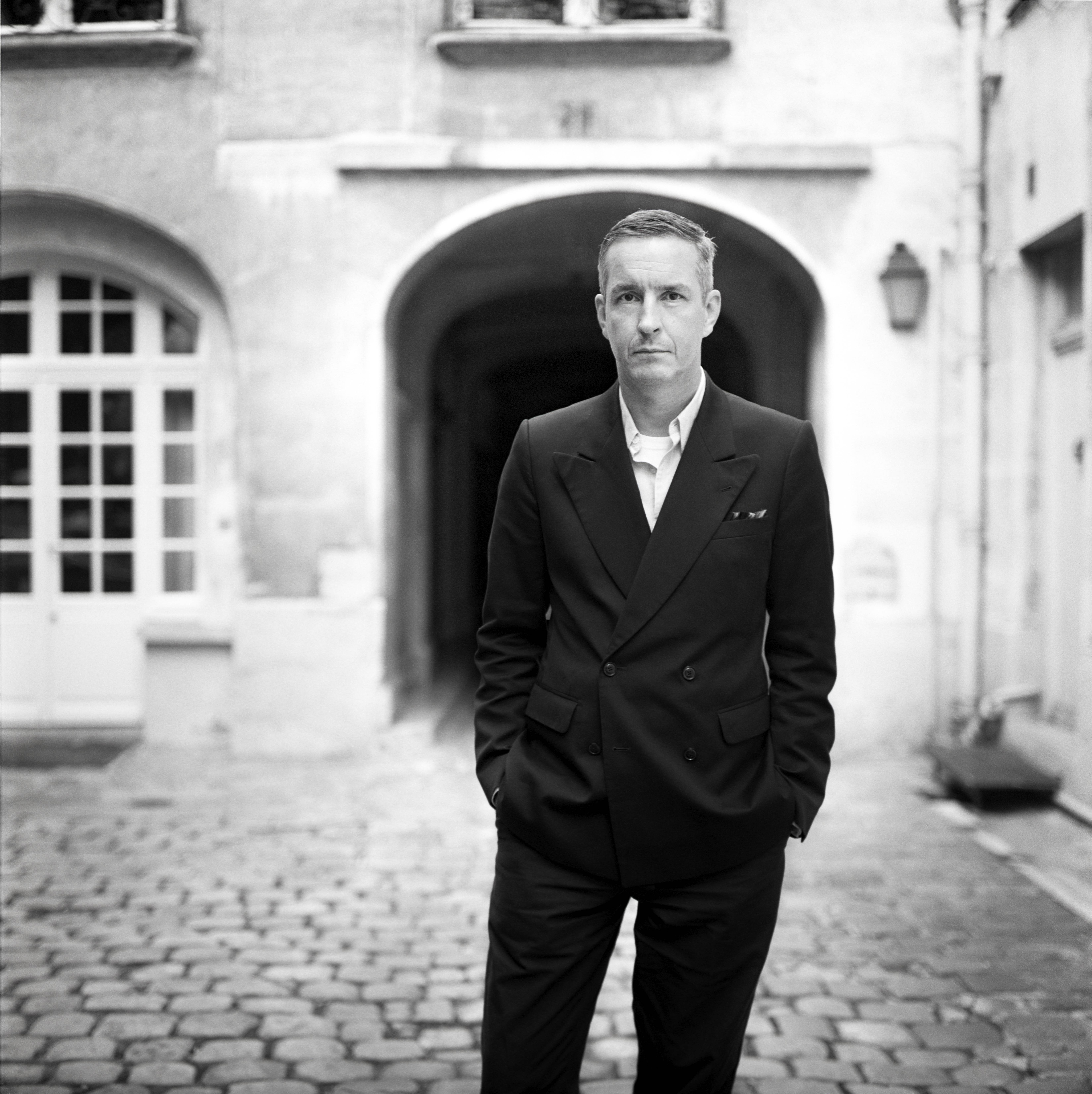 Now, he said, "My company really has a future. We have the financial possibilities also to establish ourselves more, to organize things better, and that gives, of course, a lot of energy." Van Noten said that 93% of his business is ready-to-wear clothing, with just 7% from accessories—a stunning ratio among fashion brands, for whom clothing is traditionally a "loss leader," a marketing expense in pursuit of sales of perfumes, shoes, bags, and other accessories, according to a 2017 article on Quartz.
But back to that Spring 2019 collection. Fresh "was the initial briefing," Van Noten said, and then he began to think about portraits. That sounds very precious, but, in fact, it's not: it's about "the whole attitude," Van Noten said. "Women with strong attitudes." He looked to artist Luke Stephenson's An Incomplete Dictionary of Show Birds, which is comprised of portraits of birds rather than mere photographs, and portraits of the indigenous people of Papua New Guinea, and the photographs of Jackie Nickerson, who captured "people in Rhodesia wrapped just in pieces of fabric, standing there, looking really glorious and fantastic."
And then he looked to the attitude of couture, and that seemed to be when everything went, as they say in Spinal Tap, to 11: "Maybe couture is more of an attitude, more of a gesture," he said. And then came that coat: "We took a workwear coat and we just wrapped it around the waist with a cord, and you stand there and you create a kind of feeling when you're just wrapped in a coat."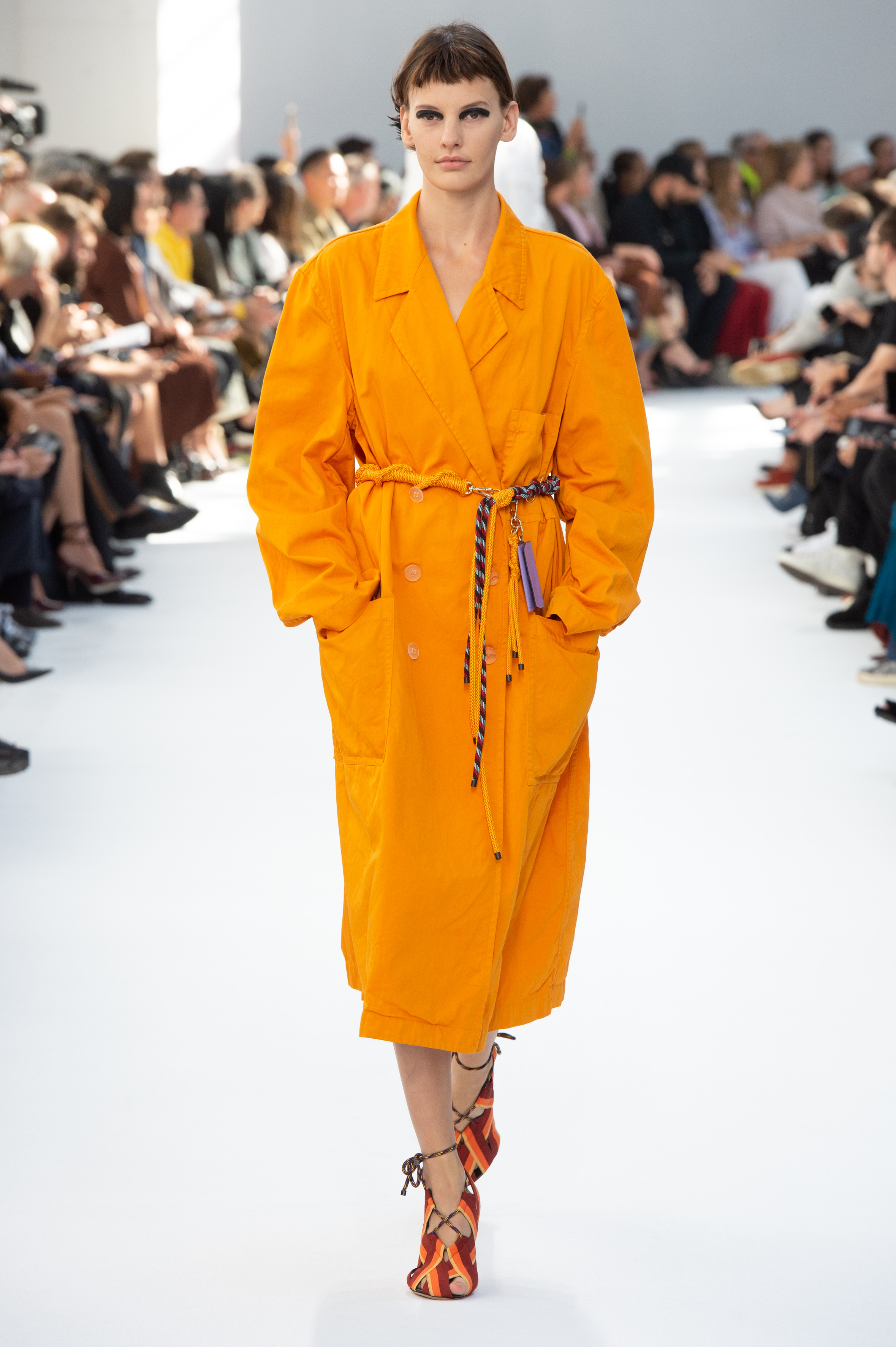 So vibrant were the colors that people in the audience were actually gasping as the looks came down the runway. One particular fabric was a sheer, frosty one, some smudged with green and others printed with pink or orange blossoms. That jacket, he said, "was a new take on the coquet"—those densely floral patterns you see so often in 1950s couture silk fabrics. Van Noten's version was silk mixed with a bit of nylon, and "when you treat it, the two fabrics react in different ways," giving that kind of soft blur you often see in the embroidery of couture fabrics. But Van Noten's fabric is much lighter than that: "paper thin. It floats." And if the romantic in you weren't aching enough, "it makes also the sound of paper," Van Noten said.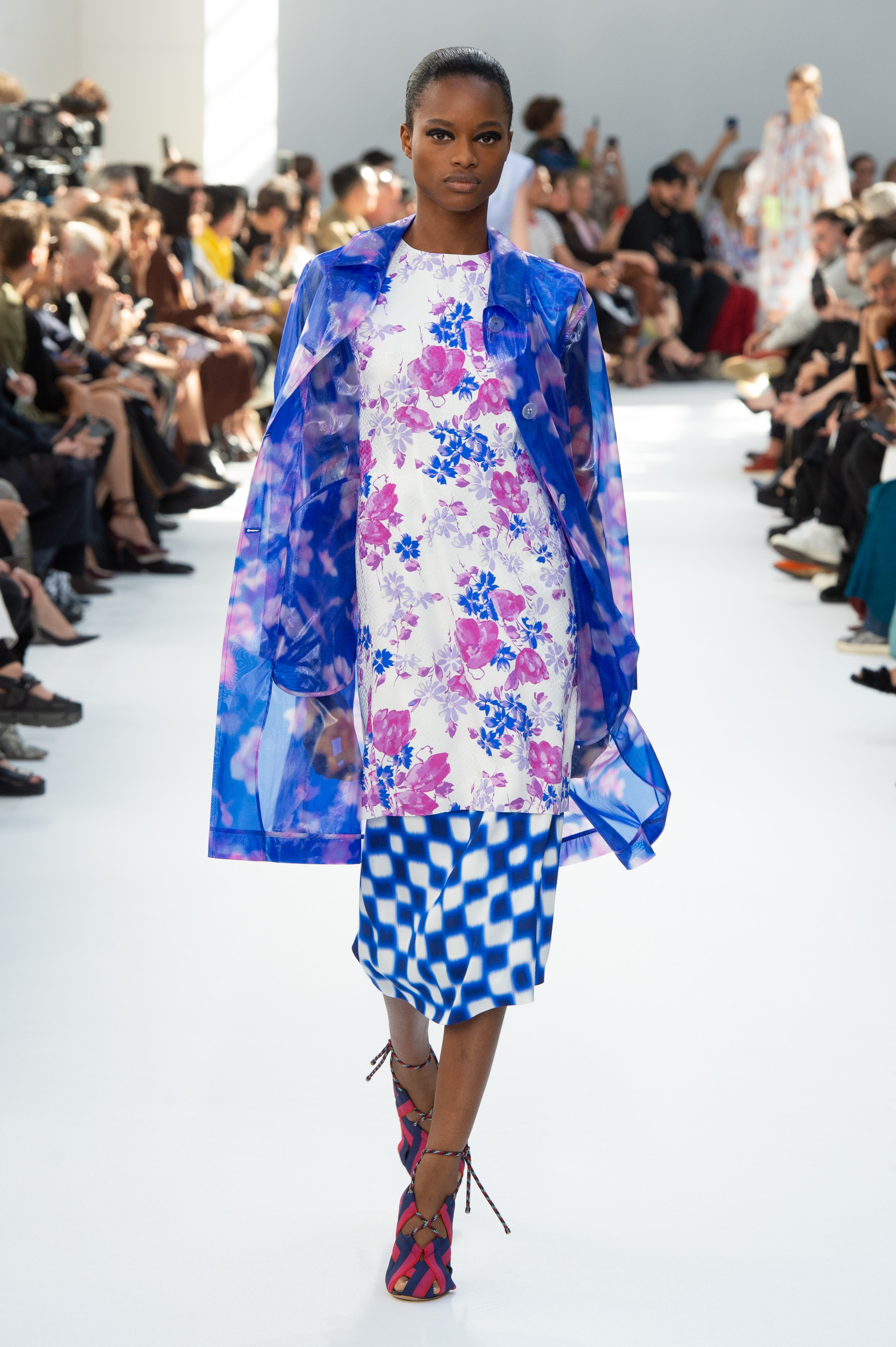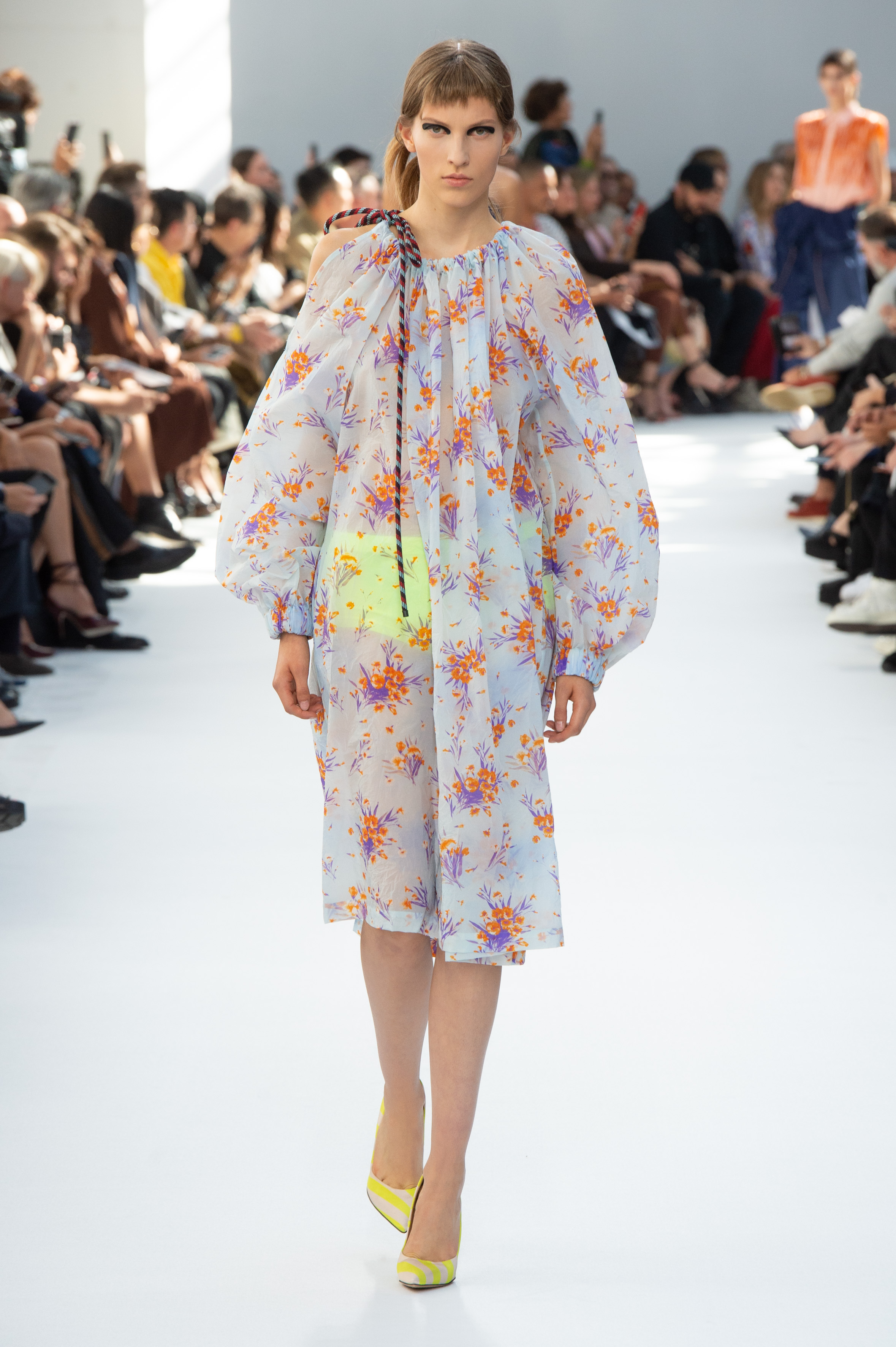 Van Noten is the kind of designer whose house and garden and way of living are widely admired. You want to know how he does everything, although he also seems rarely to wear something other than a T-shirt and slacks with a sweater in the same color. "I'm a very lazy dresser," he said. "I want to have something neutral myself, so that I can concentrate really on my work and on my vision for things."

And it's a very attentive vision. The French think about beauty almost as a state policy—it's about the right shoe, the right dish, the right undone hair—and the Italian style is sensual, familiar, and natural. Van Noten, on the other hand, who is Belgian, has an extremely considerate way of living and thinking about beauty. As he said, extremely simple things that work strongly. His office is simple and comfortable, with just a desk and a velvet sofa for guests, and a large Joan Miró painting and tufted screen both in imperial yellow—what he calls his "neutral." He is fastidious about his clients' ability to wear things for life. He is thinking always about how a woman will wear each piece, and how much she will be willing to pay for it. He showed a series of taffeta boiler suits, for example, which can be worn simply as boiler suits—dressy with fringe along the shoulders. But, "I liked the idea of peeling it off," he said, so you can also pull the suit down and twist the arms into a giant bow—another couture gesture, done in the simple way.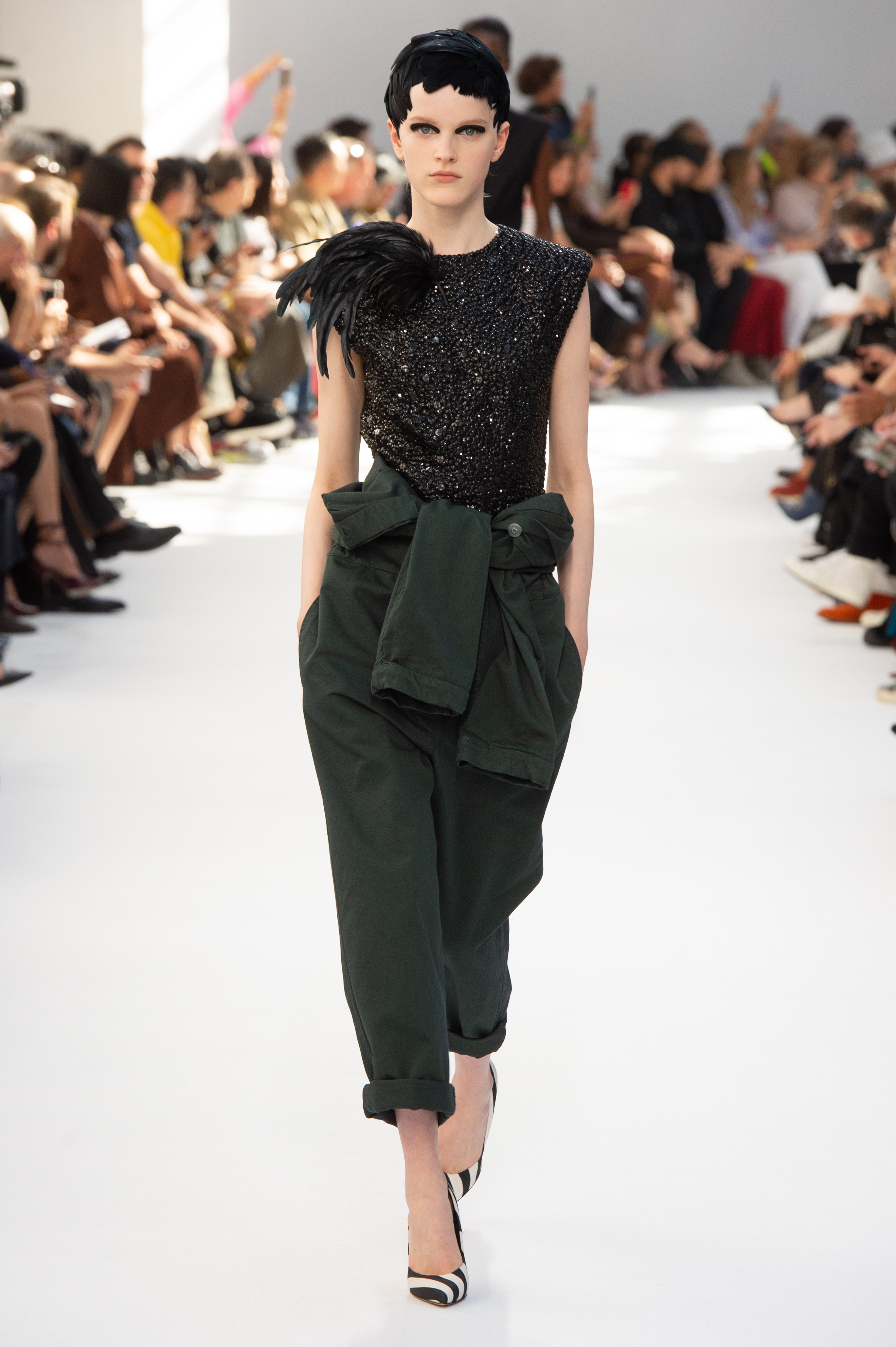 Van Noten explained that at the core of his design philosophy is a focus not on creating a new silhouette each season, but on the integrity of each individual piece. "It really has to be the good jackets, the good shirts, the good this, the good that." He is practical. He makes pragmatism elegant. "Every piece needs to have its value."

Speaking of bows, I was curious about something he said in an interview earlier this year with GQ, about men being bolder than women with their style. (Curiously, Rei Kawakubo said something similar in her recent profile in T Magazine.) At most men's model castings, he said, "you really see a lot of guys really tell you about their personality" with their clothes. Not so with women, he said. "Sometimes, of course, a young girl is coming in, and you say, 'Wow, this is not only a beautiful girl, but also a very good look, and she knows how to dress.' With boys, it's really everybody that comes in that you see this."
I told him that I wonder sometimes if fashion, for women, is in fact a passion you grow into. It seems counterintuitive, because fashion seems like such a women's domain, but in fact the work of many of the designers we admire, such as Van Noten, or Phoebe Philo, or Pierpaolo Piccioli at Valentino, requires a grown-up attitude to wear. He nodded. "For young boys, you see the interest in fashion much more viscerally: like what sneaker are they going to wear. And then the size of the T-shirt—the T-shirt is now big or small, and the fit is changing and things like that. They're quite obsessed about it."
Fashion is a universe of metaphors, sometimes too simple ones, but I asked him if he's learned anything from his garden that he has carried into fashion design. "It's not like I'm a split personality, saying, 'Okay, now I'm a fashion designer, now I'm cooking, and now I'm gardening.' I do everything with the same passion and the same vision, I think." He pairs fabrics the same way that he plates food and the same way that he plants a garden.
"But everybody says, for example, 'Okay, this is now out of fashion.' I love also to think about, 'Okay, nobody likes gladiola for the moment, maybe we have to use one in the garden and see what we can do with it, because maybe there's something very interesting to play with. So it's always that you try to see things in a different way. You do experiments, and that's a good thing about a garden: when you don't like it, the year after, you take it down and you replace it with something else. It's more a vision, a way of thinking, a way of playing with things." And he's right: gladiolas are marvelous.