How 'Moesha' Helped Put Young Black Designers On The Fashion Map
GARAGE sits down with the show's creator and costume designer to discuss its sartorial legacy (spoiler: Moesha wore Louboutins before Carrie Bradshaw.)
Photo via IMDb.
How many childhood weekends did I spend with my self-manicured hands under my chin, watching a new episode of Moesha? I truly cannot count.
The sitcom, which tracked the life and times of Moesha Mitchell, a teenager living with her family in Los Angeles's Leimert Park, was an opportunity for young Black girls to see themselves on TV. In the show's pilot, a newly-stepmothered Moesha dashes into the kitchen in a burgundy, long sleeved collared shirt, a matching paisley vest, and and striped, fitted pants. The outfit, complimented by Moesha's signature box braids and plenty of silver jewelry, was comfortable, energetic and daring.
Moesha co-creator Sara Finney-Johnson, told GARAGE, "The show's vision was of a cool young Black girl who was brave and creative in her life, and that [carried] over in her style. The idea that a Black girl's life experiences would be told from her perspective was unique in 1996, and created space for later sitcoms that centered their young Black female protagonists' styles (without Moesha, would we have Grown-ish?)
Yolanda Braddy, Moesha's longtime costumer designer, shared some of the brands that she opted to have featured on the show, including Iceberg, FUBU and Karl Kani, adding, "Moesha also wore Christian Louboutin. They were just launching and people didn't know... I would buy it at Barneys."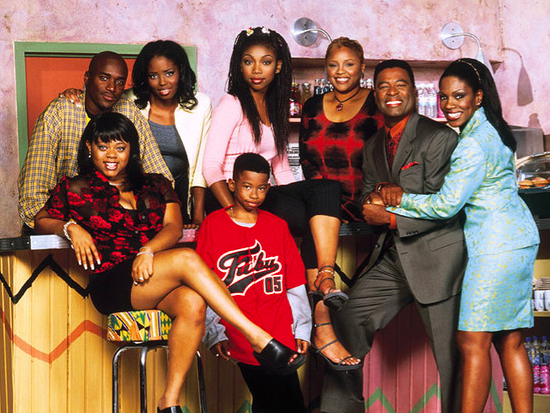 Braddy also highlighted how important it was for her to include Black designers in the costuming process. "I always tried to support young, Black entrepreneurs like FUBU, Mecca, Enyce, Toni Shellman. But sometimes I had to go to Guess. The Juicy sweats were [also really] big back then." In a 1996 New York Times fashion piece, Braddy noted that "chocolate brown and black [were] Moesha's favorite colors."
By the time I was in first grade, it was 2000, and "Moesha" had been on the air for four years. I grew up a small town in Shreveport, Louisiana and style was very important. It told people about you without you having to do any talking. During that time, I was spending a weekends and early mornings with my mother's sister —my long-nailed, raucous aunt who first introduced me to Moesha. Shows like Living Single, A Different World, Martin, and Saved by the Bell had all featured young Black women with impeccable senses of style, but as a child coming of age in the tail end of the '90s, I imprinted on Moesha. My permed, jet-black hair was thick enough to break combs, brushes, and hair accessories, and that summer, I decided I desperately needed long, small braids like Moesha.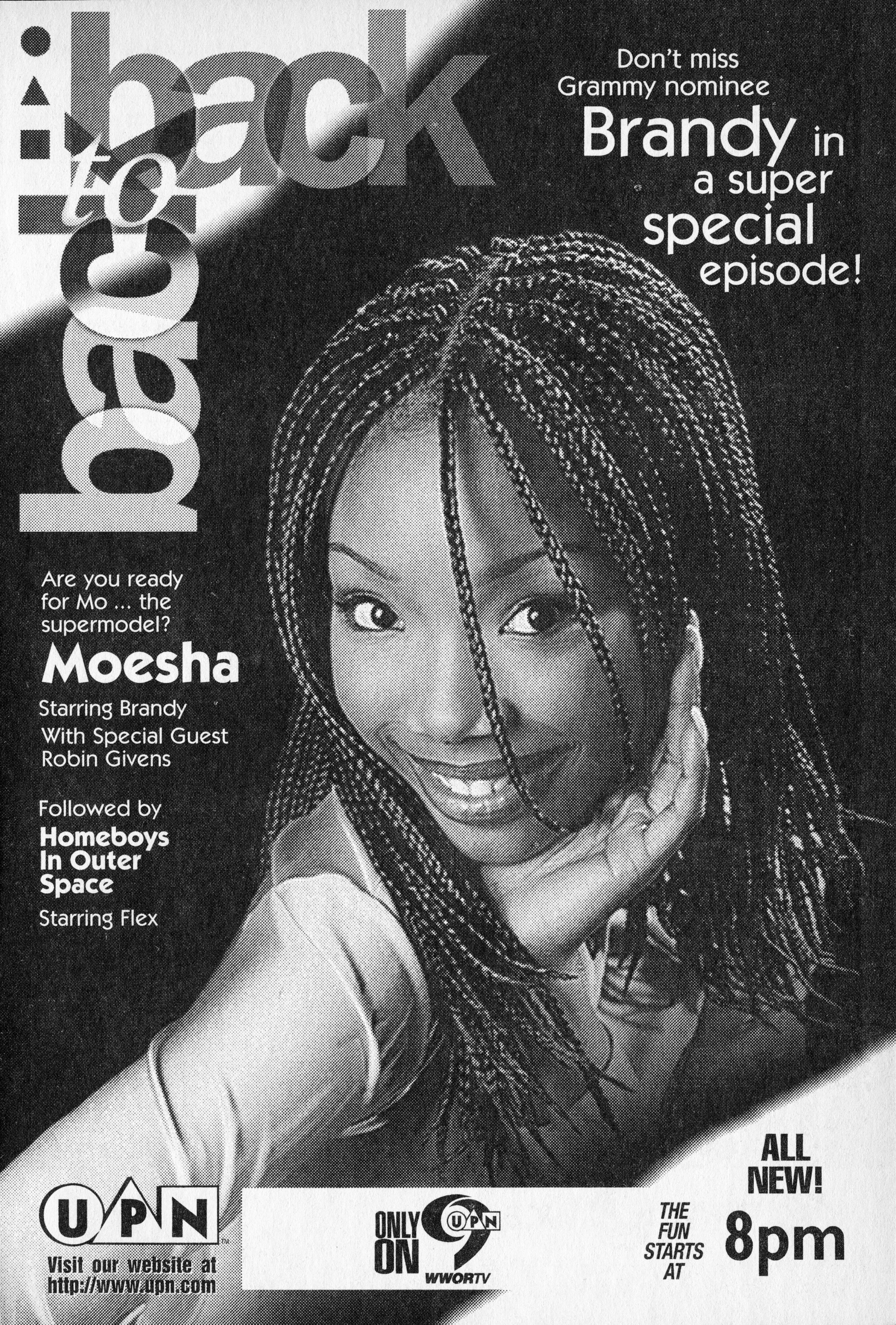 The process seemed never-ending. By the end, my hair was in several even-width plaits (accented with bejeweled wooden beads for flair)—the nights ahead entailed a lot of careful sleeping and head scarves, while the days were full of Moesha-inspired style. I craved her tri-colored, zippered shirts, her wildly printed jackets (which I stole versions of from my grandmother's closet), the studded jean jacket she wore in the show's final episode along with a baby tee and zig-zag part.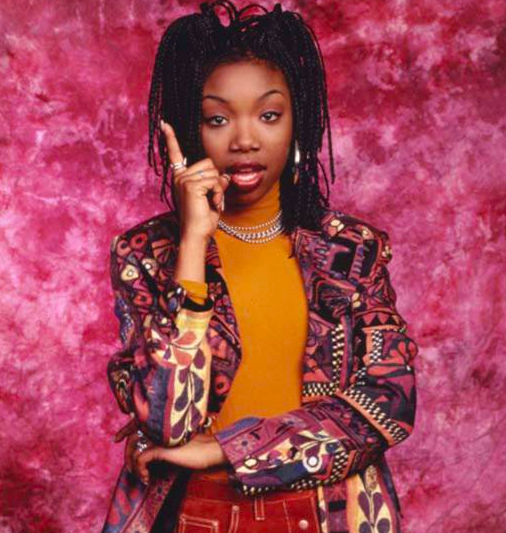 The cast was dressed with the same attention to detail and flavor as the title character, with standouts including Kim Parker (portrayed by Countess Vaughn) and Yvette Wilson's Andell Wilkerson. Both women were in possession of plus-size figures that were rarely celebrated or even seen on national television at the time, and their character's interests were visibly connected to their apparel. Kim was an aspiring fashion designer who often displayed her affinity for textiles, faux fur, and translucent sleeves, while Andell's Afrocentric prints, headwraps and beaded jewelry were a nod to the naturalista's unapologetically pro-Black ideals.
Moesha has been off the air for almost two decades (following a series finale so unresolved it was parodied on an episode of The Proud Family), but I still can't forget its characters' iconic menswear fits, from Hakeem's overalls (with only one fastened button) to Myles's oversized sports jerseys.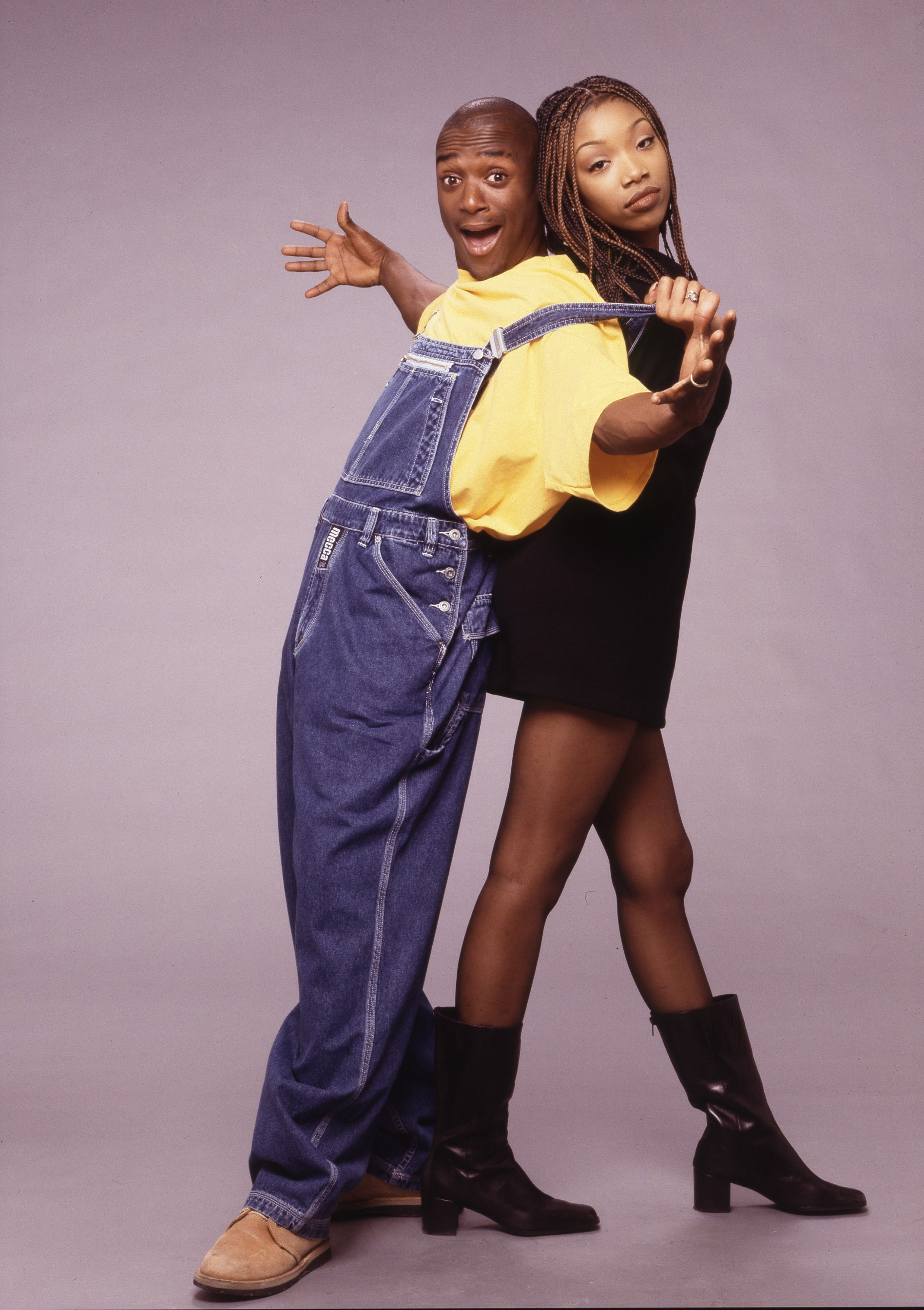 Part of the Moesha wardrobe's magic lies in the fact that many of the designers featured on the show are still just as relevant today as they were when the show aired, if not more so—Pyer Moss, one of the few black-owned fashion businesses in the U.S., included a capsule collection with FUBU in its SS '19 collection; Karl Kani recently collaborated with Études, and Enyce is no less due for a comeback. Yolanda Braddy may not be a costume-design household name a la Patricia Field, but her talent for finding and championing Black designers and turning the Moesha cast's style aspirational deserves a permanent spot in the TV-style hall of fame.