"Uptown Girls" screenshot via Amazon.
On Making People Look Rich Without Even Trying
Costume designer Sarah Edwards talks about outfitting The Last Days of Disco, Igby Goes Down, and Uptown Girls
"Uptown Girls" screenshot via Amazon.
The best-known reference for Upper East Side style on screen is probably Gossip Girl, a perfect show that somehow got away with highly specific, inside-baseball lines like "Who's that? Probably some bitch from Chapin." But they never quite nailed the look. It was too shiny, too tailored, the colors too saturated. It fulfilled the requirements for cable TV but missed the mark on reality, which, of course, is way less visually stimulating. In real life, Blair Waldorf and Serena van der Woodsen would be wearing the same two Juicy Couture hoodies every day, and their moms would look right at home on @simplicitycity.
One woman who gets it is the costume designer Sarah Edwards, who masterminded three key Upper East Side movies: The Last Days of Disco, Igby Goes Down and Uptown Girls. They're all set at the intersection of obscene wealth, privileged ennui and the kind of velvet-roped nightlife that doesn't even seem that fun. They're coming-of-age stories that basically prove the point that old money isn't just oppressive. It's also kind of lame.
Edwards, who's been a costume designer for 39 years, grew up in New York's East Village and studied fine arts at Sarah Lawrence. She got her start with a summer job working in the costume shop in the Public Theater when she was 16 years old, then broke into film working as an assistant on Six Degrees of Separation. Most recently, she put Cate Blanchett in custom Burberry suits and convincingly outfitted the guest list for a fictional "European Royalty-themed" Met Gala in Ocean's 8.
"Wealth was so different then," she said, meaning the 80s, 90s and early 2000s, when all three films were set. "People with money weren't flashy...You'd drive your Mercedes for 25 years. You had the same fur coat—it would be the best and most expensive fur coat—but you'd have it for 20 years."
The Last Days of Disco, Whit Stillman's cult hit and the third installment of what he calls his "Doomed-Bourgeois-in-Love series," was the first movie Edwards designed on her own. Shot in the late 90s and set in the early 80s (a challenge, because the clothes were too old to be relevant, but not old enough to be cool again), she remembers Stilman had very particular ideas about the look, especially since it was based on his own memories of the time. "He didn't want any bell bottoms," she said. "It was very timeless in that Preppy Handbook kind of way. Everything exactly as it's been for generations."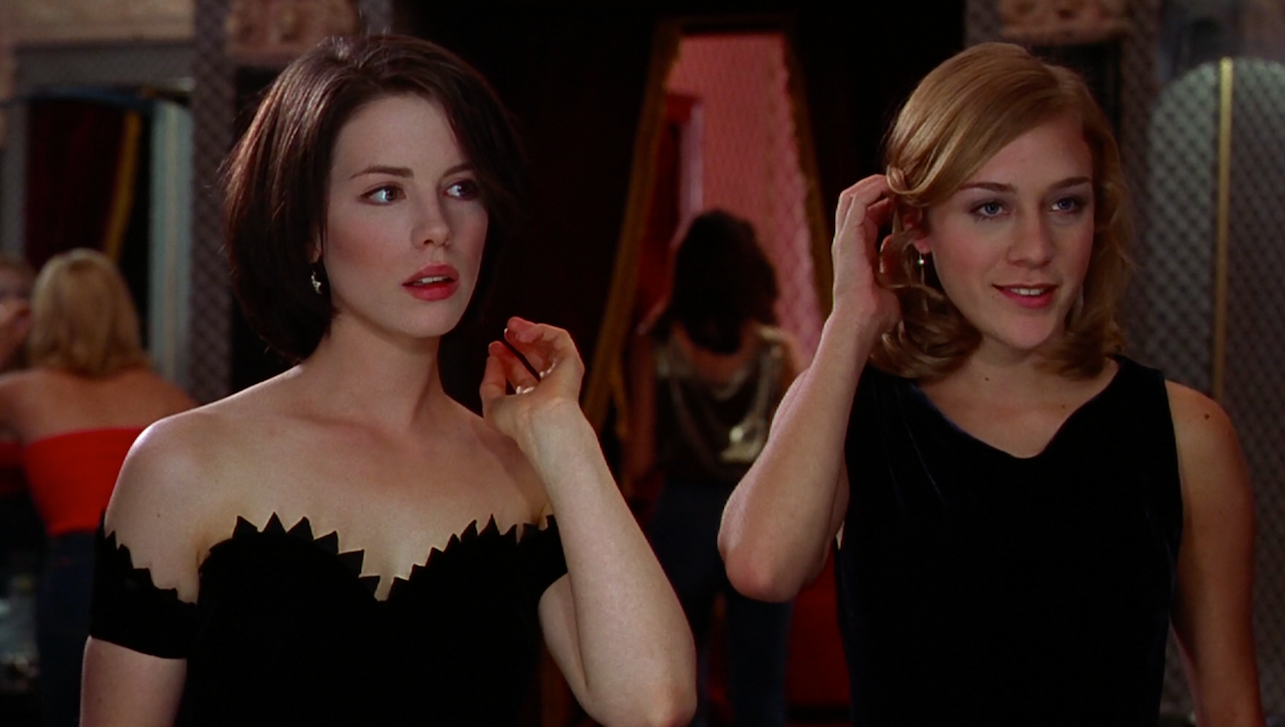 We watch Kate Beckinsdale and Chloë Sevigny as a pair of publishing-assistant roommates who take naps in belted Oxford shirts and get STD test results while wearing Elsa Peretti heart necklaces. The men they sleep with wear button downs with frayed collars, one size too big. When they show up at the titular disco (the interior of which was shot at an old movie theater in Jersey City), they look like they could easily be at an engagement party in Southampton. "They were different from the glitzy crowd at Studio 54," Edwards said. "They weren't cliched seventies disco people."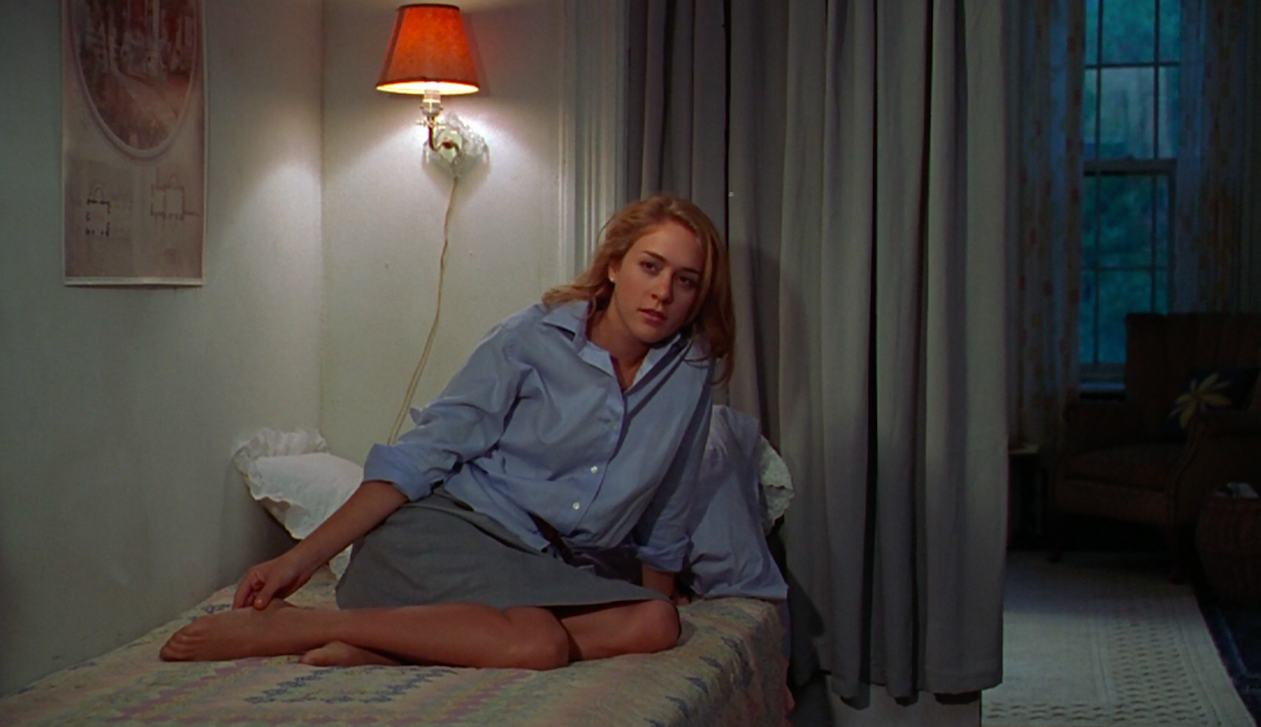 At the same time as the Last Days of Disco shoot, a separate crew was shooting 54, a mostly-forgotten bomb about Studio 54's heydey, starring Ryan Phillipe as a busboy with big-city dreams, Mike Meyers as Steve Rubell and Salma Hayek as a coat check girl slash aspiring singer. It also includes a cameo from Donald Trump, credited as 'VIP Patron.' "I remember running into the people who were doing 54, and they were doing all of these lavish, crazy Halston things," Edwards remembered. She added, laughing, "And I was like, 'I'm doing L.L. Bean and Brooks Brothers and J. Press. But ok!'"

During filming, Edwards met Burr Steers, who played the club's unflappable, unctuous doorman. "He was always in our trailer, and he was always writing a script," Edwards recalled. "And he'd say, when it's finished, I'm going to have you do the costumes."
That script turned out to be Igby Goes Down, a dark coming-of-age comedy in which Igby, played by a pitch-perfect Kieran Culkin, parties in the Hamptons, gets himself kicked out of boarding school and military school, then goes on the lam in Manhattan, crashing at his uncle's semi-finished Soho loft and smoking weed in Central Park with a girl named "Sookie Saperstein," played by Claire Danes. (Steers, the grandson of Hugh D. Auchincloss who counts Gore Vidal and Jackie Kennedy Onassis as his half-uncle and step-aunt, respectively, was expelled from both Hotchkiss and Culver Military Academy.)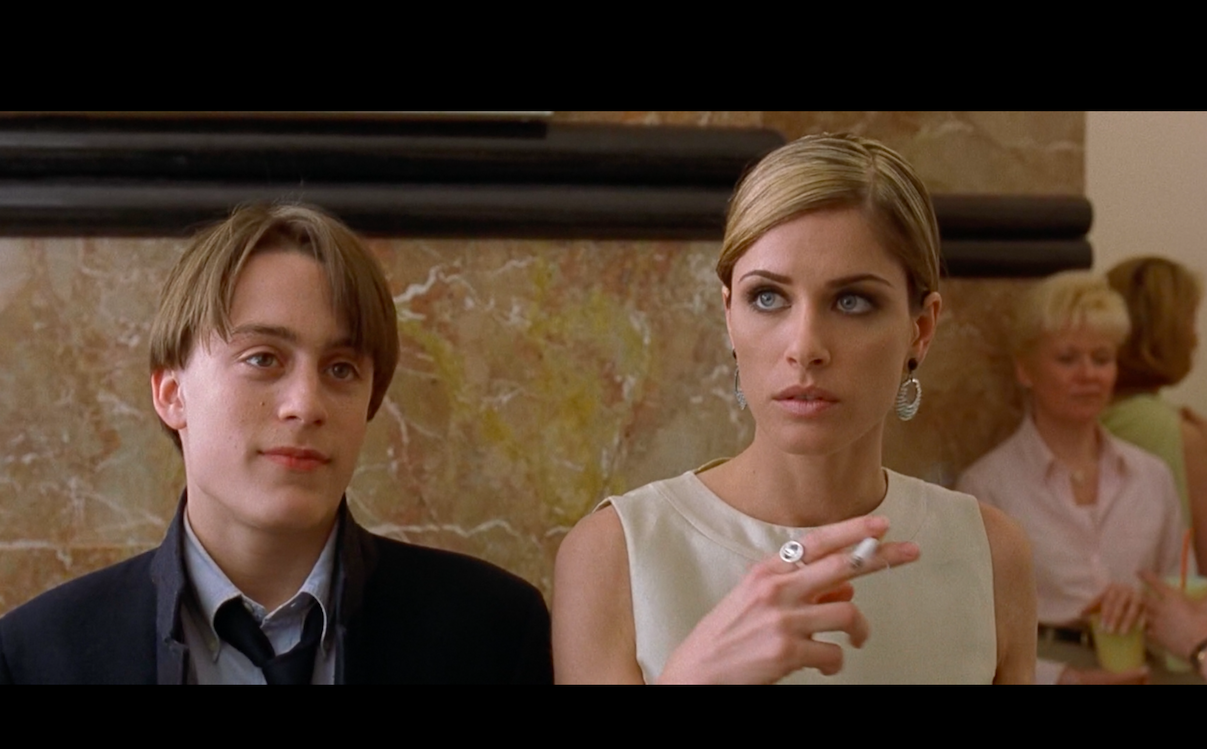 "He had very specific ideas about these characters, which were somewhat autobiographical for him. Loosely," said Edwards, who looked at Tina Barney photographs and Alice Neel portraits for inspiration. Kieran Culkin's Igby radiates pure teen angst and total self-hatred. He always looks a little rumpled, like he purposefully picked the least-clean pair of khakis from the pile.
His older brother, played by Ryan Philippe, is his opposite. The gold buttons on his blazer shine particularly brightly. In one scene, Igby cracks that he's "studying neo-fascism at Columbia." Edwards dressed their mother, played by Susan Sarandon, in total WASP finery. In one scene, she swats Igby across the face with a pair of buttery, golden brown saddle gloves.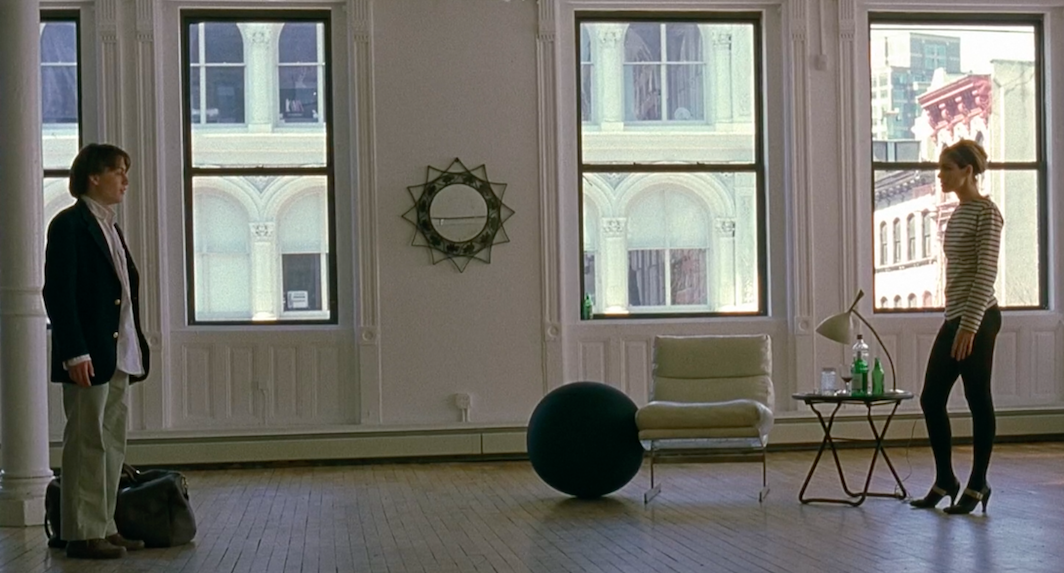 They all have a foil in Amanda Peet, who plays Igby's uncle's mistress, a downtown drug addict and "dancer who doesn't dance." She had kind of an "Edie Sedgwick factory thing going on" as Edwards describes it, wearing a parade of 60's minidresses and tights as pants. She shares a red, fur-trimmed Vivienne Westwood coat with her occasional roommate, a male performing artist. "Burr loved that coat," Edwards said. "He was just crazy about that red coat. I was worried it might be too much. Because it was a lot. But his instincts were good, and I was just like, I'm going to trust him on this. Let's just do it."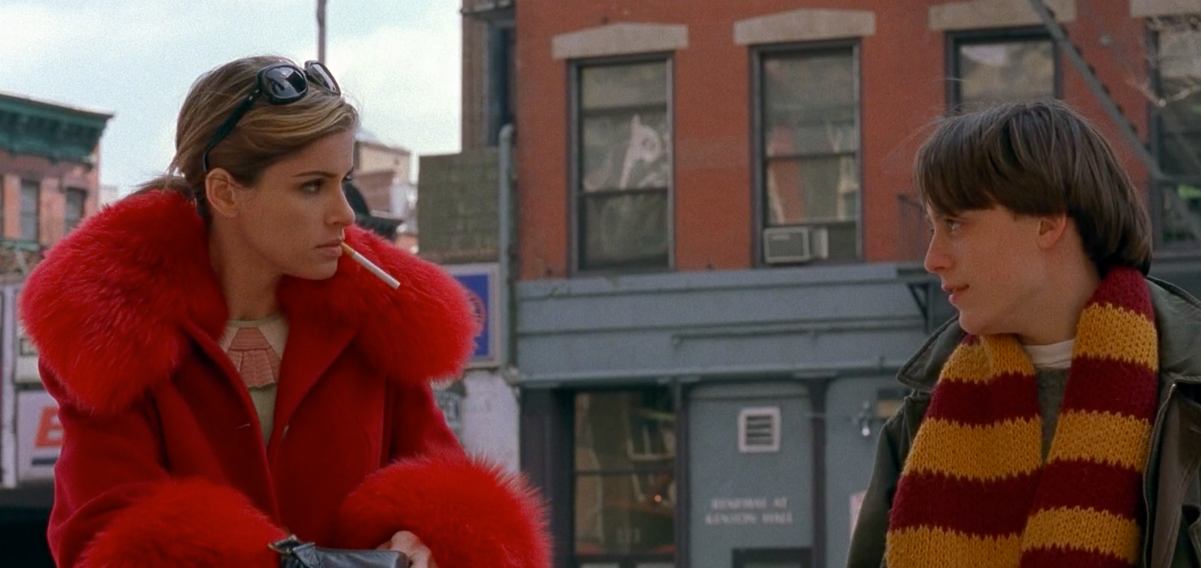 Released a year later, in 2002, Uptown Girls took the uptown look in a slightly different direction. Brittany Murphy plays Molly, the orphaned daughter of a rock legend, who lives alone in bohemian-ized, doormanned co-op (her neighbors hate her). Her fortune disappears, forcing her to make a living as a nanny to the Upper East Side's most neurotic child, played by a pillbox-wielding Dakota Fanning.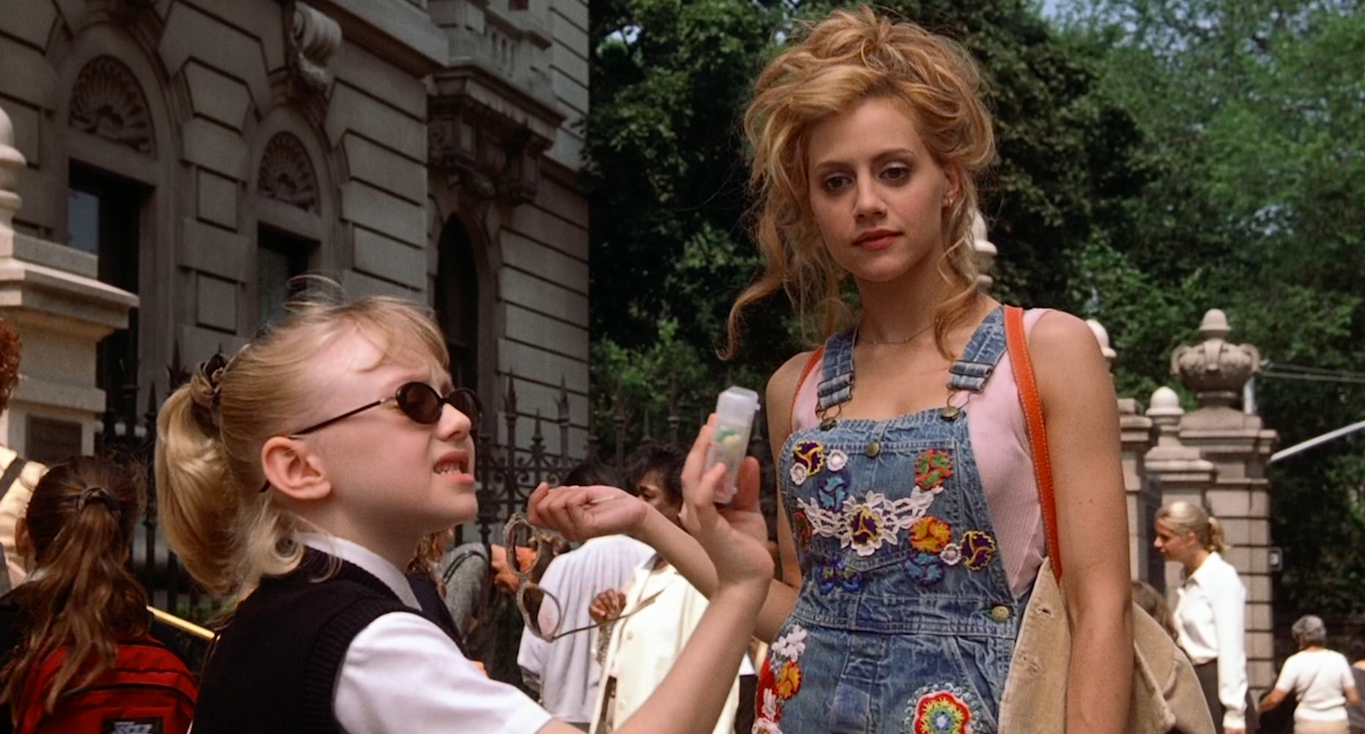 Fanning's character leans into the stability of prep, favoring prim florals and stiff collars. Edwards put Murphy in cocktail dresses with mismatched slips, high heels no matter the setting, and grommeted belts. True to her party-girl heiress status, she appears to not own any normal daytime clothes. "The clothes were telling the story of someone who would get up every morning and think, 'this is what I should put on.' She had no real life experience in the real world." Edwards said.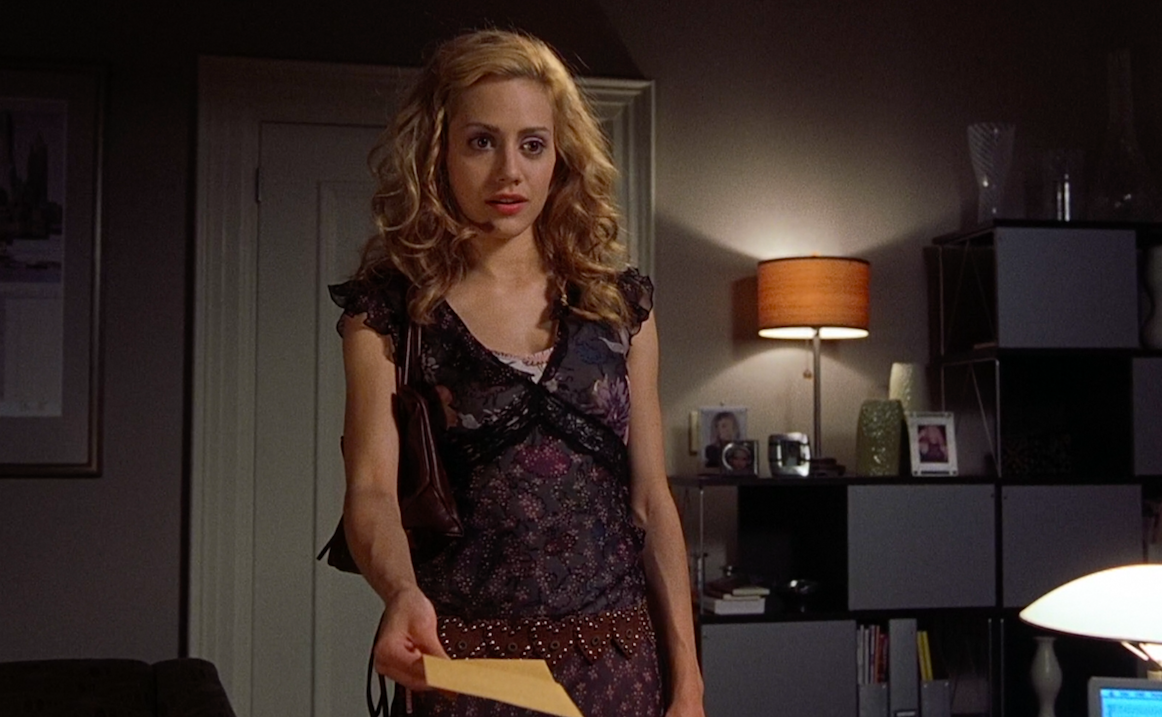 Edward's creative process always starts with the script: "Sometimes [the writer will] give you a few little things about their physicality, but generally not," she said. It's more about dialogue and action: "You're telling the same story. You're just telling it through the clothes." Edwards' next project, The Kitchen is about Hell's Kitchen mob wives in '70s. To her, it doesn't matter when or where something is set. The process is the same every time, and it's simple. "It's observation. Looking at people and just doing it right," she said. "It's just telling the truth."