Riccardo Tisci Strikes Back
At London Fashion Week, Tisci's second outing at Burberry was a return to form.
Courtesy of Getty Images
Lots of us grew up on Riccardo Tisci's unique brand of hype—before the word "hype" even entered the fashion conversation. Remember those Rottweiler-print hoodies from Fall/Winter 2011? The dark orchid blooms and panthers on silk from the same season? Remember the Great White Shark-tooth necklaces from Spring/Summer 2012? The man has a singular talent for blending elegance with hard edge, racy grit with grace—he shines, ironically, when his dark side shows. When Tisci is impassioned, it imparts. And at Burberry yesterday, we saw the Apulia-born designer send out loads of the kind of graphic uppercuts that propelled him to stardom over the past decade. He's back!
Tisci bared his teeth first with a text-treated patent leather and shearling jacket (perhaps an homage to Christopher Bailey's collectible-status aviator jackets of Fall/Winter 2010, back when Burberry runway was known as Burberry Prorsum). Next came an all-black technical duffel-parka combo from which a large Union Jack billowed as it moved, followed by a dress linked together with chain bits, and then a coat in Burberry plaid but with taped-over gridding. There was a great coat that juxtaposed foil and brown woolen felt, as well as modernist, monochrome formalwear.
Guido Palau's hairstyling was very Tisci-fied. The two have long worked together and the exactingly placed matted strands of hair, curled intricately against the models' skin like lace echoed the hair seen on Tisci's Givenchy runway for Fall/Winter 2015. Mixed with metallic earrings, and a raw no-makeup makeup look courtesy of Pat McGrath (save for an orangey-red lip here and there), it felt like Tisci was reclaiming this space, too.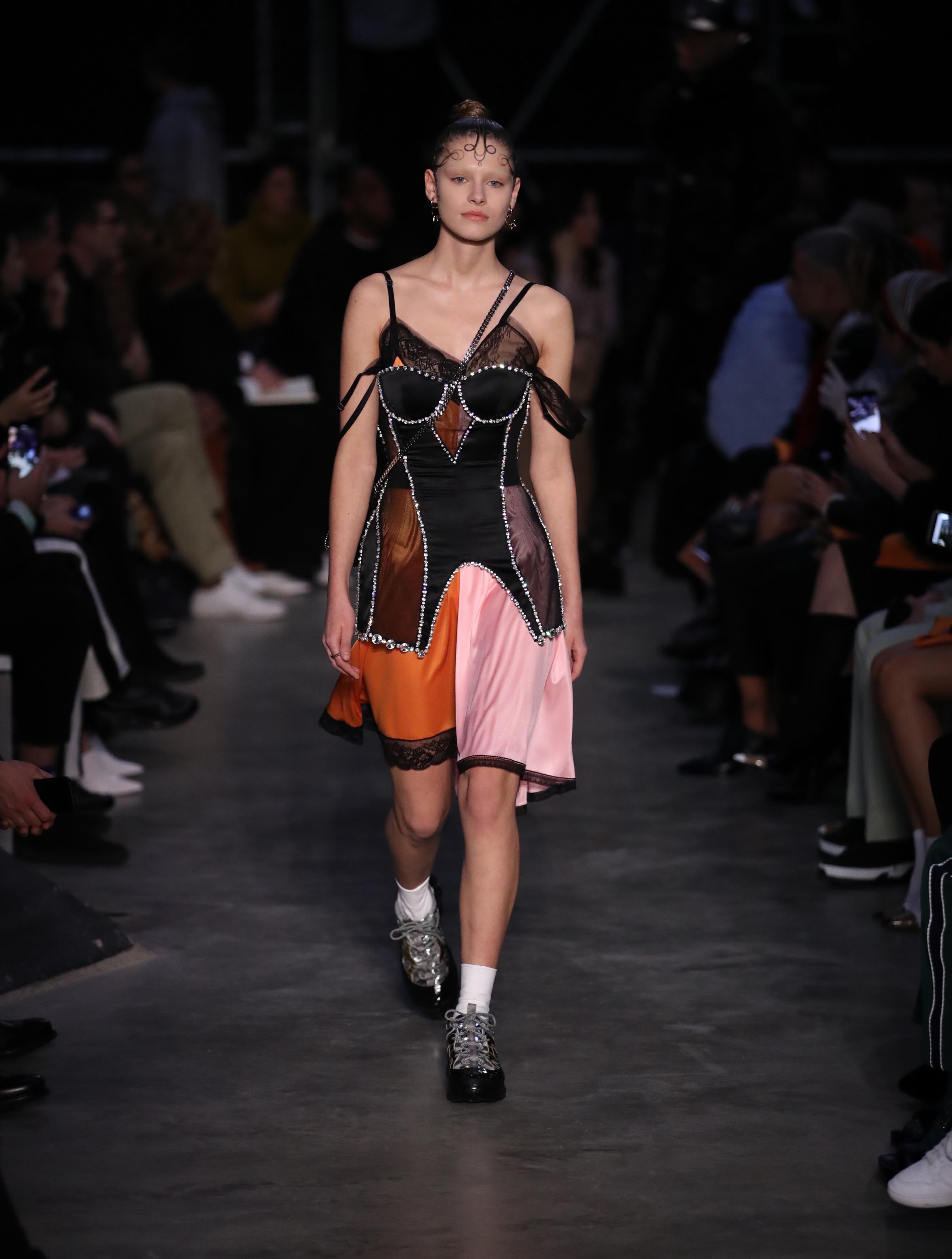 It was classic Tisci, back in action, after a less precise debut at the unlikely British brand he now serves. And what's most impressive is that he reaches just the right amount of juxtaposition, enough to make the viewer feel borderline uncomfortable, inciting lust in the process. This is what he was so good at when he was hitting his stride at Givenchy, paving the way for the must-have-streetwear mania that now dominates the industry. (Those aforementioned snarling Rottweiler sweatshirts were as hard to get then as a Supreme drop today.) He created similar sensations with his Givenchy couture work; recall, for example, the spiked headbands and knife-like metal embellishments offsetting the swishy romance of Fall/Winter 2009, or the armor-mimicking panels and Philip Treacy-designed robo-headpieces of Spring/Summer 2010, scraping up against what were arguably the most beautifully made pieces of Tisci's entire tenure at the French house.

So we find ourselves in what has long been Tisci's sweet spot: jostling between classicism and edge (Burberry being the former, the designer himself lending the latter). Tisci is at his best when he finds a dark vein in the fluff of the fashion system, and though he'll always need to keep Burberry's historical politeness in mind, he has now demonstrated that he can still be himself. Riccardo Tisci flexed.