A Soho House for Those Who Need to Self-Actualize
The design of a new private club and co-working space in London is based on Maslow's Hierarchy of Needs.
Photograph by Ed Reeve.
As human souls trapped in flesh, our desires are a complex web of the metaphysical and profane: sustenance, sex, shelter; belonging, free expression, and self-understanding. Mortimer House, a new members-only club and coworking space from hotelier Guy Ivesha located in London's Fitzrovia neighborhood, is expanding the list to include Carlo Scarpa chandeliers and mid-century modern meditation rooms with a why-didn't-I-think-of-this-before design ethos that (explicitly!) merges Art Deco with—wait for it—Maslow's Hierarchy of Needs.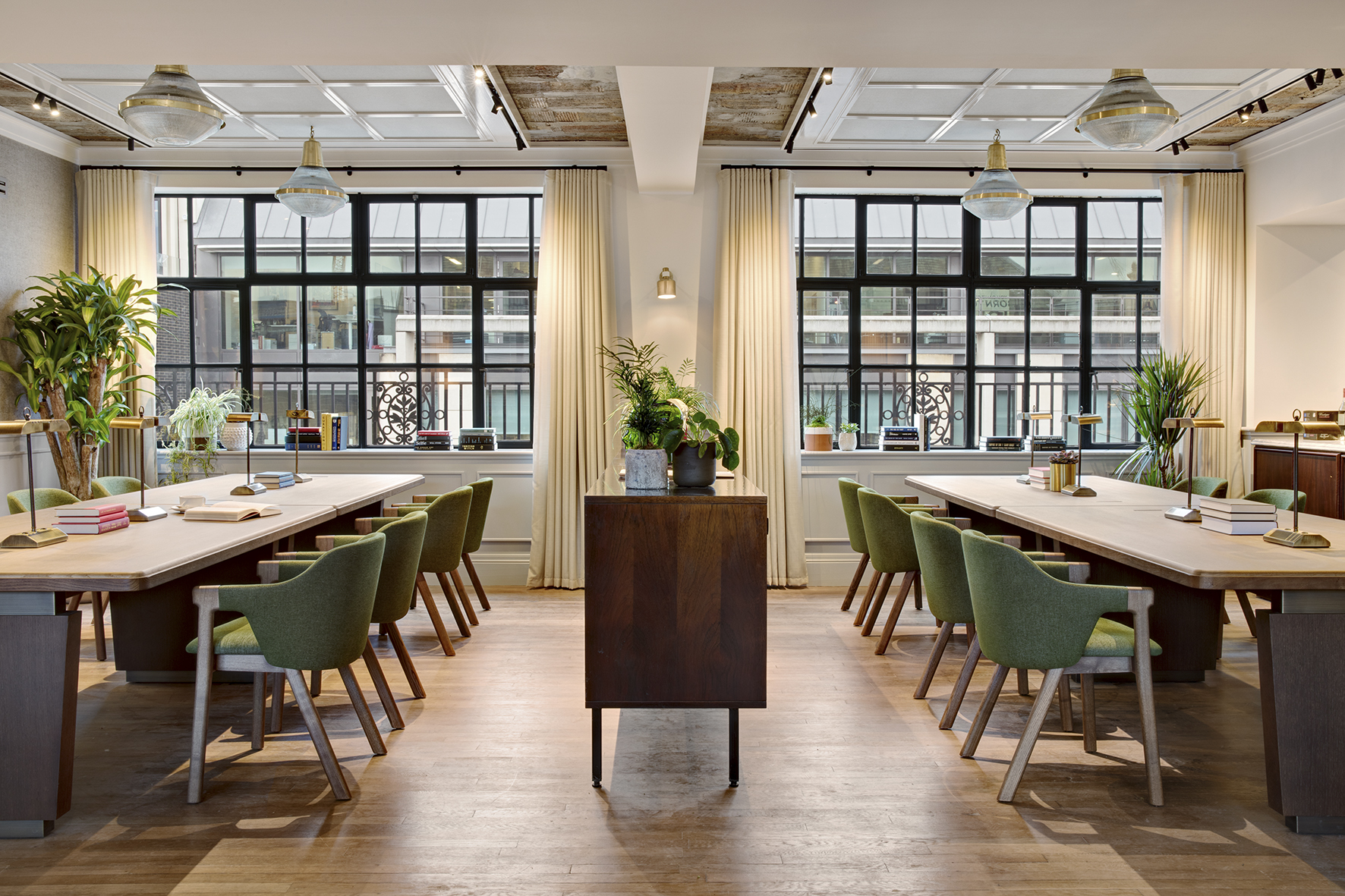 For those who aren't familiar with Maslow's Hierarchy, the 1943 theory posits that physical needs for survival like food, shelter, and security must be met before individuals pursue loftier ambitions: social belonging, prestige, creative expression. Abraham Maslow imagined the hierarchy as a pyramid, capped by the ultimate goal of self-actualization. At best, his theory asserts that a society's best interests are served by providing for its members' fundamental needs; at worst, it suggests an atavistic hellscape where only the rich and well-fed think enlightened thoughts and have meaningful relationships. Three guesses on which interpretation Mortimer House seems to bear out.
Unfortunately, the exclusive club is housed in a seven-story Art Deco building and not a pyramid. But according to New York-based design firm AvroKO, the Hierarchy of Needs directly inspired the club's layout, which ascends from man's baser instincts on the ground floor (restaurant and bar) to more enlightened pursuits in the penthouse. In an intriguing riff on Maslow's theory, the gym is located in the basement.
On the ground floor, you'll find a carefully restored mosaic in the lobby, an original terazzo floor in the stairwell, and Mortimer House Kitchen, a Mediterranean restaurant and the club's only space open to the public. Here, you'll have no trouble satisfying the body's basic need for food and drink, although you might annoy the bartender. "We wanted it to feel as if the members owned the restaurant," AvroKO's lead designer Adam Farmerie told Dezeen. "They have their own entrance from behind the bar so they can help themselves to drinks."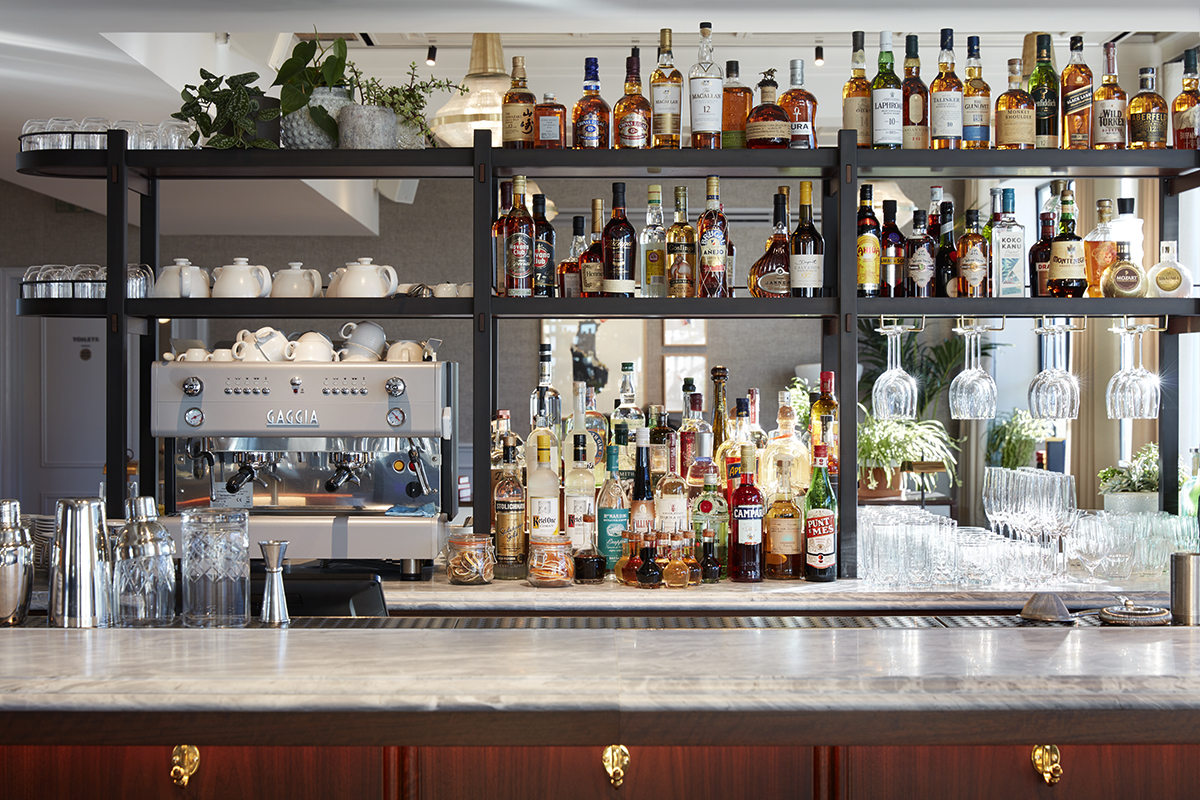 Your survival needs met, you ascend to floors two through five. Devoted to the higher-minded pursuits, these co-working spaces and private offices, furnished with brass desk lights, marble-topped bars, and handsome mid-century chairs, will remind you of the morally edifying nature of work. In the the sixth floor member's lounge, inspired by the Maslowian concept of "esteem," you'll find fireplaces made of glossy blue-enameled brick, balconies with rattan chairs, a mid-century library and a meditation room.
Following AvroKO's design scheme, the apex of Maslow's pyramid—self-actualization—is represented by the seventh-floor penthouse. Practically, this means it's a flexible event venue, and when not in use, a low-decibel work space: Mortimer House's answer to Amtrak's quiet car, which absolutely sounds like a higher existential plane to this writer. Crittall windows frame the London skyline, encouraging lofty thoughts; an unnamed source (Maslow's ghost?) told Dezeen that the walls are painted white to "remove any clutter of materiality."
"We looked into philosophies of human motivation and we tried to apply it as much as we could in the design and in the hospitality services and facilities," Ivesha told Dezeen. Coming next, we hope: an exclusive club based on the Hawthorne Effect, the principle that workers perform better when closely watched. The best place to see and be seen!