Louis Armstrong, Gems from Buenos, c. 1960. Courtesy of the Louis Armstrong House Museum
What Does Art Look Like in America's Most "Prophetic" City?
The latest installment of Prospect New Orleans remains optimistic about the redemptive power of art.
Louis Armstrong, Gems from Buenos, c. 1960. Courtesy of the Louis Armstrong House Museum
Steeped in history and its own deep French-tinged culture, New Orleans is a compelling city that's also a scrappy underdog, beleaguered by civic corruption, entrenched social division, and environmental disaster. Last week, artists, curators, and journalists descended on the Big Easy for the opening events of the Prospect.4 triennial (P.4).

The brainchild of curator Dan Cameron, Prospect began in 2008 as a response to the devastation of Hurricane Katrina. Yet, while New Orleans was, and in many respects remains, ground zero for climate-change catastrophe in the US, the greater destruction caused by Maria just two months ago—and the scale of the government's inadequacy in the face of the continuing crisis in Puerto Rico—makes one wonder if similar reactive and remediating art-world initiatives in the wake of that and future calamities are even possible. But such concerns, as well as discussion of other political and cultural emergencies, were mostly on the back burner here.

Suggesting beauty growing out of the morass, P.4's subtitle, The Lotus in Spite of the Swamp, provides an aspirational notion of contemporary art today and a descriptor of New Orleans itself, which concurrently marks the 300th anniversary of its "founding" by Europeans. The Artistic Director of P.4, Trevor Schoonmaker, is Chief Curator at the Nasher Museum of Art at Duke University, where he has championed black artists, assembling an impressive collection and organizing well-received traveling exhibitions of artists such as Wangechi Mutu and Barkley L. Hendricks. The roster of 73 artists in P.4 leans heavily on artists of color, representing the curator's expansive vision of the "Global South."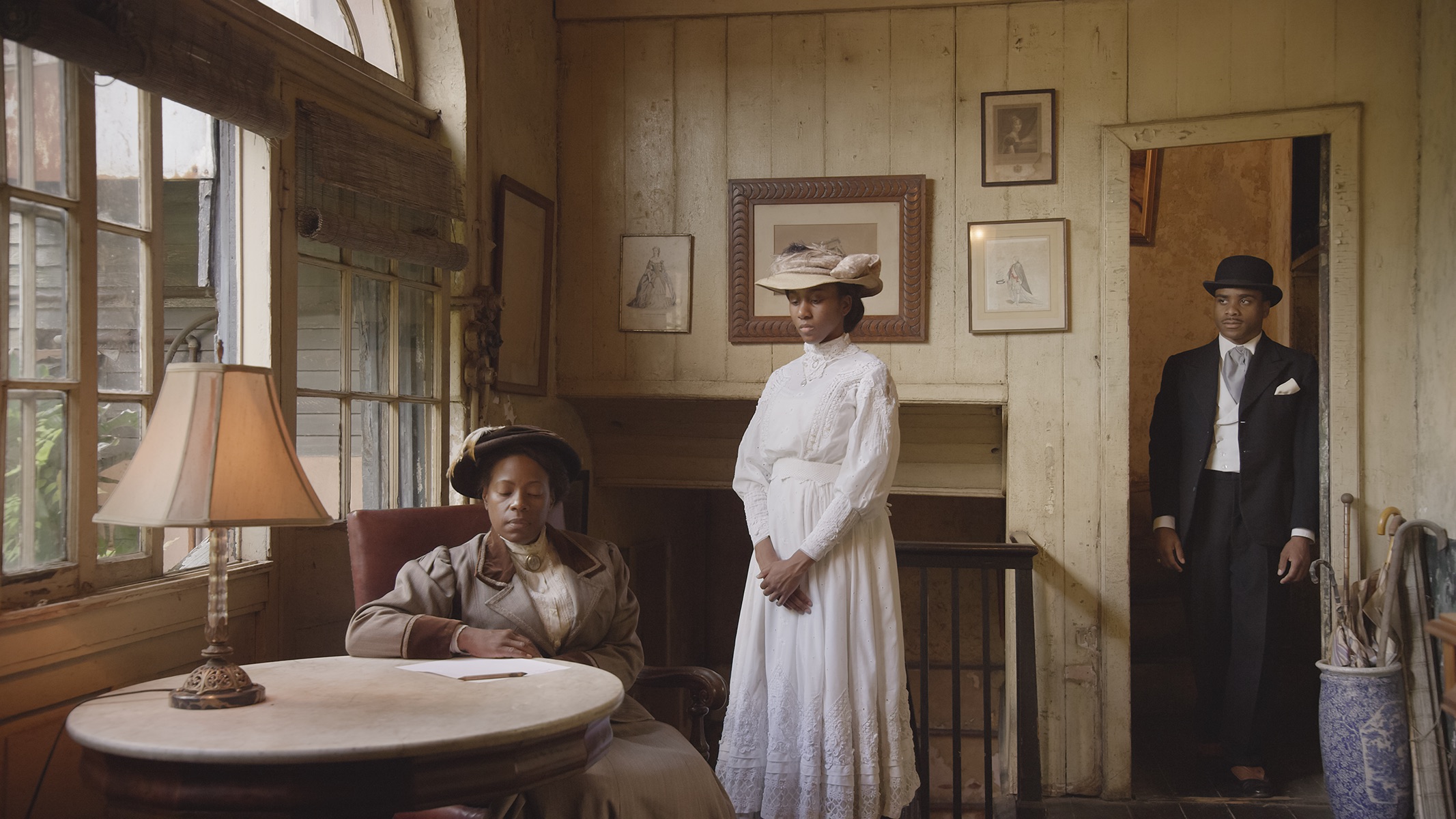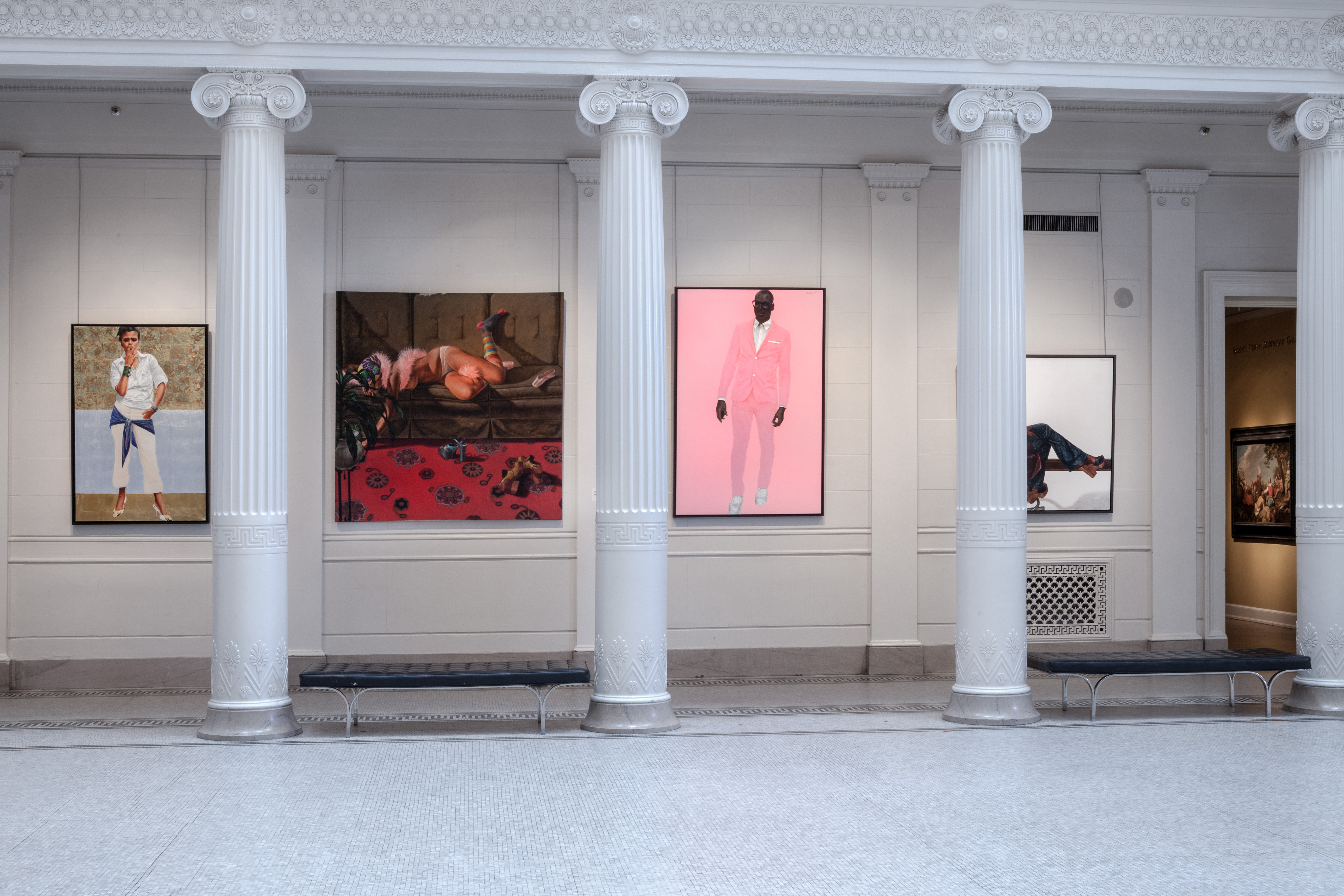 The nature of periodic shows like P.4, which sprawls across 17 venues around the city and includes a healthy dose of video, film, and performance, is that one never actually takes it all in. An intriguing new commission by Kara Walker, in fact, won't even be seen until the final few days of the show next February. This dilation in time and space allows for significant slack in the curatorial concept, and for a certain number of artworks that look to have been airlifted in from other projects.

Yet while there's an overall earnestness to the affair, many works are affecting, and Schoonmaker traces several through lines from location to location. Yoko Ono's huge painted question on the side of a building in the museum district asks HAVE YOU SEEN THE HORIZON LATELY?, and its vague, slightly Whitmanesque interrogation of vision and landscape, both literal and figurative, resonates with Runo Lagomarsino's words on three consecutive walls along the Mississippi in Crescent Park: IF YOU DON'T KNOW WHAT THE SOUTH IS/IT'S SIMPLY BECAUSE/YOU ARE FROM THE NORTH.

Installed before the official opening, the latter work reportedly generated pre-game controversy as residents complained, deeming it somehow racist. Glenn Ligon's Untitled (America America), two face-down neon signs on the floor of the Ogden Museum of Southern Art, also textualizes geographic metaphor as it intermittently flashes the name of our imperfect body politic. The work doesn't technically belong to P.4, however, but instead to a show of black, mostly abstract art from the Joyner Giuffrida Collection, with which the triennial shares the Ogden's galleries.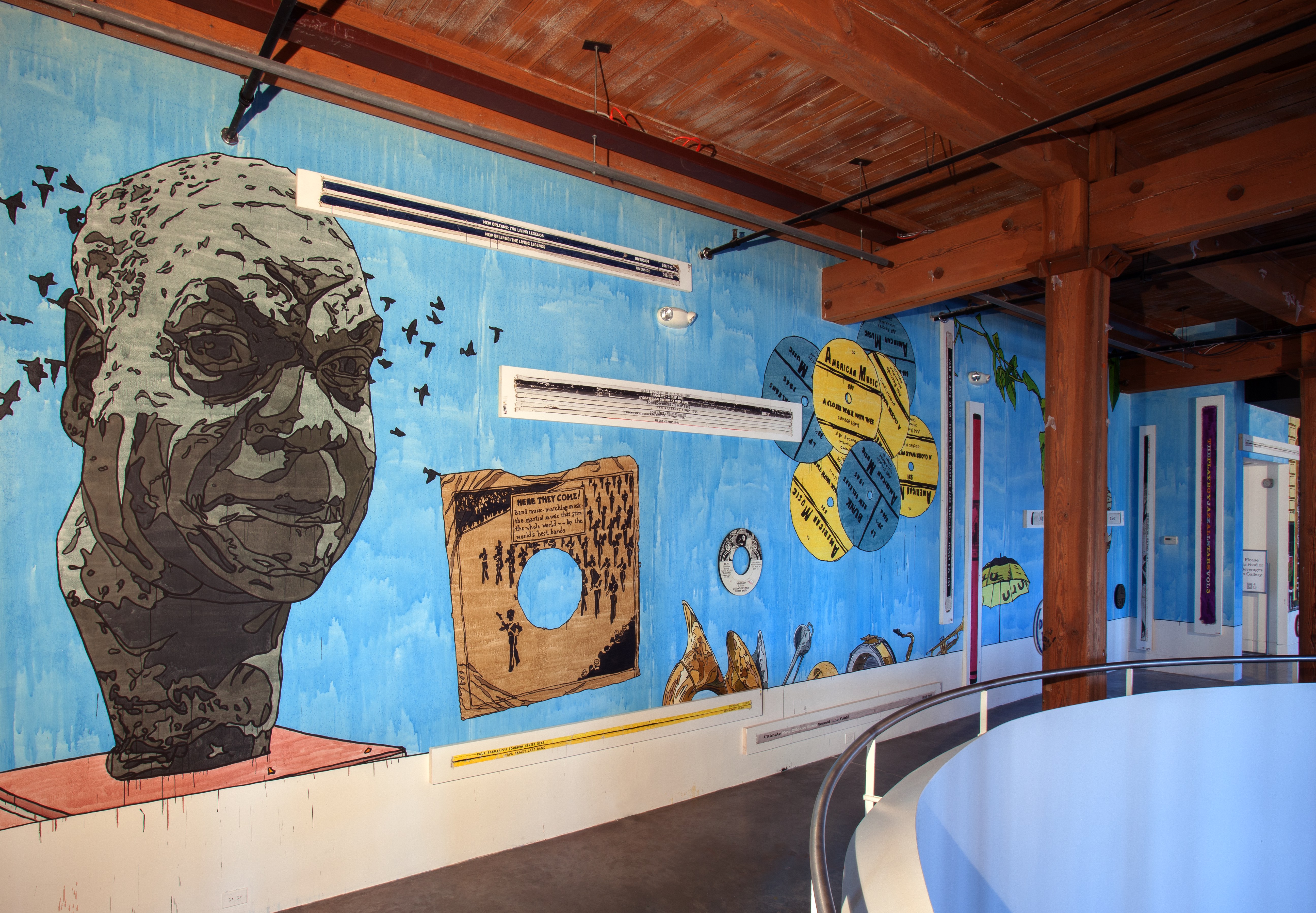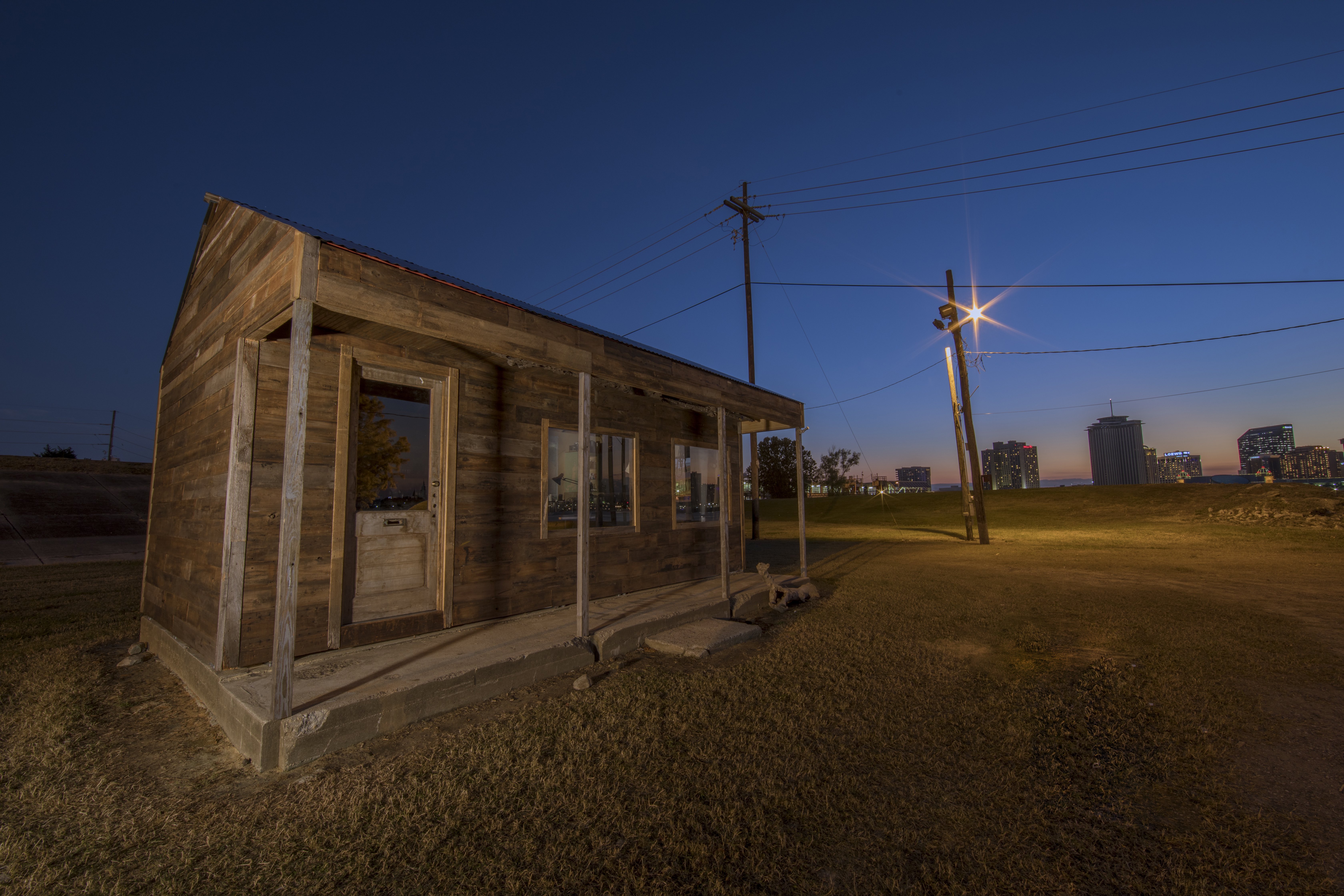 The Contemporary Arts Center New Orleans has devoted the entirety of its exhibition space to P.4, making it something like an HQ. The great Alfredo Jaar fills one dark gallery there with One Million Points of Light, a single black-and-white photograph writ large as a still projection and picturing sunlight dancing on the surface of the ocean. Jaar took the photo in 2005 from the coast of Luanda, Angola, looking across the Atlantic towards Brazil, making it a memorial to the Middle Passage of the trans-Atlantic slave trade. Easily misunderstood or overlooked, it has a mournful, evanescent beauty.

A strikingly similar image sits in the middle of Eritrean Canadian Dawit L. Petros's Historical Rupture from The Stranger's Notebook, a series given its own mini-exhibition at the New Orleans Museum of Art, as are the works of several other artists. (A small group of paintings of African American urban dandies by Hendricks, who passed away unexpectedly while P.4 was being organized, makes a wonderful rejoinder to the buttoned-up neoclassical grandeur of the museum's entrance hall.) Petros intersperses silvery photos of the sea taken from opposite sides of the Mediterranean—Spain and Italy on one end, Morocco on the other—with close-ups of foil emergency blankets that might have been given to migrant refugees arriving from the perilous crossing. The shots of sea and blankets look nearly identical to each other, a formal conflation of terror and comfort that makes the installation both somber and moving.

Water runs throughout Schoonmaker's show, as befits a project for the delta city with a long and lately double-edged relationship with both river and gulf. At the Historic New Orleans Collection in the French Quarter, Verdin's exhibition of black-and-white photos documents her family and community, the indigenous Houma people who live in the wetlands of southeastern Louisiana, the land in the US most affected (so far) by climate change. "Places where my grandmother picked pecans as a child," the artist observed, "when she was in her 90s, people were setting their crab traps there." At the UNO-St. Claude Gallery, another photo show, of Jeff Whetstone's color prints, accompanied by a slow, meditative video projection, pictures life along the batture, a local term for the land between river and levee. Lined with oil refineries and other manufacturing plants, adjacent to the shipping lanes traversed by supertankers, it also supports fishermen and crabbers. An image of a flayed and gutted catfish covered in iridescent green flies, one saucer eye still glowing balefully, suggests the almost certainly toxic nature of the catch.
Mark Dion sites The Field Station of the Melancholy Marine Biologist on the batture at Algiers Point. The full-scale shack filled with plausibly scientific accoutrements, seen through windows, intimates the damaged ecological health of the region with fishy specimens preserved in jars, copious tubs for animal necropsies, and an enamel tray of ominous black sludge. And at the Ogden, Wayne Gonzalez connects past and present along area waterways by hanging his recent canvases of nearby postindustrial scenes amid a selection of 19th-century landscapes by Bayou School painters. Rendered in oversized crosshatching, Gonzalez's images examine the ordinary ugliness of a degraded environment with a flat affect, in contrast to the lingering and picturesque romanticism of the earlier views.

Music also plays across many of the works in P.4, especially, fittingly, at the New Orleans Jazz Museum at the Old US Mint. Sometimes, the tunes are only implicit, as in Satch Hoyt's Ascension (The Chain), an endless column made of tambourines and mirrors. A mindblowing group of reel-to-reel tape boxes made by New Orleans native Louis Armstrong combines snippets from popular culture with personal mementos, stamping the jazz giant as an unexpected bricoleur. Dario Robleto's three vitrines highlight a deep archival dive into early recordings of Southern music, and Dave Muller's mural at the CAC is hung with watercolors of record labels, tatty album spines, and the stickers that used to adorn the shrink wrap of vinyl records, evoking the subjective and material joys of his research into local music history.
With so much absorptive art like this, it's difficult to point to a single work for excessive praise. But if P.4 has produced a masterpiece, it's John Akomfrah's video installation, Precarity, one of many new commissions at the triennial. In a glancing and allusive accumulation of fragments, Precarity refers to the story of Charles "Buddy" Bolden, a turn-of-the-century New Orleans cornet player often credited with inventing jazz. Schizophrenic, he was institutionalized for life in 1907 at the age of 30, and no recordings of his music survive. Akomfrah's long, slow takes of unspeaking costumed actors—sometimes overlooking the modern city—intercut with shots of antique photos and documents submersed in a running stream, and accompanied by a soundtrack with suggestive poetry in the musician's voice, bring Bolden back to enthralling, if still fundamentally unknowable, life. Weaving together all of P.4's themes—water, music, blackness, history, subjectivity, contemporaneity, and New Orleans itself—Precarity may well prove the show's signature work.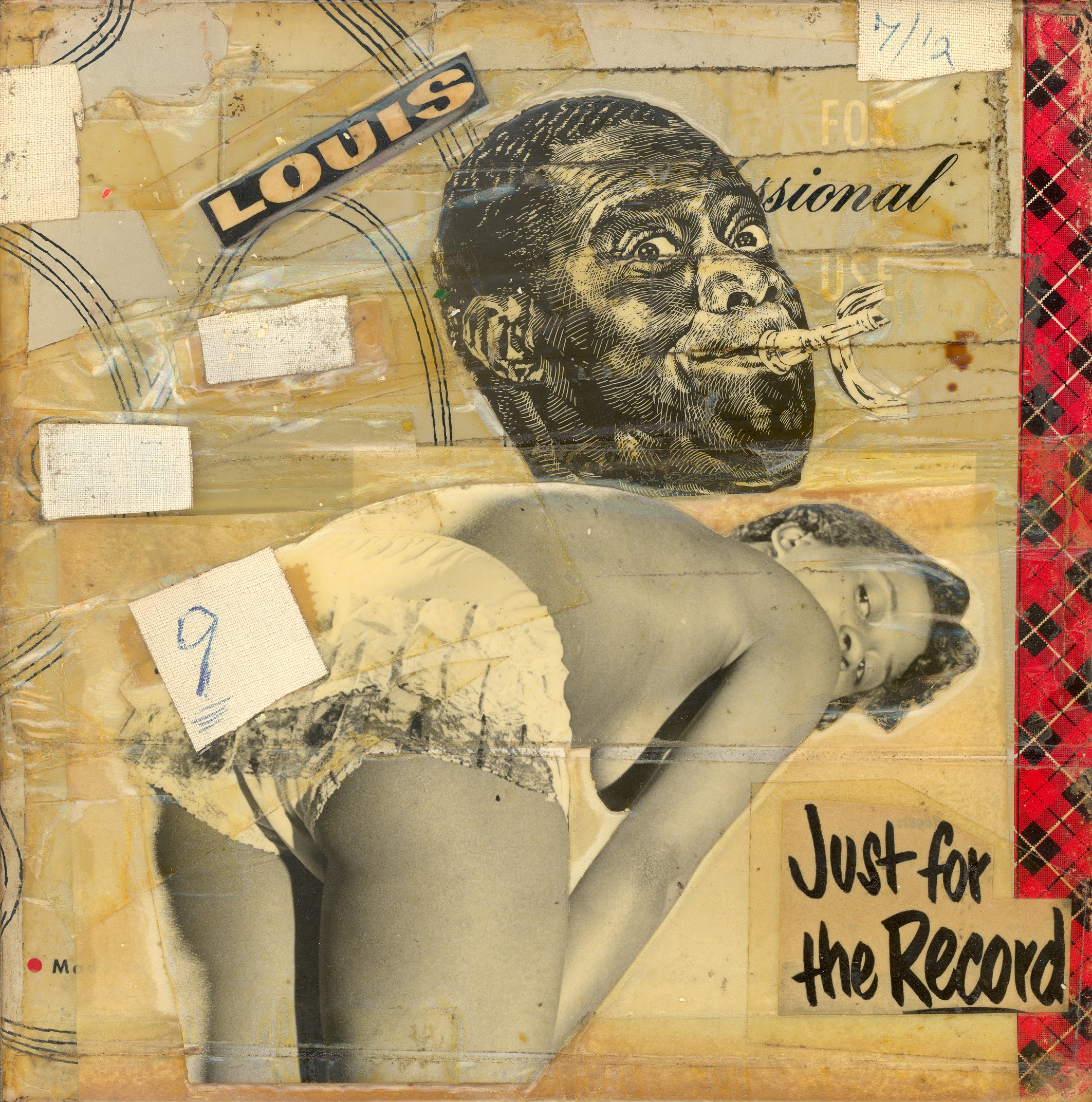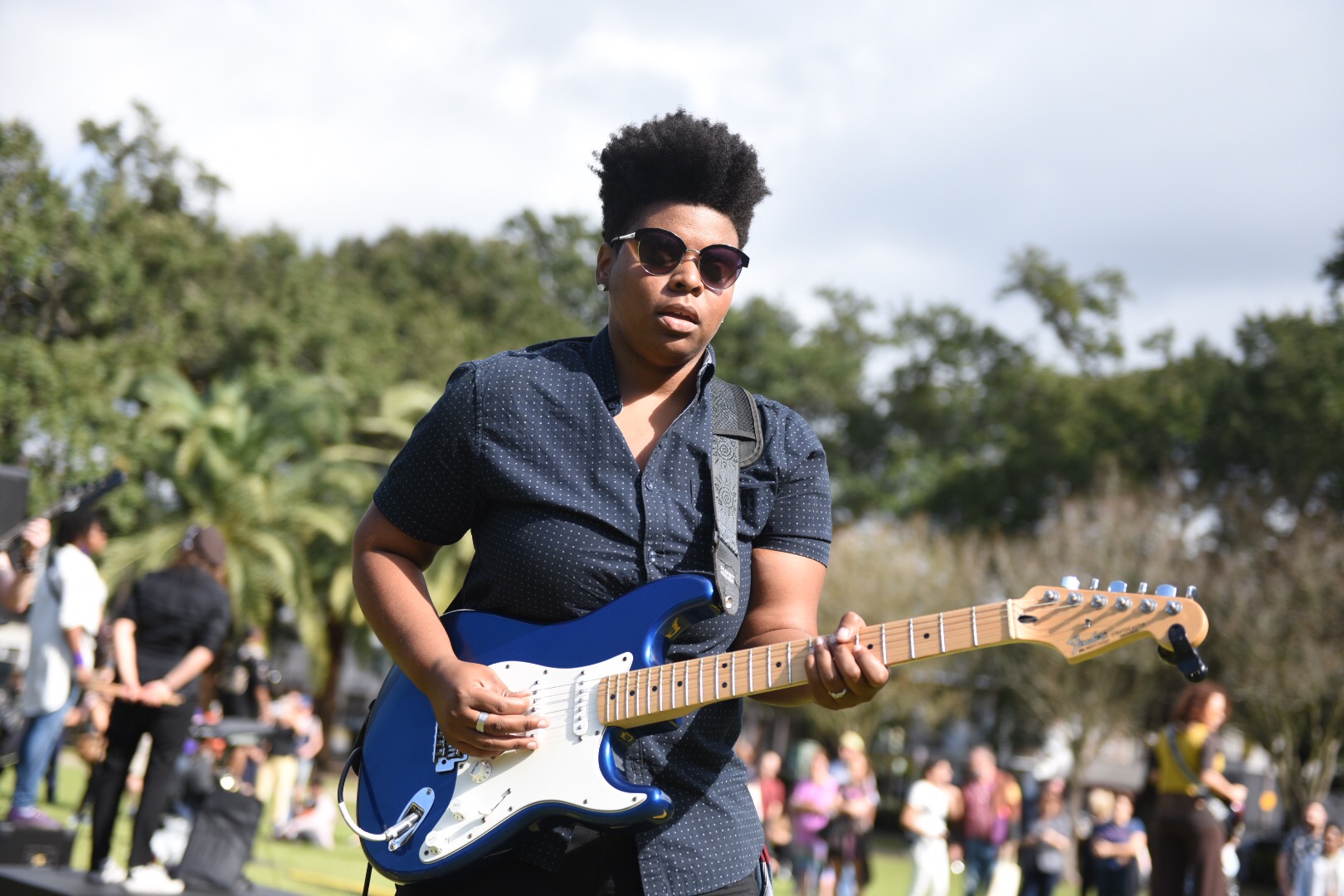 After a ribbon-cutting ceremony in Washington Square on Saturday, P.4 opened to the public with Composition 21, a performance in the park by Naama Tsabar. Arranged in a vast triangle that managed to recall Judy Chicago's The Dinner Party, 21 female musicians and singers played similar-sounding songs in rounds. The wall of sound they created, coupled with the halcyon sunshine of the early afternoon, was something close to euphoric. At an earlier press conference at the Ashé Power House Theater, Carol Bebelle, its Executive Director, noted that New Orleans is a "prophetic city for America," one given "a chance to do a do-over." She referred, of course, to the locale as a bellwether for climate change and its encouraging resurrection from a soggy mire. It was hard not to wish that the feminist and multicultural optimism of Tsabar's concerto was equally prescient.
Prospect4: The Lotus in Spite of the Swamp, is on view through February 25, 2018.