Narcissister performing The Body is a House at Participant Inc., New York. Photo by Paddy Johnson
Narcissister Starts a Pussy Riot at Performa
Brooklyn artist Narcissister's transformative presentation at Participant Inc. made Carolee Schneeman's notorious vaginal scroll look like kid's stuff.
Narcissister performing The Body is a House at Participant Inc., New York. Photo by Paddy Johnson
Just as athletic performance over the past quarter century has steadily improved, so too has the amount a performance artist can fit in her vagina.

In 1975, when Carolee Schneemann pulled a long scroll from her hoohoo, it seemed like a lot, but some of today's efforts make that look like a beginner's effort. Over the course of an hour on Friday night, as part of the Performa 17 biennial in New York, performance artist Narcissister danced to pop and transformed her body into a vast spread of characters and identities through the use of masks, wigs, and pretty much anything she could pull out from between her legs. Those objects included a cell phone, a large plastic turd, a wrinkled mask, a set of stockings, a string of pearls and a small dress. (All that came out of her butt was a scarf and some underwear.)
Her action was part of an evening of performance at Participant Inc. titled The Body is a House. This featured four live and three recorded presentations in which Narcissister morphed her body seamlessly from young to old, black to white, male to female, front to back, ass to vagina. She did all this while wearing a mask, presumably to avoid her face distracting from her shifting identities.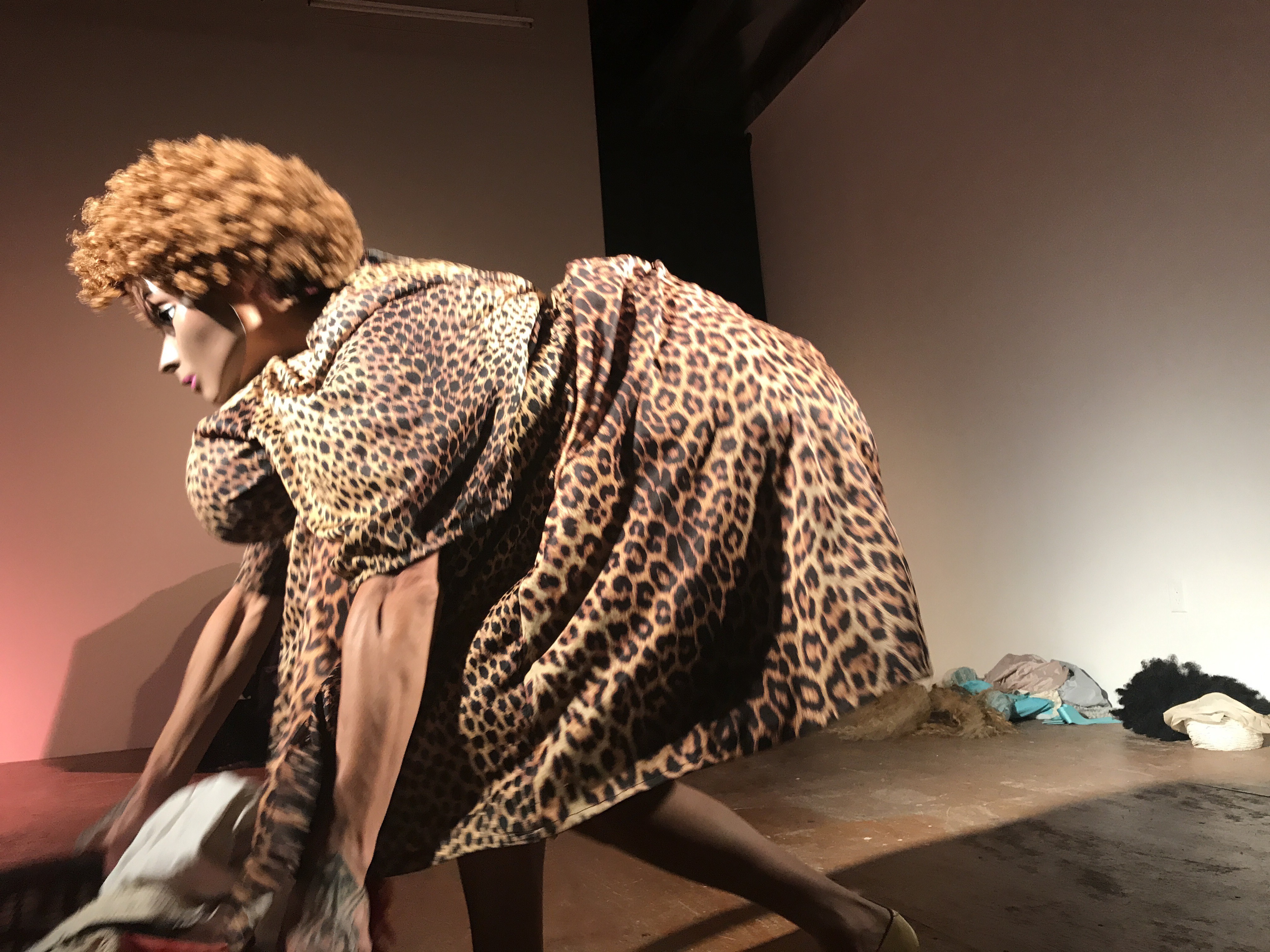 In Upside Down, a projected video of a dizzying action scored in part to the Diana Ross song of the same name, Narcissister's back becomes her front and her arms her legs. When it's revealed that her crotch bears another head the song switches to Will Smith's "Just the Two of Us." It's hilarious. In the live work, I'm Every Woman, the artist does a reverse striptease to the Whitney Houston track, pulling an entire costume—including shoes and earrings—from her hair, and various orifices.
Spectacle and sex were, then, in plentiful supply throughout the night. That makes sense, given her mutable appearance, and her strategies are not without precedent. Narcissister isn't that far removed from the influence of art star Matthew Barney. Barney similarly explores the limits of the body, its sexuality and gender, and at one point in I'm Every Woman, there's a clear nod to the artist's famed Cremaster series. When she kicks off the performance, Narcissister's hair and clothing-filled mouth mimic the famous image of Barney playing the Entered Apprentice in his final film in the series, The Order.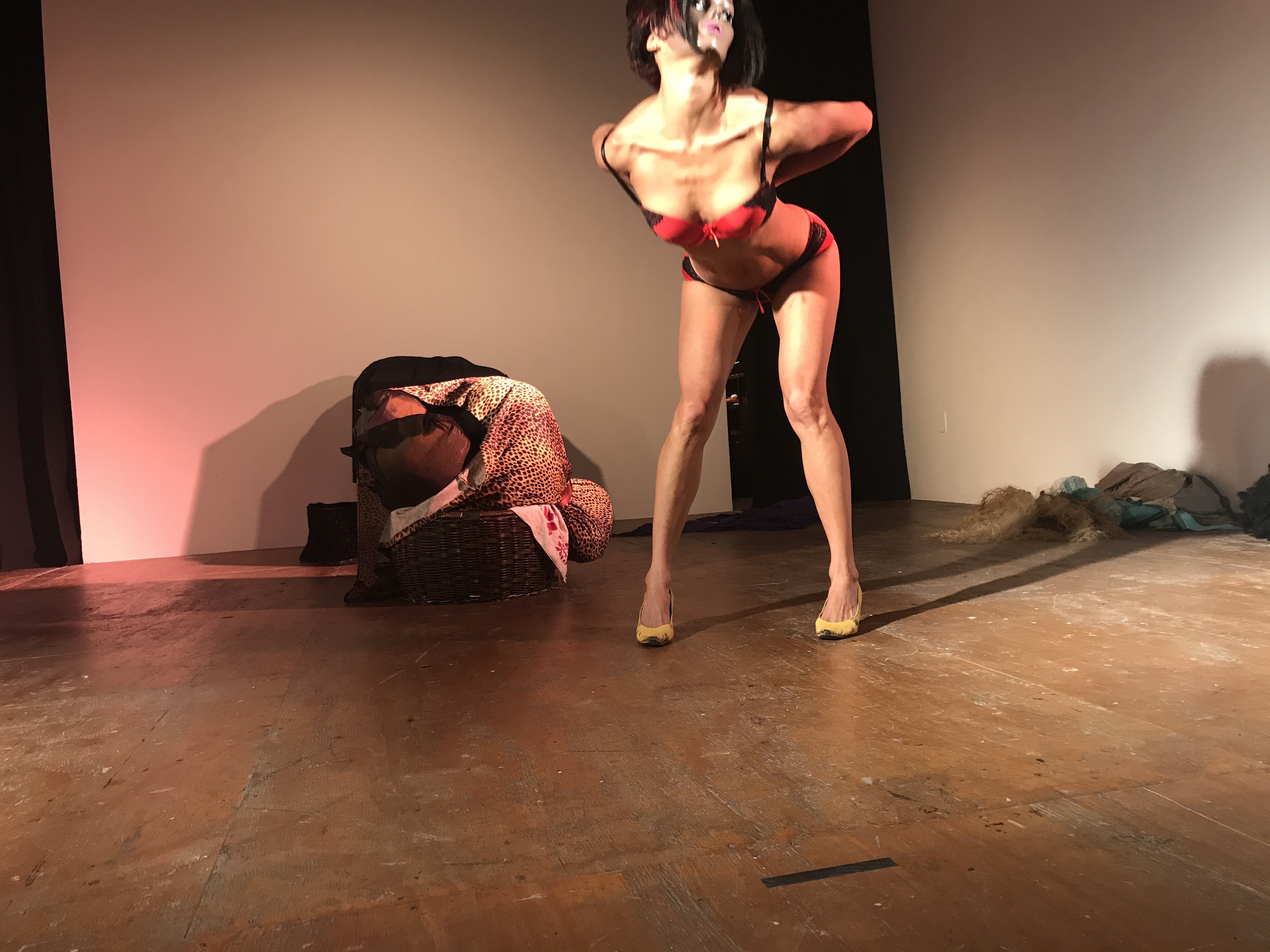 But Barney's heyday was in the 1990s, and the kind of gender confusion and performed physical endurance that moved audiences then isn't necessarily what's needed today. What makes Narcissister so relevant now isn't what she finds in her vag, but rather what she does with it. In a time of endless debate over who gets to use which cultural symbols—from Emmett Till to the #metoo hashtag—this work makes the case that culture isn't something that fixed or owned; it's entirely mutable. And when engaged with respectfully and creatively, it has the power to help us reimagine ourselves.
Narcissister, The Body is a House, was performed on November 3, 4, and 5 at Particpant Inc., New York, as part of Performa 17.