Bunny Rogers' Zombie High
"Sanctuary," is the artist's first large-scale solo performance, presented at Performa 19.
Part of the precarious thrill of the Performa 19 Biennial is its willingness to coax performances out of artists who don't generally operate in that mode. The results aren't always successful—Barbara Kruger's 2017 "performance" in the form of a Supreme-style shop comes to mind—but they're almost always interesting. 2019's iteration finds Bunny Rogers joining the cohort who have leapt into live programming for the first time. Last night at the Essex Street Academy the millennial artist, best known for video animations and sculptures that orbit around the 1999 Columbine massacre, unveiled Sanctuary.

Promotional materials promised that "the audience will have the freedom to come and go as they please, digging through the various layers of artifice to create their own associations, experiences, and ultimately memories." This all sounded like the set-up to a reboot of Sleep No More by way of that horrifying "Back-to-School Essentials" PSA. That might be unfair; Rogers has spoken before about a range of influences that have nothing to do with the carnage of Columbine and school shootings, things like Neopets, or the animated show Clone High. Still, I arrived at Essex Street Academy—an actual high school on New York's Lower East Side—expecting an interactive version of that staple of 21st-century teenage life in America, the active-shooter drill.

Instead, Sanctuary was something closer to a faithful, live-action translation of Rogers's animation work, with inhuman avatars replaced by the real thing. (Despite being billed as her first-ever performance, that's arguable; the artist has previously staged offbeat events with poetry, music, and dance.) The two front hallways of the Essex Street Academy were transformed into the site of a low-lit bloodbath, but one that alluded to zombie horror rather than gun violence; press materials nodded to Rogers's affection for Silent Hill and The Walking Dead. Bodies were strewn, ragdollish, across the linoleum tiles. A hushed and revenant crowd, Dan Colen and Cecilia Dean among them, tiptoed over the faux-corpses while a haze of artificial ash drifted from the ceiling above.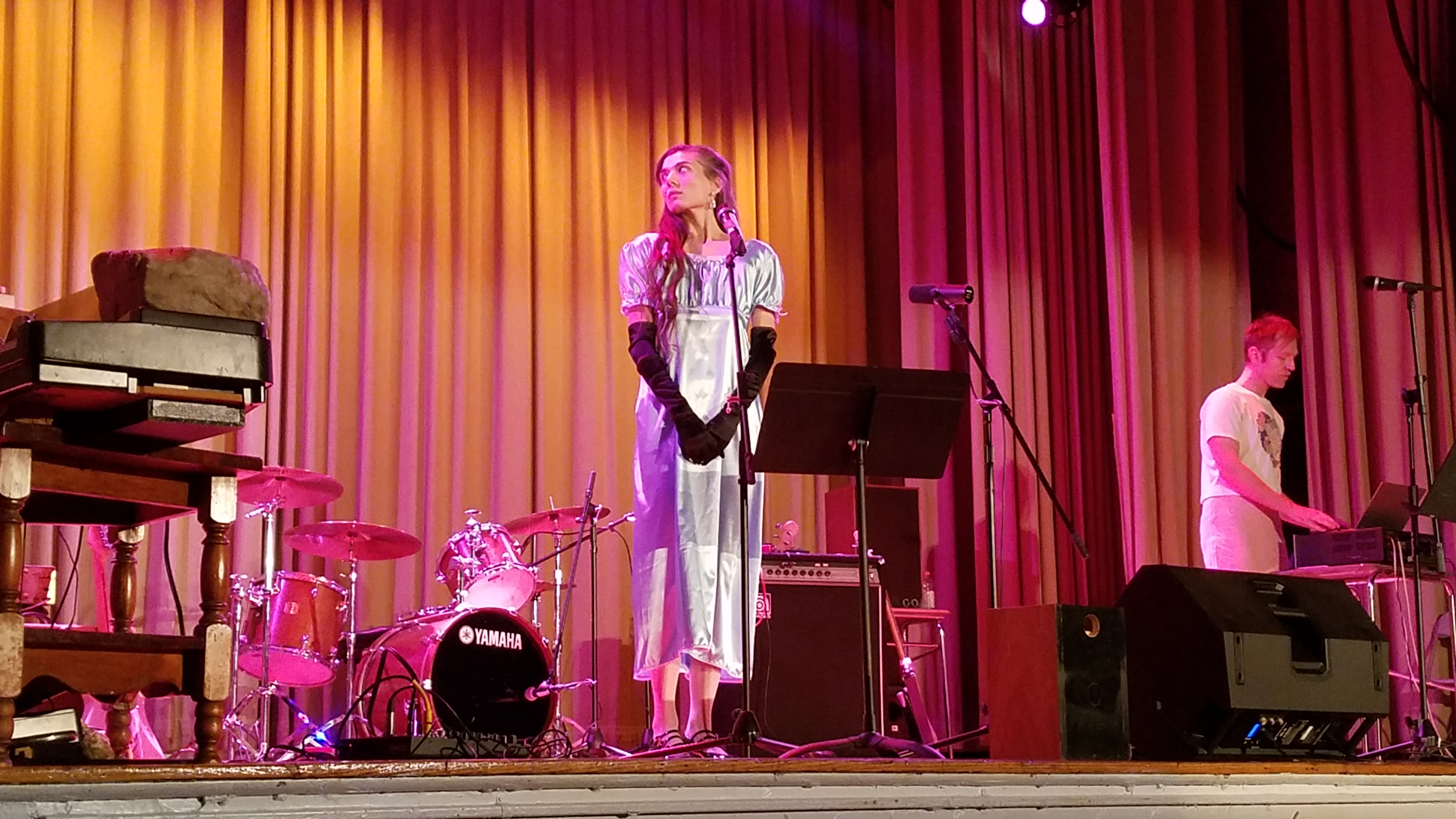 All those crumpled bodies were creepy enough; a mob of silent people, snapping photos like so many Instagram-happy WeeGees, made it truly unnerving. So did the juxtaposition of the unfortunately zombified with the day-to-day ephemera of the real Essex Street Academy: A flyer advertising an after-school trip to the Brant Foundation; a sign letting everyone know that teacher Greg is currently reading Anna Burns's Milkman, a Booker Prize-winning novel about the Troubles in Northern Ireland. (Good taste, Greg, that book's amazing.)
After this death safari, everyone convened in the school's truly epic auditorium. Here, the centerpiece of Sanctuary unfolded over about an hour: a slightly shambolic, rough-around-the-edges "talent show," featuring Rogers herself in collaboration with eight musically inclined friends, including her longtime collaborator Filip Olszewski. Perhaps this was meant to be the safe place that the performance's title referred to; in any case, there was no sign of the zombie blitz just outside the auditorium's doors.

Here, the mood was more Goth Teens Gone Wild. Joseph Beers, clad in an all-black ensemble that Johnny Cash would have approved of, played a solo guitar cover of "Duvet" by Bôa which, thanks to Wikipedia, I now know was the theme song to the 1998 anime Serial Experiments Lain. Rogers herself—wearing first a satiny blue gown with elbow-length gloves, and then a cheerleader's outfit with EXTREME blazoned across its chest—sang several numbers, one of them in Russian (I think), and one of them (I know) being BeeGee member Andy Gibb's hit Arrow Through the Heart ("World of girls and boys think about the kill before you draw the bow..."). Former Artforum editor Allese Thomson, reading from sheet music held in a bedazzled three-ring binder, took a solo piano turn, her performance of Procol Harum's "Whiter Shade of Pale" wavering between halting and virtuosic.

In the end, though Sanctuary had the feeling of a rough draft—a little unsure of what it was, and where it wanted to go—Rogers did manage to scale-up the ambience of her video works, transplanting their oddness from virtual screen to actual school. While the substance tying this all together might be elusive, the performance did cast a serious mood, something like "narcotized prom queens emoting at the end of the world." Inside the auditorium, a boy in a wig played a black-metal dirge on a blown-out bass. Outside, fake ash trickled down, and the dead remained dead.