In Susan Sontag's First Film, Clothes Become Language
"Duet for Cannibals" celebrates it's 50th anniversary this year and it's just as puzzling as it ever was.
An Italian woman teaches a Swedish woman words for parts of the body. Hair—"Capelli." Eyes—"Occhi." Mouth—"Bocca." Moments before, she was downstairs at the dinner table, fiendishly feeding her off her own fork. Now, they're in her bedroom, sitting at perhaps the most important site—the command center—of a well-kept bourgeois housewife: her vanity table. She offers to dress her.
In the late 1960s, Susan Sontag was commissioned by the Swedish production company Sandrews to make a movie in Stockholm. In the interest of cultural diplomacy, Sweden regularly hosted auteurist directors (Agnès Varda was one); the already-famous Sontag landed at the Hotel Diplomat to write her script with both a generous budget and not much oversight. Since childhood, Sontag had been a voracious moviegoer and cinephile, and with this offer, the uncompromising critic finally had a chance to take a crack at one of her major arenas of interest.

Filmed in 1968, and released in 1969, the result was Duet for Cannibals, the first in Sontag's brief filmography. Fifty years after its debut, it will be opening nationwide via Metrograph Pictures, starting November 22. With heady surrealistic interludes, a jumble of languages, and claustrophobic paranoia, Duet is a slow burn curio, pulling in zeitgeist-y themes of the era (sexual mores, revolutionary politics) with the influences and conceptual devices of the era's arthouse heroes (and Sontag subjects) Bergman and Godard.
Watching the film, lines of Sontag's 1967 essay on Bergman's Persona, originally published in Sight & Sound, come to mind, "Images and dialogue are given which the viewer cannot help but find puzzling, not being able to decipher whether certain scenes take place in the past, present or future; and whether certain images belong to 'reality' or 'fantasy.'" Sontag never really broke through as a filmmaker, though she would make three more films. (As Benjamin Moser notes in his new biography, Sontag, "Her cinephilic knowledge was second to none, but when it came to making Duet for Cannibals she seemed to succeed only at mystification.")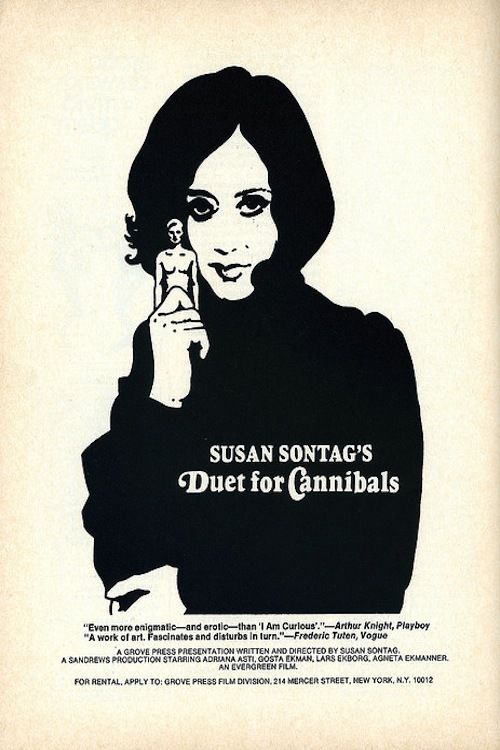 Sontag sets up a sexually-motivated web of political-minded intrigue: leftist student Tomas meets an exiled intellectual named Bauer and his younger Italian wife, Francesca, starts working (and living with them), is alternately seduced and toyed with by each (ideologically by Bauer, sexually by Francesca). Looming dread underpins their dynamic. Bauer is either dying of a mysterious illness (or isn't). Bauer wants to "be rid of" Francesca (or doesn't). Tomas's increasingly jealous fiancée, Ingrid, gets pulled into the arrangement, both of them inevitably falling into the lap of the alpha couple.

Signifiers of class and status accentuate their disparate lifestyles. A creeping sense of power lords over Tomas and Ingrid in Bauer and Francesca's home (they have "help"), their clout, their clothes. Even if Bauer is a revolutionary, Tomas and Ingrid live in a bare flat, and wear a utilitarian uniform of turtlenecks, leather jackets, shift dresses.
Francesca wears black sheath dresses and fur coats. Her dark hair is cut in a chin-grazing bob. She puts her husband's glasses, and his hat, on Tomas at various moments in a form of indoctrination. Even—in one scene—when she's giving him a pistol and asking him to murder her husband, there is a veneer of vaunted respectability to her. Her clothing is not loud, or even particularly memorable, but it looks rich in its banality. Francesca's domination of Ingrid happens with soft subtlety, free of the high-key overtures that mark the rest of the plot. At the vanity table, she offers her a wig. Blonde and curly, over Ingrid's blonde crop it looks ridiculous. Francesca gives her another one to try, a dark, chin-grazing bob style that mirrors her own.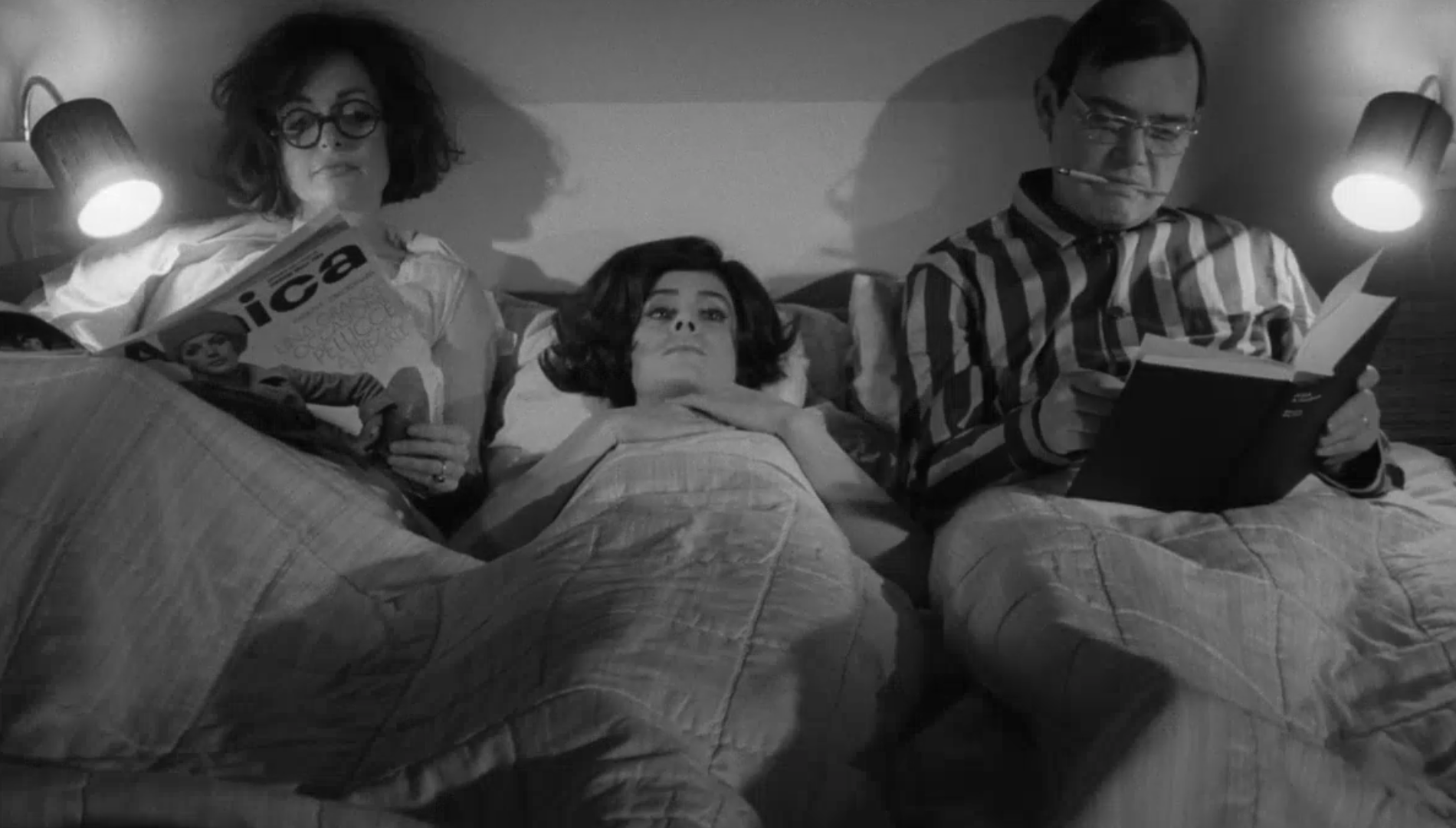 She urges Ingrid to put on her clothes. Ingrid slowly strips, slipping into a black Francesca garment. Framed together in the mirror, Ingrid becomes an alternate Francesca, a blanker, prettier ghost. The next frame sees her in between Francesca and Bauer in bed. The possession is complete.

Tagged: