These Women Are Shaping the Future of Female Streetwear
Streetwear remains a male-dominated industry—save for designers like Erin Magee of MadeMe and Ashley Williams, who are making women's clothes for a women's world. Photographed by Flo Ngala.
Photograph by Flo Ngala.
Is Supreme a worldwide conspiracy? If you've casually followed fashion for the past few years, you may feel that the twentysomething-year-old skate brand—and others, like Palace, Powers, Call Me 917, and Aimé, which are often lumped together as "streetwear"—is taking over the world. Countless celebrities are wearing T-shirts covered in mysterious graphics and phrases, while fast-fashion stores sell rip-offs of the Thrasher logo sweatshirt. Streetwear is like the industry's hot, new boyfriend: Some of the best sneakers are being made by Louis Vuitton; logo tees are sold alongside crystal-studded pussy-bow blouses at Gucci; and a few houses are adopting the quickfire delivery schedule engineered in Japan but made famous stateside by sneaker brands and Supreme. Some designers, like Virgil Abloh and Gosha Rubchinskiy, even sit firmly in both the streetwear and capital-"F" fashion universes.
It's cool that big brands are learning from the little guys—and Supreme is worth $1 billion, so it's not really so little—but why do men get to have all the good ideas? Streetwear, with its smart notions about delivery and hype-building, has even more to offer women: it's affordable, it's outside the typical microcosm of fashion (you won't see Alltimers staging a runway show), and it's simple to wear and well made. There was a period in the '90s when a number of female-designed, women-driven brands thrived as streetwear labels, like Sofia Coppola's Milk Fed and Kim Gordon and Daisy von Furth's X-girl, but the former is out of business and the latter is now only sold in Japan. Yes, some brands, like Alyx, A-Cold-Wall, and Stussy, also do womenswear, but what about clothing that's designed by women, for women?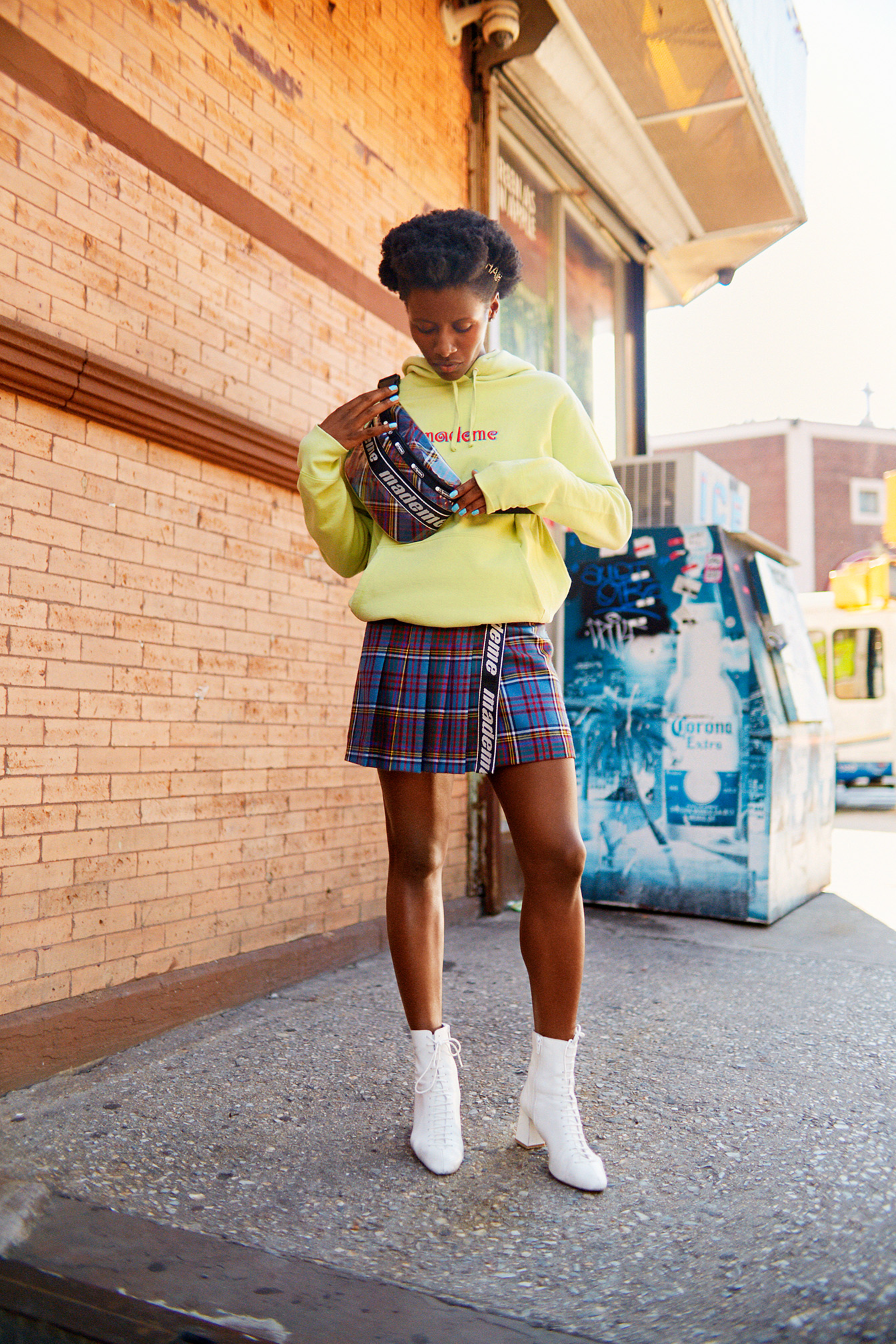 Two brands are here to save the day. Erin Magee launched MadeMe in 2007, and its simple cuts and lower price point (rare is the item above $200) have brought her to stores like Dover Street Market New York and Opening Ceremony. By day, Magee is a designer at Supreme (MadeMe is her extremely rad side hustle); she joined the brand after working as an assistant at Umbro. Supreme kept calling Umbro to collaborate, Magee says, "and nobody there knew what Supreme was, but I did, and so I picked up the phone, and they were like, 'We really keep calling and nobody gets back to us, and nobody cares but we want to work with you.'" She told her boss, and "he was like, 'I don't know what you're talking about, but as long as you stop talking about it, I'll let you do it, and don't bug me.'" Supreme and Umbro collaborated for two seasons—starting with the much-coveted 2005 soccer jerseys—and then Supreme poached her.
Magee loves her job at Supreme, but she had her own vision to pursue, too. "I wanna do something that's a little more me and more creative and more geared towards women and what a cool girl wants," she recalls thinking before she launched the brand. As a young girl in Canada, Magee wore X-girl and Milk Fed. "That's all those reasons of why I was dying to get out of Canada and come [to New York]. There was no Instagram then," she says. Magee graduated from high school in 1999, "so it was like, buying a Luscious Jackson album and learning about Supreme and all that shit."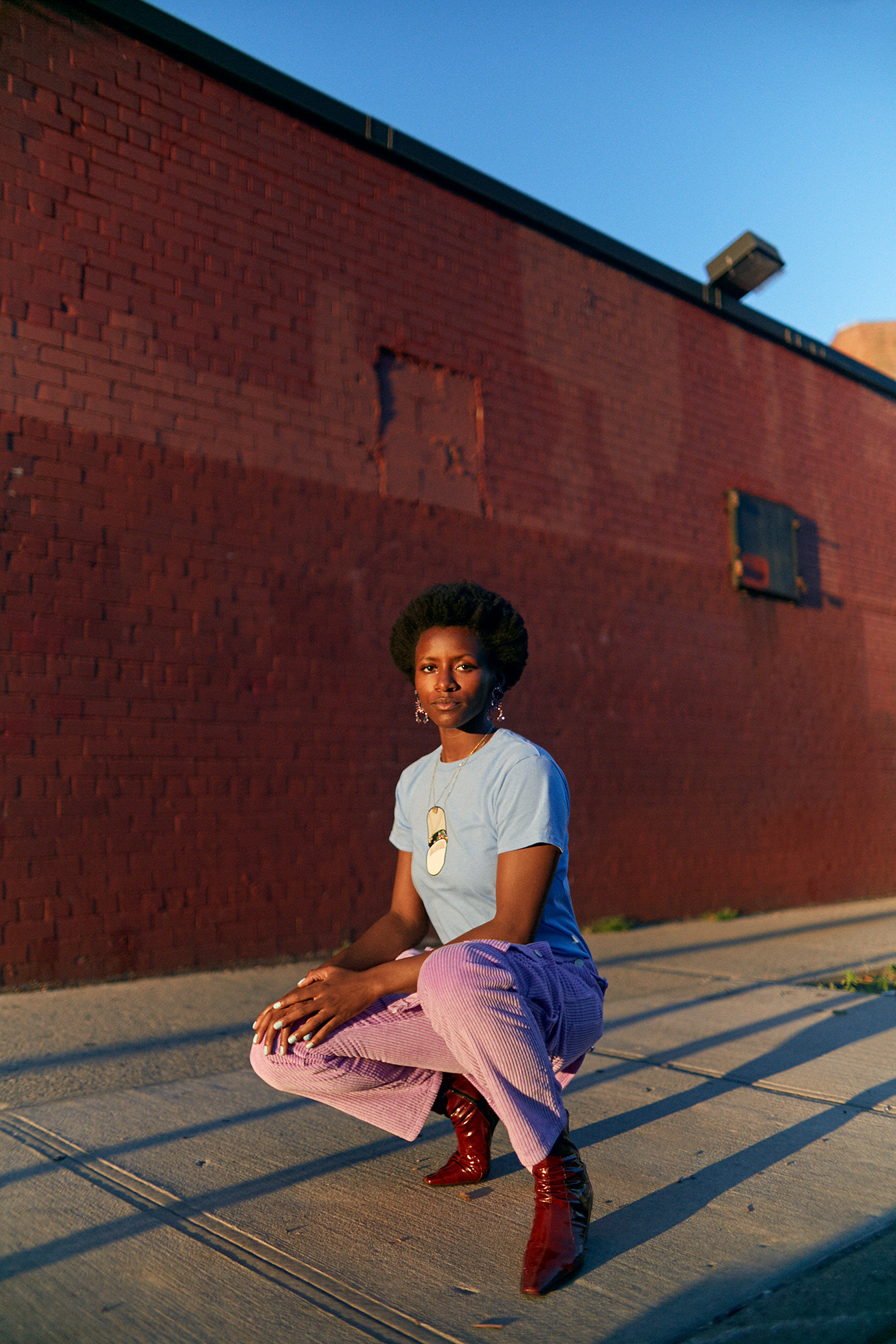 Streetwear, if we can define it, is not just about the clothes, it's about the your world—the bands you like, the magazines you read—and dressing for it. It's clothing that's designed for doing stuff: skating or wandering around all day with friends or deciding at the last minute to go to the beach—or whatever—but with tweaks that make it something beyond performance-wear. Magee's clothes are weird and easy. There's wide-cut pants in metallic silver or cow print, little plaid skirts with kilt fasteners, clingy cotton minidreses printed with eyebolts, and overall dresses and workwear pants. It's sexy but it doesn't try to be.
"It's not over-thought—it's not some precious art project or anything like that," Magee says. "All I think about when I do my stuff is, What is this cute, cool real girl, who's a New York City girl, what is she wearing? What does she wanna wear? Who is she? What does she act like?'" And Magee does what she wants. She puts clothes out when she wants to, sells in the stores she cares to, and creates with whomever she wants to. She's done capsules with Converse and Vans, and she even collaborated with X-girl in 2016.
Hanging next to MadeMe on the racks at Dover Street is Ashley Williams, the eponymous brand launched in spring 2015. Similarly, Williams' clothing is neither tricky nor intense. She put a photograph of River Phoenix—the type you'd hang on a bedroom wall or make your phone background—onto a T-shirt; then, she made it into a dress and layered a beaded fringe bralet over it. For fall 2018, she created a wardrobe of the type of tea dresses you'd dream of fishing out of giant racks of vintage clothes, but with streamlined, ruffled silhouettes for today. In that same collection, she crafted one of the coolest suit looks I've seen in a while: a perfectly cut pink fleece and a pair of sweatpants that said "TRUST ME." Williams' black fur slides with rhinestones read "ANXIETY," and there's a pair of earrings to match, along with sweatshirts, shirts, and accessories printed with "SEX," in tribute to the cover of a Shakespears Sister album. What cool girl doesn't want to wear those?
Princess Diana would have worn Magee's and Williams' clothing; the collections look kinda fussy and odd, but the weirdness doesn't affect their wearability. The prints are riotous, and though the fabrics are strange, they're also effortless. Williams might love huge mutton sleeves, but they'll never get in your way of hailing a cab or carrying a bag. For all its skater quirk, the looks are pulled together and cool in that Daisy-cooing-to-Gatsby meaning of the word. You can wear MadeMe's cow-print pants with a matching jacket, and her Converse sneakers are practically platforms. There's a shared DNA to these brands, which offers a kind of working definition for what women-centric streetwear could mean. (Other brands worth noting: Sofia Prantera's Aries, Anne-Sophie Kohler's A-Line, and maybe even Pierre Davis' No Sesso, for its sheer boldness.)
I asked Magee where she thinks her brand fits in. At Dover Street, MadeMe and Ashley Williams are stocked in the basement, the coolest floor in the store, but also one on which all the other brands are designed for and by dudes. "I don't think it fits," she says, sounding neither worried nor smug.
Could we be overcomplicating the question of what the modern woman wants to wear? After all, maybe it's a T-shirt and matching rhinestone earrings that scream "SEX," paired with a cow-print suit.