Installation view of Vortex of Light Particles, 2018, as exhibited in teamLab: Massless at the Amos Rex in Helsinki, Finland. Image courtesy of teamLab.
The Founders of the First Digital Art Museum in the World Make Art for All Your Senses
teamLab is a Japanese collective that believes in a future where art has no boundaries.
Installation view of Vortex of Light Particles, 2018, as exhibited in teamLab: Massless at the Amos Rex in Helsinki, Finland. Image courtesy of teamLab.
Museums are literally getting darker—call it the Kusama effect. The popularity of Japanese artist Yayoi Kusama's mirrored "infinity room" installations—and the accompanying flurry of in situ art selfies on social media—perhaps reached its peak last year with shows by the artist at David Zwirner in New York, The Broad in Los Angeles, and a record-breaking exhibition at the Hirshhorn Museum and Sculpture Garden in Washington, D.C., which reached 91 million accounts on Twitter and Instagram.
Fittingly then, the opening of Amos Rex in Helsinki on August 30, a revamp of the city's Amos Anderson Art Museum, taps into the immersion trend by going underground—20 feet, to be precise. The new 23,500 square-foot institution, designed by the local firm JKMM Architects, is built directly underneath a public square that is itself a lauded example of functionalist architecture. The museum's first exhibition is by the collective teamLab, founded in 2001 by Inoko Toshiyuki and comprising approximately 500 artists, designers, programmers, mathematicians, engineers, and architects who recently opened the world's first digital art museum in Tokyo and whose work tends to favor the black box over the white cube.
"We have digital technology, so it's natural that we create something of our own time," said teamLab's project manager, Kazumasa Nonaka, in an interview for GARAGE. "The museum world is slowly accepting this new form of art."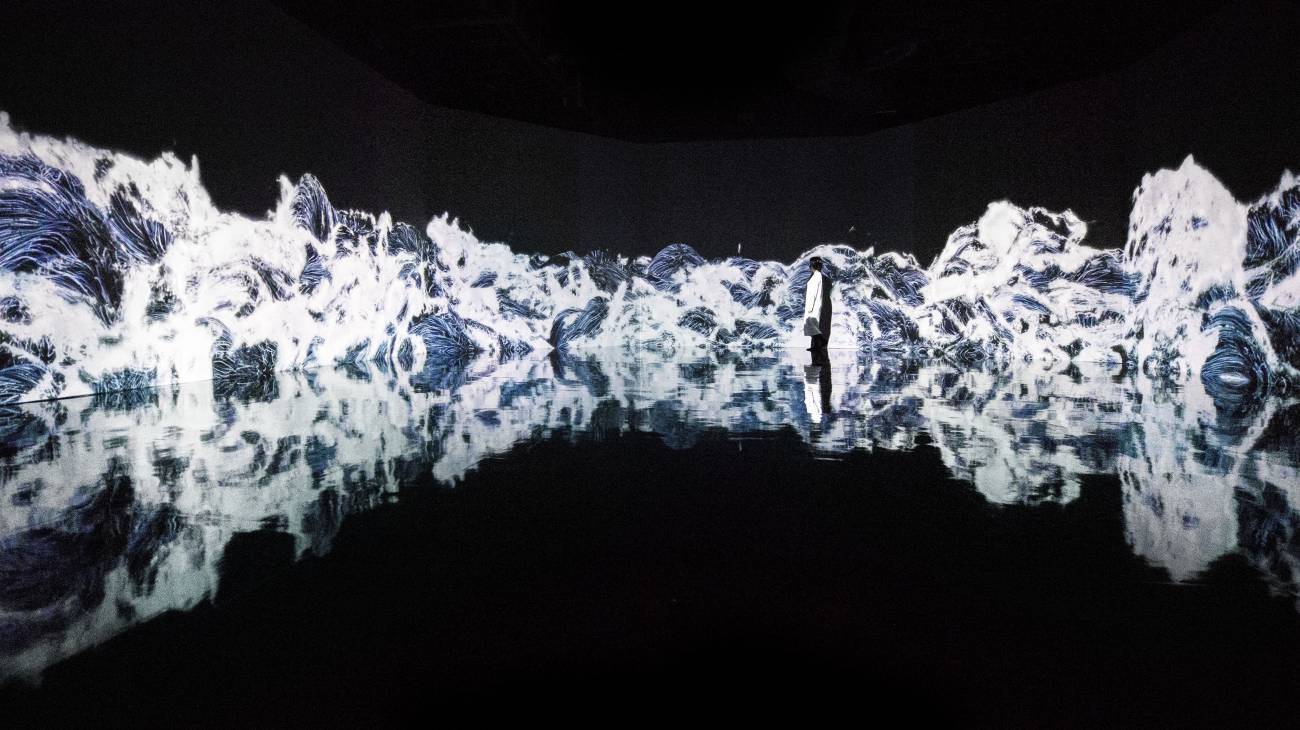 In Helsinki, they are presenting "Massless," an exhibition with four installations that consider the viewer as an essential component of the art. "We believe digital technology has liberated art from the restriction of the physical world," said Kazumasa. "We no longer need canvas or paint; we make no difference between floor and walls; you can migrate freely between the two and have the feeling of levitating between space."
The exhibition features a work from 2016 titled Black Waves, a hypnotic multichannel video loop of an ocean, which bears a striking similarity to Hokusai's famous 19th-century woodcuts. An interactive installation completed this year, called Graffiti Nature: Lost, Immersed and Reborn, presents a glowing menagerie of flowers, butterflies, frogs, and geckos in a manmade ecosystem.
"If you feed the frogs, they eat all the butterflies, but then if there's no butterflies, the number of frogs decreases," said Kazumasa. "Everything works in balance, as we want to give an idea of how nature behaves in a concentrated space."
Also included in the show is another interactive installation wherein mythical birds swarm around you, leaving trails of light in their wake. It's what teamLab call "spatial calligraphy," the process of animating traditional Japanese calligraphy in an attempt to digitally illustrate the power of the brushstroke.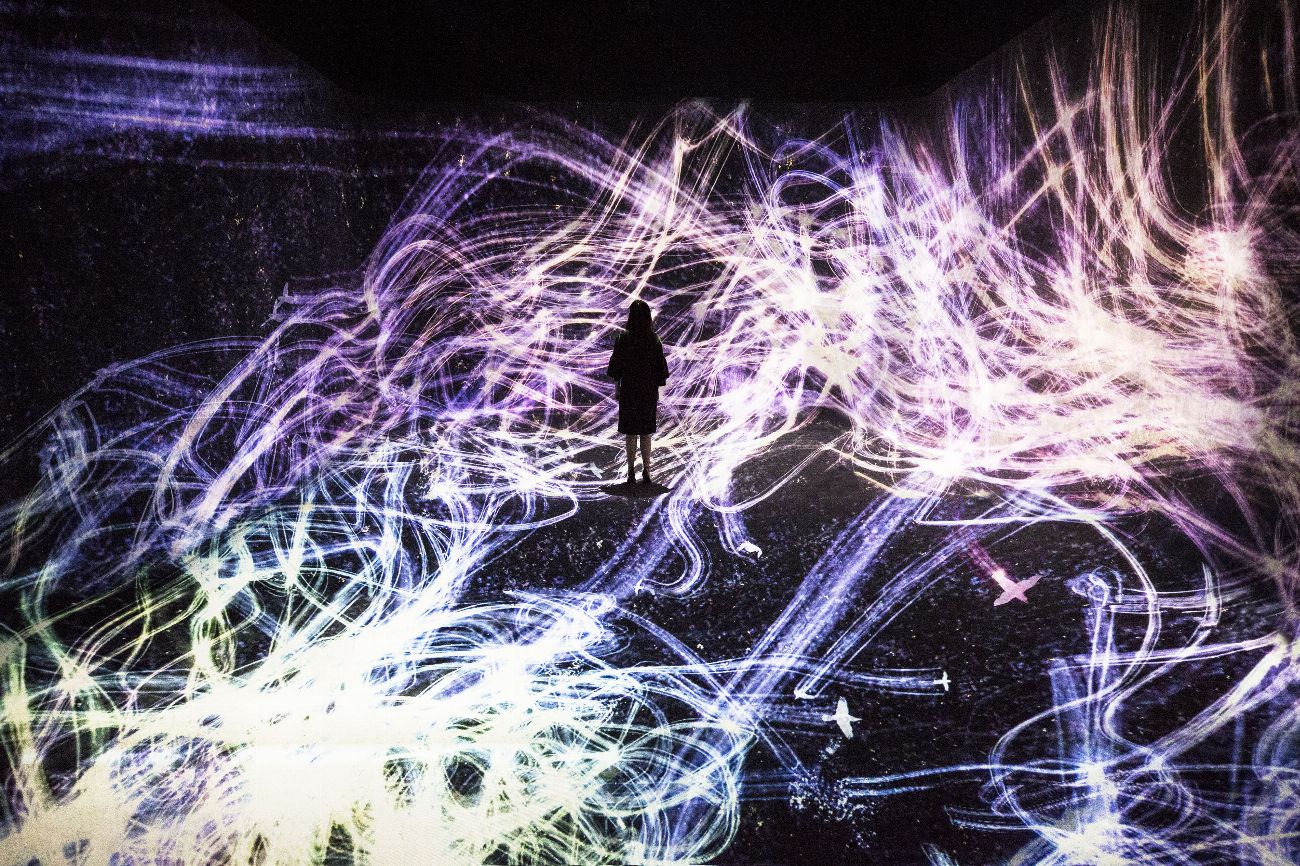 "In normal calligraphy, you pick up a brush and write on a piece of paper, but we put that into an installation," says Kazumasa. "The calligraphic circle reflects a continuous understanding of the world. In some way, we are always inspired by how Japanese people in the past look at nature."
Speaking through a translator, teamLab founder Inoko says he expects art museums to change in the years to come. "My opinion is not everything, but I think rather than white cube, there will be a stronger tie between artwork and space," he said. "It's not important if it's going to be digital, but the space and the art are going to be closer together."
teamLab's exhibition Massless opens on August 30 and runs through January 9, 2019 at the Amos Rex in Helsinki, Finland.