This Party Photographer Was the Cobrasnake of Fin-de-Siècle Europe
A new exhibition at the Met shows how Adolf de Meyer's photographs created celebrity right before the eyes of Europe's International Set.
Last Saturday night, my iPhone screen, which had shattered and was on the verge of breakdown for so long that I had come to believe it would survive forever, suddenly went dark. No more texts. No more Google maps. No more Instagram. My iPhone, polymathic funhouse for the restless mind, was rendered inanimate all over again. So I wrote all the information I needed on a piece of paper and went off bravely into the night. A few hours later, I stopped twitching in withdrawal and began to look around me.
It was my good fortune that my forced withdrawal happened 36 hours before I went to see "Quicksilver Brilliance," the Adolf de Meyer exhibition at the Metropolitan Museum of Art, a small, beautifully curated show to which the Instagram-addled would be wise to pay attention.
Like most great fashion photographers, Baron Adolf de Meyer was a party creature. Gay but married to a woman with whom he had a rich social life, de Meyer was a guest at all the finest gatherings, and his photographs combine the grandeur of nineteenth-century society portraiture with an in media res twentieth-century immediacy. What makes the best of them so mesmerizing is the way they completely convince you that the snap of the lens was the least interesting thing happening the room where they were taken.
De Meyer's icons are giving the lens all their love, but only for an instant, and not at the expense of the present. They pause, lending themselves for a moment to composition, then restlessly continue on their way to somewhere better.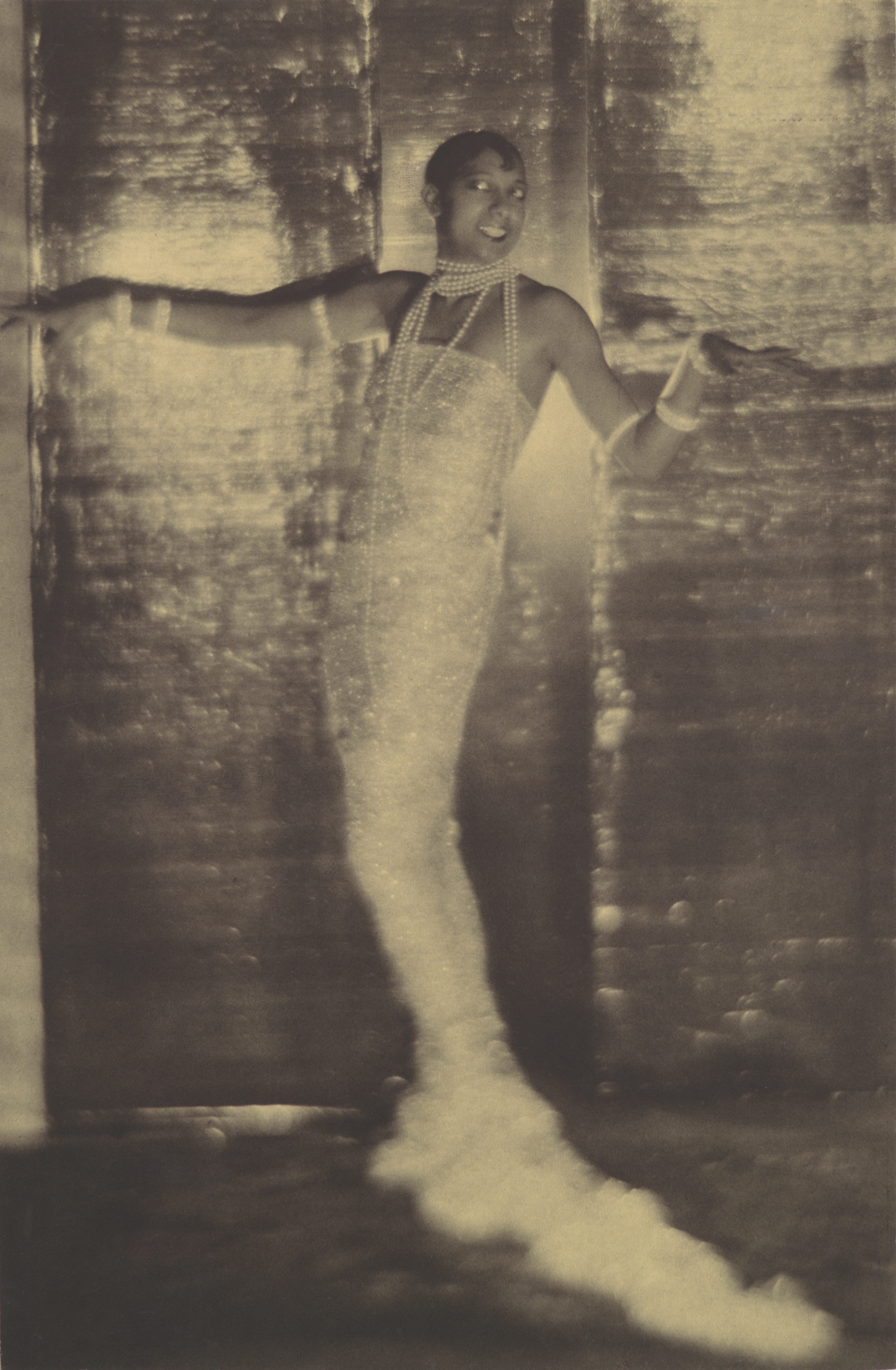 No way this Josephine Baker is touching up her lipstick before asking de Meyer to take another ten pics from her better side. Wrapped up in yards of white pearls and white silk, she knows exactly what she is—and she's a star. It's fun to be her; there's an excess of self that she's willing to share. There's so much of her lewk that the puddle of fabric at her feet isn't even in focus. The gown's white mermaid tail is just a feeling—it's what happens to the night when Josephine shows up. She has time for the photographer because a queen has time for all of her fans, but it's a little dash of her spirit that she's giving him, not a pose. She's smiling and she's looking to the side, amused and amusing. She is being seen, sure—of course—but she is also, crucially, seeing.
There is a sense in which, with this playful combination of restlessness and painterly composition, de Meyer is creating celebrity right before our eyes: These are the real people whose representations you've been looking at in paintings for a hundred years, he seems to be telling his viewers. I was at dinner with them last night and it was just as fab as it looks.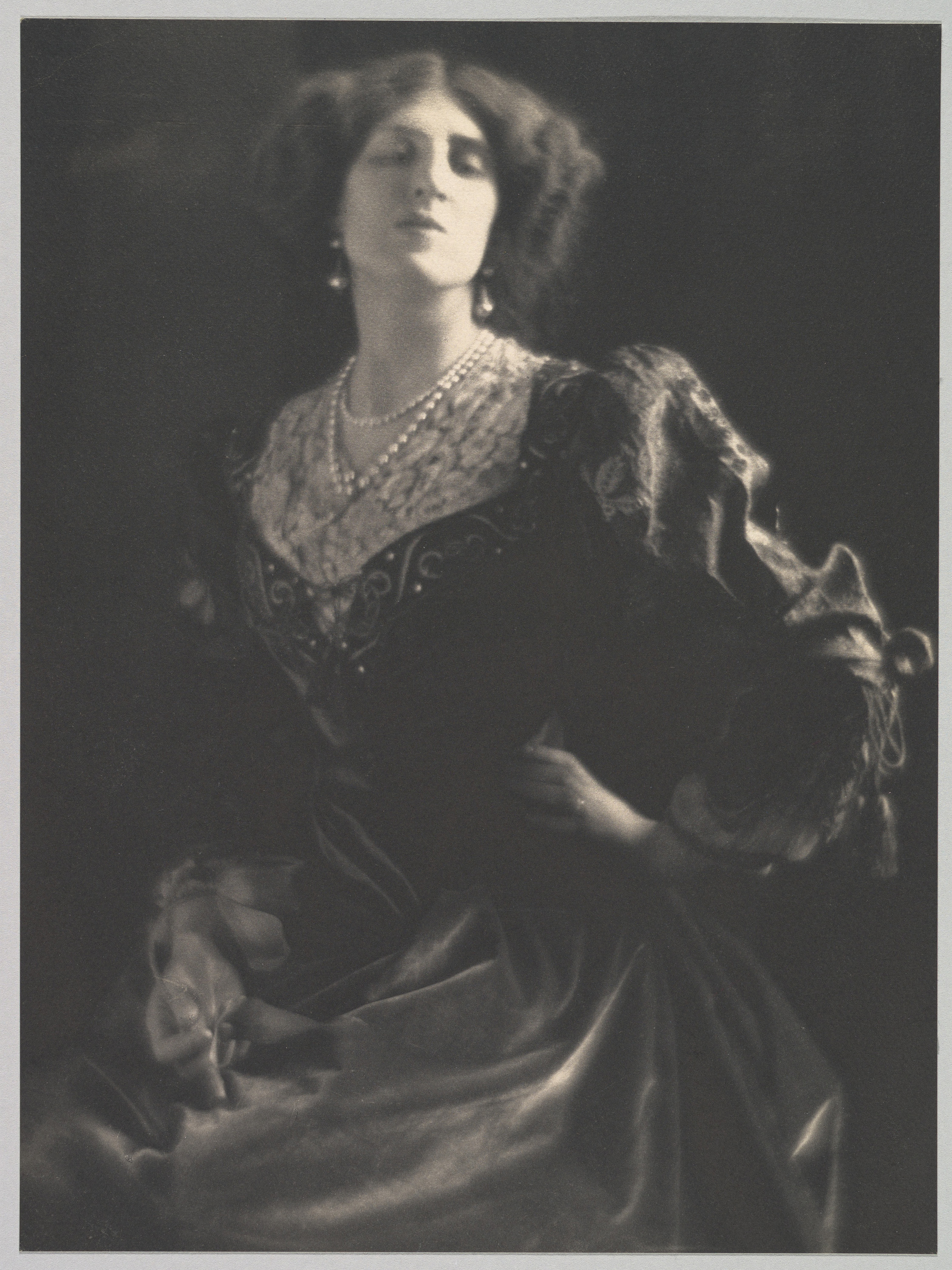 Ottoline Morrell is clearly just indulging the photographer because he's a friend. And so we see a real sense of life, a hundred years later, in the famous British hostess: 'Adolf, darling, don't be dull and keep me any longer, I have stories to tell in the other room.'
De Meyer's true insiderness is felt in the way that he consents to and collaborates with this flirtatious unavailability of his subjects. He doesn't need them any more than they need him. Photographer and subject live without scarcity. They certainly don't need us.
Every day, millions of people try to project this kind of cool façade on Instagram. We all know that Instagram is nothing if not slavishly curated and monitored. And yet some photos make us suspend disbelief. Sometimes, we see something so artfully done that we feel it simply must be effortless. De Meyer's show reminded me that such a sleight of hand is not a malaise of our narcissistic time, but—actually—nothing less than what "glamor" means.
No discussion of this show would be complete without a mention of its most openly erotic and arresting image.
A topless woman wears a mask that looks like a reconstructed face. Her breasts are perfect, her mask paralyzed in a kind of wide-eyed vulnerability, and her arms… well, what are her arms? Is their position theatrical—is she playing at this drama—or she actually afraid? Without being able to see her face, we simply cannot know. Is she entertaining us or is she in distress? Are we pleasing her or violating her when we look at her? Is this more glamor or its sadistic inverse? Or perhaps are the two not as far apart as they seem?
The catalogue tells us of Dance Study: "It has been suggested that this photograph, the only nude by de Meyer, has some connection to the Ballets Russes, but the nature of the link remains mysterious."
These photographs made me think about what it means when art is "commercial." I found myself thinking, in this gallery, that it's all about the artist's attitude to the normative point of view. Are you subverting or supporting the dominant point of view?
And what is there to subvert when you're living the world's most glamorous life?
Consider this tidbit about de Meyer and his wife: "In 1916, the couple changed their names to Gayne and Mharah on the advice of an astrologer." Pure #glam and much #inspo through March 2018 at the Metropolitan Museum of Art.