Installation view of People, Jeffrey Deitch, New York, 2018. Photo by Genevieve Hanson.
We're Having a Party and Abjection's Invited!
A new exhibition of contemporary figurative sculpture brings together a lively cast of characters.
Installation view of People, Jeffrey Deitch, New York, 2018. Photo by Genevieve Hanson.
People, a show of life-size figurative sculptures at Jeffrey Deitch's New York gallery, has, my friend notes, "a certain aggressively unpleasant vibe, not unlike being at an art world party." But if this was a party, who would I talk to? Like SoHo grifters at an opening, this crowd of sculptures by thirty different artists appears to have dispersed themselves according to some hierarchy.
Gathered by the front door are the nice, well-adjusted folk: a Rigoberto Torres sculpture from 1991 of Puerto Rican contralto Ruth Fernández, a Duane Hanson cheerleader from 1988; those sorts of people. At the back of the room however, one finds a kind of heroin-soaked, downtown despair. Andro Wekua's pale, naked youth is bent double with misery and has a large blue circle painted on their back and long black hair obscuring their face. Isa Genzken's child mannequin has a dirty orange beanie pulled down over their face. Korakrit Arunanondchai's figure, wrapped in a huge acid-wash denim comforter, caresses a large rat—this is dated 2018. As I stand there writing my notes, I'm mistaken for an artwork; maybe this is where I belong.
Where I'd like to be, though, is on the first mezzanine with its more sophisticated, haughty European avant-garde approach to abjection and subjugation. Here, Ugo Rondinone's waxy nude slumps disinterestedly against the wall while Kiki Smith's early '90s naked man crawls across the floor trailing a long, unbroken line of shit from his papier-mâché asshole. Elizabeth Jaeger's lithe party girls, all synthetic hair and fake lashes, recline on a golden cushion or lift up their legs to show off the smooth, paved-over surfaces where their orifices should be. Deleuze and Guattari would love this, I think.
And what's to be found on the second mezzanine, up in the rafters overlooking the rest of the show? Only the networked Landian depravity of the youth today. Stewart Uoo's disintegrating cyborg girl is positioned beside Anna Uddenberg's Hans Bellmer-like dolls which twist their polyurethane foam leather legs behind their heads while, one would imagine, bombing speed and talking about polyamory. These remind of me of the sorts of people that drove me out of London in the first place.
I was once invited to one of Jeffrey Deitch's soirées at his Los Angeles mansion up in the hills, and towards the end of the night Pamela Anderson turned up. As so often happens with a certain kind of crowd, at a certain hour, everybody was hanging out in the kitchen discoursing on Jeff Koons, that great father of gaudy, colorful, sexualized sculpture, and Anderson said that Koons's mother had said that her son adored her, and many of his old works were in some way inspired by Anderson. When she spoke to the artist, Anderson recalled flatly, he told her that she reminded him of "a signed baseball on eBay." Later that night my friends and I laughed about this but I've never really understood what he meant. Was she a readymade? Was she a representation of the American Dream? Did her presence evoke nostalgia and childhood fantasies? Or was she, like so many figures, just an abstraction of value and desire?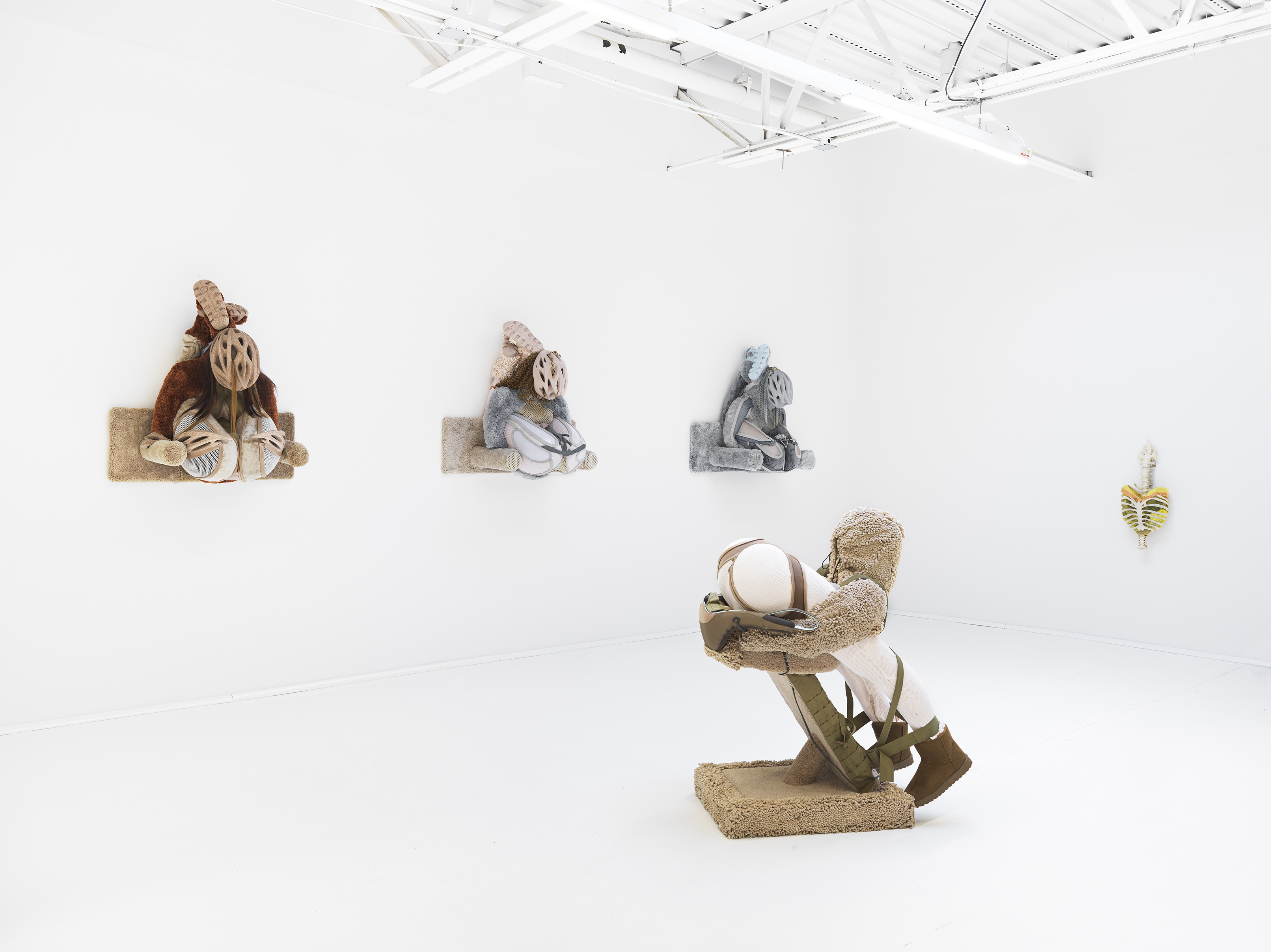 People is on view at Jeffrey Deitch, 18 Wooster Street, through June 30.