Photograph by Rob Kim via Getty Images.
The Allure of the Celebrity Estate Auction
What are we really buying when we pay thousands for Zsa Zsa Gabor's pill bottles and strands of David Bowie's hair?
Photograph by Rob Kim via Getty Images.
Zsa Zsa Gabor's last show was standing-room only. On April 14th of this year, two years after she died, a red carpet led fans up to the actress's former home—a Bel Air estate, decorated in a style you might call American nouveau-Versailles (and where, perfectly, Elvis Presley once lived) for an auction of her possessions. There, and online, the buyers (or, perhaps more accurately, the audience) bid on her furniture and her clothes and her jewellery (a diamond "Dah-ling" nameplate necklace sold for $20,000), and also on her passport ($4,250) and her pill bottles ($1,187.50), and also on some sketches ($2,125) that she'd done at her own trial in 1989 for slapping Paul Kramer, a Beverly Hills police officer.
Gabor, who is survived by her ninth husband (she authored a book in 1970: How to Catch a Man, How To Keep a Man, How to Get Rid of a Man), had more than a lifetime's worth of belongings with stories like that Kramer incident attached. Those courtroom sketches were the artistic output of a trial in which the prosecutor claimed, of Gabor, "The defendant in this case doesn't know the meaning of truth," and where Gabor would describe her treatment—she was pulled over for driving a Rolls Royce with expired tags, and then questioned for having an expired licence and an open bottle of alcohol with her— as less fair than "Nazi Hungary," which she had escaped as a child. (The outcome, if you're wondering: she got 72 hours jail time, 120 hours community service, and had to pay about $13,000 in fines and costs, but as her lawyer Bull summarized, "In her heart she knows she is innocent.")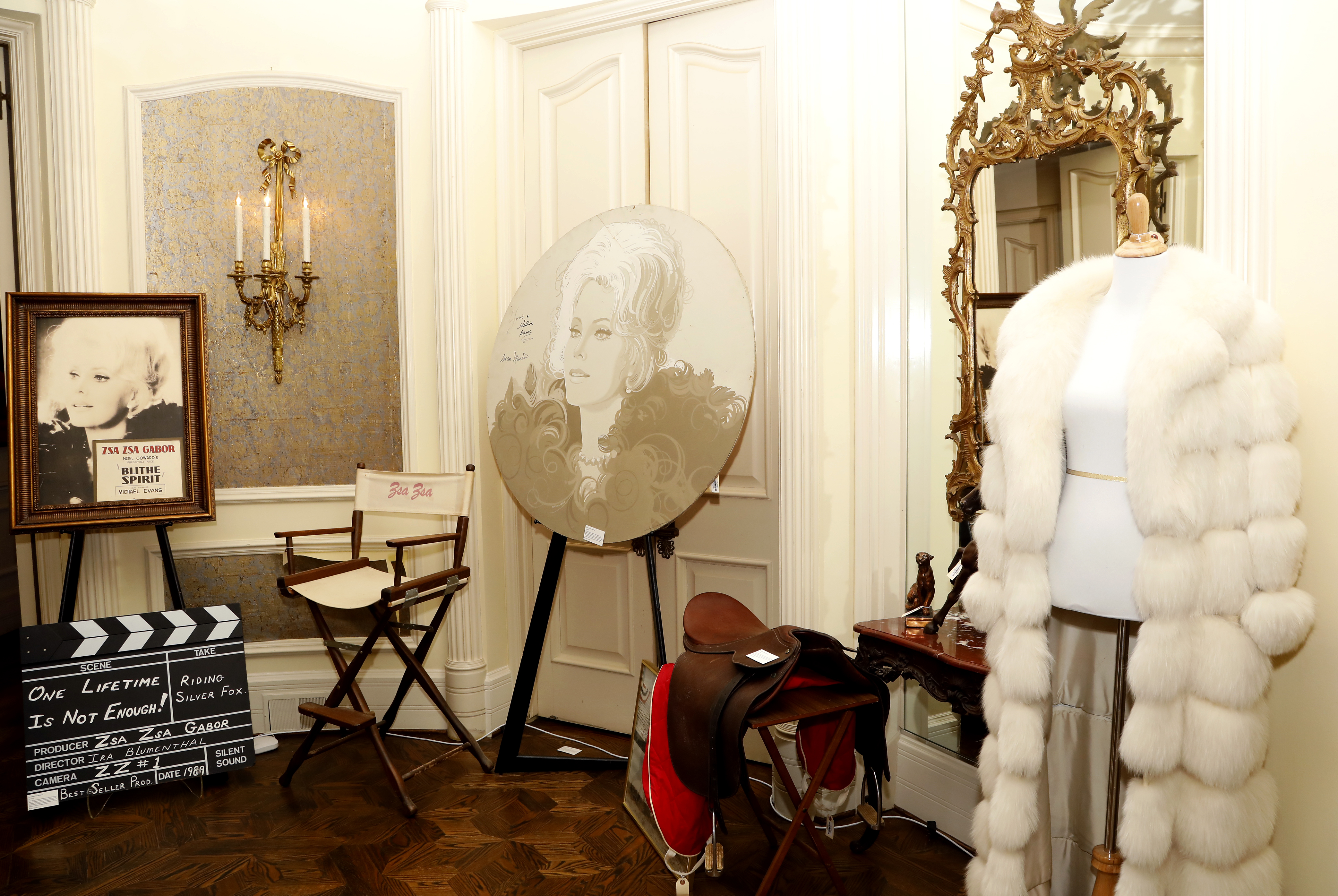 If this story seems like a tangent, that's because it is—but it's tangents like these that make ordinary objects precious. Tangents are the currency of celebrity auctions; the driver of value. Gabor's sale was coordinated by Heritage Auctions (founded in 1976, it is now the largest collectibles auction house in the world) and over email I spoke with Margaret Barrett, their "celebrity specialist." I don't need to know Barrett to know that she understands celebrity: her Gmail icon is a photo of Marilyn Monroe; she describes her too-small phone as "Barbie-sized"; and she sees the value in the celebrity aura. Which is to say that for someone, the fact that an expired driver's licence had belonged to John Wayne meant that it was worth paying over $80,000 for it. Or, as Barrett puts it: "My CA license certainly wouldn't sell for that much (or for anything at all, for that matter), but I'm also not John Wayne!"
"Provenance in the auction world means a lot," David Macdonald, a Senior Specialist in English and Continental Furniture at Sotheby's, tells me. Celebrity, or "the sprinkling of stardust," as Macdonald calls it, is transformative. In celebrity auctions, provenance is especially powerful. It gives otherwise pedestrian objects aura, and without aura, some of the stuff sold would be not just worthless, but frankly, weird. In addition to pill bottles and driving licenses, Heritage has sold David Bowie's hair ($18,750!), and in 1998 Sotheby's sold a slice of cake from the 1937 wedding of the Duke and Duchess of Windsor for $29,900. I ask Barrett how provenance is tested—that is, how Heritage knew it was David Bowie's hair—and she explains that the hair came from the wig maker who helped make the Madame Tussauds figurine of David Bowie in the '80s: "She had documentation in her employment there, and had a photo of herself and Bowie that day at Madame Tussauds in London, so that provenance made sense to me." As for what a slice of wedding cake from the late '30s might fetch at auction without this royal provenance—well, Sotheby's said they're not sure they sell wedding cake outside of royal weddings.
That's not to say that every estate auction is just bric-a-brac riding on the coattails of celebrity caché. Bunny Mellon (or Mrs Paul Mellon, or Rachel Lambert Mellon) was a different kind of famous than Gabor, in that she could be described as reclusive, and the high-profile trial she was entangled in was somebody else's (John Edwards, accused of using $725,000 Mellon gave his 2008 presidential campaign to hide his affair.) Mellon was old money, not Hollywood, but her life was hyperbolic: her lifestyle cost $20 million per year, and the Sotheby's auction of her estate featured many objects with merit regardless of the Mellon provenance: eighteenth-century Regency furniture, Rolex watches, gold and lapis snuff boxes, Aubusson carpets, and tons of diamond, ruby, and emerald jewelry. As Mellon's neice told author Meryl Gordon in Gordon's 2017 biography of Mellon, seeing all the objects displayed for the auction made her incredible sad: "I felt there had been a true hole in her heart, and she was desperate to fill it. She tried to fill the void by buying all that stuff." The auction brought in over $200 million.
I'll confess that I expected to be able to divide celebrities into those whose belongings would be auctioned and those whose wouldn't—something to do with certain kinds of fame, and a certain lack of need for privacy. What I've learned is that they all have them; as long as you're famous enough—even cult famous—someone will want to own a piece of you. It might be an art collection; it might even—as in the case of Madonna, whose ex-friend Darlene Lutz is auctioning off her letters from Tupac through the website GottaHaveRockandRoll.com (starting bid: $100,000)—be against your will, but there'll be a market for it. As long as there's been fame, people have wanted to own famous people's stuff. MacDonald said that one of Sotheby's earliest auctions was of Napoleon's estate in 1823: "the last lot was his gold tipped walking stick!"
Celebrity auctions seem to bring in more and more money each year, as Christie's Private Collections Director Adrian Hume-Sayer outlined: "the collection of Yves Saint Laurent in 2009 is the most valuable collection to be sold at auction to date, although it may not hold that record for much longer, with the upcoming Rockefeller sale." (Indeed, the Rockefeller auction, held earlier this month, now holds that title, bringing in $832.6 million.)
When she died, the woman who was Cleopatra left behind a pharaonic amount of possessions. Elizabeth Taylor's estate, auctioned off by Christie's following her death in 2011, is a great catalogue of opulence and impracticality—she had Louis Vuitton luggage with tags simply labelled "mine" ($245,500). If part of the spectacle of Gabor's sale was that it took place at her home, Taylor's was an event in the tradition of major evening art auctions. A ticketed, black tie affair, it took place over four days in Christie's New York headquarters. (For context, there was an actual lottery to get tickets for the 1996 auction of Jackie Kennedy Onassis's estate.) Taylor had maybe the most fantastical non-royal collection of jewellery there ever was— "The Legendary Jewels," as Christie's dubbed them, and each had titles and histories in their own right. La Peregrina ($11,842,500) was once owned by the Spanish monarchy, and set the (suitably melodramatic) "world auction record for a pearl jewel." For my money, though—if I had any money, that is—the best lots were the gifts from her admirers, including the poster of Bob Dylan, which he'd signed; "For Elizabeth, sweetheart, dream angel, queen-of-the-world" ($80,500).
In the course of reporting, I heard whispers that Taylor's dresses—by Mugler, de la Renta, Lacroix, and other drama kings—were actually taken in, at her behest, before the auction took place. Hume-Sayer said that Christie's is "not aware of this," and Tegan Reyes, of the Elizabeth Taylor Estate, told me that "the dresses were not altered for the 2011 haute couture auction." But there's something about this rumour that fits perfectly with the legend of Elizabeth Taylor. Vanity was her stock and trade, and the fluctuations of her weight were frequent tabloid fodder—she even wrote a book about it in 1987, Elizabeth Takes Off: On Weight Gain, Weight Loss, Self Image, and Self-Esteem, with wisdom including "food isn't like alcohol—a life on a permanent diet would be absolutely miserable." Suzy Menkes, covering the auction for The New York Times , noted that "the dresses have such petite waists that they raise memories of the 15-year-old girl in National Velvet."
Of course, none of the stuff sold at celebrity auctions is functional: the 60-year-old slice of cake doesn't have a practical use, nor do the driving licenses, or the pill bottles, or David Bowie's hair. The dresses aren't bought to be worn, they're bought because they symbolize Elizabeth Taylor, a woman who stood for a nearly impossible level of fame, whose private life was often more dramatic, more unbelievable, and more histrionic than the films in which she starred.
The estate and Christie's deny the rumor, but in the estate auction universe, the perhaps apocryphal tale adds to the provenance. The only thing better than a dress made for Elizabeth Taylor? A dress made for Elizabeth Taylor—and then tailored to fit Elizabeth Taylor's legend.