Meryl Streep in The Devil Wears Prada. TM & Copyright © 20th Century Fox Film Corp, all rights reserved; courtesy of the Everett Collection.
The 10 Greatest Fake Magazines of All Time
Featuring the Simpsons, "The Devil Wears Prada," and the death-themed periodical from "Blade Runner"!
Meryl Streep in The Devil Wears Prada. TM & Copyright © 20th Century Fox Film Corp, all rights reserved; courtesy of the Everett Collection.
"Reports of print media's death are grossly exaggerated," Mark Twain said exactly never. Amid dispiriting news about the future of magazines, it's important to remember why we love them: magazines are like our nutty, overdramatic neighbors, and the proof of how incredible they are is in the richly idiosyncratic fake versions they inspire and literature and film. So we've ranked them—any disputes can be addressed in a letter to the editor.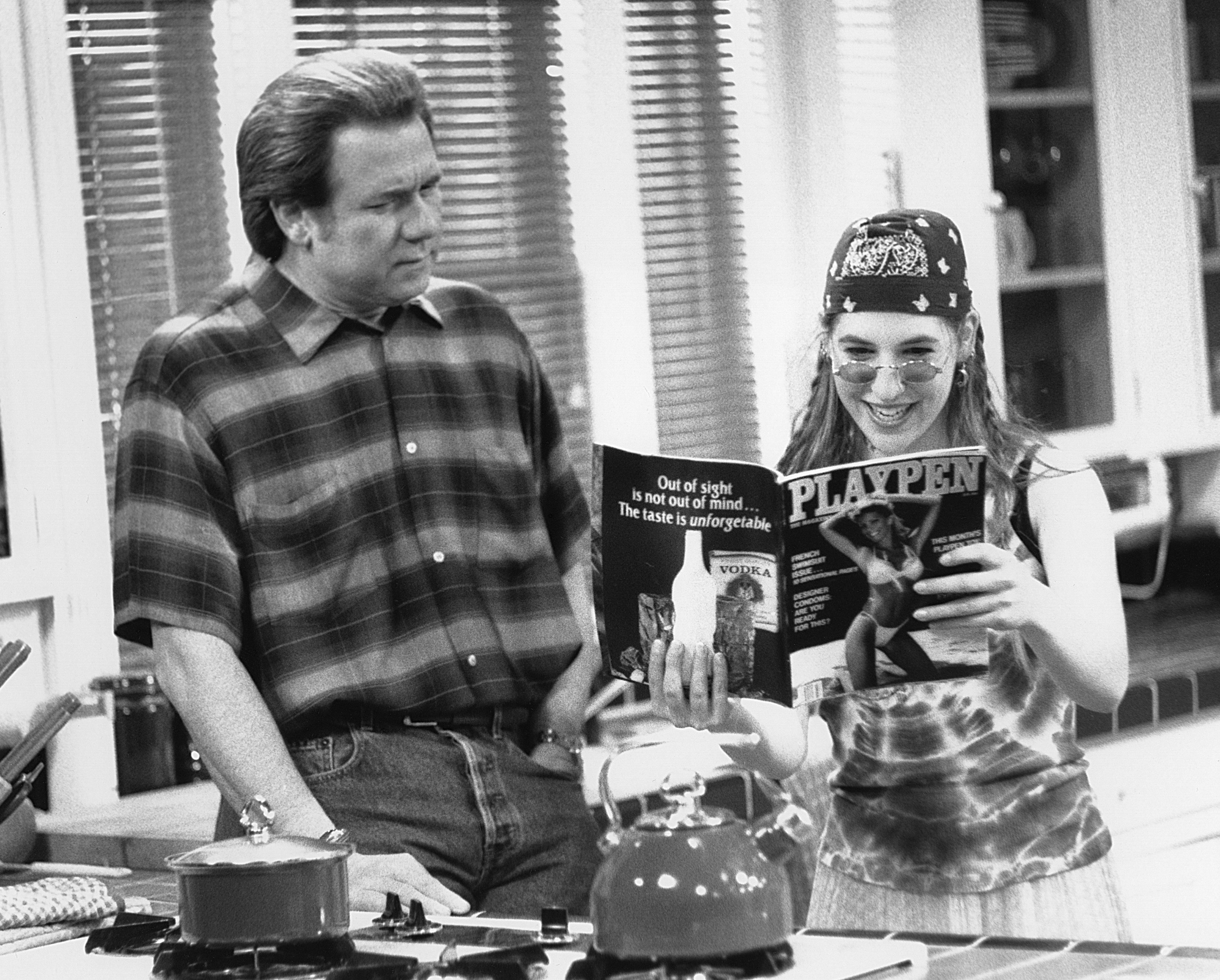 10. Playpen
Like the euphemistic "cream-filled sandwich cookies" that Food Network stars use so often, Playpen is a spliced-together Penthouse and Playboy used by films who've acquired the rights to neither name. It's literally everywhere, from the 1994 film Camp Nowhere to Friends to Family Guy to Malcolm in the Middle to Freaks and Geeks.
9. The Weekly Volcano from Little Women
Soon after Jo March, the headstrong protagonist of Louisa May Alcott's Little Women, moves to New York City, she tries to sell a sexy adventure story to a magazine called The Weekly Volcano. The editorial room is a mess, full of cigar smoke, and the editors—all men—are just absolutely sprawled out, sitting "with their heels rather higher than their hats." The magazine buys Jo's story for about $500 in today's money, makes cuts to the text, and tell her that for future stories, she should "make it short and spicy, and never mind the moral." So hard to be a woman in the media!
8. Bright Lights, Big City's unnamed elitist weekly
The fictional magazine that the narrator of Jay McInerney's yuppie classic works for is (not-so) loosely based on The New Yorker, but we have a hard time believing such a vaunted institution would have such shoddy researchers as the ones who work in what's called The Department of Factual Verification.
7. The Review of Woollett, Massachusetts from The Ambassadors
In Henry James's The Ambassadors, middle-aged Lambert Strether travels to Paris to recover Chad, the son of his fiancée and benefactress, Mrs. Newsome, from the clutches of a mysterious woman. Strether's life is an emotional wasteland; a widower, he feels he has failed as a father and achieved little professionally. When a new friend, Maria Gostrey, asks him what he does, he stumbles for a minute, then tells her that he is the editor of the Review of Woollett, a money-losing journal bankrolled by his fiancée. When she asks what kind of Review it is, he replies, "The cover's green—of the most lovely shade," and also says of the magazine: "We're not loved. We're not even hated. We're only just sweetly ignored."
6. Composure from How To Lose a Guy in 10 Days
Modeled after gal bibles like Cosmo, Composure is a bodacious women's monthly that has pigeonholed our heroine, Andie Anderson (played by Kate Hudson), into loopy sex and relationship writing instead of the stuff she actually wants to write about, like…politics…and…economics…and…whatever. But the article Andie is forced to write—how to get a guy to break up with you in less than two weeks, which was apparently so difficult at the turn of the century that it required stunt journalism—actually brings her together with her husband, the caddish advertising executive she sought to repel, played by Matthew McConaughey.
5. Blade Runner magazines
Seen on a newsstand the background of a shot in Blade Runner, the dystopian magazines designed by production illustrator Tom Southwell include Dorgon Magazine, Droid, sex mag Horn (SCRATCH & SNIFF CENTERSPREAD, one headline disgustingly boasts) and a personal favorite, Kill Weekly—"All the news that's fit to kill." The world is full of trade publications, from Poultry World to Truckin' Magazine to Pizza Today; Kill Weekly seems like a trade publication simply for the idea of death.
4. The Simpsons' illustrious stable of unreal titles
The Simpsons have a stable of fake magazines so prolific that it practically competes with Condé Nast: there's Bart's Bartforum, Lisa reading The Atlantic Kids' Edition, and Marge's older sister (a twin) reading First-Born Twin Magazine.
3. Poise and Sparkle from 13 Going on 30

In Jennifer Garner's absolute classic 13 Going on 30, nerdy teen Jenna Rink travels through time to her thirties and finds that she's an editor at Poise, something that only tangentially resembles a magazine. There's big drama because rival Sparkle is scooping Poise, something that, in this world, means directly copying its fonts, art direction, and copy: Who says that competition in the capitalist marketplace fosters consumer choice? Plus, the movie is capped with one of the worst pitches in the world—Jenna's shitty friend Lucy wants Poise to become a scary fashion magazine, and promises, befuddlingly, "it will go heroin chic one better."
"Cause of death: chicness," she hisses. We wish!
2. Runway from The Devil Wears Prada
A million girls would kill for this job!!! we hear ad nauseum in this 2006 Meryl Streep-Anne Hathaway (and Stanley Tucci!) classic, based on the novel by Lauren Weisberger written after her stint as Anna Wintour's first assistant at Vogue. Runway ranks highly because of the totality of its universe: as soon as you meet Miranda Priestley's assistant, played by the pitch-perfect Emily Blunt, you understand what's Runway, who it covers, who it's for, and what kinds of dreams and aspirations it sells. So why does it come in second? Because its touted cover star, Gwyneth Paltrow (she required a second cover try, if you recall from Miranda's opening monologue; "I wonder if she's lost any of that weight yet") wasn't exactly a major get in 2006. She was famous and cool and fun and had an Oscar, but she hadn't even launched Goop yet!
1. Spy Magazine from A Philadelphia Story
While most of the magazines on this list are fictional ones based on real ones, only Spy Magazine was powerful enough to inspire a real one. The antagonist of the Katharine Hepburn classic, Spy was a no-holds-barred-hungry-for-gossip-no-matter-how-dull tabloid that treated politicians and society snobs with as much silly scrutiny as it treated movie stars. To Hepburn's Tracy Lord, socialite and foxhunter and general queen of Main Line society, it represents everything she detests, but it suavely employs her ex-husband, the rich playboy C.K. Dexter Haven, to get the inside scoop on her wedding. Brilliant!!! (And so unethical.) The magazine, of course, was the basis for Kurt Anderson and Graydon Carter's title of the same name, which skewered New York society in the 80s and 90s and gave Donald Trump his most enduring epithet: "short-fingered vulgarian." Tracy Lord would have been proud!