Photograph by Gotham Images via Getty.
Ariana Grande and Pete Davidson: The Beauty and the Basic 'Beast
On Grande and Davidson's rise as the First Couple of Streetwear.
Photograph by Gotham Images via Getty.
The whirlwind romance between pop singer Ariana Grande and Saturday Night Live cast member Pete "Big Dick Energy" Davidson is pop culture's biggest question mark at the moment. It's not merely the pace of their coupledom—zero to engagement in barely a month—but the perceived oddity of the match. But if you want to understand what this worldwide pop goddess extraordinaire and "that gangly guy from SNL" are doing together, just look at what they wore on the way to her birthday party earlier this week:
Davidson in a streetwear-ish Alexander Wang (wang!!!) graphic t-shirt, and Ariana Grande in thigh-high velvet boots, an itsy-bitsy Louis Vuitton logo skirt, and Louis Vuitton-print kitty-cat ears. Meow!
Freud is absolutely squirming with delight in his grave over this, I'm sure (and wishfully wondering if he should have pursued a career as a Freudian fashion critic), but beyond that, what does their clothing tell us? On the one hand, Davidson and Grande have both dressed like this forever—Davidson in streetwear basics, and Grande in giant tops and sky-high boots—but together, they do what the best-dressed couples do, which is illuminate or decode each other's style by appearing in tandem. Jane Birkin becomes the bohemian matriarch to Serge Gainsbourg's louche daddy; Victoria Beckham is the polished businesswoman to David Beckham's devilishly handsome good guy athlete; Jay Z is Beyoncé's husband. Davidson, who wears the same streetwear staples as Grande, brings out the power in the singer's deceptively childlike look.
And Grande? She isolates in Davidson a highly specific but heretofore unnamed category of male dressing: the basic 'beast.
If Jonah Hill is doing streetwear with a soft center, mixing Palace and Grateful Dead gear, and Justin Theroux is doing the literal flex ("sun's out, guns and grails out"), Davidson is just surfing the most basic grails. Here he is in Supreme. Here he is in Supreme. Here he is in Supreme. He is doing this Bathing Ape tracksuit with everything. Who is still wearing Vetements, you ask? Pete Davidson, baby! Like the basic bitch, who lives and dies by constructing her sense of self through consumer products that are, ironically, near-universal, then the basic 'beast is an attractive, cool-nerdy guy who haunts the greater New York metropolitan area with a hoverboard and a Juul and a sweet little wardrobe of Supreme and a Thrasher tee. A few years ago, we might have called him a fuccboi, but that would be to dismiss his personality, which is good. Davidson, for his part, called his style "guido trash" on SNL, but it's a little too fashion-y for that. He's got a cool sneaker collection—this is a nice pair of Air 1 Jordan Retros!—and maybe throws a few "real-heads" garments into the mix because he's got cred (note that Rao's shirt in the last Instagram, or his Elara Pictures hat). Davidson went on Complex's Sneaker Shopping with Joe La Puma, which is like the basic 'beast seal of approval: our other foremost basic 'beast, Scott Disick, also went on the show.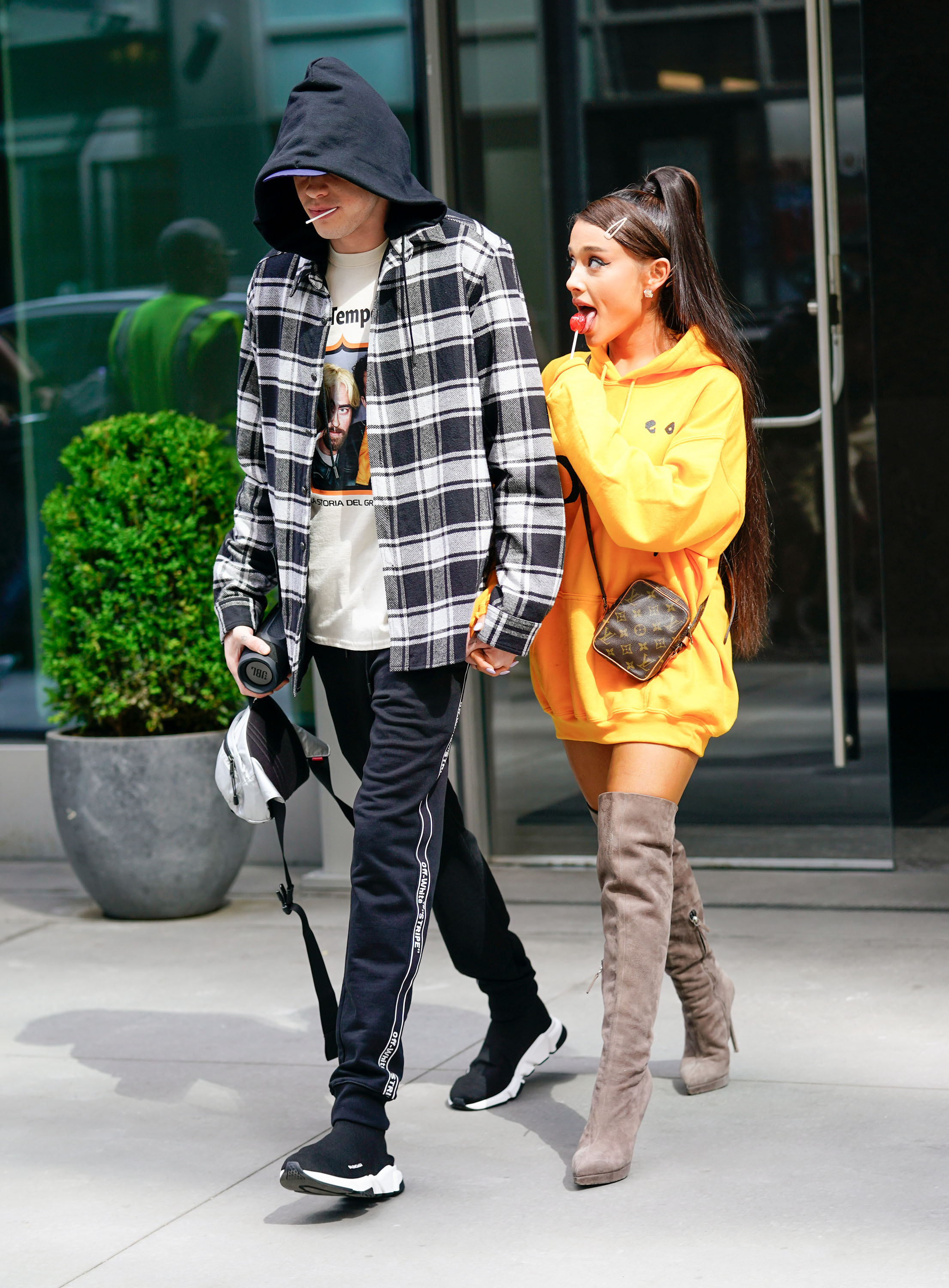 Grande, on the other hand, is an update to a fashion tale as old as time: the boyfriend shirt fantasy silhouette for the new era. She pulls from many of the same brands as the basic 'beast—MISBHV, Yeezy, and celebrity-favorite streetwear labels like Cloney, who made the yellow hoodie Grande wore in that infamous lollipop photo—but they are so oversized that she generally skips pants or a skirt altogether. The (passé) appeal of a woman in a man's clothing, of course, is that the clothing dwarfs her, making her appear tiny, a helpless Ann Darrow in King Kong's fist. Grande is so, uh, not grande (I'm so sorry) that the t-shirt and hoodie grails are big enough to be dresses—and it would be easy to say that she just wants to look tiny or even precious. What else could that giant ponytail and those little cat ears say?
As Anne T. Donahue wrote of Grande's style in 2016, "It requires little to no effort to look at Grande and simply see a young woman…whose fixed hairstyle alludes to innocence or youthful frivolity or aesthetic safeness." But ask any celebrity (or just think about it, depending on who you are): there's no safety in wearing no pants in public. It's Grande's boots—her de facto substitution for pants—that really show what her uniform is all about. She has Louis Vuitton boots, Giuseppe Zanotti boots, Gucci boots, Gianvito Rossi boots—there does not appear to be a pair of designer over-the-knee boots that Grande does not own. To walk in those boots, which often have platform soles and stiletto heels, is no delicate act: they are heavy, and you have to stomp and shimmy. But she wears them with sweatshirts and sportswear—wearing casual clothing as a kind of power. She may be staring up at Davidson with a lollipop in lust, but it's clear that the one who does not wear pants in this relationship is the one who does wear them, proverbially.
Neither Grande nor Davidson are fashion influencers, but in that way, their cohesive style is a more revealing palm of tea leaves. Fashion is now a pillar of popular culture in the way movies and television and celebrity are, and streetwear is now the lingua franca of fashion, period. With that in mind, ladies and gentlemen, meet your first First Couple of Streetwear.