Courtesy of the Noguchi Museum.
Why Noguchi's Akari Lamps Should be Taken Seriously as Art
A new show at the Noguchi Museum, "Akari: Sculpture by Other Means," will make you see the ubiquitous paper lanterns in a new way.
Courtesy of the Noguchi Museum.
When Isamu Noguchi represented the United States at the 1986 Venice Biennale, he responded to the theme of "Art and Science" by instead asking the question, "What is sculpture?" The artist showed massive, meticulously arranged rocks (Beginnings), four slabs of quarry waste (Ends), and an interactive slide sculpture (Slide Mantra) whose form was so unfamiliar that organizers had to pay visitors to slide down it.
He also brought 34 specially designed Akari lamps, despite near universal urging from curators, colleagues, and friends that his versions of the traditional Japanese summer lanterns were too commercial—code, even today, for "not art." The debate between what constitutes art and what constitutes design is as old as these categories themselves; it came up in 1986, and now, a new exhibition at The Noguchi Museum, Akari: Sculpture by Other Means, questions those distinctions again by reexamining Noguchi's genre-defying project.

Organized by Dakin Hart, the museum's senior curator, the exhibition is more of a corrective than a retrospective, building an argument that the now-ubiquitous Akari (not its faux-Japanese IKEA knock-off) is a liminal object, a poetic space between art and design. Akari's relationship to art and design is explained best by Noguchi himself, quoted in the museum's text: "For me, function was only an initial consideration; my main purpose has always been art as it relates to life. I work with the gamut of possibilities. Inherent in Akari are lightness and fragility. They seem to offer a magical unfolding away from the material world."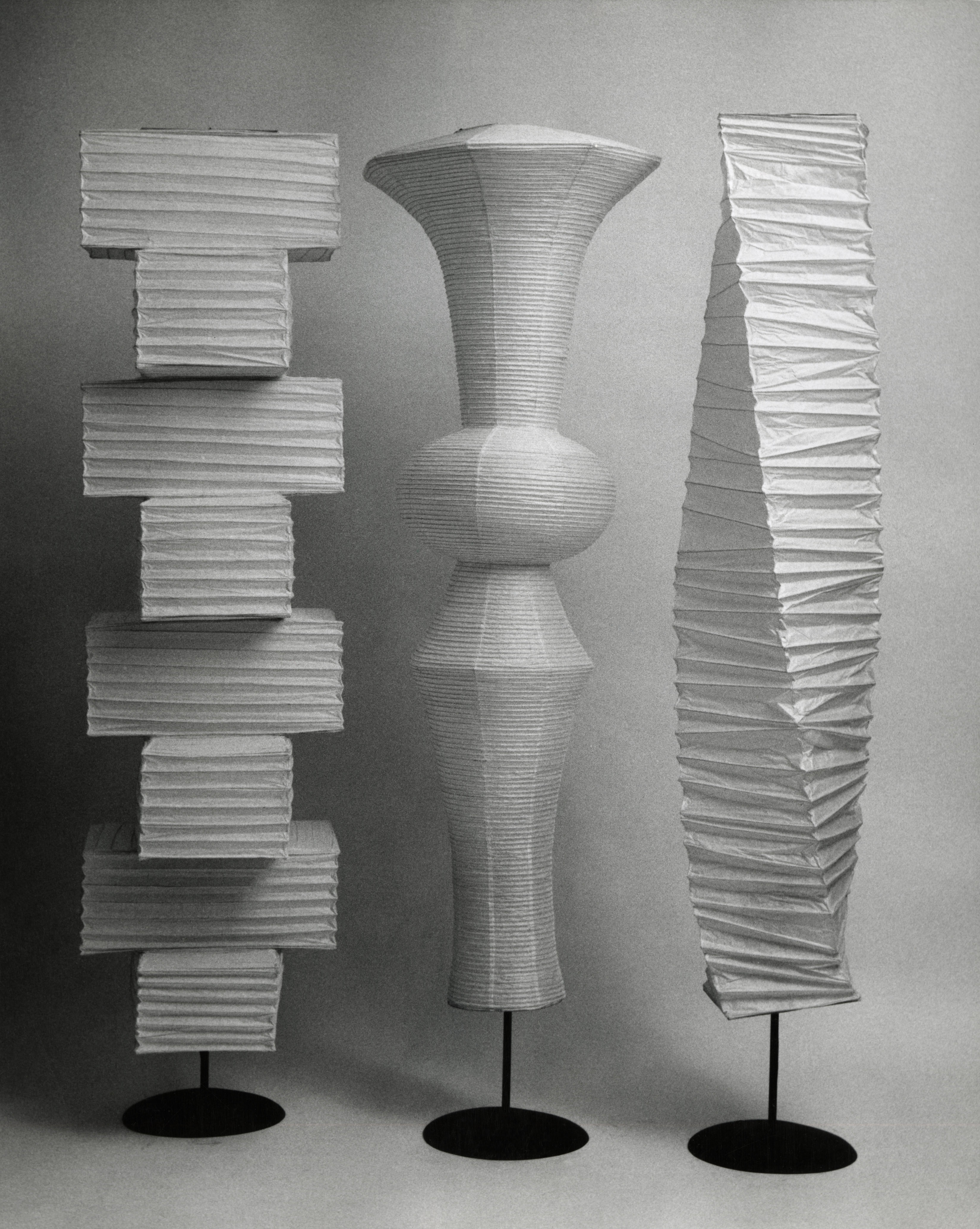 When museum visitors climb to the second floor, they encounter a cloud of Akari hanging from the ceiling, like alien lollipops in a Dr. Seuss illustration. Such fantasy is perhaps necessary to subvert our familiarity with these objects as commercial products, though the installation is ironically drawn from a reference photo of a merchandising display Noguchi set up at Bloomingdales in the 1970s. Consisting of 92 circular sculptures, the cloud is lit by a single track light and the sunlight filtering through the adjacent gallery windows. The volume and varied scale of the works—there are 14 different models—emphasize the uniqueness and irregularity of each item. Noguchi was tireless in expanding its range, and since Akari's inception in 1951 the museum has indexed 207 separate models. By displaying even just these 14 variations, the cloud becomes a physical proof for Noguchi's adamant stance on Akari: for as many models as there are, each lantern is a unique handmade sculpture. He made a semantic distinction between multiple production in art and the concept of reproduction: they are not simply machine-made copies.
In the adjacent gallery are three room-sized sculptures: squeezed between the ceiling and the floor sits the Akari 200D, a large lantern suspended in a wooden frame, that Noguchi had originally constructed for the American pavilion at the Biennale; the early, diaphanous PL1 model; and a newly envisioned PL2 sculpture, developed by Hart as a hybrid of the previous two. (Noguchi classified each model with a combination of letters and numbers, rather than naming them more traditionally.) As viewers circumambulate its textured faces, they encounter an opening, inviting them inside the sculpture in which also sits a small 1A. In a 1973 interview, Noguchi said, "I'd like to make Akari so that people can get inside them… This sort of thing comes from my recollection of Japan and the shoji and the light coming from outside inside, so eventually you end up being inside the light. I think I have that kind of feeling about sculpture, of wanting to be inside the sculpture." This new work does just that, and in doing so, it makes us keenly aware of light as medium. With Akari, Noguchi wasn't simply redesigning the lantern; he wanted to sculpt light and space, and by extension, environment and society.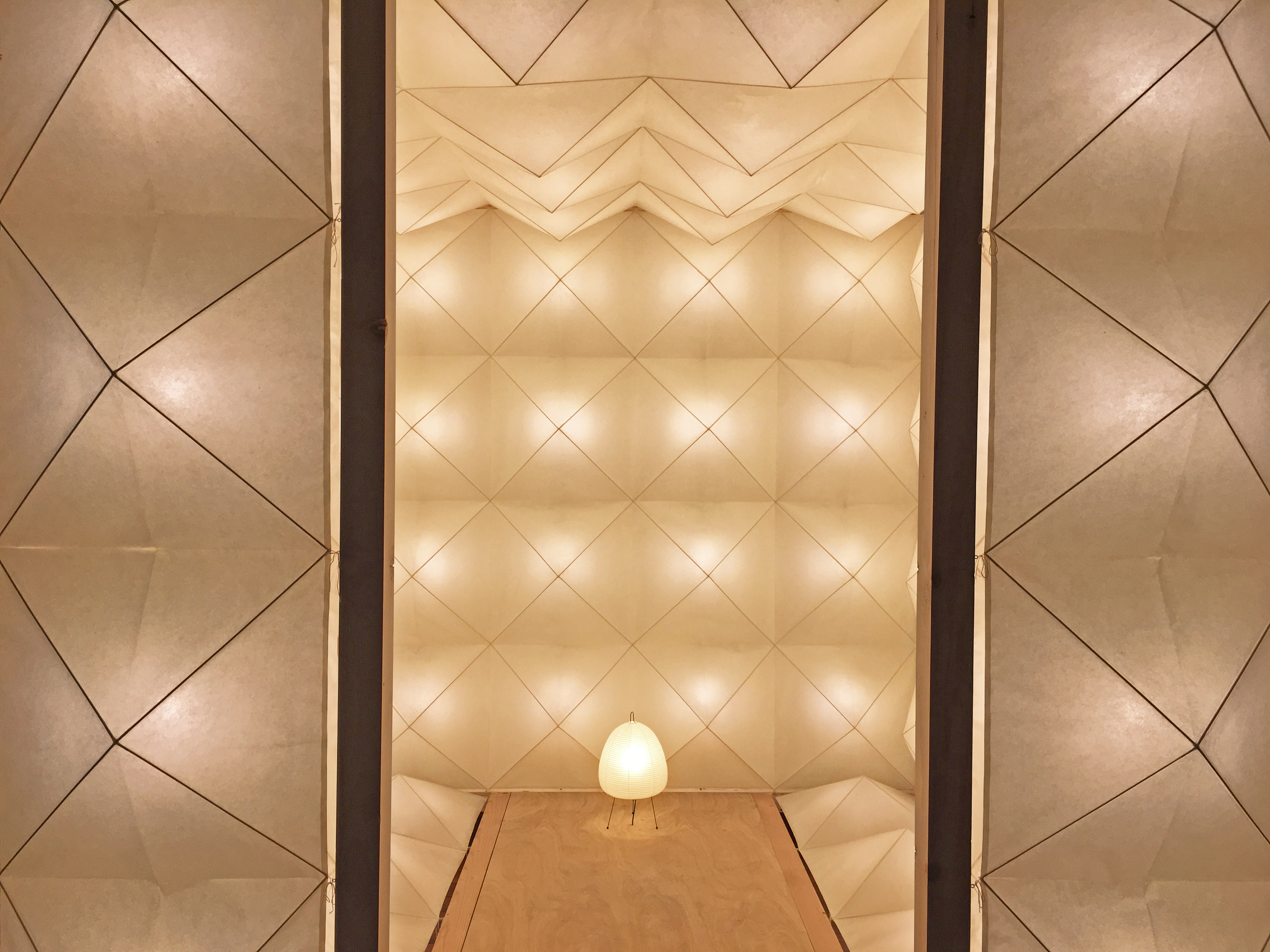 PL2 serves another function: as a new object, it subverts the interpretive stagnation of an artist's work after their passing. This too is part of the exhibition's broader goal: to resist the commercial and curatorial exigencies that tend towards codification and simplification, to instead re-establish Akari as a modular, dynamic, sculptural system. Noguchi himself was well aware of the art/design dichotomy, however misguided he might have considered it, and he worked to establish Akari as a global business and, later, a foundation (by design, its revenues continue to support the museum today).
The exhibition's last section houses many of the archival materials related to Akari's inception, branding, distribution, marketing, and fabrication. But this understanding of the market does not constitute an acceptance of it as such. Noguchi transformed the traditional Japanese lantern, a product itself rooted more in cultural traditions than the pursuit of profit, into a diffused art system incorporating traditional technique with modern technology. It shows his restless experimentation with Akari as more of a gesamtkunstwerk, a total artwork by which each component of the project is approached with the same rigor.
In this way, Noguchi preempts the Beuysian notion of social sculpture, sculpting not just paper and iron, but structures in society: Akari has become not just an icon of design, a de facto symbol for the modern interior, it also revived the struggling postwar Japanese lantern industry in Gifu, where the lamps are still made today by Ozeki, the same firm he selected in 1951. In highlighting the work's artistic merits and situating the sculptures as a dynamic network capable of evolution, the museum has revived Noguchi's dogged insistence that Akari be taken seriously, even if it upends the institution's orthodoxy. Looking back on his decision to include them in the 1986 Biennale, it becomes clear how far ahead of his time he was. "Freeing itself from the museum-conscious pedestal and its false horizons, sculpture must reenter the world proportionate to man—not monumentality," Noguchi wrote in a 1953 catalogue essay. "A man's foot is the measure."