In The Fade - Ed Fornieles and Berthold
Photographer: Fee-Gloria Groenemeyer and Iolo Lewis Edwards
Is Being an Influencer a Kind of Performance Art?
London-based designer Berthold has partnered with artist Ed Fornieles to turn Instagram flexing into the ultimate performance.
In The Fade - Ed Fornieles and Berthold
Photographer: Fee-Gloria Groenemeyer and Iolo Lewis Edwards
"Super nodes." That's how artist Ed Fornieles refers to social media influencers like those he's just co-opted for a project that sees him take over the Instagram identity of London-based men's fashion label Berthold for the season. Fornieles says such people have always been among us, in one form or another: that the whole six-degrees-of-separation idea depends on the IRL presence of super nodes within each community. These ultra-social, ultra-connected individuals are what bind us together over distance and help spread stories and ideas. In the present day, they have become a gift for the marketing industry, individuals seen as "hyper-representative of their demographic," says Fornieles, with formidable reach.
Raimund Berthold, designer of what he calls a "unisex/multisex/all people" brand, has collected the artist's work since 2014. Interested in ways that art might exist in spaces beyond the gallery, the artist proposed a collaborative project that would harness fashion's existing tendency toward costuming and make-believe. He wanted to harness "character and roleplay" and push it further, toward cosplay territory "where people are participating in a pre-constructed narrative form."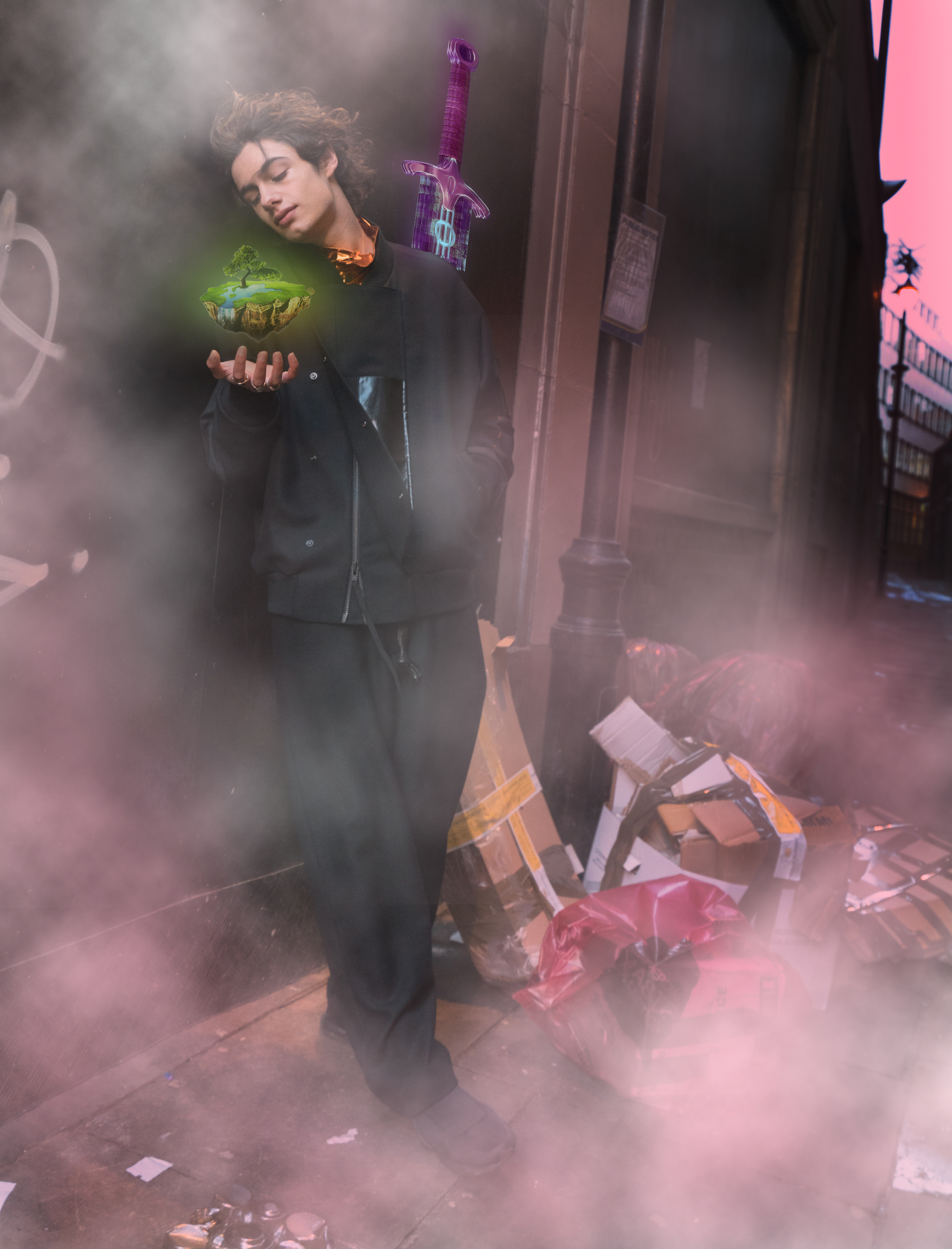 The result is In The Fade, images that use Instagram like the panels of a graphic novel in which a story slowly unfolds over the space of three months. The doomy digital future mood of In The Fade is inspired by the clothes themselves: Fornieles describes the Berthold aesthetic as "sci-fi, military, religious apparel." Wearing it, "I always felt like you could be on the set of a film," he says.
The fantasy narrative of In the Fade comes complete with prince and princess, elder, villain and anti-hero, and features a cast of unconventional models and the aforementioned super nodes influencers, among them Semsi Salvino, Emilia Lunney, Daniel Deszys, and Emily J. O'Donnell.
Fornieles uses the influencers as "readymades": existing material that he repurposes for the artwork. "They were all chosen for their unique position as real-life characters in a digital world of their own making," explains Berthold. "We were looking at individuals that use clothes within the framing of their identity." Photographed in and around Fornieles's London gallery Carlos Ishikawa, its augmented reality overtones—cartoon animal daemons, apocalyptic storm formations, possession by spirits, laser-beam battles—are assisted by the otherworldly look of its performers.
Long interested in the manifold possibilities afforded by the online world, and Instagram's peculiar status as the site where "people perform themselves," Fornieles's collaboration with Berthold throws great glittery question marks out around the (already shimmering-to-the-point-of-imperceptible) boundaries between URL and IRL, social media and viral marketing, art and advertising.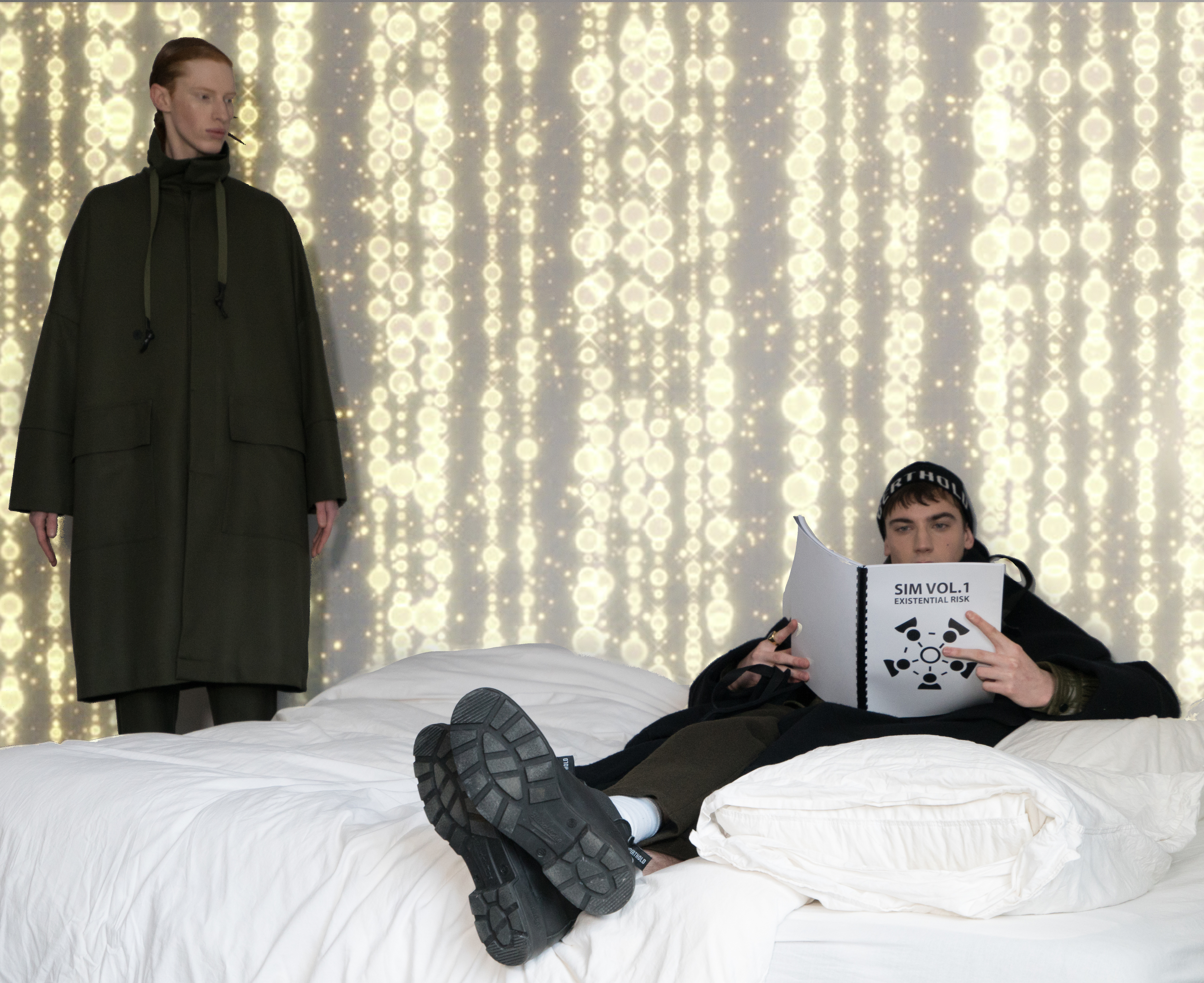 The sprinkling of Insta-stardust adds an uncanny layer to the question of performance. These stars of the tiny screen continue to perform their well-established online personae for the camera even as they perform for In The Fade, offering poses and nonchalant glowers well rehearsed for their personal brands. Their stories on Instagram become backstory for the characters that Fornieles has invited them to occupy.
And then there's the Berthold layer: everyone is impeccably dressed in the Autumn 2018 collection, much of it visibly logo'ed (take a close look at that quilting). In one frame, a projection of Raimund Berthold's face gazes down from the side of an East London towerblock—a virtual advertisement within this virtual advertisement—as if this knowingly insiderish brand had acquired Versace-like status in a well clad dystopian near future (Bertholdrunner?)
"Ed's unique perspective on how and why we wear fashion really inspired me; he looks objectively at fashion. I don't think enough people do that," says the designer. "It's good to let go sometimes and see how others interpret what you do. In this age of hyper-controlling marketers and mega-brands, letting go felt really important for me."
The project also helped the designer address qualms about social media and its vinelike embrace: "Ed popped into the studio as I was designing the collection. We got into a discussion about the industry, how fashion has rapidly become a different place to what it once was," he recalls. "Everywhere I went people were talking to me about Instagram first, and the drape of a sleeve or fabric or clothes second! My PR wanted to talk to me about influencers they thought we should work with, not people who might buy and live in the clothes I am making!"
Before you could say "Bibbidi-Bobbidi-Boo," Fornieles waved his digital wand, and magicked Berthold off to the Instagram ball with a sprinkling of artworld pixiedust and a cluster of super nodes. You want a moral for this fairytale? Collect and invest in artists' work: good things will happen.