XU ZHEN®, Movement Field. Installation view, Sifang Museum, Nanjing, 2013. Courtesy of XU ZHEN® and James Cohan, New York
A Chinese Artist Is Inviting Viewers to Retrace Famous Protest Marches
XU ZHEN® celebrates freedom of expression—and compares Trump to the flu.
XU ZHEN®, Movement Field. Installation view, Sifang Museum, Nanjing, 2013. Courtesy of XU ZHEN® and James Cohan, New York
This fall, James Cohan Gallery found itself unexpectedly caught up in protest when Berlin artist Omer Fast reconfigured its upscale space on Grand Street as a run-down Chinatown waiting room. Citing the installation as a symbol of gentrification, local activists called the show "racist" and "insensitive." Now the gallery will turn into a site of protest in a different way, embracing a Chinese artist who's made political resistance the subject of his work.
For Movement Field, an immersive environment by Shanghai artist XU ZHEN® (he has styled his name this way since 2008 as part of a personal rebranding effort), the gallery is importing tons of sod and grass and transforming its entire interior into a garden. The field will be covered in white pebbles paths based on Google map diagrams of famous protest marches. Visitors will be invited to navigate these routes and share in a communal experience of free expression, reliving significant moments in American and European history—but not in China, where public gatherings are still forbidden.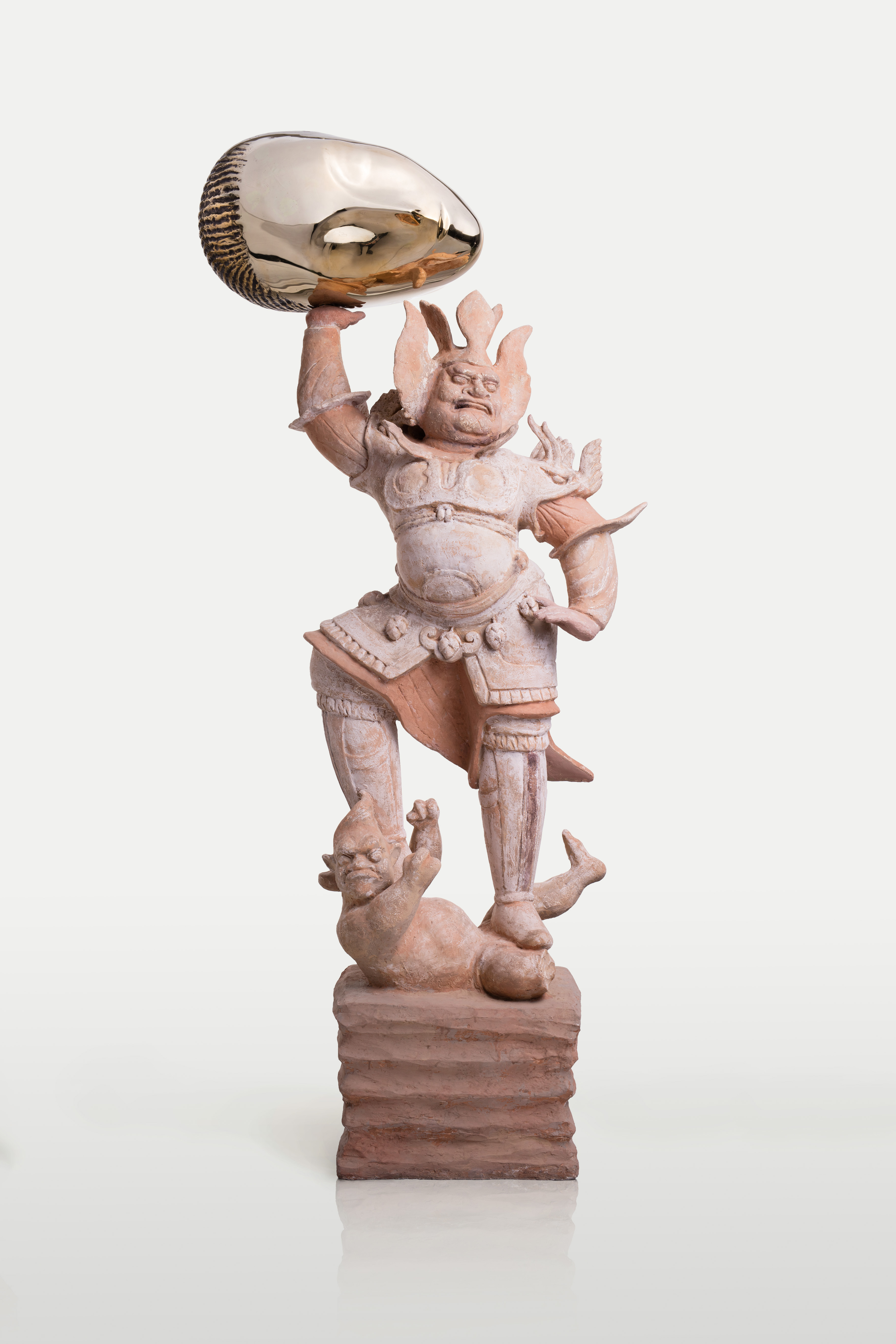 "I decided to bring the work to New York at this time because I noticed that after Trump came into office, everything had become very chaotic and everyone had different opinions," XU ZHEN® told GARAGE, through an interpreter, via Skype from his studio outside Shanghai. (He's not wrong.) The artist first presented Movement Field at Long March Space, his gallery in Beijing, in 2013, but decided to update the work after seeing news reports of protests in the US over the past year. "I didn't really pay close attention to any particular protest, but there is a kind of reality that all protests share and that's really what Movement Field is about," he explained.

"Xu Zhen really is the forerunner among artists putting China in a global context," said Xiaoyu Weng, the Robert H. N. Ho Family Foundation Associate Curator of Chinese Art at the Guggenheim Museum. "He is breaking down boundaries in a really iconoclastic way."
XU ZHEN®, born in 1977, has been both a rebel and a leader in the Chinese art scene since his early twenties when, in 1999, he organized a show in a Shanghai shopping mall. Ten years later, he raised hackles again by forming the production company MadeIn—named for the omnipresent "Made In China" tag—replacing his role as artist with a new title, C.E.O. Since then, he's run his studio as a factory, taking over a vast building and employing dozens of assistants to help make his paintings, tapestries, videos, photographs, sculptures, and installations.
A few examples of this runaway production will be on view at James Cohan. Eternity—Painted Terracotta Statue of Heavenly Guardian, Sleeping Muse (2016) is a statue of a Tang Dynasty warrior holding aloft Brancusi's modernist chrome head, a kind of parallel act of cultural appropriation. There will also be a large wall relief, I Believe the Sun Is the Center of the Universe (2017), featuring phrases from various protest signs and petitions. "Stop Privacy Invasion" is spelled out in gold chains.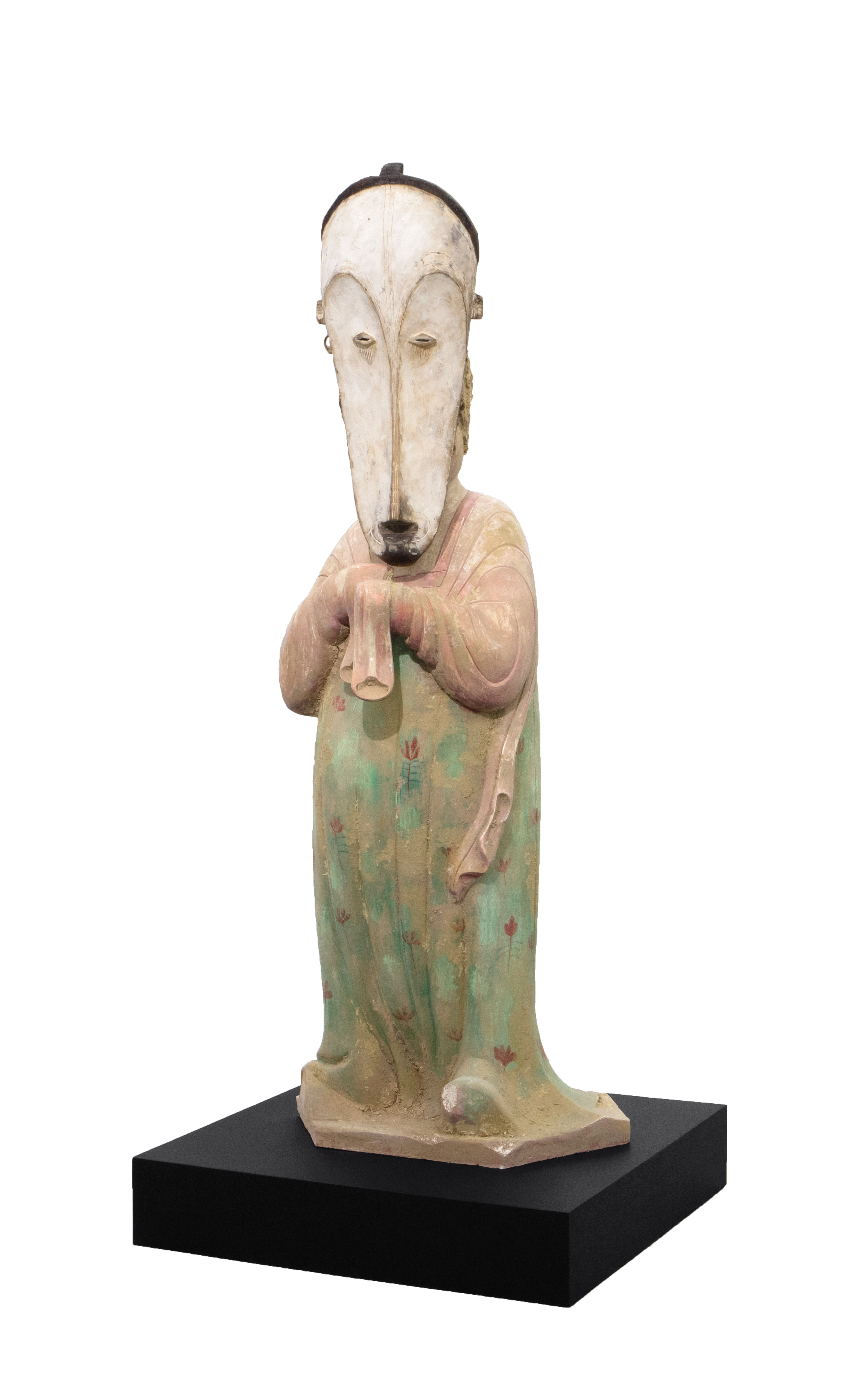 Somehow, XU ZHEN® has been able to get away with making such provocative works even in China's restrictive environment. He skirted any problems with censors when Movement Field was shown publicly in Beijing, for example, because the work simply doesn't appear to be a call to revolution. "On the surface, it looks very peaceful and calm but there are many things going on underneath," observed the work's maker. "This is representative of the situation in China because on the surface, people can seem quite cooperative and nice, but in fact they have a lot of opinions."
Because he's afraid to fly, XU ZHEN® stays put in Shanghai, interacting with the world through the internet while his assistants travel to install his many international exhibitions. A keen observer of current events both inside and outside China, XU ZHEN® had this to say about the President of the United States: "Trump is a flu." What did he mean? "When a child gets a cold, it is, of course, a disease so that's a bad thing, but it can make his immune system stronger in the long run," explained XU ZHEN®, "so, maybe, Trump is something like that and something good can come out of all this."

XU ZHEN®: Movement Field will be on view at James Cohan Gallery, 291 Grand Street, from March 3 to April 8.