Virgil Abloh, Justin Timberlake, and Takashi Murakami
Virgil Abloh and Takashi Murakami Team Up in London
Street style meets Superflat in an unmissable collaboration.
Virgil Abloh, Justin Timberlake, and Takashi Murakami
As Fashion Week descended on London, Takashi Murakami and Virgil Abloh staged a collaborative show at one of Gagosian's three London outposts. The artist and designer cemented their working partnership at last November's ComplexCon in Long Beach by knocking out limited-edition hand-printed t-shirt, and by the following month, they'd decided to work together on a full-scale show.

Of course, neither figure is a stranger to collaboration; Murakami has worked extensively with Pharrell Williams and Japanese street artist MADSAKI, and both have worked with Kanye West. But this is the first time the two have come together to create unique works of art rather than editioned products, and the results reinforce a (perhaps unsurprising) kinship between Japanese post-pop art and American street style.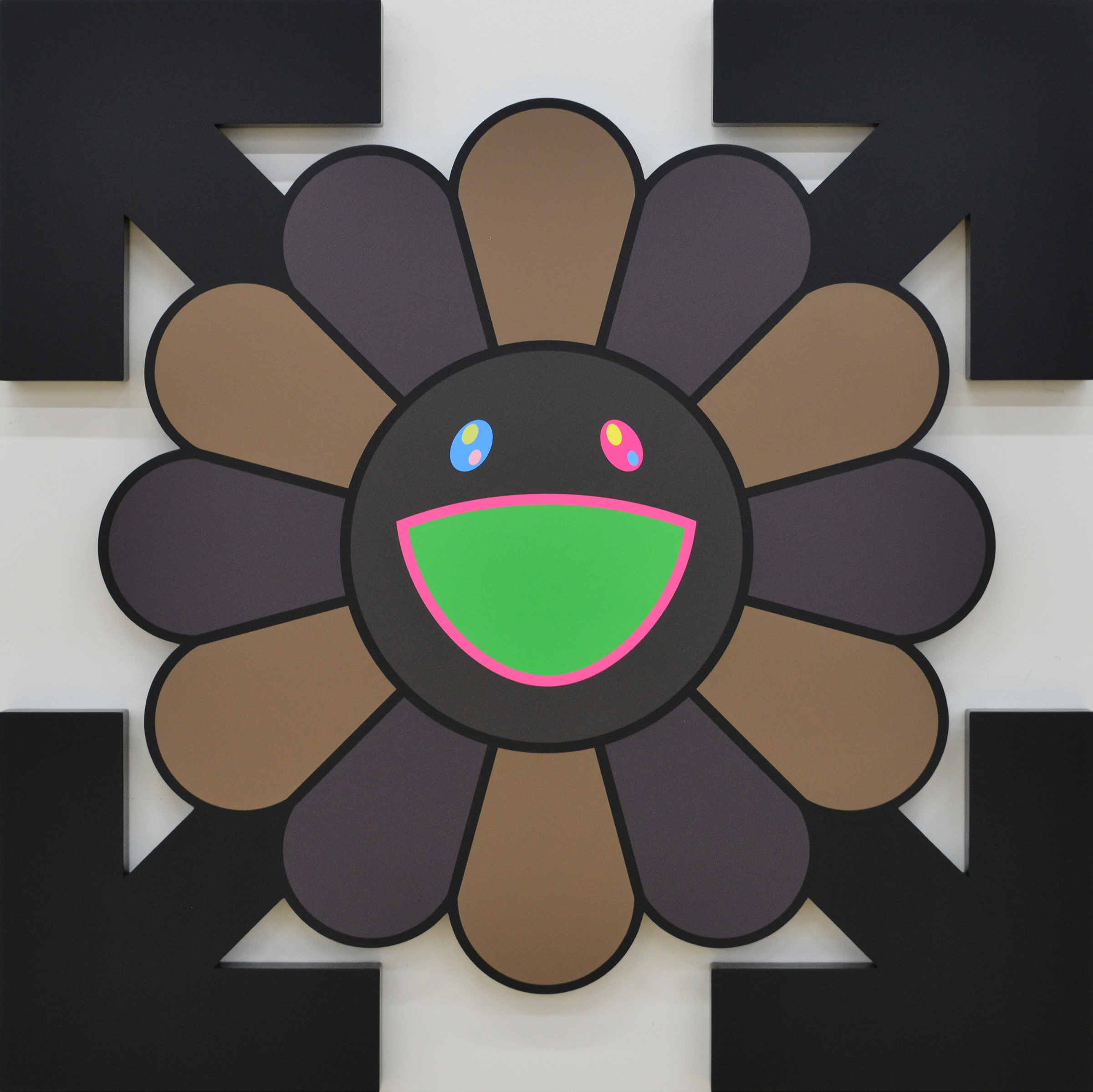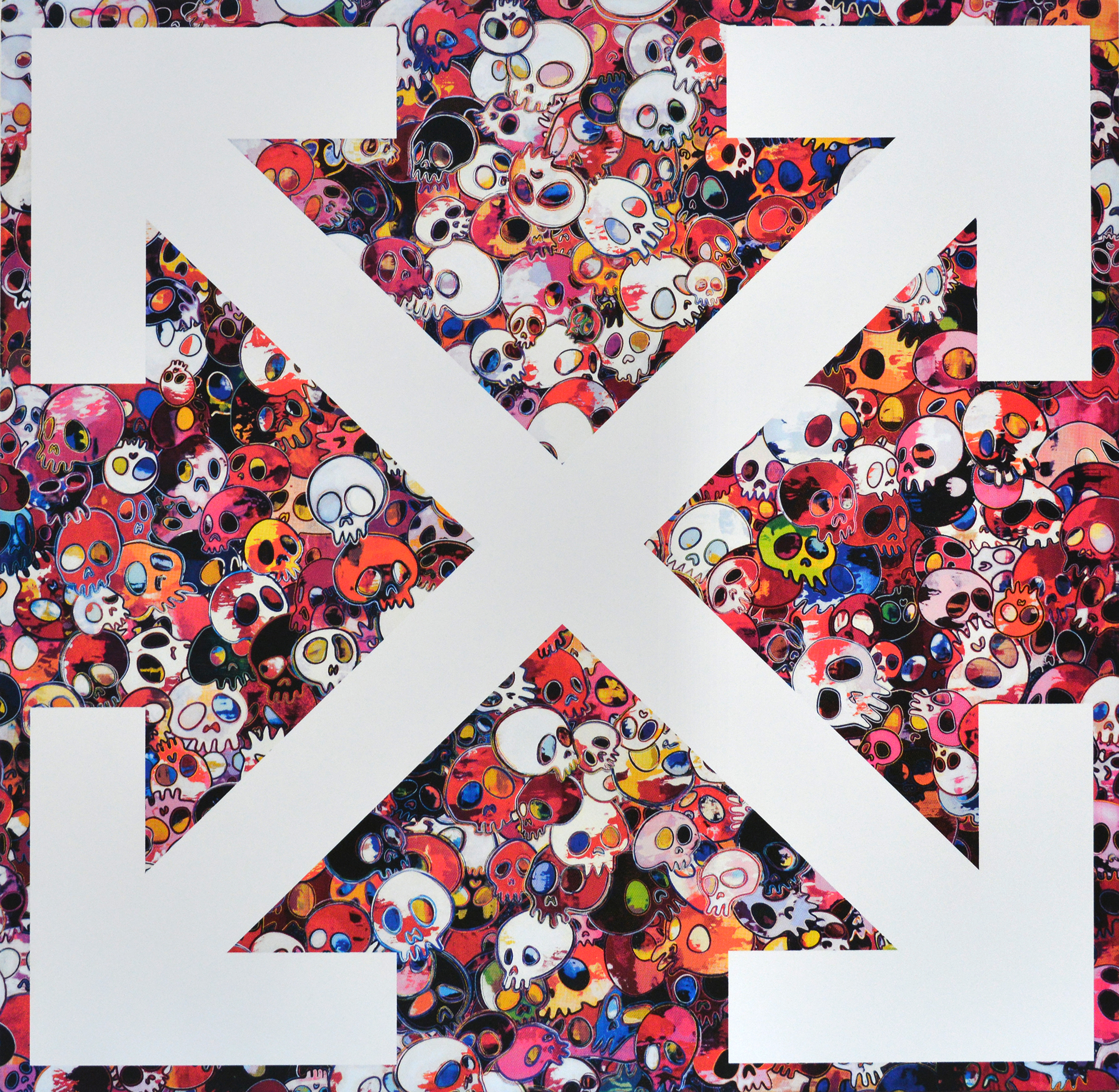 But while Murakami and Abloh's joint work runs the gamut of media and format, there's one distinctive element of Murakami's practice that's conspicuously absent in this show—the anime-derived take on cuteness known as kawaii. Murakimi's contributions here tend toward the darker preoccupations mined in his recent Under the Radiation Falls at the Garage Museum of Contemporary Art in Moscow. The artist's familiar Mr. Dob character and his chums have taken a break from people-pleasing to embrace a more anarchic sensibility, one that productively disrupts Abloh's contribution to the mash-up. And while still slickly executed, the new work can feel almost…angry.

When the exhibition opened on Tuesday night, the London public saw the physical product of a months-long collaboration that played out, in large part, on Instagram. Murakami and Abloh (the founder of OFF-WHITE) exchanged ideas openly on the platform, and when they came together physically in Japan, documentation of the rendezvous dominated both feeds for days. The fan-base buzz was palpable.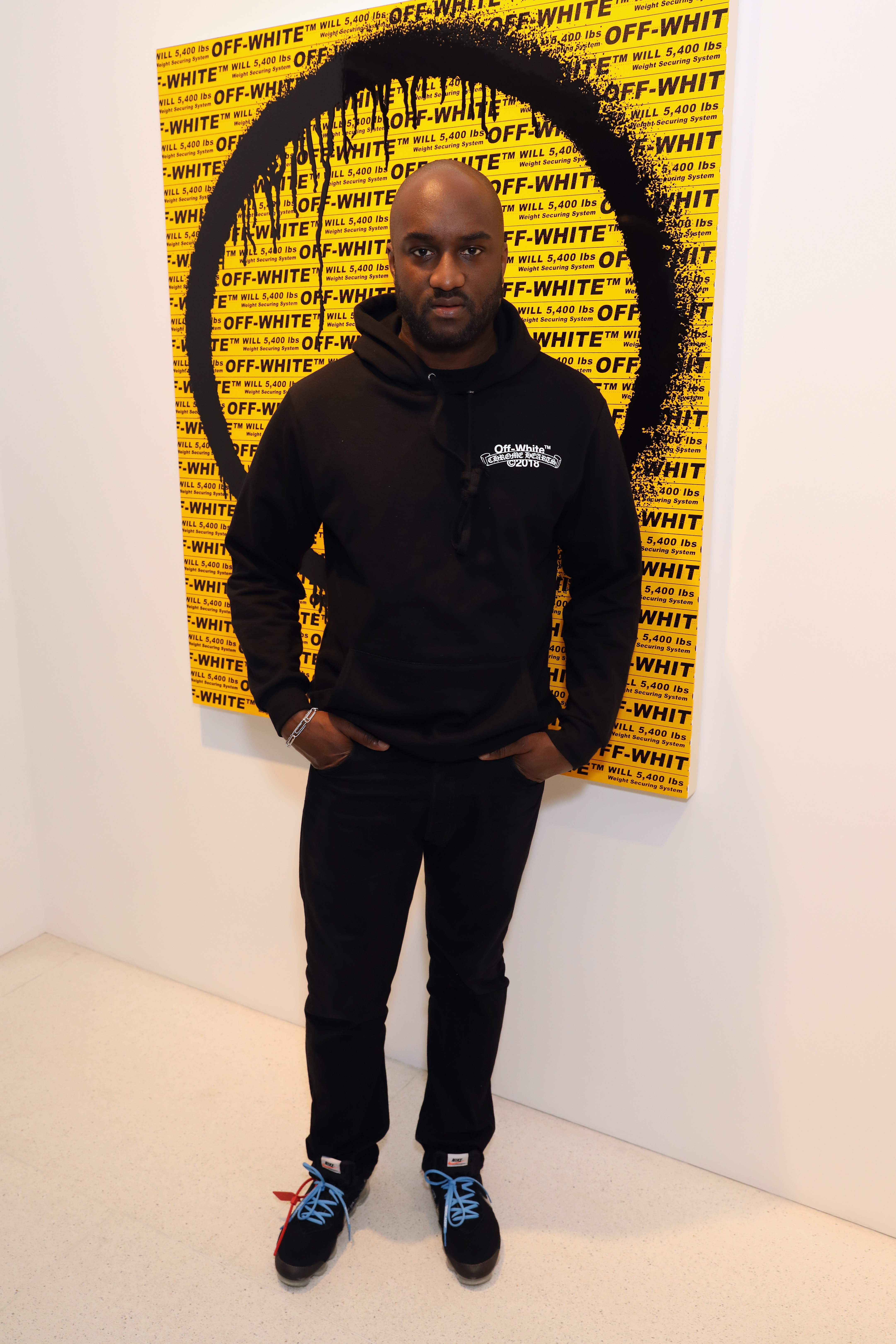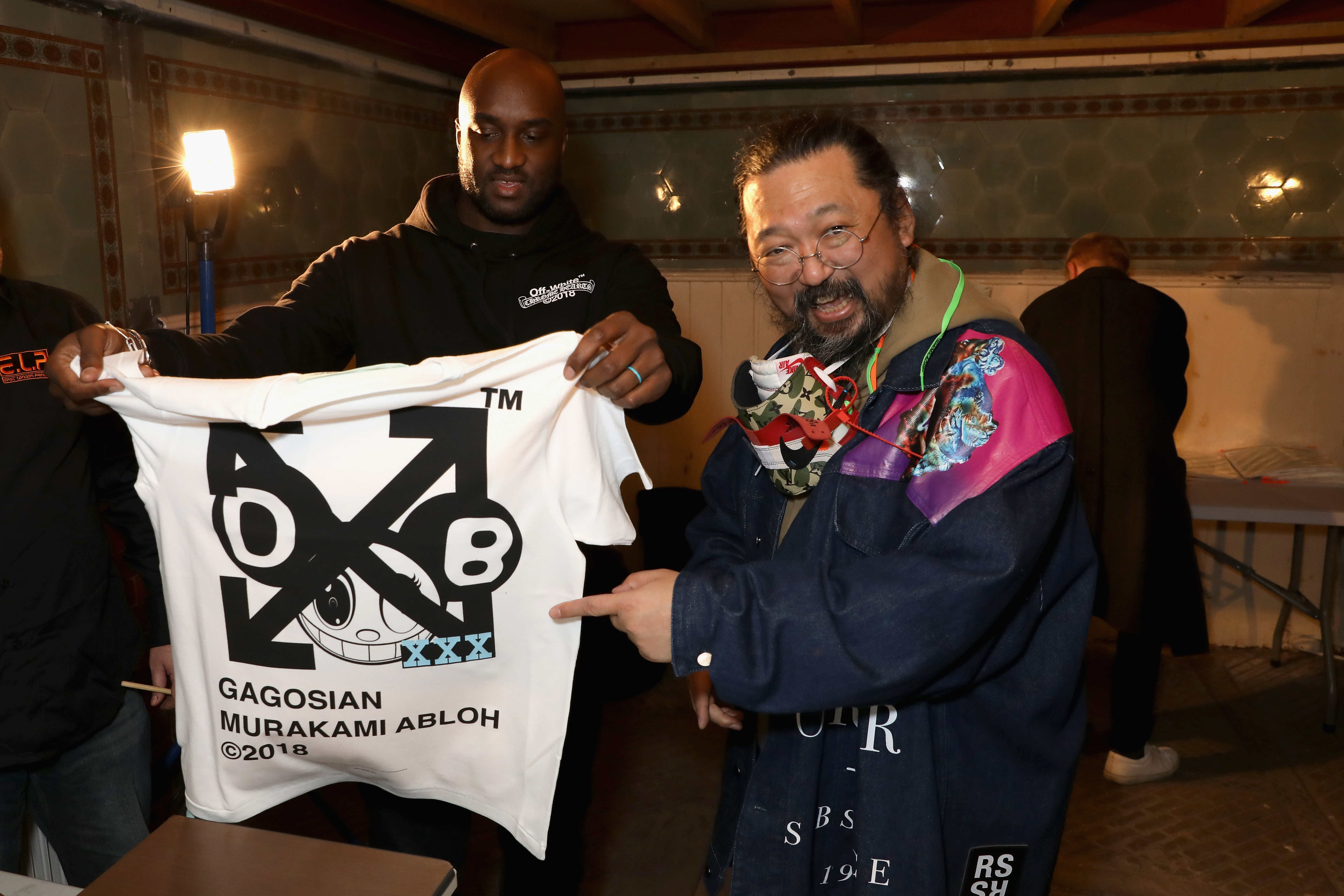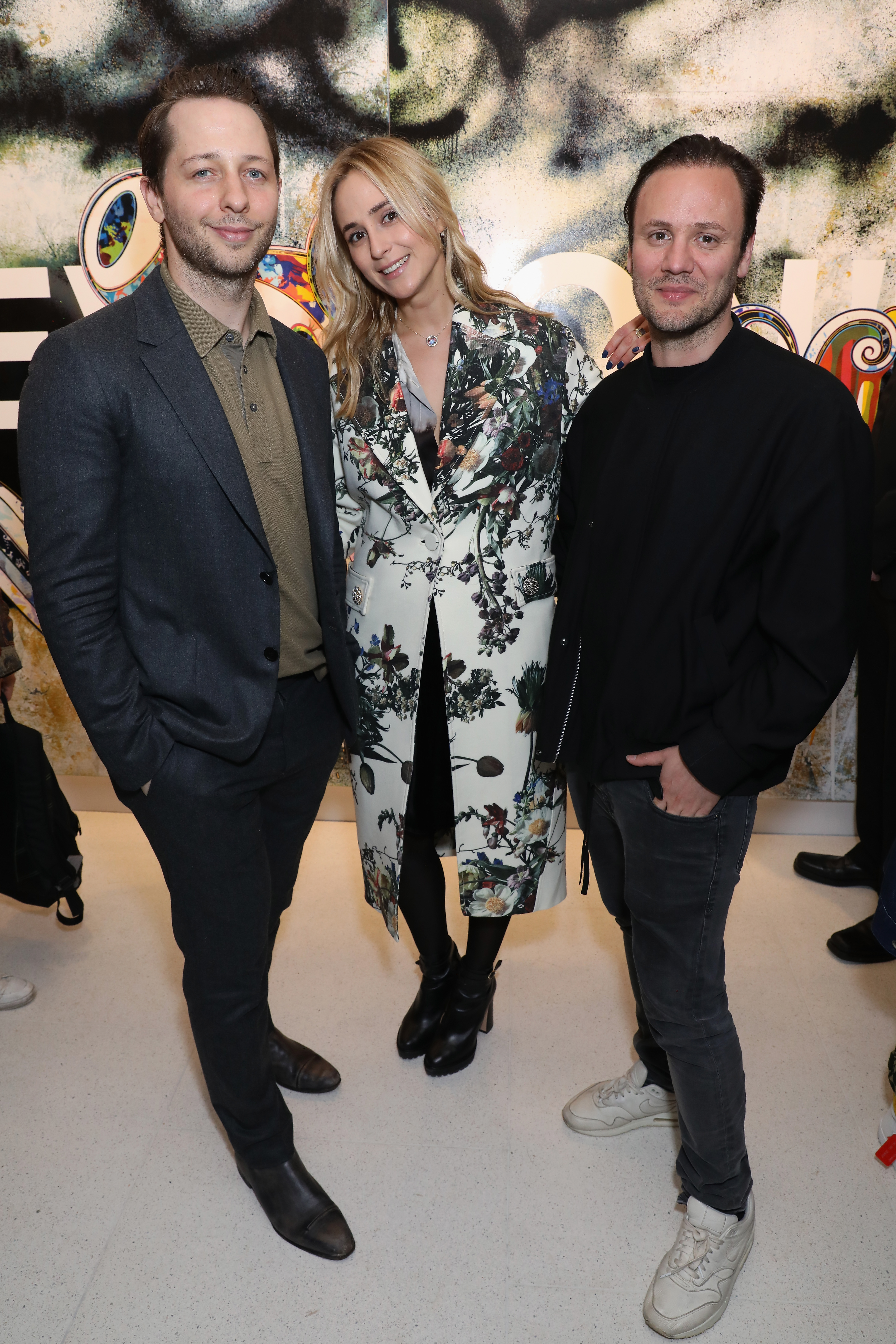 A sculpture titled, with typically high ambition, Life Itself, is the centerpiece of the show; while other works will rotate in and out of view, this will remain in place throughout its run. A protective glass-and-chrome carapace designed by Abloh houses one of Murakami's sinister gloss-black flower sculptures. The designer takes the opportunity to showcase his architectural training, and the result is structurally immaculate. But the housing's interior has been sprayed with black and brown paint, lending it an almost derelict feel. The flower pauses just outside, perhaps in the process of abandoning its home.
In Glance Past the Future, Gian Lorenzo Bernini's 1623 self-portrait is reworked as a Warholesque silkscreen print, twinkles of diamond dust reinforcing the allusion. The work looks distressed, the layers of ink generating a graphic blur of pink, black, and revealed white, including a partial image of Mr. Dob's grinning visage. While projecting itself conceptually forward in time, the work has the look of an old, desecrated street poster.

In the painting Kyoto Enso, appearances are similarly deceptive. The background appears to be composed of strips of OFF-WHITE's branded yellow packing tape, but finally turns out to be an entirely convincing painted rendition. The pattern is disrupted by the circular Japanese character enso, which expresses the moment when the mind allows the body to create. Again, spray paint takes the place of the traditional brushstroke, effortlessly bridging the centuries-wide gap between Zen tradition and street-art contemporaneity. It's in such works, and wherever Murakmi's Superflat aesthetic comes in to play, that Future History's makers feel most harmonious and also most productive, their identifying signifiers beginning to overlap, and even merge.
Murakami & Abloh: Future History is on view at Gagosian Gallery, Davies Street, London, through April 7.