Meet The Artist Examining the Colors and Queerness of the Gay Pride Flag
The history of the rainbow flag, a half-pipe in a gallery, and ceramic targets are just a few highlights of Polly Apfelbaum's chromatic menagerie.
Given that color is light, we could be forgiven for thinking that it is something we primarily experience with sight. Polly Apfelbaum's exhibition at the Birmingham non-profit gallery IKON proposes that color is a phenomenon that actively shapes our experience of the material world, including this site's architecture. As the artist described it, she is "making people conscious of the physical."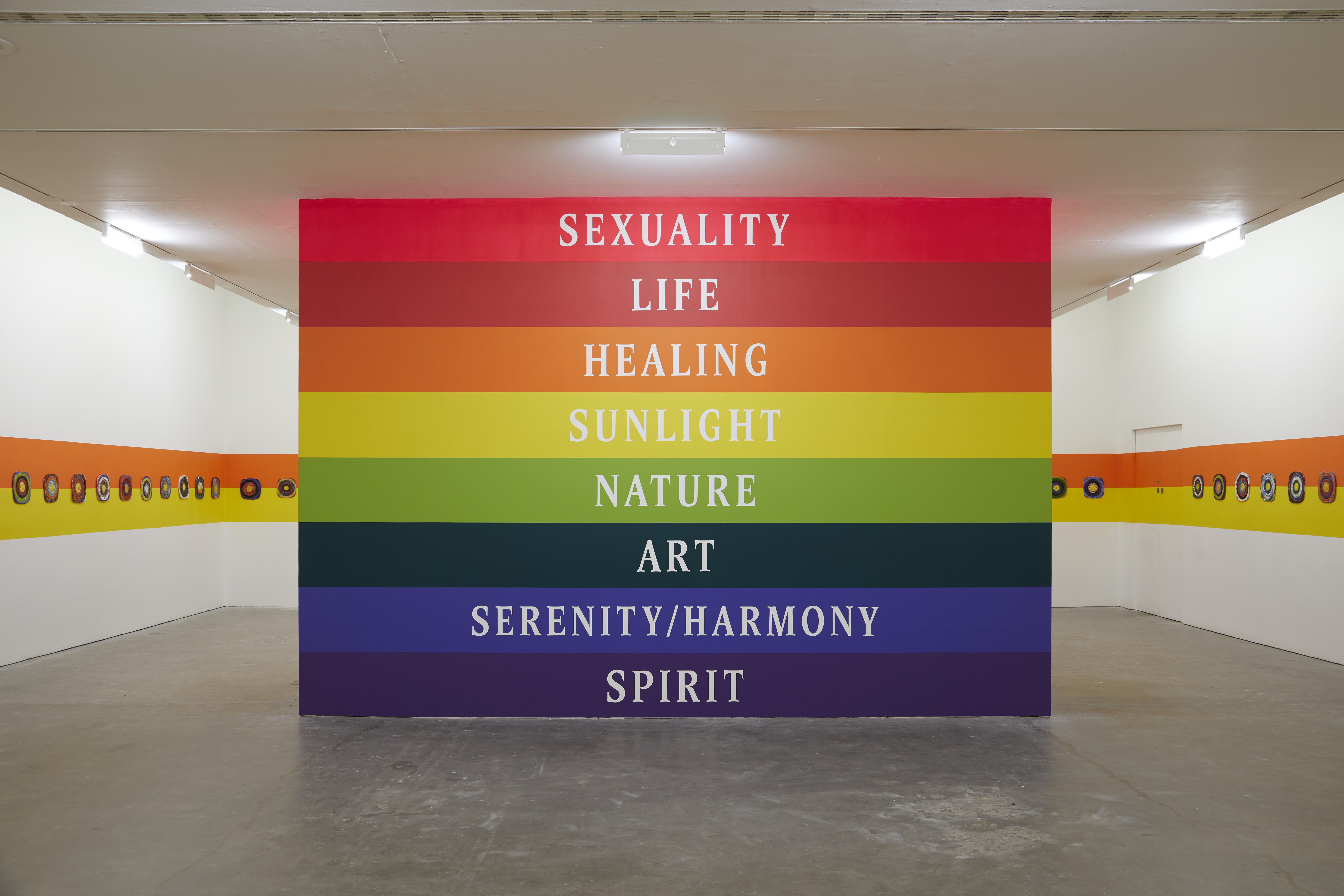 While insisting, "I'm not comfortable with sculpture," she conceded that Life Spirit (2018)—a four-sided, freestanding wall painted with a rainbow to commemorate 40 years of the gay pride flag—was "almost a monolith." The banner was originally designed with eight colors (later reduced to six) by Gilbert Baker in 1978 in San Francisco in response to a prompt from Harvey Milk. Each hue had a specific meaning: red as "life," shocking pink as "sexuality," orange as "healing," green as "nature," and so on. Apfelbaum brings her piece back to the flag's roots by emblazoning those words in white across each stripe, the takeaway being a feeling of harmony.
The orange and yellow stripes are also painted in a line around the entire circumference of the gallery, with 135 ceramic sculptures collectively titled Sun Targets (2018) affixed over the bands. These pieces are individually named after planets or constellations, and each resembles a target, with a yolky, yellow center surrounded by concentric rings of color. Some feature white, puffy glazes, while others have a black, crackled texture or bright tangerine haloes. Apfelbaum began making these a few years back at Greenwich House Pottery in New York, and she is but one of the many contemporary artists incorporating this traditional craft technique into an art practice that values inclusivity over dismissive categorization.
The artist has noted her interest in postwar abstract expressionism, including the brilliance of women artists such as Helen Frankenthaler, who were often ignored in favor of their male peers. In a work displayed here, titled Halfpipe (2018), a color field rainbow that begins as an Oaxacan rug on the floor, made by women in Mexico using methods native to the region, continues up the wall as a painted half pipe, which you can imagine skaters delighting in. Apfelbaum playfully celebrates women and otherness—the rug even depicts the serpent from the story of Adam and Eve, though clearly something more fun than the biblical fall of man is meant here.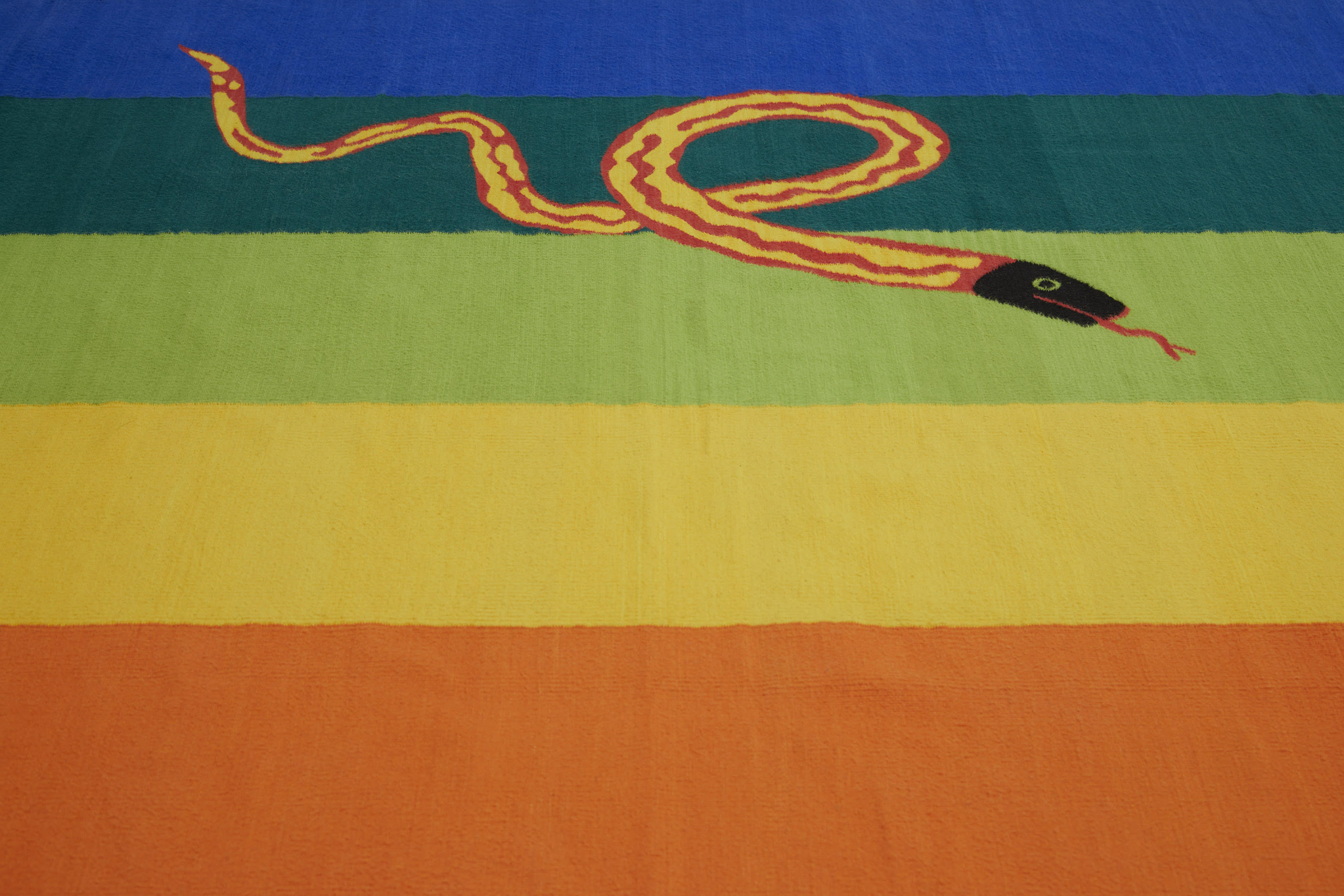 The only older work on view is Wallflowers (Mixed Emotions) (1990), featuring now-faded red and beige glittery flowers forming a mandala, or another kind of target, since "wallflower" is often a gendered term for women who are not seen by men. In Buddhism, the mandala is a symbol of the universe, and here Apfelbaum turns it into a bull's-eye, pulling your stare into its vortex, as if refusing to go unnoticed. Such a quality reverberates throughout the work here, which, by using imagery and approaches formerly overlooked because of their association with femininity or queerness, is not just inclusive: it's political.
Polly Apfelbaum: Waiting for the UFOs (a space set between a landscape and a bunch of flowers) is on view at IKON Gallery in Birmingham, UK through November 18, 2018.