Photograph courtesy of Versace.
Kim and Kanye Are the First Couple of Fashion Scholarship
At the Versace show, the duo flaunted their status as #fashionnerds.
Photograph courtesy of Versace.
Earlier this fall, Marc Jacobs re-released his iconoclastic and visionary grunge collection, an occasion that we marked by anointing the arrival of the "fashion nerd." As I wrote then, "Pieces from 'iconic' moments in fashion history are becoming objects of desire, whether the fans are chronicling them on Instagram, buying the goods on secondary sites like the RealReal and Grailed, or purchasing the revival lines in stores."

Versace has already been cashing in on this consumer narrative with its Gianni Versace tribute collection and other retro-mania moments, and at its Pre-Fall 2019 show in New York on Sunday night, it created another luxury #tbt moment with a dress in what the brand's press release called "one of Versace's most legendary silhouettes—long sleeves and navel low-cut front—made famous by Jennifer Lopez and prompting the creating of Google Image Search." Lopez wore the dress to the Grammy Awards in 2000, as if you could ever forget, and, writes Versace, "The clicks to see this dress [which propelled] the development of technology epitomizes the importance of Versace's cultural force."
Though the dress was rendered in a heart print pulled from Gianni Versace's New York townhouse, rather than the palm print Lopez made famous, the reference was unmistakable. In fact, it's something beyond reference: the original moment, made monumental over time by the constant resurfacing of paparazzi images on Instagram and in style tribute stories, is conjured by an icon of the present day, creating a living fashion memorial. Versace pulled a similar stunt when Kim Kardashian-West wore vintage Versace to a Met Gala afterparty, looking like a living version of a post on '90s and 2000s nostalgia porn Instagram account @velvetcoke. This is the essence of the Fashion Nerd. (And let's be real: it also gives Kardashian-West a chance to rewrite the history of an era when her reputation was not as gilded as it is now.)
At Sunday's show, the infamous dress was worn by icon of the era Amber Valletta. A star is regrammed!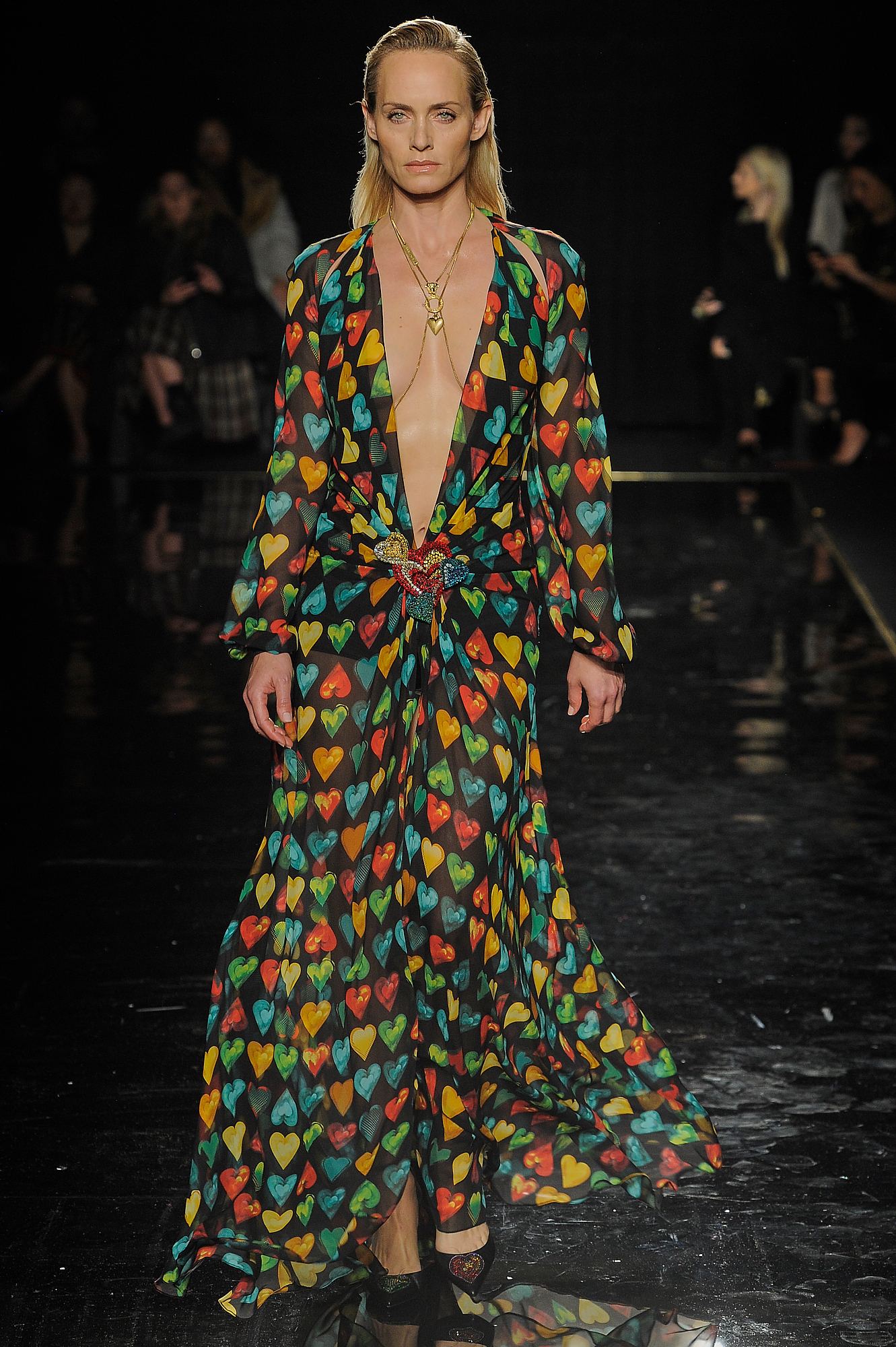 Kardashian-West and husband Kanye West were also in attendance at Sunday night's show—Kardashian-West in a vintage Versace dress—securing their place as the first couple of Fashion Nerdiness, a power duo of fashion scholarship. West has made an encyclopedic passion for luxury brands a part of his persona—he performed in 2011 in a women's blouse by Céline, perhaps the poster brand of the Fashion Nerd movement (in one of 2018's best Fashion Nerd moments, Travis Scott wore the blouse earlier this year). West has styled his wife into something of his muse-cum-reference book, as she sports vintage goods from Rein Vintage, Zena Bryant's library (or maybe rare bookshop?) of Tom Ford-era Gucci and John Galliano's Dior. And don't forget that it was with a Céline coat that West first helped seal Kardashian-West's entrée into high fashion's echelons in 2013.
West was also spotted earlier in the day shopping at Tokio 7, practically the clubhouse for those looking to cop rare Raf, crisp mid-aughts Alaïa, and gently worn Marc Jacobs samples that never made it into production.
What's next for the duo driving our thirst for fashion knowledge? Kardashian-West in the Lopez dress would be too on the nose, but I'd bet money you'll see her in some of the nostalgia porn silhouettes we saw on last night's runway—in ten years. And maybe the couple will partner with @oldceline and remake a few iconic Phoebe Philo silhouettes for the next season of Yeezy. Say a prayer over your fur-lined Birkenstocks!