Why Is Bella Hadid Wearing Elon Musk's Merch?
Sometimes, a sweatshirt is just a sweatshirt—or is it?
Bella Hadid made her way through Charles de Gaulle on Wednesday wearing the unofficial off-duty-model-at-airport uniform; monochromatic sweats, expensive headphones curled around her neck, statement bag in full view (in this case, a $12,000 Louis Vuitton cherry holdall). One detail was off, though—in the space where her sweatshirt should read "SUPREME," a small logo spelled out "SpaceX" instead.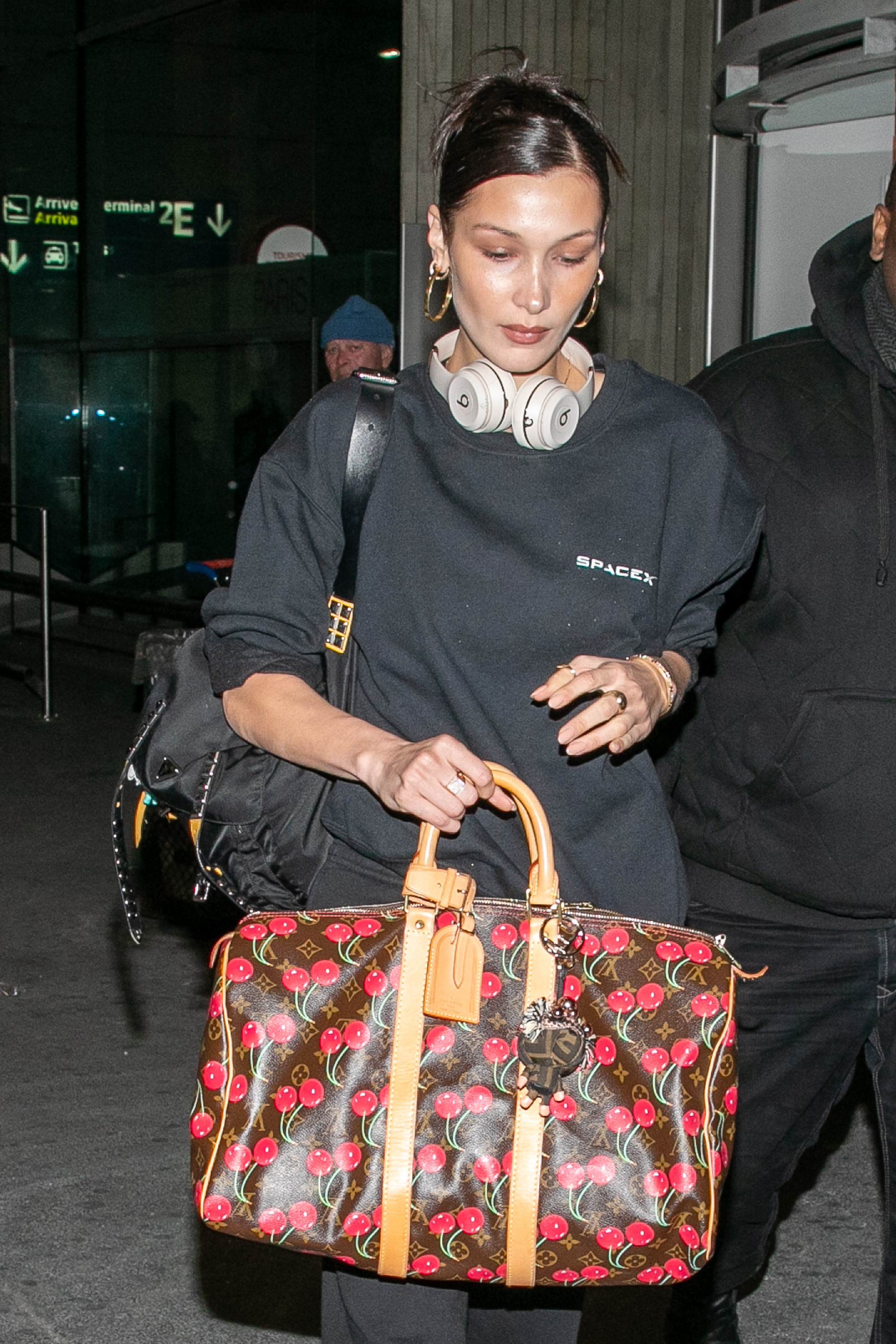 The question of whether SpaceX founder Elon Musk wants to become a merch king was raised this spring, when his goth girlfriend, musician Grimes, appeared at the Met Gala in a Tesla statement choker that matched Musk's Tesla logo pin. Since then, though, Elon's stock has plummeted, with the SEC suing Musk in September over his unfounded claims that he'd secured funding to take Tesla private, at...$420 a share. (Just typing out the number floods me with the kind of secondhand embarrassment you'd get in seventh grade when your bio teacher would try to use "teen slang.") Musk's financial stock has since risen, but his social stock remains subterranean; is there anything less cool than smoking weed for clout? As for Grimes, once the darling of the electronic music scene, she's come under fire for, among other things, defending Musk's union-busting—perhaps not coincidentally, her latest song is titled "We Appreciate Power."
Considering all this, it seems like a bizarre time for Hadid to debut a piece of SpaceX merch; the Musk-and-Grimes power couple (emphasis on "power" ) don't necessarily seem like her most likely bedfellows. Maybe Bella sporting SpaceX merch is the futuristic evolution of civicore, the "the fashion trend turning local government into hypebeast-approved streetwear gear" ; NASA merch has never been hotter, as evidenced by Heron Preston's capsule collection for SSENSE, and SpaceX is, after all, NASA's hotter, meaner sister.
The SpaceX shop is currently selling Bella's sweatshirt along with a plethora of other merch, from the practical (T-shirts, water bottles) to the (a $150 motorcycle jacket, perfect for your tech bro boyfriend's next midlife crisis.) What's next, The Weeknd in a Falcon 1 vest?
Editor's note: An earlier draft of this story mistakenly speculated that Bella's SpaceX sweatshirt was custom, when it's actually available on the SpaceX website.