Safe #1-4, Adrian Piper, 1990. Image courtesy of the artist and MoMA. © Adrian Piper Research Archive Foundation Berlin.
This MoMA Show Asks You to Confront Racism—Both in Strangers and Yourself
In her MoMA retrospective, conceptual artist Adrian Piper explores identity, narrative, and the responsibilities of embodiment.
Safe #1-4, Adrian Piper, 1990. Image courtesy of the artist and MoMA. © Adrian Piper Research Archive Foundation Berlin.
"Dear Friend," the small, brown, pocket-size card begins, "I am black. I am sure you did not realize this when you made/laughed at/agreed with that racist remark..." From 1986 to 1990, the artist Adrian Piper handed out these "calling cards" at dinners and cocktail parties, in an ongoing performance designed to cleverly confront the racism of her peers; she had another version to rebuff unwanted touching at dance parties. Drawing on her experience as a light-skinned, black American woman often mistaken for white or white passing, Piper's work deals in both the material reality of race, sex, and class in America while engaging with social dynamics through performance, asking her audience to consider their positionality within the world.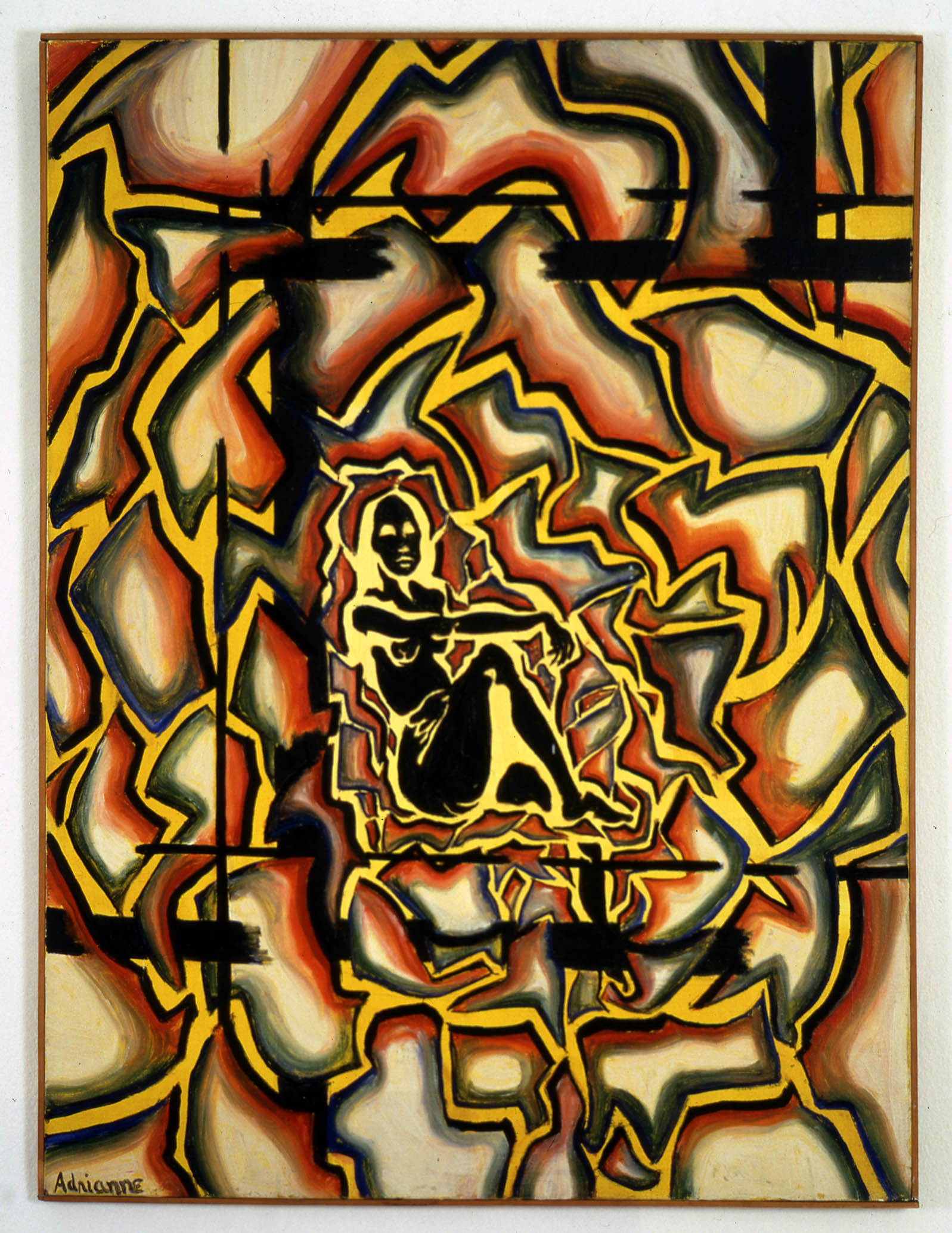 At Piper's retrospective at New York City's Museum of Modern Art, you too can pick up a calling card, continuing Piper's performance into your own life. Adrian Piper: A Synthesis of Intuitions offers the viewer a comprehensive look at five decades of the artist's career. Though loosely narratively positioned as Piper's artistic movement from figuration, as a student in the 1960s, to her current focus on conceptual art, MoMA's retrospective highlights how closely Piper has continued to center the facts of the body—and the repercussions of being embodied—within her work.
The exhibition begins with Piper's early figurative drawings, some inspired by trippy visuals—the first wall one encounters in the show is a salon-style hanging of "LSD paintings," all pulsing psychedelic color—and others engaged in the partitioning and rearrangement of the body. In a series of drawings completed when Piper was a teenager, she dismembers and rearranges a Barbie doll, forcing its body parts into configurations both torturous and methodical. In one drawing, the parts are stacked neatly; in others, limbs and face and torso sprout out of each other, the proportions skewed as in a fun-house mirror.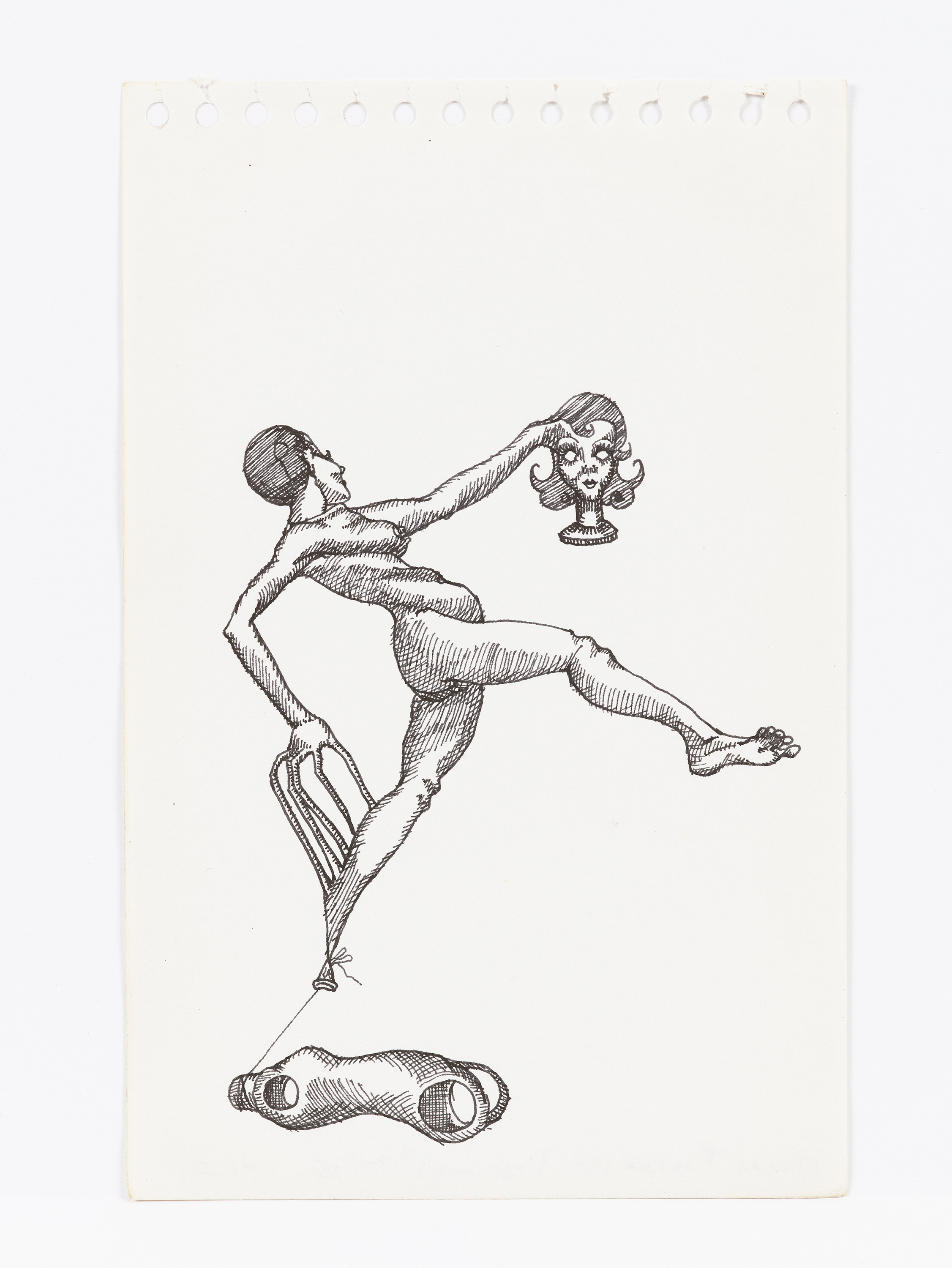 Many of Piper's early works focus on text and repetition, as in Concrete Infinity Square (1968), which features an endless, typewritten motif: "This square should be read as a whole; or, these two vertical rectangles should be read from left to right or right to left; or, these two horizontal rectangles should be read from top to bottom…" The black text fills and defines the shape of the square; it is just as important to our understanding of the concept of the piece as it is to its formal construction. Piper's breakdown of language into its constituent parts also evokes her early drawings of fragmented bodies: taking apart something to understand how it functions.

Concrete Infinity Documentation Piece (1970) signals an evolution in Piper's conceptual approach. In it, Piper combines her interest in language with a practice rooted in the acts and appearance of the body, which allowed her work to represent both the universal—reaching toward infinity—and the particular (an individual's body). For the piece, Piper carefully recorded by hand the minutia of her days—her weight, temperature; how often she peed or shat; what she ate and when she slept—and accompanied each daily entry with a self-portrait. Sometimes nude, usually clothed, Piper's own body suggests a kind of intimacy between artist and viewer, but more importantly, functions as a tool within her art practice.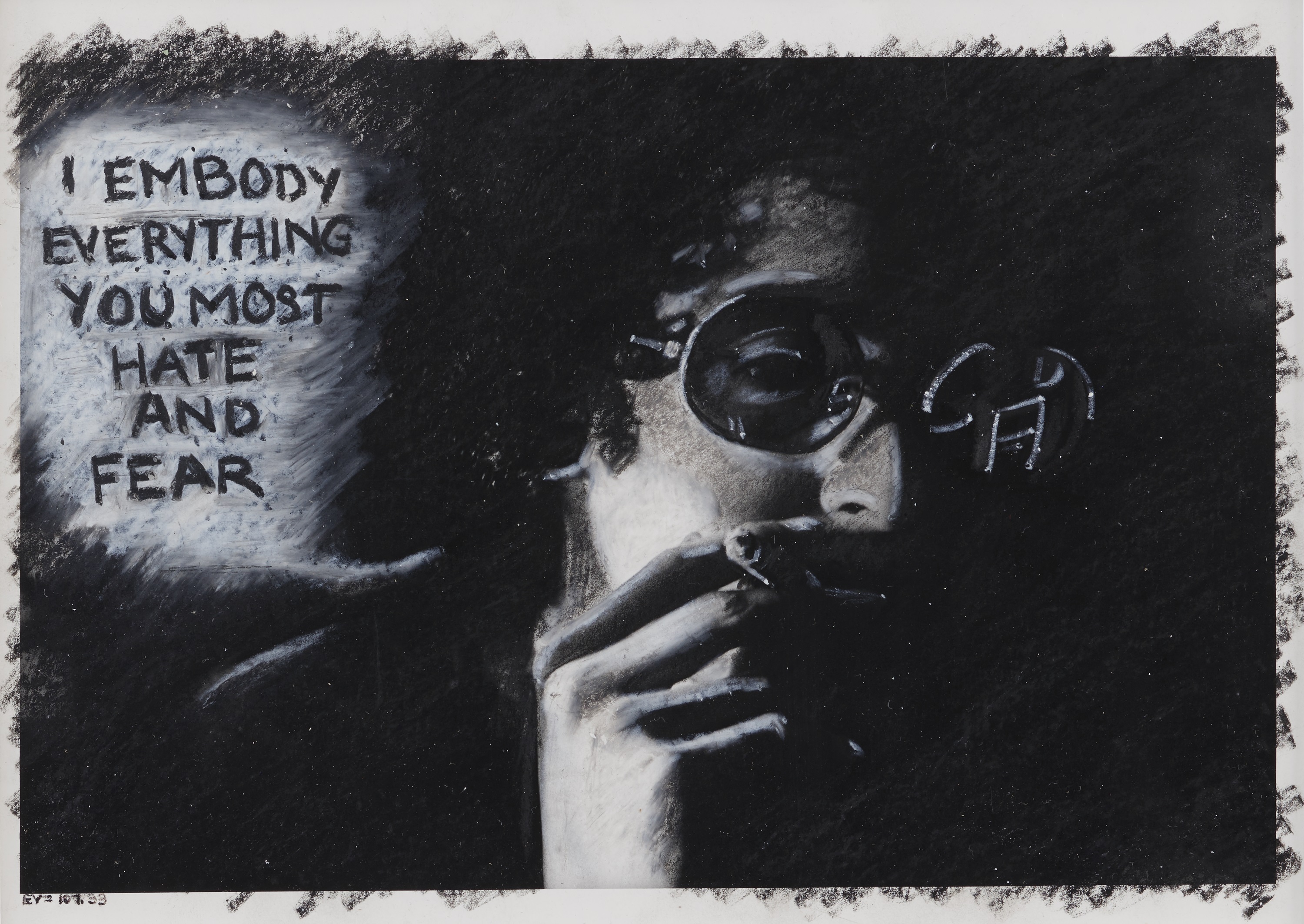 In 1973, Piper created the alter-ego and performance persona "The Mythic Being," an occasionally moody, cryptic male character who has a mustache and wears an afro wig, and began to explore more overt questions of representation, passing, and perceptions of race. In #2 (Race), from 1979, part of her "Political Self Portraits" series, a childhood photo of Piper is posterized, the colors inverted, and captioned "PALEFACE." The narrative atop the image relates how, as a child growing up mixed-race in New York City, Piper realized that she was both Black and yet perceived as not-Black. In these works, Piper engages with language, and particularly narrative, as a means of construction and representation; in a particularly resonant use of the technique, the "Decide Who You Are" series features an image of a young Black girl with the same posterized treatment, overlaid with a series of statements in red: "IT'S FINE. I DON'T KNOW WHAT YOU MEAN. I DIDN'T SEE ANYTHING WRONG. JUST CALM DOWN."
Piper's interest in the politics of the body and the consequences of being embodied extend to environmental works and performance: in Black Box/White Box, a cube painted black displays a quote from Russian writer Alexander Solzhenitsyn: "Once you have taken everything from a man, he is no longer in your power. He is free." Opposite is an image of Rodney King's badly bruised face, illuminated within a light box. Set diagonally across is a box painted white; the same quote is on the wall. But instead of the image of King's face, an armchair sits below a photograph of George Bush shaking hands with police officers. A wastebasket waits to be filled with tissues, while a television opposite the armchair plays footage of the Rodney King beating, without sound. Instead, Marvin Gaye's "What's Going On" plays on a loop—creating a jarringly leisurely, if contemplative mood, particularly relevant to today's ongoing spectacle of Black pain inflicted before a white audience. It's impossible not to read the boxes as explicit metaphors for the way racism plays out in America—and impossible not to consider which room you'd have to sit down in, if you had to choose.
In Imagine [Trayvon Martin], from 2013, a crosshair is overlaid atop a washed-out image of the teenager's face. In the corner of the print, text reads: "Imagine what it was like to be me." Once again, the work directs the viewer to consider her own positionality. For some in the room, it's all too easy to imagine what it would have been like to be Trayvon; for others, it's a forced self-examination, a posthumous exercise in empathy. Though prints of the piece were available in multiples for visitors to take, like Piper's calling cards, I saw no one holding a copy of Imagine as I walked through the show. That itself felt like a statement: taking a calling card to curve a cat-caller might be easy, trendy even, but to carry the weight and responsibility of Trayvon's death—to truly imagine what it was like to be him—remains both painful and uncomfortable for many.
Taking a calling card to curve a cat-caller might be easy, trendy even, but to carry the weight and responsibility of Trayvon's death—to truly imagine what it was like to be him—remains both painful and uncomfortable for many.
Leaving the exhibition, I encountered three circular reception desks, with three maxims written on the wall in gold text. This piece, The Probable Trust Registry, from 2013, won a Golden Lion at the Venice Biennale in 2015. Its placement at the end of the retrospective feels a bit like an afterthought—one of the attendants told me that most people walked right past, or mistook it for an information desk. The piece is an interactive one: participants sign an agreement to obey one of the maxims on the wall. I chose "I will always mean what I say"; I intend to keep to it. In the statement accompanying the award, the jury wrote that the piece encourages viewers "to engage in a lifelong performance of personal responsibility." Yet the questions posed by the other work in Piper's retrospective feel more urgent. More than a performance of personal responsibility, what are our responsibilities to the others—those who hurt us; those whom we hurt—in our lives? Piper's work suggests, in its scope and in its determination to rewrite, heal, and reframe, that we have much to do in untangling ourselves from the pathologies of racism and sexism. But there are some tools. We can observe, and be honest, and learn empathy, and listen.
Adrian Piper: A Synthesis of Intuitions, 1965-2016 is on view at MoMA through July 22.