The Years, 2018. Image courtesy of the artist and The Kitchen. Photo by Jason Mandella.
Memories Don't Stop, They Pile Up: The Pioneering Video Art of Charles Atlas
In his new show at The Kitchen, the artist stitches together 50 years of his erotic, joyful, avant-garde films.
The Years, 2018. Image courtesy of the artist and The Kitchen. Photo by Jason Mandella.
Since 1968—around the time he relocated to New York City from St. Louis, Missouri, and shortly after he watched Andy Warhol's split-screen erotica Chelsea Girls—Charles Atlas has been producing video and performance work that hurtles forward at breakneck speed. His radical films of dance and life—of life as dance—are always on, on, on, scintillating and gleaming; tender, hard-core and campy; imbued with the jerky thrills, acerbic wit and jangling insanity of a line from Marinetti's 1909 Futurist manifesto. (In a questionnaire for Frieze last year, Atlas was asked "What do you like the look of?" He responded: "Disbelief.")

And yet, in his new show at Chelsea institution The Kitchen, the past is here, the futures are coming, the artist slows a little. He is reflective, and nostalgic (well, as nostalgic as Atlas can be—these works are not saccharine or overly sentimental, though they are carefully compiled). Trawling through five decades of old films, here he stops to examine what he's done with his art, which is to say, he casts a retrospective gaze over his life.

But the past is here isn't exactly a retrospective. Its two major video installations, located in the main gallery, were made in 2018, and a string of new performances dubbed The Kitchen Follies will accompany it. But there's a retrograde thread throughout—the artist is nearing 70, after all, and a sense that he's spent infinite hours sifting through a life of material, recutting and reframing it, finding what rhymes with the current zeitgeist, blowing it up in variegated color.
The show begins on The Kitchen's second level, where two small rooms house four monitors atop plinths, each displaying two of Atlas's collaborations with choreographers. All have sound, but turned so low it's barely audible; you must crouch and lean very close to hear. The videos are plucked from the 80s and the last couple of years: they are made with choreographers like Yvonne Rainer, Karole Armitage, Michael Clark, and with the Merce Cunningham dance company, for whom Atlas was assistant stage manager, then production manager and lighting designer, and eventually filmmaker-in-residence. One screen plays Because we must (1989), where a gimp-masked, ruffle-leotard-wearing Leigh Bowery rolls along a surface that appears to be a moving dinner plate. Forms move in and out of frame, overlapping and merging like apparitions: the same leotard-clad body is upright and walking, shot from behind, then from front-on, a naked woman appears, nipples outward like eyes, head tilted back, while an unidentified figure kneels before her, apparently performing cunnilingus.
The work that dominates the pitch-black main gallery, 2003 (2018), is a kaleidoscopic four-channel installation. It looks like a digital patchwork quilt. Its neon hues flicker, like a mosaic. It is, at its core, one work about another. Atlas has sampled 36 moving, glitchy "portraits," plucked from the original 55 he shot back in 2003 for Instant Fame! (For those who don't remember the Warholian project: Atlas filmed artists, poets and members of the public in the basement of Participant, Inc. gallery on the Lower East Side, then projected their monologues, undressings, flirtations, hula-hooping, and self-choreographed dancing upstairs as a live mix—his first. Two years later, he did a version in London.) In the new work, he has arranged these, in a panel formation, adding TV news footage he videotaped during the same period that documents America's invasion of Iraq.
"It was remarkable to me to think that we were doing this in a gallery in downtown New York, and we were also fighting a war in Iraq," he reflected on the telephone to GARAGE. "That's how all our wars have been ever since: we don't really know about them, they're not in the front pages."
2003 runs for 36 minutes with no explicit through-line. Atlas imagines a viewer might "dip in and out," wandering between it and the other installations in the show, absorbing the gargantuan, fevered scrapbook in snippets, glimpsing characters he has met and known. Jonathan Rosenbaum once said of Chelsea Girls that the apposition of two film images "gives the viewer an unusual amount of freedom in what to concentrate on," That sentiment applies to 2003. You could watch it in full several times through without moving, and still not take in its entirety: Atlas has built a layered time-capsule of epic proportions. People, words, jiggling flesh. Flickers of a far-off war. The artist trying to hold onto memory, to living beings.
On screen, in one corner, Eileen Myles reads a poem. In another, a man explains the origins of his arm tattoos. Above, artist Mimi Gross draws a body while another strips freely below it, shaking nipple-pastied tits and hips cut by the slim band of a G-string. With its remixy, chop-change interviews and unscripted performances—Atlas tried to honor each participant, giving them roughly two minutes airtime— 2003 is waggish and sad and explicitly erotic, sometimes all at once. Stand at a distance and the audio is cacophonous. Under one of two speakers individual voices become clearer, as does a musical soundtrack. At the opening, Atlas likened it to a Rauschenberg Combine, in which every element is flattened, stripped of its hierarchy.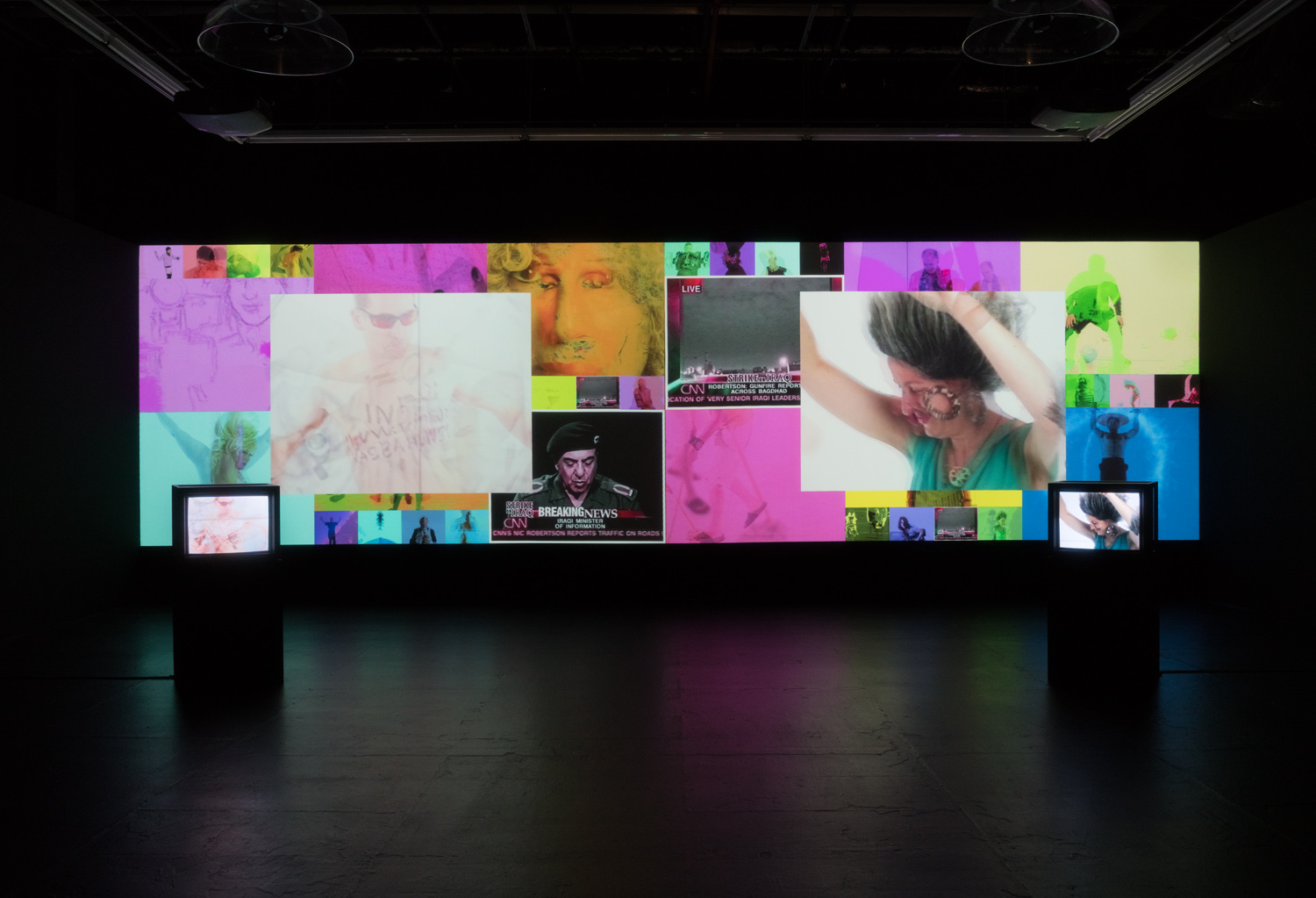 Turn away from this madcap visual hodgepodge and you'll spy The Years, a silent work comprising four stacked screen towers. Excerpts of Atlas's works from the early 80s through last year slowly scroll up each tower, like 'best of' career clips: live performance, fashion, dance for camera, pornos. High above the twisting forms and bloodied faces hovers a projection of four ghostly teen girls—aged 13 or 14—on plexiglass.
Atlas filmed them the day before the show's opening. It took two ten-minute takes. "I knew I wanted to make a video graveyard," said Atlas, "and I was basically contemplating my own death. I was wondering if the work I had made would be of any interest or use to people in the future—[so] those figures in the back are ghosts of the future. They're a certain age for two reasons: they'll be alive when I die, and, well, I'm a child of the 60s. I've been waiting…for a protest generation. They're possibly it, I hope."

The Years is simple and exquisite, but feels like it's designed to be housed in a quieter room. Its tombstone-like arrangement of screens has a meditative tenor. In sharing the main gallery, it loses a little of its power; the garbled sounds of 2003 are ever-present, constantly tempting you away. Maybe Atlas is undermining the myth of the gallery as an ordered, sanctified space by letting various filmic chapters bleed into one another. The way we consume media has changed, after all: every screen is followed by another, begging for attention.
Atlas has never liked mock-cinema set-ups in galleries: heavy curtains and rows of chairs. He would like his audience to have physical agency, to walk around a work, to drift in and out of the room, which is what happens here. And besides, he's wanted to construct 2003 for many years, and is aware of his mortality. "Given where I am in my life," he says, "I thought if I don't do it now, I'm never going to do it." At times, Atlas's many-hued, clangorous sequences feel unsettling and strange: bombs go off in Iraq as a man pats a dog. The sheer size of both images against The Kitchen's black wall threatens to swallow us whole. At other times they feel as warm and reassuring as the afternoon sun against your back, right before it disappears.
the past is here, the futures are coming is on view at The Kitchen through May 12.