Photograph courtesy of Loewe.
These Loewe Textile Totes Are Your New Non-Problematic Fave
The brand shows how to collaborate responsibly with fabric artisans.
Photograph courtesy of Loewe.
Jonathan Anderson is a true fabric freak. His collections for Loewe, in particular, are miraculous strata of linens, cottons, and silks in imaginative swaths and mellow prints. The Milan design fair Salone del Mobile, then, was the perfect place for Anderson to launch Loewe's textile line, which included a line of beautiful and super-tactile bags. The bags were made "using a variety of artisanal textiles and craft techniques," the press release reads, and were sold originally at the fair and are now for sale at Loewe.com.
But in this I'm-dressed-like-I-just-got-back-from-Tulum (but it's actually all stuff by a luxury designer appropriating traditional handcrafts) world, what do "artisanal textiles" and "craft techniques" mean? For Loewe, it's not mere jargon. "The goal was to combine the advanced expertise of the house's workshops with the work of smaller but equally knowledgeable ateliers [who] specialize in a range of craft forms, regardless of location," states the press release.
Anderson and his team traveled to Asia, Africa, South America, and throughout Europe to find these textile craftsmen. There is ribbon hand-embroidery from India; pieces made with boro, a type of Japanese textile-making in which fabrics are patched together; and a Senegalese patchwork technique. The brand also sourced sheared fur from the vicuña, an animal that can only be shorn every three years because it produces such a small amount of its extremely fine wool. (I can just picture Pusha T, who name-dropped Loewe on "Feel the Love" earlier this year, nodding in extreme approval.)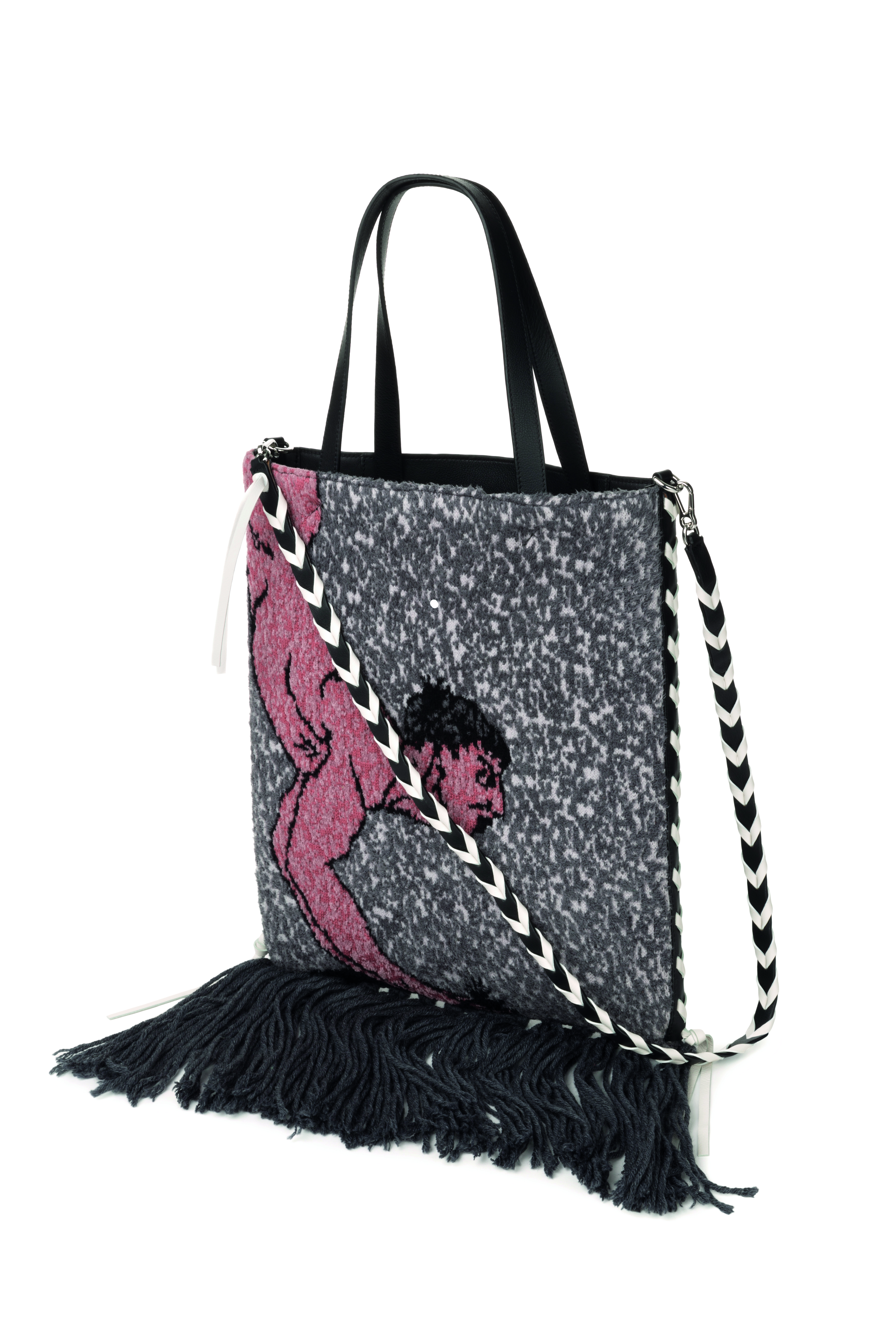 One standout bag features a man diving like a scene from an ancient Greek mosaic; it's a jacquard motif tapestry knit in Italy. Another features a close-up of "Two Young Men in Togas," a photograph by German photographer Wilhelm von Gloeden. Also, there is one covered in pink fish!
See the full line of bags below.