Martine Rose Presents Fake Hair for Real Heads Only
Not to be predictable, but...wig.
If you had to describe Martine Rose's Spring 2020 collection in one word, 'wigs' would do the trick. At the London designer's show, wigs sat on top of wigs, as if competing for attention. Nearly all lopsided and showing the hair underneath, there were platinum bombshell waves, tight old lady curls and glimmers of Beetlejuice. One reminded me, in both its dimensions and seeming agency, of The Addams Family's Cousin Itt. These were wig wigs—wigs that weren't trying to be hair.
They weren't unique to Martine Rose either. For several seasons wigs have been appearing on Telfar runways, where they sit askew and sometimes back to front, in rinses that are just slightly off. They were at Paria Farzaneh's Spring 2020 runway, chilling as slick identical black bobs paired with blurred masks. For Moschino's Resort 2020 collection they were pus green and Halloween orange, and in a recent SSENSE editorial, shot by TORSO, a mullet wig gestured to the '80s. On-screen, Yorgos Lanthimos's The Favourite had Marie Antoinette-style wigs, with the absurd formal decadence that now only appear in pale imitation as British courtroom wigs.
Gary Gill, hairstylist and contributing beauty editor to Dazed and Confused Magazine, was the brains behind the wigs at the Martine Rose show. "It was very spontaneous, there was no prepping or planning. I just threw loads of old wigs, a lot of them cheap, in bags and tried them all on different guys," he told me over email. Inspired by club kids, these were after - party looks, of boys trying on ill-fitting wigs for the first time then falling asleep in their taxis home, squashing their wigs in the process.
Gill has felt constrained by wigs in the past, especially when he's tasked with making them look real. "I never believe what I'm looking at, not all people suit wigs, and sometimes the idea just doesn't work or the colour doesn't look right, people have high expectations of the results," he said. For Rose's show, though, he found them freeing. "I didn't have to believe it, I didn't want to, I wanted them to look wrong, cheap and unsettling."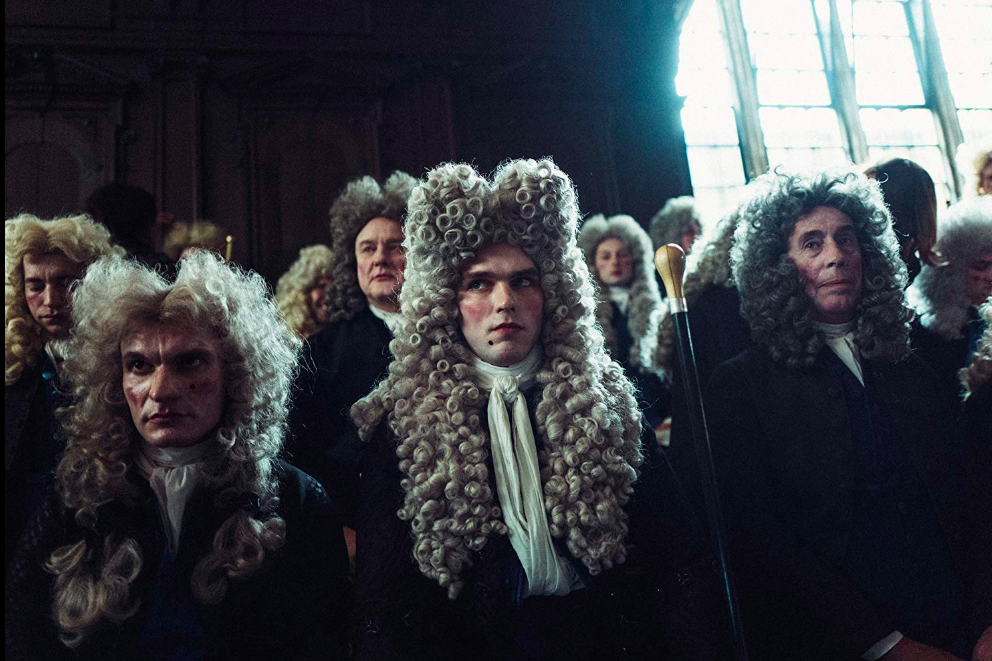 Not all wigs, of course, look wrong, but there's something so uncanny about those that do. Gender has been one of fashion's main preoccupations for a while now, and it would be easy to see the wigs as part of this. To me, though, a blurring of gender norms, or a highlighting of gender's performative nature, feels like an incomplete explanation for these particular wigs. Although undoubtedly performative, these wigs are so far from having any semblance to real hair that they don't easily code as female or male; they're like something else entirely.
Obvious wigs have a way of signaling, whether they want to or not, that things aren't what they seem. TORSO's editorial, titled 'The Great American Simulation,' ran with an accompanying text that referenced "the unreal reality" of the simulation we may currently be in. Extreme wigs have long been part of the make-up of John Waters' most extreme characters. In a recent conversation with E. Alex Jung for Vulture, the Pope of Trash noted that, "People thought Divine—they always think wrong—was trans… He didn't want to pass as a woman; he wanted to pass as a monster."
With monsters on my mind, I go to see the writer and curator Charlie Fox's show, My Head Is A Haunted House, at London's Sadie Coles Gallery. (Waters has, incidentally, described Fox as "the real thing.") Sitting near the front desk is a whole cabinet of wolf masks by Emily Schubert in wigs, one in Day Glo orange, sticky black and Andy Warhol white. I emailed Fox: what is it about wigs? And, just after midnight, he replied:
"I wore a radioactive green Troll wig, blood tears, black metal make-up and clown shoes to a lame thing about Diane Arbus where I had to talk about her work. Arbus figured out the 'wrong' style— lurid shirts, sex kitten garms on morbidly overweight drag queens, and, yup, wigs that look like they were made from partially frozen roadkill— are way more 🤤 than 'normal' stuff.
Wearing the wigs made me feel pretty wild. Extra freaky. Remember that moment in The Simpsons where Bart's playing with his Troll doll in the church? Marge gets furious, saying, "I don't want you playing with something that has such bizarre hair!" It's fun to be bizarre, it's hot, it's fun to be trashy, deranged, gleefully wrong. Parody turns things inside out—a wig is a parody of 'hair'. Parody is magic. Why so serious? It's fun to be a Troll in church."