Clothes and accessories for sale at a flea market at the Izmaylovo Kremlin during the 2018 FIFA World Cup. (Photo by Artyom Geodakyan\TASS via Getty Images)
When Wearing Vintage Clothing Means Reliving a Painful Past
Used clothing in Russia is often seen as a "dirty" reminder of the country's fraught history, but could that be starting to change?
Clothes and accessories for sale at a flea market at the Izmaylovo Kremlin during the 2018 FIFA World Cup. (Photo by Artyom Geodakyan\TASS via Getty Images)
I have a little ritual I put into practice whenever I visit a new city. First, I locate the nearest hospital (ancient Jewish tradition); next, I look up Bon Appetit's recommendations for where to eat in the area (Claire Saffitz, run me over!!!!!); finally, I Google "vintage clothes near me."
This cursory Google search has led me to some of the greatest, weirdest purchases of my life, from an exorbitantly priced, hand-silkscreened robe I bought at a little shop in Ho Chi Minh City under the justification that I would "wear it every day" (I accidentally left it in my Airbnb) to a pair of 5-euro clear plastic clogs I unearthed in a Berlin kilo shop, where everything is priced by weight.
Regardless of what I do or don't purchase, though, my global quest for vintage has nearly always put me in touch with a similar demographic of short-banged, bespectacled used-clothing aficionados; everywhere from Paris to Prague, there's a kind of international language among travelers seeking things that once belonged to someone else. Whether they're frequenting luxury consignment boutiques or my beloved pound shops, they seem to be in search of something bigger than a souvenir, something that will shed some light on what it really means to be an inhabitant of the city they're shopping in.
When I arrived in Moscow, the city of my early childhood, for Russian Fashion Week, my fellow American and Western European journalists and I were enthusiastic about cutting out of a few of the shows early to check out the local vintage scene. Armed only with Yelp and Google reviews, we headed to a promising-looking shop called Yarko Vintage not far from our hotel, only to find...a travel agency.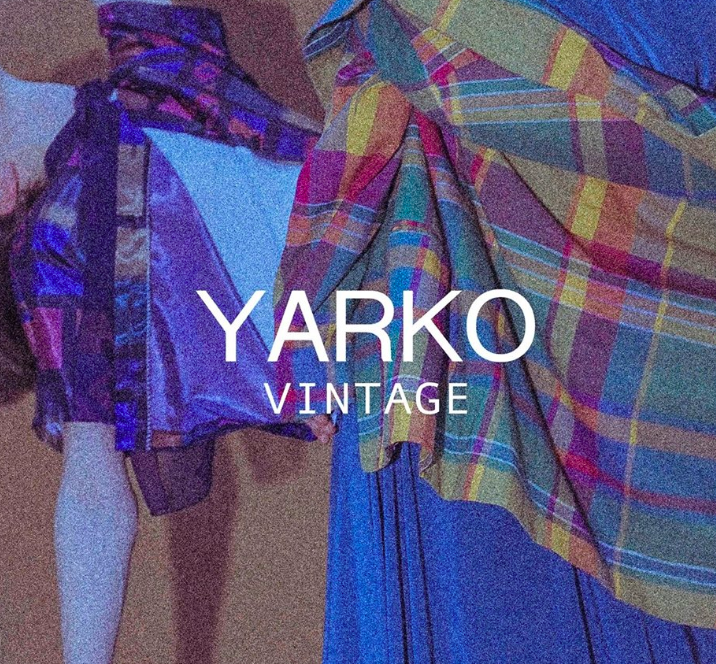 Actually, to be more specific, the travel agency was inside one of Moscow's many shady, car-lined courtyards off a main road, located on the third floor of a dark apartment building presided over by a sleepy-looking guard. We climbed the steps warily and asked a guy outside the travel agency for directions; he pointed us down another hallway, where, finally, we found Yarko "Vintage," a shop of primarily new clothes (Zara-style jumpsuits and cheap polka-dot dresses featured heavily) with a couple of racks devoted to authentic vintage.
What little used clothing Yarko had on offer was great (I scored an '80s-era blazer minus the obligatory shoulder pads, while my friend Sara walked away with an excellent cherry-print top), but it was clear from the shop's out-of-the-way location and limited vintage wares that they weren't exactly catering to a bustling subculture of vintage-seekers. Fashion played its own pivotal role in the fall of the USSR, when Western-style jeans functioned as "a symbol of freedom and success" worth going to jail for, but the vintage Levi's that would go for hundreds of dollars in Brooklyn have been all but abandoned in Russia.
Another couple of shops we visited were closed, and by far our most surreal experience came at another out-of-the-way shop, where we made complicated arrangements via translator to be buzzed up to yet another hallway that contained a pair of long, out-of-the-way cabinets. Busy-looking, chic Russians hurried past us as we dared to pry open the cabinets, both of which were filled with sparkling vintage '60s go-go dresses that wouldn't look out of place on Megan Draper.
At Vintage Voyage, a luxury consignment store in Moscow that boasts a tidy online presence and a heavy supply of Chanel and Dior, I spoke to a 22-year-old salesgirl named Anna, who told me that the tastefully decorated boutique we were sitting in was the only one of its kind in the city. When I asked Anna whether vintage was popular in Moscow, she explained that she and her friends would occasionally to wear "stuff from their mothers and grandmothers," but most people who patronized the consignment store were visiting foreigners.
While Russian fashion tends to devote itself to relentless pursuit of the new, some designers—Roma Uvarov, for one—are proudly invoking the country's Soviet history in their designs, which is in keeping with the 14-year high of Russian nostalgia for the Soviet Union. Still, designers who express interest in using recycled or vintage materials can run into structural obstacles; at Moscow Fashion Week, the designer Ksenia Gerts told me she had approached Chinese manufacturers to incorporate used ecological materials in her latest collection, but scrapped the plan when she learned that those manufacturers simply bought new bottles and then faux-"recycled" them.
Gerts, whose newest line carries scannable chips in lieu of physical tags to avoid wasting paper, says that nonetheless, Russia's upcycling and vintage movements are "picking up momentum, little by little; people are starting to think more about passing clothes on between generations. The big, global brands repress this interest, of course, but it still exists."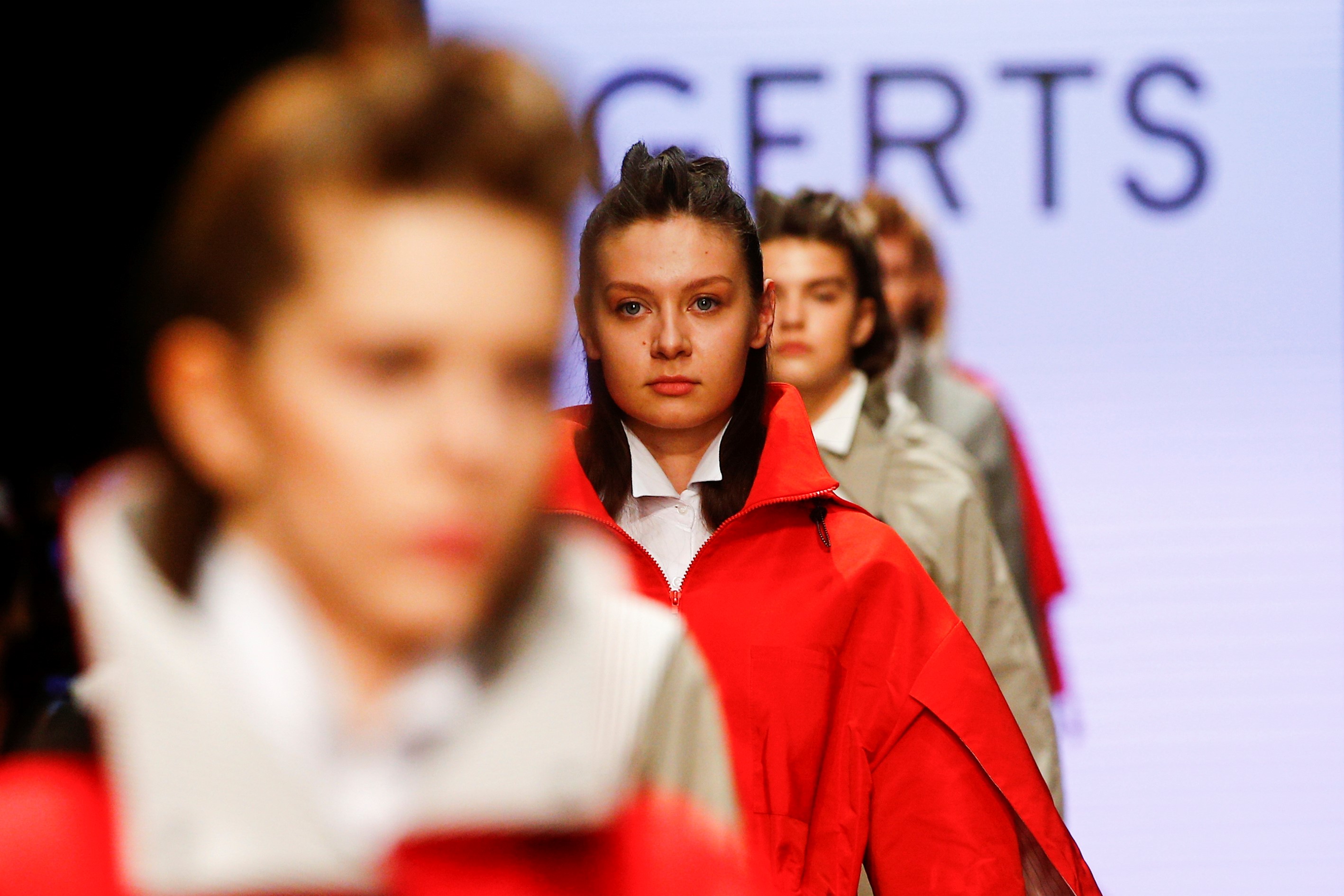 Vasily Volchok-Rusakovich, another designer who runs the streetwear brand Volchok and formerly sold Soviet-era clothing online, is cautiously optimistic about the future of vintage clothing in Russia, but he makes sure to note the ways in which the country's infrastructure can limit its view of "recycled," or used, clothing. "We don't have many recycling facilities and the people are not yet used to it," he tells me, adding, "Russian people think you take your garbage, throw it into the chute and it simply disappears. We aren't taught otherwise."
When I askVolchok-Rusakovich about how he thinks the average Russian views vintage clothing, he's introspective about the country's USSR roots: "Communism had a good side and a bad one. Constructivism, Malevich – that's cool. But the bad side is repression. People don't want to be associated with that. What you see in Russia now is the product of history. It is not possible for us to be European in our attitudes towards used clothing because our history is, well, a bit different. A bit more complicated. And now, too, it is not the best period in Russian history because we are all living in frozen time. We are waiting for change. We all internally want change and so perhaps, for this reason, we don't want the past."

The history of vintage and recycled clothing is in Russia is a fraught one, explains Christine Ruane, Professor Emerita of History at the University of Tulsa, who specializes in modern Russian and European history. "Due to the constant fighting that persisted from 1917 to 1921, virtually no new clothing was produced. Individuals had to repurpose old clothing or recycle other fabrics such as drapesto make something that they could wear. Once the Russian Civil War was over, it took the economy a long time to recover. The government prioritized the needs of heavy industry over light industry. There were constant shortages of consumer goods throughout the 1920s and 1930s—dresses, coats, shoes, underwear. Many women made their own clothes if they could find the fabric to do so."
I thought back to Ruane's words on one of my last days in Moscow, when I went to visit the historic Izmaylovo flea market. Here, at last, was the Soviet kitsch I'd been looking for, primarily in the form of rusted-out children's toys and old-school electronics, but among them lay the odd pair of spindly high heels, concert tee or '80s-era shoulder-padded jacket.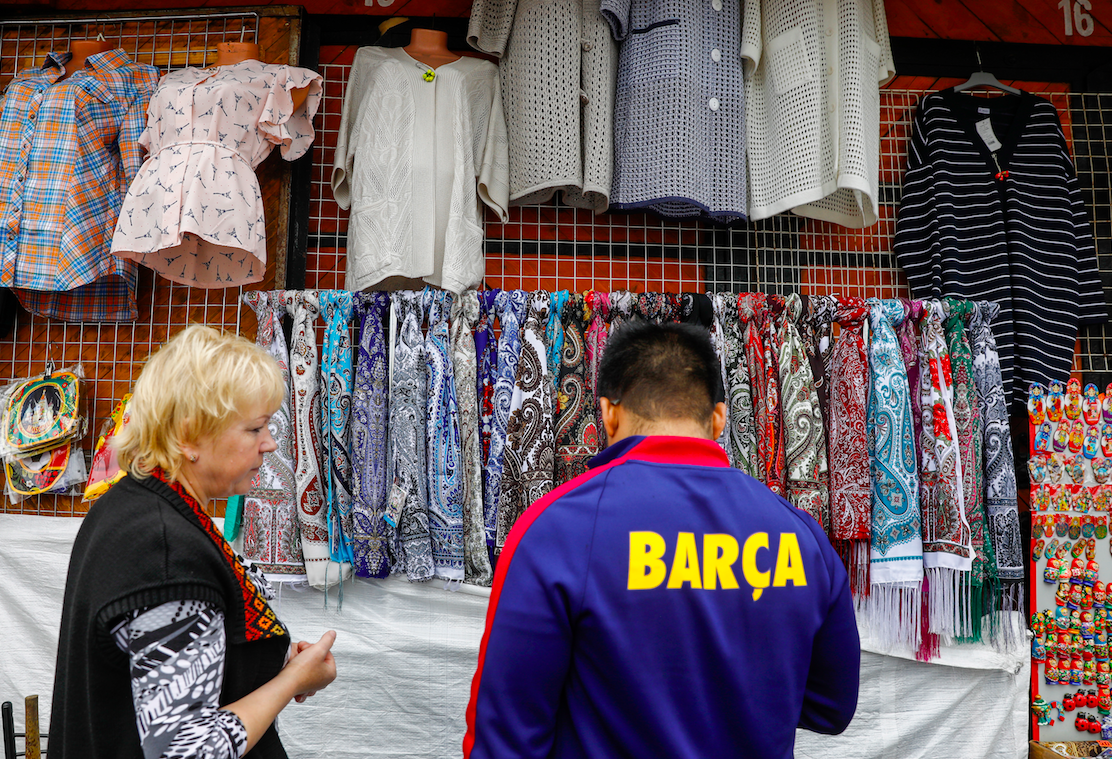 Russians do make appearances at Izmaylovo, of course— "Don't touch that, it's dirty," I heard one Russian mother snap at her young daughter as she outstretched one hand toward a vintage locket—but, as had been the case at Vintage Voyage, the average Izmaylovo shopper appeared to be a tourist intent on scoring some Soviet-era swag (albeit for a much lower price point.) In contrast, the actual Russians I got to know were more concerned with American and Western European exports like Adidas and Zara—the most crowded place I visited all week was a Nike store in Moscow's central district.
Maybe, as the U.S.S.R. fades into an increasingly distant memory, Russians will increasingly grow to embrace its history through clothing, as is the case in America, where the apparel resale market is expected to hit $41 billion by 2022. On the other hand, maybe the country's complex legacy of consumer-goods shortages and collective idealization of Western fashion is simply too powerful a force for vintage to ever really go mainstream in Russia. It's a cliche, but one that holds weight; only time will tell.