Jeremy Scott is Truly Outrageous
The designer does over-the-top '80s for Spring 2020.
Photo: Marco Ovando Courtesy Jeremy Scott
"Do you want to go backstage? I warn you: It will be a little chaotic," I hear someone ask Jameela Jamil amidst the mayhem that ensues after Jeremy Scott's Spring/Summer 2020 runway show on Friday night. "I'd really rather not," Jamil tells her. "I'll just text Jeremy."
Snaking around Gigi Hadid, Offset, Quavo and Heidi Klum, I spot The Real Housewives of Beverly Hills star Erika Jayne making her way backstage. I follow in lock stop as we step backstage into the brainchild of Jeremy Scott who is already manning the recession line of friends, colleagues and admirers, many of whom want to congratulate the designer; all of whom want a selfie.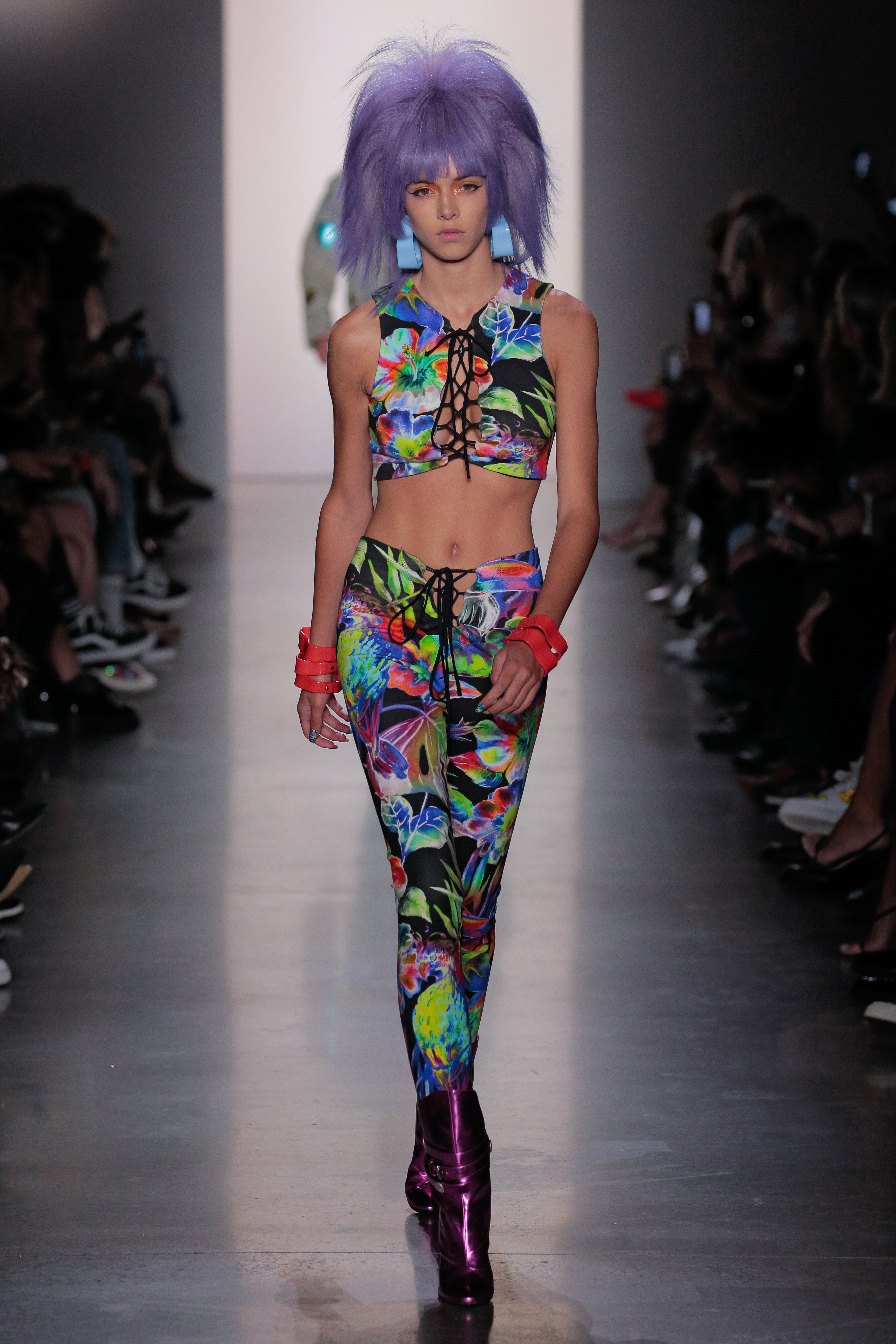 I listen carefully as Scott asks each of them what they thought of the show and then listens intently. "People that are coming to my shows are my friends and I love to hear what they think," he tells GARAGE. "I love to hear if they like the show." And what if they perhaps don't, I ask him. Would they be so bold as to say that? "I imagine it's happened. I have this philosophy, if you can imagine something, it's happened. 'Has anyone died driving on the highway driving a 100 miles per hour?' Yep. Probably."
As for the clothes, there was a buffer of neon, zebra stripes, metallic leather. If it was shiny, loud, or colorful, it found itself at home among the 58 looks Scott paraded down the runway. I'd be remiss if I did not mention the Party City-esque glam rock wigs worn by all of the female models. "I was just thinking about rock stars," Scott says. "I do so much with musicians already, but this was really about creating my own imaginary rockstar." This vision included prom dresses, chaps, and over 30,000 crystals embedded in and on the garments.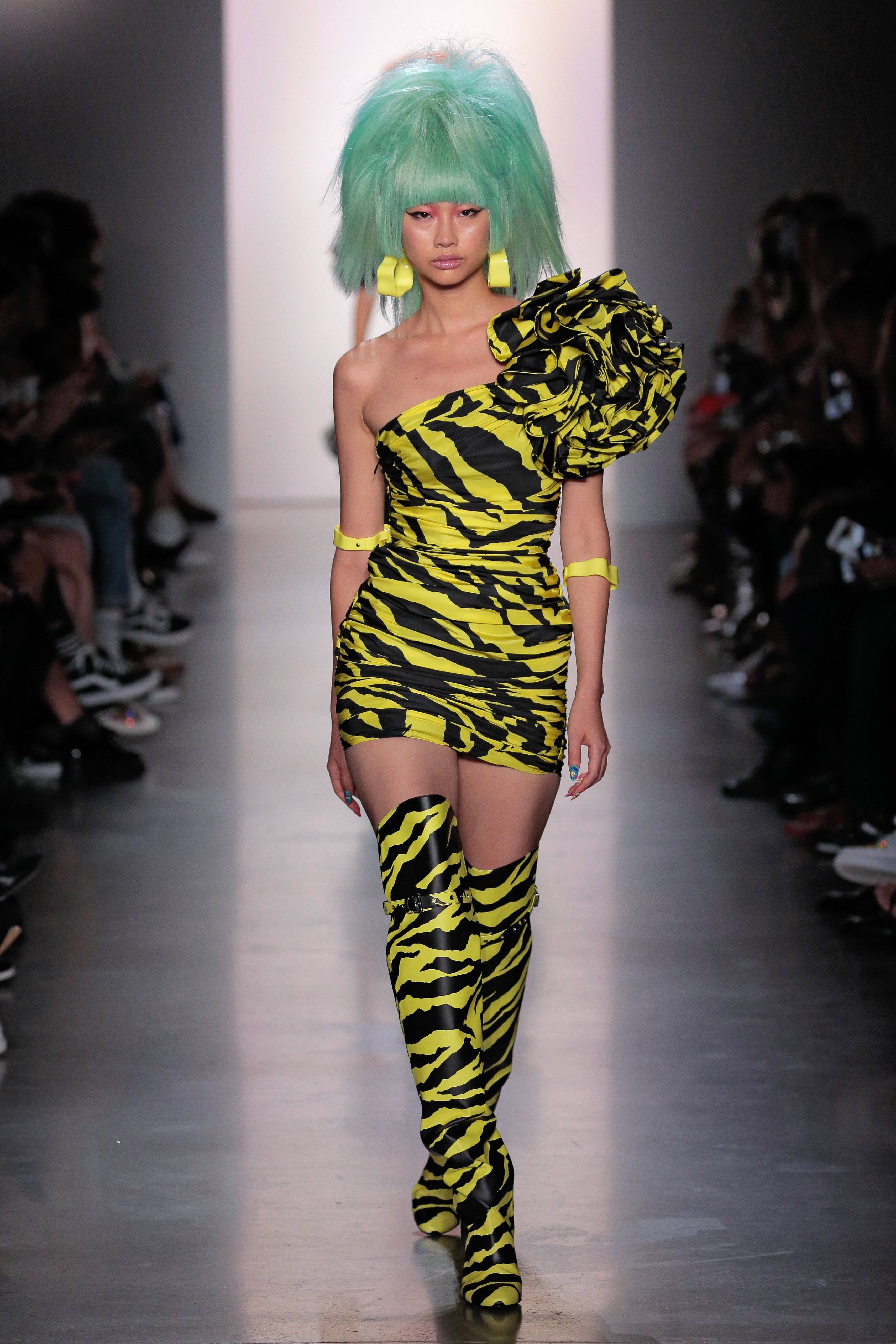 This was a direct contrast from the designer's Fall/Winter 2019 collection, which was both smaller (46 looks) and entirely in black and white. "I wanted to kind of play with color maybe because I was so black and white last time and so devoid of color that it seemed like the natural thing to do was to have an orgy of color."
I'd be remiss if I didn't ask Scott about his relationship with Erikya Jayne, who memorably wore a look from Moschino's SS19 collection on the most recent season of RHOBH and has named drop the designer as her personal fave.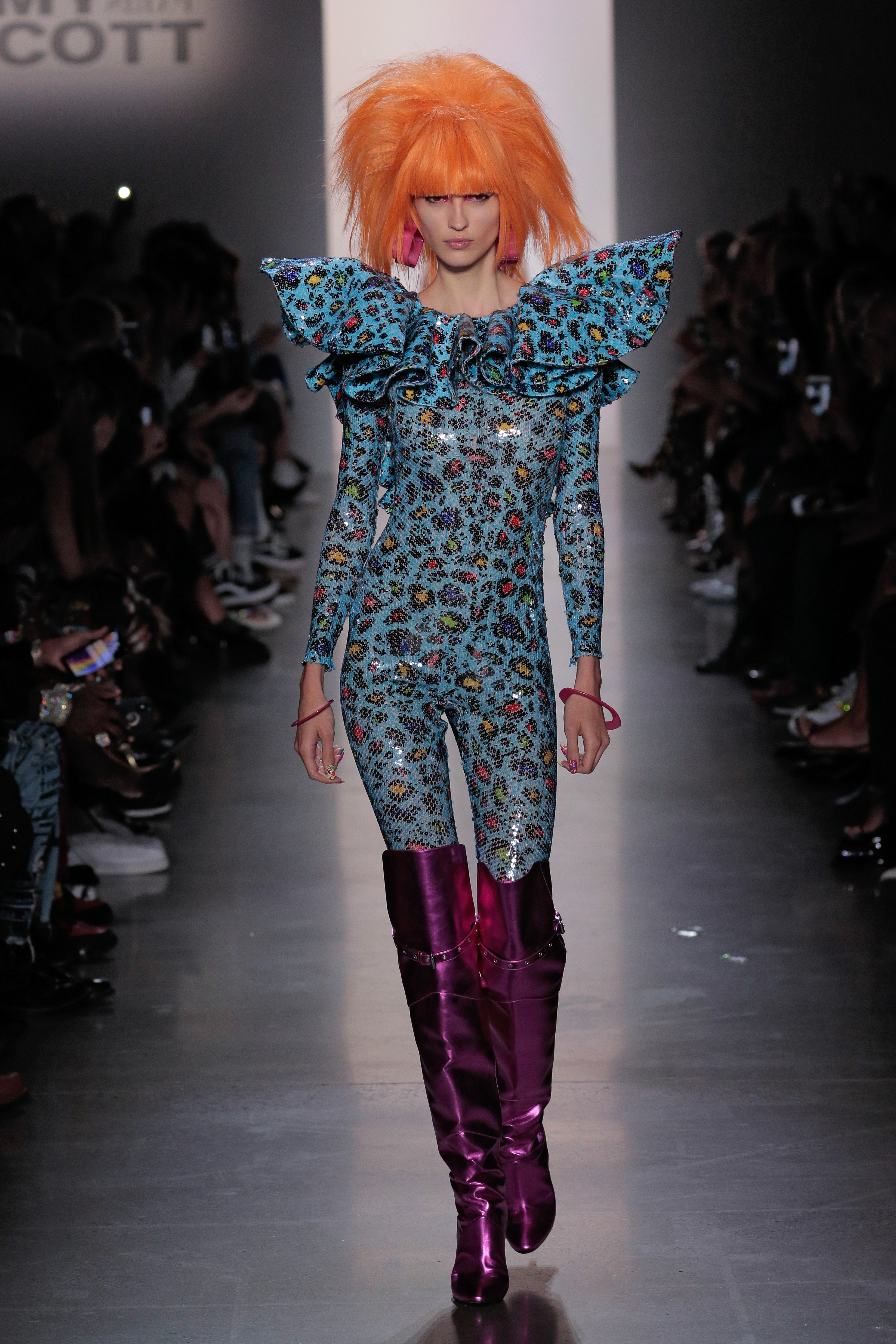 "Well Erika is such a true, genuine fan. I don't watch the show actually and I've never watched any of those Housewives chains. When I met her, she came to a fan event that I did in LA a few years ago now, and I was just so touched by how sweet she is. And really the things that she said to me were no different than the things Japanese kids stop and tell me on the street. I was very disarmed because underneath the glossy exterior I did not expect this very sincere heart telling me that 'your clothes make me feel like who I am."
And judging by the myriad of last season Jeremy Scott and Moschino looks being worn front row, backstage, and even in the gathering fans waiting outside of Spring Studios, she's not the only one.