A Maslow Hierarchy of New York Fashion Week Needs
Which items from the city's Spring 2020 collections fulfill your esteem needs?
Courtesy of Tom Ford
The thing that we know about fashion, but that fashion people—fashion writers—like to remind you, is that fashion is not just about covering your body but about expressing your self. (Not yourself but your self.) In 1943 American psychologist Abraham Maslow proposed his well-known "Hierarchy of Needs," in a paper named "A Theory of Human Motivation" that was published in the Psychological Review journal. You're of course familiar with its triangle visualization, and the five levels that represent each of the driving forces behind human behavior: the basic needs which include things like safety, food, and water; the psychological needs which include the feelings of belonging, and self esteem, and the last one, self actualization. We at GARAGE thought, well, this seems like the perfect lens through which to examine the Spring 2020 collections. Beyond do I look good in this? and does this tell everyone that I'm *that* bitch—what's driving us to shop next season? But like, psychologically driving us?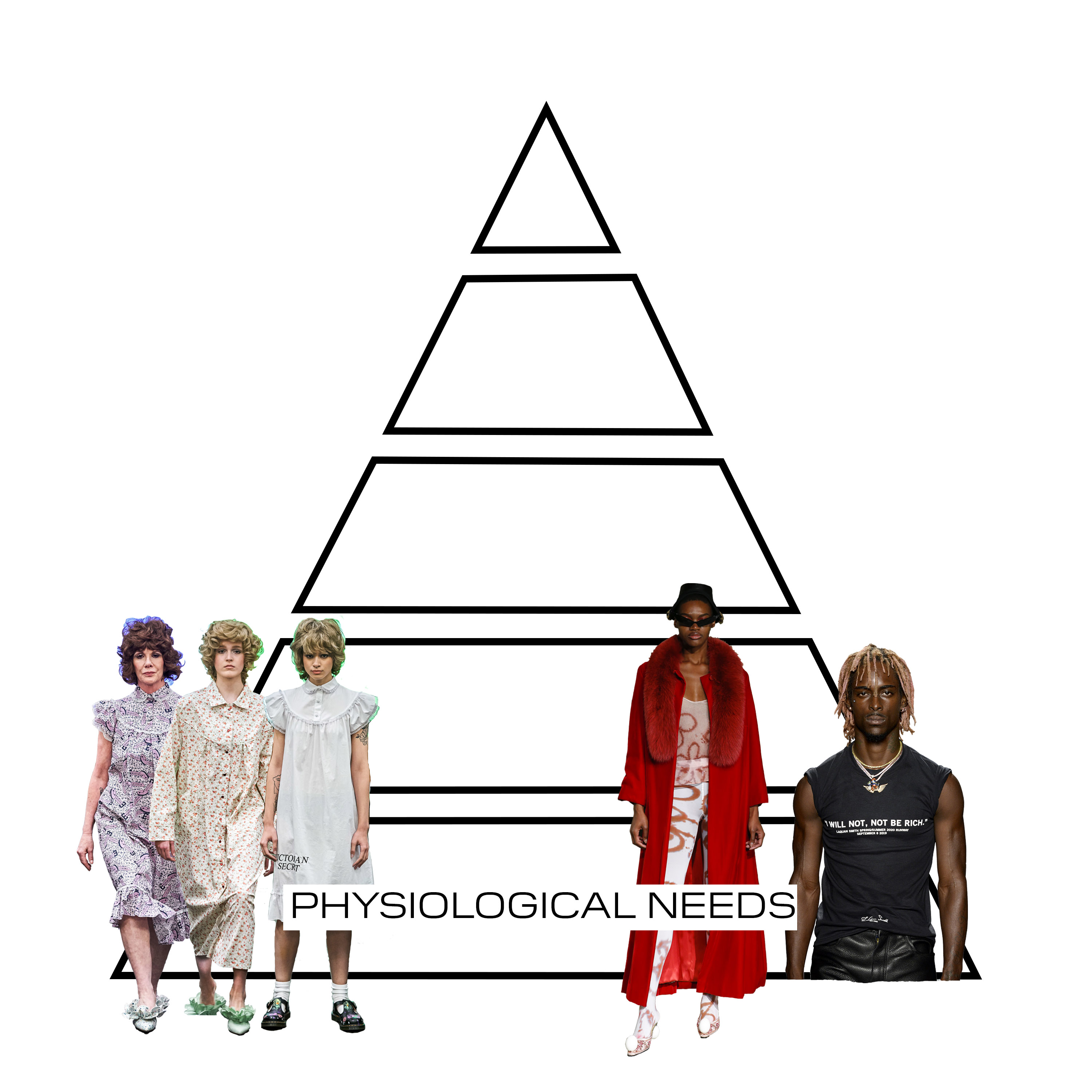 The New York designers truly thought of all the ways they could cater to us this season, fulfilling even our physiological needs. True, we saw no edible clothes (yet), but we were covered everywhere else. LaQuan Smith's spring collection was a double-entendre'd hoedown with lots of bare skin, cowboy hats, and snakeskin, and in between all that, out went a t-shirt bearing the quote "I will not not be rich," first uttered by Renata in Big Little Lies, and immediately co-opted by the whole internet. Smith knows we can't fulfill our most basic needs without money. (He is also currently the most likely heir to the Tom Ford at Gucci—circa mid '90s—throne). When it comes to your rest and comfort, you can turn to Batsheva Hay, who sent a wide variety of nightgowns and housecoats down the runway (which was actually not a runway but the auditorium in the basement of the New York Law School). Instead of music, Batsheva had three academics read papers on her work. "The house dress, the schmatta, the schmatta, drastically reduced —a tabula rasa, a projection screen upon which one might view the glyphs of one's own history unfolding," read Melissa Ragnona, an associate professor of visual culture and critical theory in the school of art at Carnegie Mellon university. I too love to view the glyphs of my own history unfolding. Of course nothing says "fulfilling my physiological needs" like throwing on a coat over tights and a tank top to do a bodega run of toilet paper, a pint of Haagen Dasz (it's a single serving, dammit!), and a bottle of yellow Gatorade, as seen at Puppets and Puppets. The budding label helmed by Carly Mark and Ayla Argentina's showed one of the best shows of the season. If you look closely at the shoes, you'll see a single egg, balancing precariously on the toe. Breakfast is served folx!
And yes, fashion does keep us safe. Like how at Proenza Schouler the model Aliet Sarah wore a pair of white padded leather sandals with a little bell heel, but carried with her a pair of black Birkenstocks with contrast yellow topstitching for when her feet get tired or she suddenly has to bolt. The style is a collaboration with the storied comfort brand, who until recently was considered anti-fashion. But may I remind you there is no shoe that lets the world know that you are a safe person more than a Birkenstock.
Remember that time Ani DiFranco sang "When I look down, I just miss all the good stuff/And when I loop up, I just trip over things?" Well if you get yourself a fashionably dressed buddy like at Collina Strada, you'll always be safe. But if we are talking real-deal safety, actual protection, then it's Tom Ford who has our (chests) covered with molded plastic bodices. Hit me with your best shot, fire away!, they seem to say.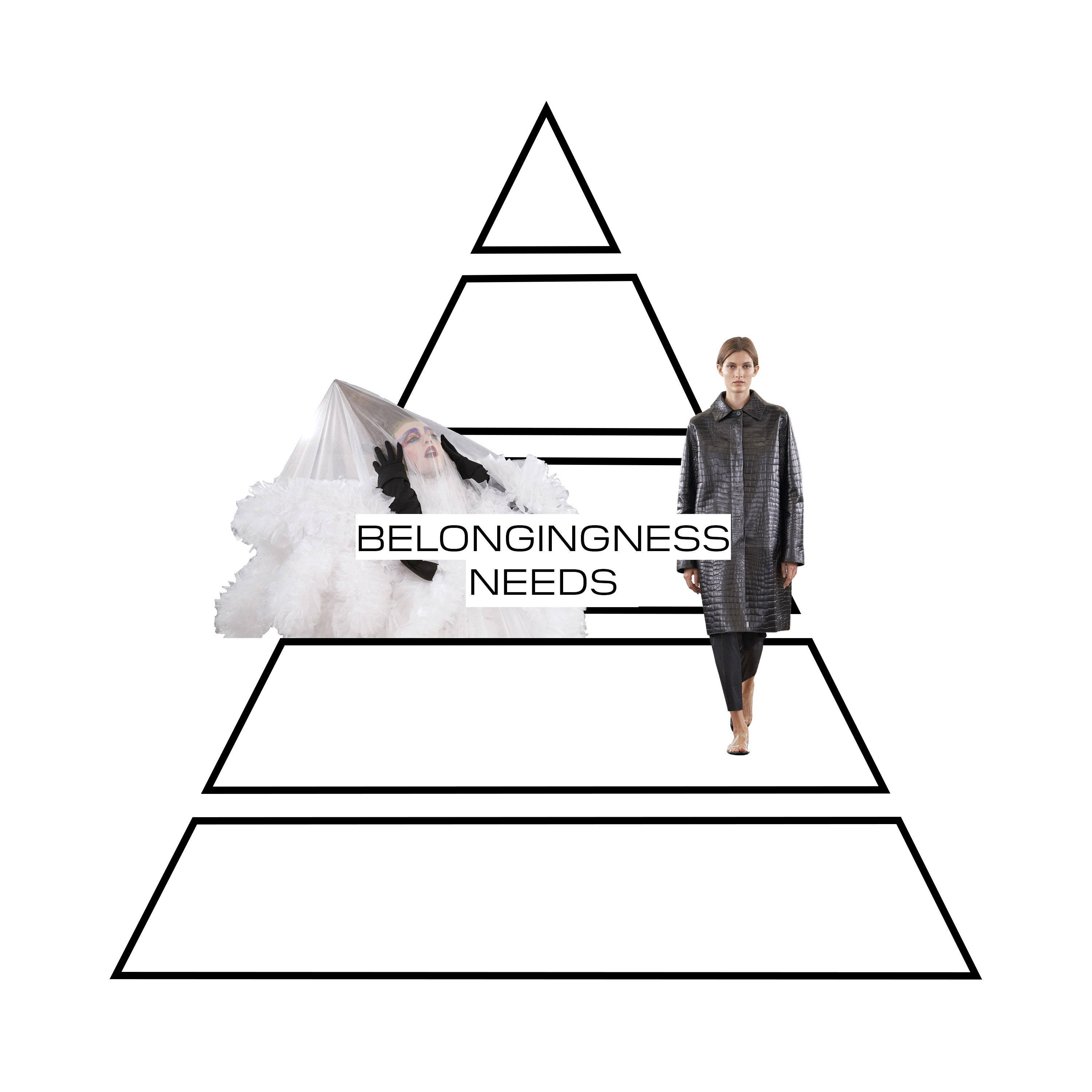 Now we are moving away from the basic needs of our bodies and into our psychological needs. Maslow talks about our desire to belong, to find love, but do you really need love if you've got an alligator coat from The Row? We're not so sure! If you do want love, have love, are searching for a real love, then there's something about Tomo Koizumi's fully unhinged bride that speaks to finding love in the time of cholera anti-vaxxers. If you're gonna do the whole wedding song and dance, you should absolutely go all in, cover yourself in tulle, turn your hair into a pointy crown! 'Til death do us part is no longer as far away as it once was, is it?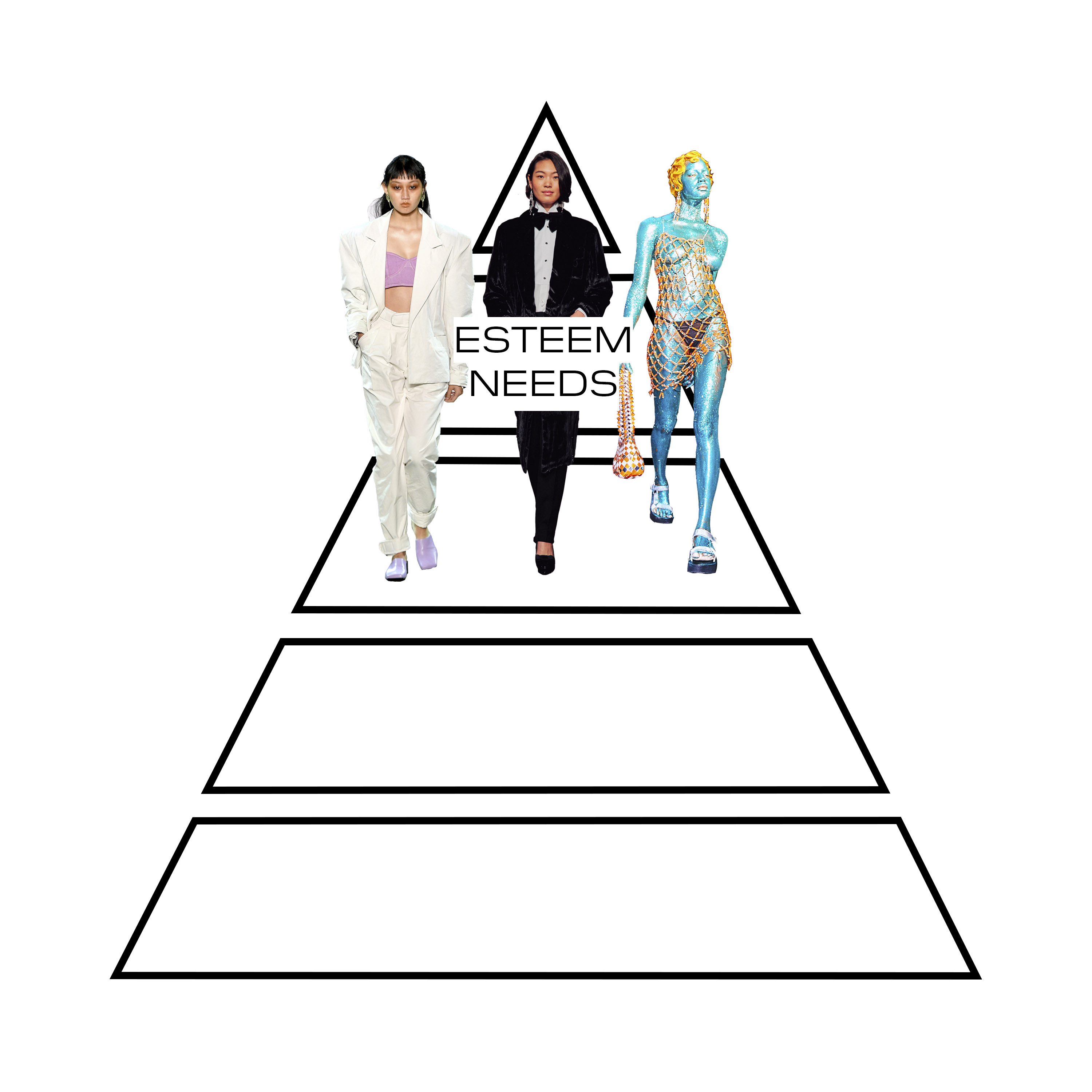 But what about our own esteem? Our feeling of prestige, getting recognitions for our accomplishments? A power suit is a power suit is a power suit, and Barragán's white version with a (you guessed it) power shoulder, worn with a bustier underneath screams "I have a head for business and a bod for sin." For those who consider themselves the most interesting folx in the world, consider Ralph Lauren's take on the tuxedo, complete with floppy bow, and velvet smoking jacket. A reminder that velvet is never not good. But let's get real, you shouldn't need a power suit or a velvet jacket to get the respect you deserve. Your own naked body is enough! But if you wanted to cover yourself in blue glitter, and wear a chain mail dress like they did at Gypsy Sport... well, no one's stopping you.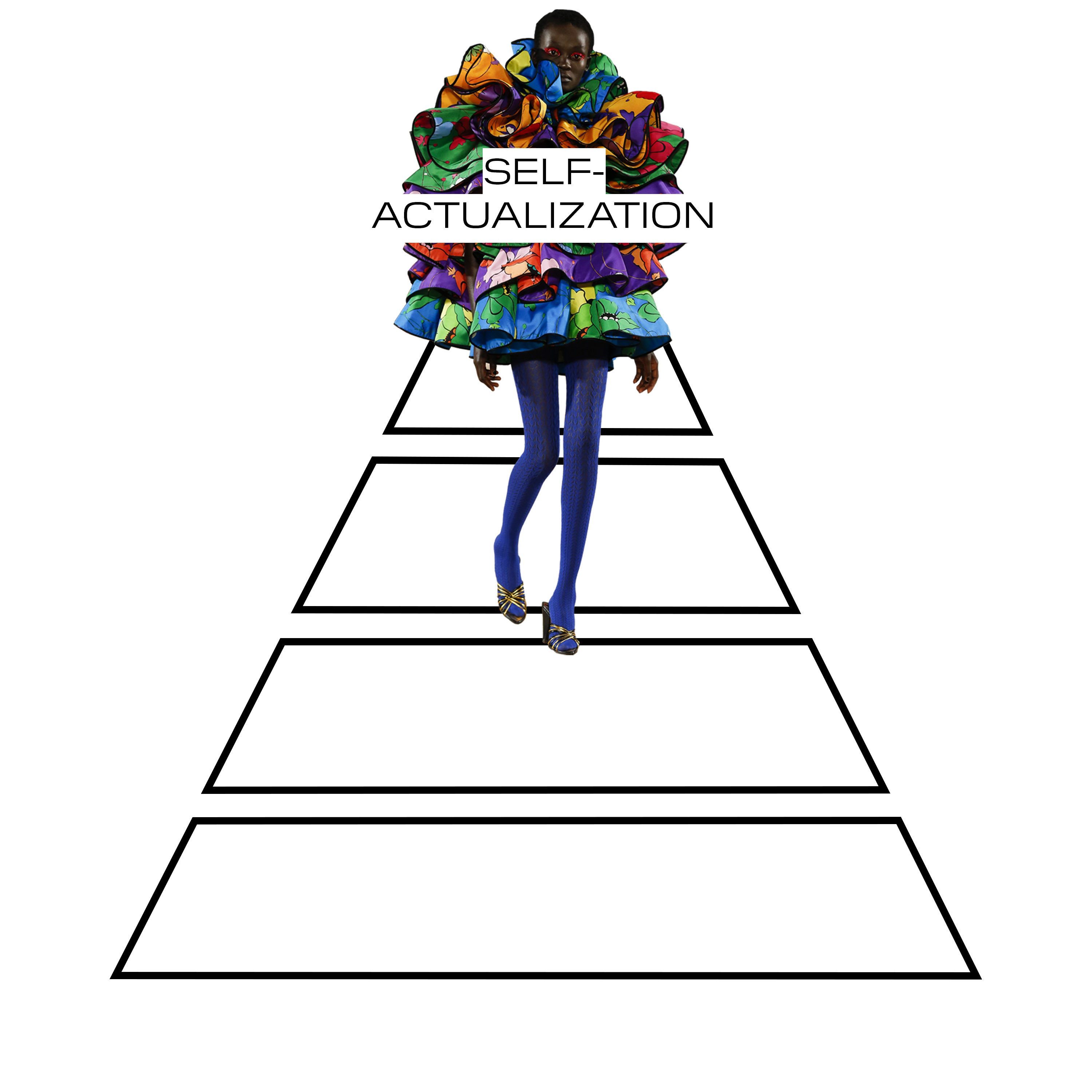 At the top of the tower is self actualization, which could only mean one New York designer—Marc Jacobs. Jacobs has been through it all, has seen it all, and now he's living his best life and encouraging everyone to do the same. His show was a pure ode to joy, a celebration of fashion, a celebration of life. Cover yourself in colorful ruffles, pull on a pair of purple tights, release your inhibitions and feel. the. rain. on. your. skin.