Tim Walker, detail from Box of Delights, 'James Spencer', London, 2018 (c) Tim Walker Studio
Tim Walker and the Secret Erotics of the Victoria & Albert Museum
The show features a different side of the photographer known for his sense of fantasy and whimsy.
Tim Walker, detail from Box of Delights, 'James Spencer', London, 2018 (c) Tim Walker Studio
There is a clique of aesthetes for whom London's Victoria & Albert Museum ripples with erotic possibility. Something about all that decadence and sensuality, the whispering hush, those endless corridors of little galleries – so infrequently visited on a midweek morning! The historic textile department, in particular, always seemed a hopeful spot for illicit encounters.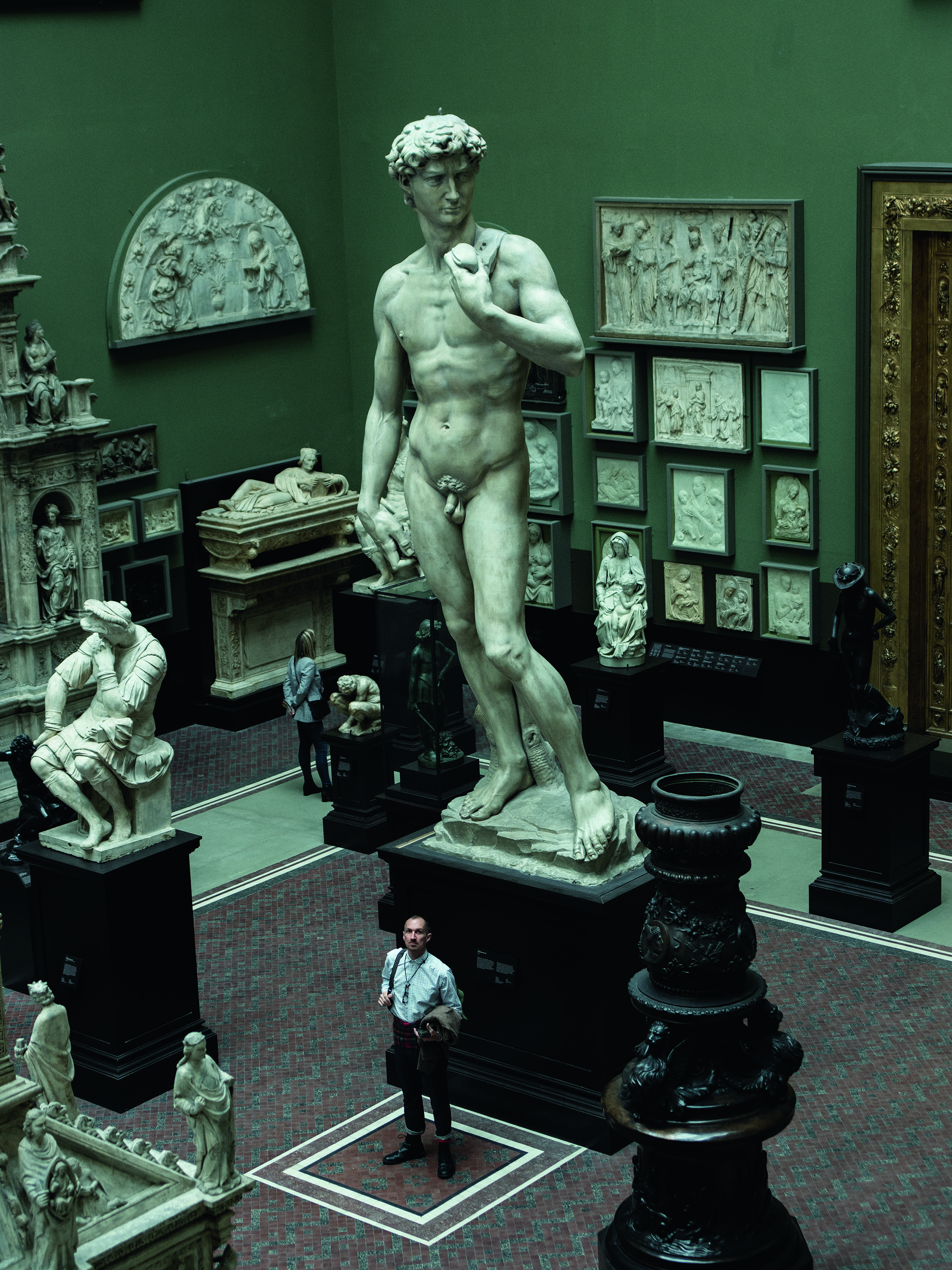 Among that clique now numbers Tim Walker. Over years of preparation for his show at the museum, the photographer took a deep archival dive into the most intimate quarters of the hallowed institution. He's climbed across the roof, through subterranean ducts, and gained access to corridors of storage. For the show, Walker shot ten stories sparked by objects from the collection, from stained glass, to inlaid snuff boxes, to the giant fig leaf used to conceal the cast plaster junk of Michelangelo's David during visits from Queen Victoria. In many cases the results are so sexually charged they almost fizz.

It's a departure for Walker, whose fantastical shoots often pay misty homage to his rural English childhood, and the world of imagination evoked by storybooks encountered there, from Alice in Wonderland, to Kit William's lavish Masquerade. He's capable of nightmares as well as dreams—giant insects, creepy dolls and wicked witches—but Walker's universe has, until now, remained childlike, magical.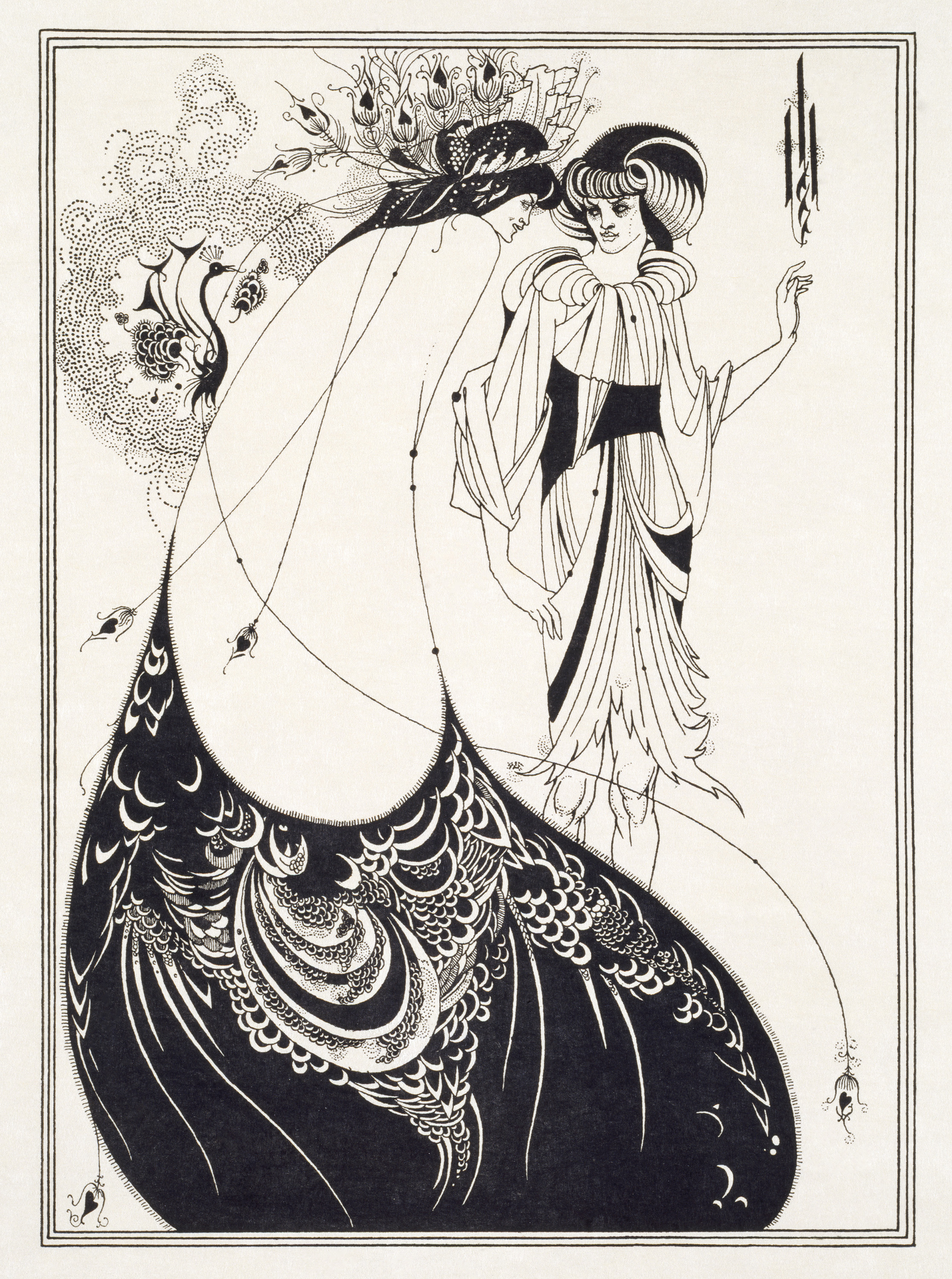 Displayed within a claustrophobic and disorienting white box, Walker's series "Pen & Ink," is a photographic love letter to the V&A's collection of drawings by Aubrey Beardsley. Beardsley died in 1898 aged only 25, but his drawings epitomize the decadent, sensual aestheticism of turn of the century London and the brilliant circle around Oscar Wilde. Beardsley provided luscious, libidinal illustrations to Wilde's outrageous translation of Salomé and Aristophanes's satire on priapic politics Lysistrata. In Walker's homage, James Crewe and Duckie Thot appear among the androgynous, fetishized bodies in a warped monochrome universe. Dots fly like spurts of ink, with black beads erupting from the head of a paper phallus, and vaginal flowers blooming as if from the end of a peacock feather.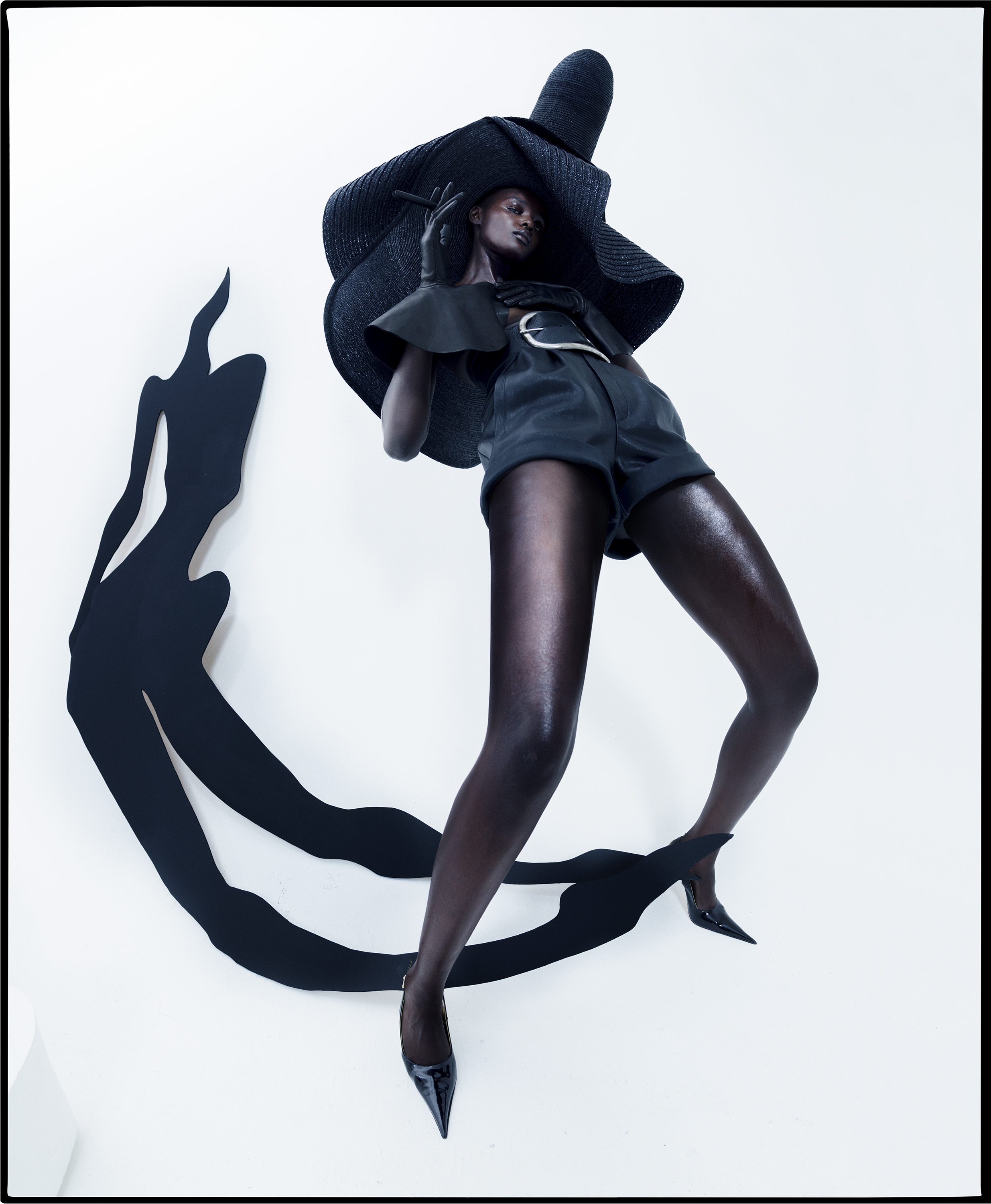 For Box of Delights, Walker tapped latex legends Hannah Rose Dalton (of Fecal Mater) and Jenkyn Van Zyl, for cameos in a gender/species-fluid fantasy world: the garden paradise hidden beneath the lid of an elaborate Chinoiserie casket. Illustrator and sometime model James Spencer stars as a kid from Lancashire in the North of England, first seen mooching on the grey, sleety streets with nothing but a cute Shetland pony for company. Rather than a casket, he finds his delights through a rip in his brick-walled reality and enters a velvety garden of masquerade and filthy flora. Spencer is gorgeously transformed as a high fashion Hermaphroditus, and the Shetland pony is re-born as a baby unicorn with a white dildo horn.
Some of Walker's most beautiful and unexpected photographs here take their cue from David's plaster fig leaf. Titled in honor of William Morris, The Land of Living Men is a romantic paean to sensual manhood in its infinite variety. Sections shot in the late summer countryside bring together a muscular nude mounted on a white Shirehorse and a trio of painted young men in great gauzy pastel gowns, clustered on the grass like Edwardian beauties. Back at the studio, on a closed set, Walker photographed two close friends – Charlie Taylor and Jérôme Thompson – as naked giants sprawling or towering over the rural landscape. In the V&A's archive Walker also found a curved circular mirror used by early photographers to direct light: it is the fish-eye vision and abraded surface of the mirror through which we see these men, nestled amid scabiosa flowers, early apples and hay.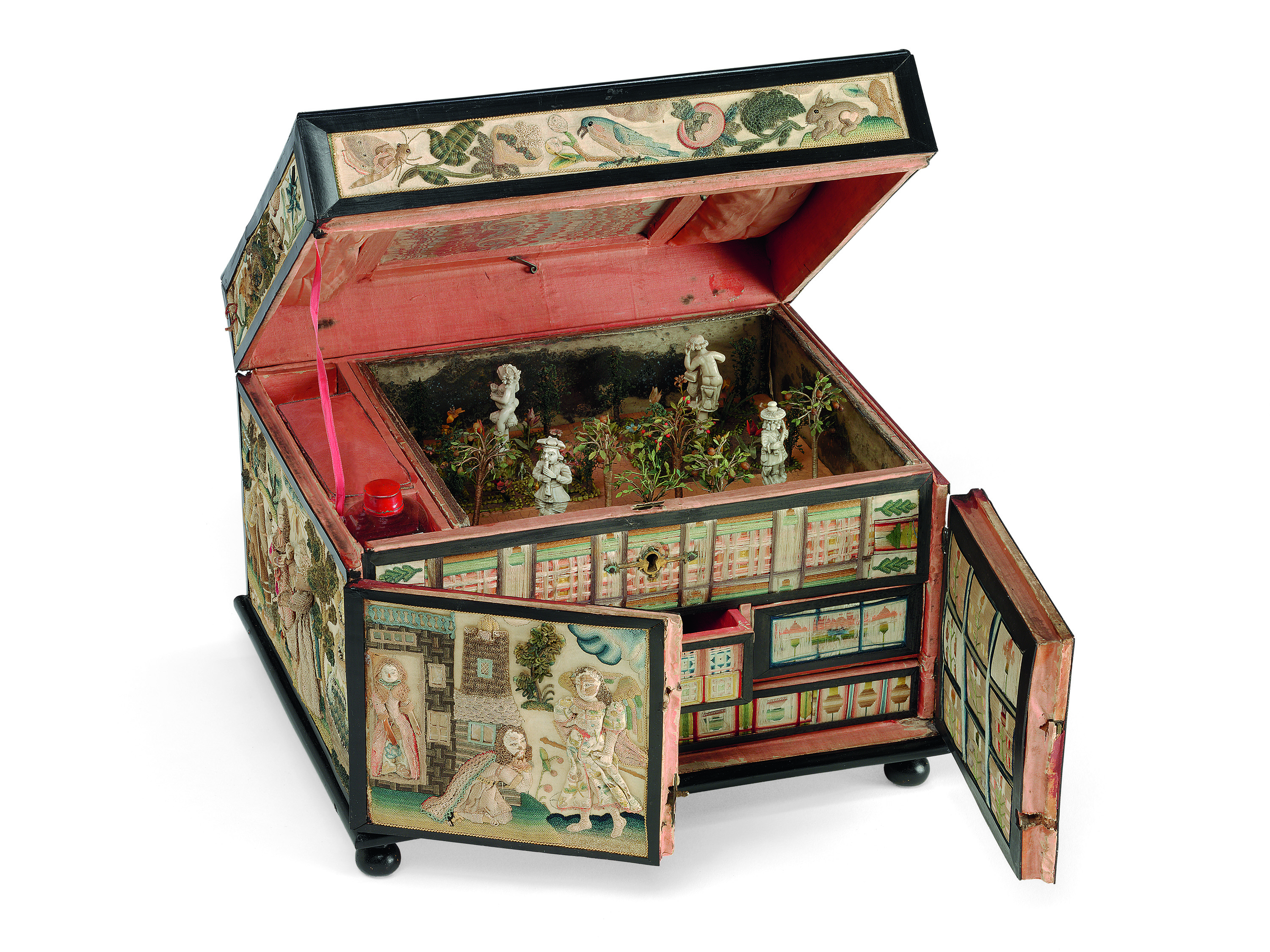 It is not only the suggestive allure of the V&A that has brought out this less-seen side of Walker: art is also to blame. A room of nudes in a retrospective section of the show includes Beth Ditto, undressed, in the guise of Andy Warhol's naughty cherub drawings. There is also a balloon-breasted, bubble-butted homage to Walker's artist hero John Currin, shot for LOVE magazine in 2016.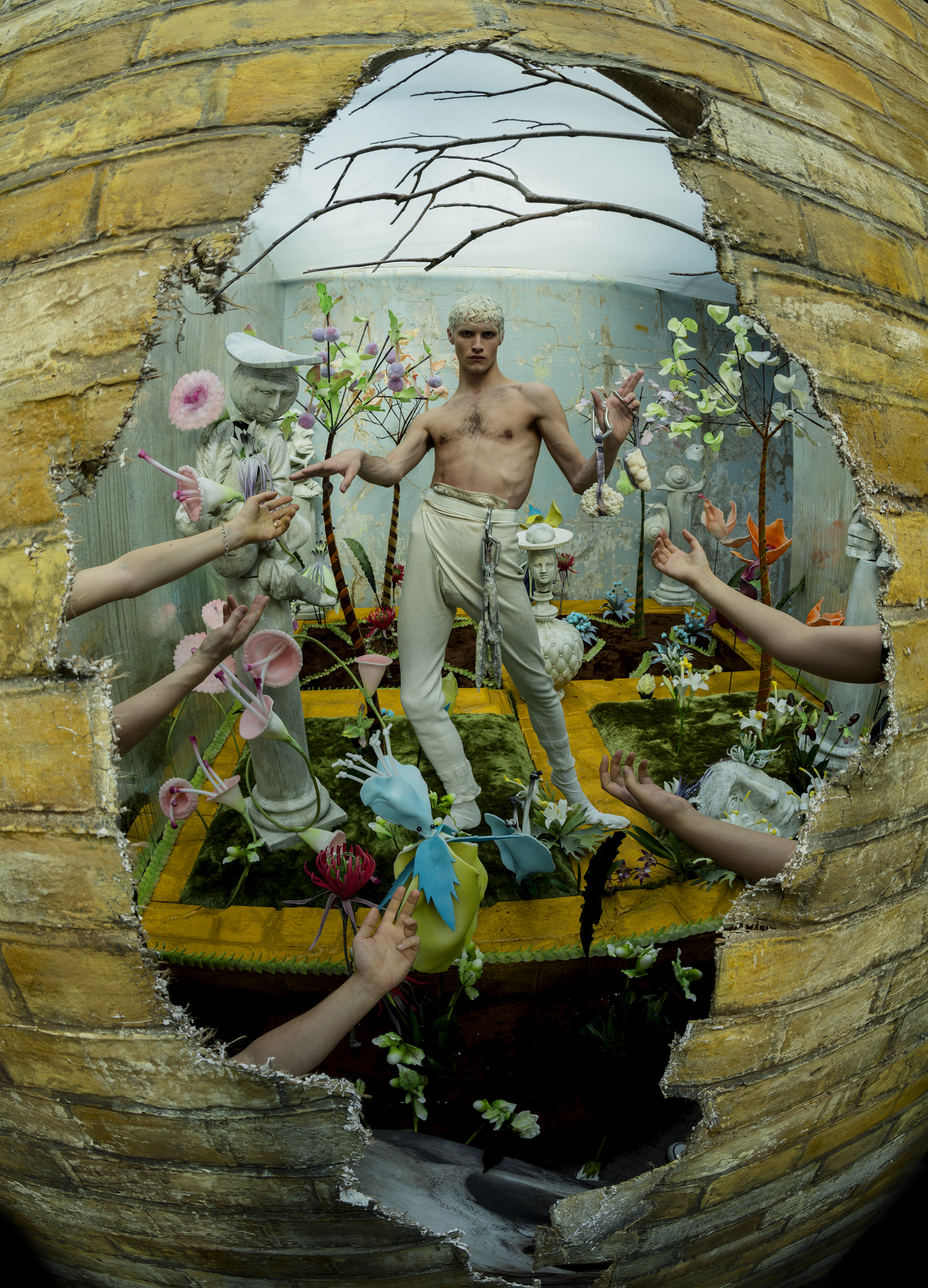 What tipped the balance, it seems, was an invitation by legendary photographer David Bailey to shoot a series of male nudes – a first for Walker – for Humanity in 2017. Walker went in at the dark end, paying explicit tribute to Francis Bacon's bruised, fleshy, menacing and physically charged paintings of his lover George Dyer. Dyer was a muscular, troubled figure (he was found dead of a drink and drugs overdose in 1971, just ahead of the opening of Bacon's retrospective at the Grand Palais in Paris.) Walker's photographs capture the claustrophobia and anxiety of Bacon's paintings, but are also explicitly, sweatily, hallucinogenically sexy.

Talking with his long-term art director Shona Heath, and the exhibition's curator Susanna Brown, Heath discusses the V&A in romantic terms, describing it as a palace and a 'place of wonder.' Given free rein, surrounded by familiar collaborators, and wonderful art, the photographer best known for his evocations of endless childhood fantasy has also elected it as the stage on which to enter the adult realm.