Olya Petrova Jackson. Courtesy of Postmasters. Photo by Jenia Filatova
Are Art Sales And Luxury Retail the Same Thing?
A new show by Olya Petrova Jackson transforms a New York gallery into a fashion boutique. But was there ever any difference between the two?
Olya Petrova Jackson. Courtesy of Postmasters. Photo by Jenia Filatova
Walking into Olya Petrova Jackson's Get a room is not dissimilar to walking into any of Manhattan's luxury fashion emporiums. There are the clean lines, the minimalist-teetering-on-ascetic displays, the architecturally significant chairs. An LED screen shows wafting models, suggesting you too can undulate evocatively, should you just purchase a pair of pants. Clothes, in blacks, ivories, and neutrals are given plenty of air. Hung in a ring suspended from the ceiling, they swing from vinyl tubing in a kind of Eva Hesse cylindrical sculpture of muted separates. It's possible to step inside the cylinder and have your view completely co-opted by garments, which are constructed from expensive-feeling things like supple leathers, wool shearling, and intricately-assembled layers of gauzy nylon mesh. The difference is this shop is set up inside a gallery, Postmasters, and it's one of their current shows.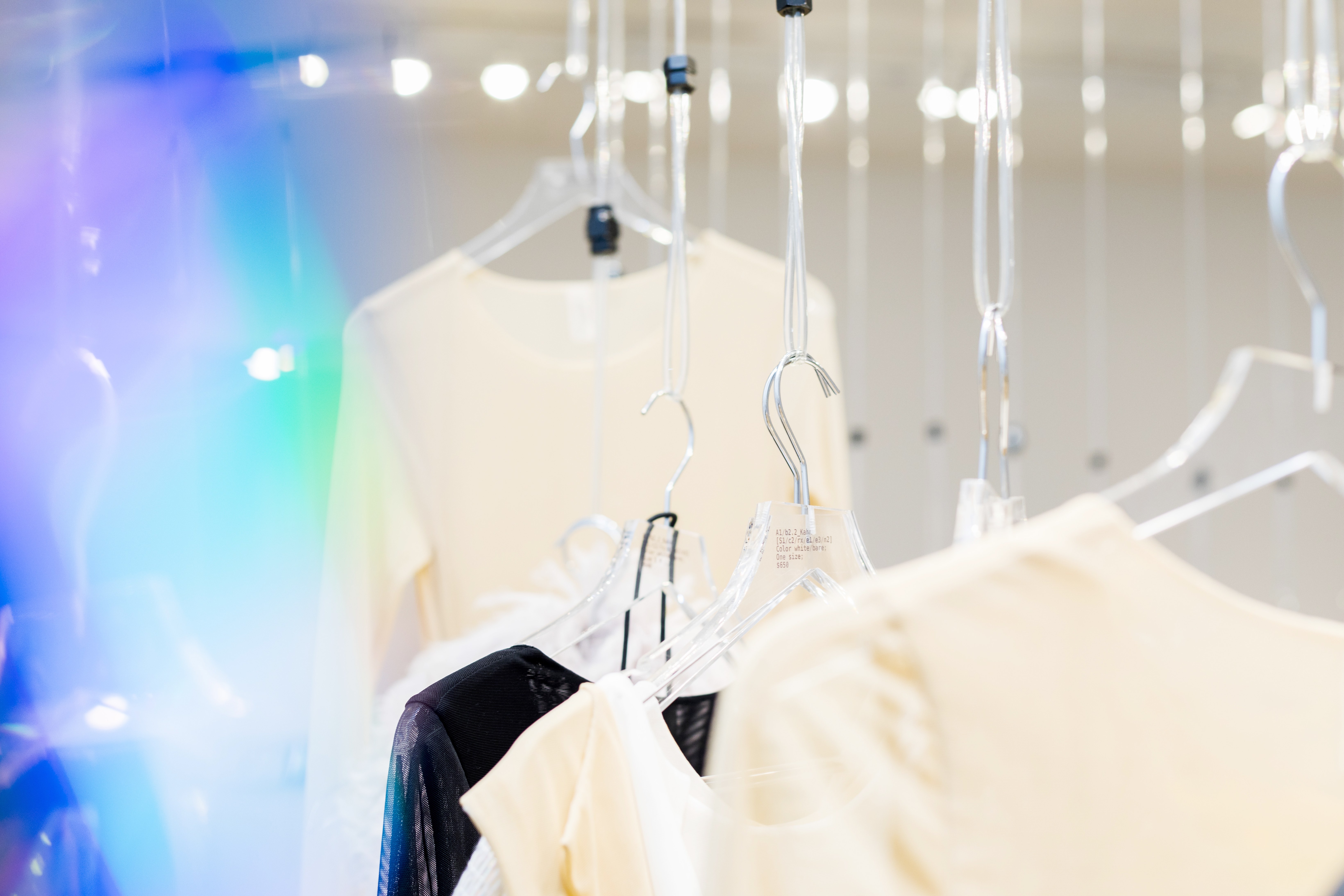 Get a room is essentially the new collection of Ab[Screenwear], the line of forward-looking womenswear that Petrova Jackson debuted at this gallery during New York Fashion Week in February. Having skipped September's shows, Magdalena Sawon, a Postmasters owner and director, invited her to stage her new garments there this month. The decision tempts the pained debate of whether fashion is art and vice versa, but Sawon told me she was more interested in the institutional critique of calling a gallery what it is: a retail environment.
Fashion shares art's displeasure at being associated too cozily with commerce, and each has developed elaborate contortions to avoid the connotation: attendees of recent Fashion Weeks have chafed at too-obvious corporate sponsorships; art fairs strain to appear like something more than flea markets with wine service. Get a room, by contrast, is transparent about its intentions. Prices are clearly marked on hangers. Viewers can browse [Ab]Screenwear's e-shop, projected onto a wall. A display of sketches, swatches, and videos of fittings playing on iPhones aims to yank the design process, which can too often be discussed like some ineffable rune, back into the language of manufacturing.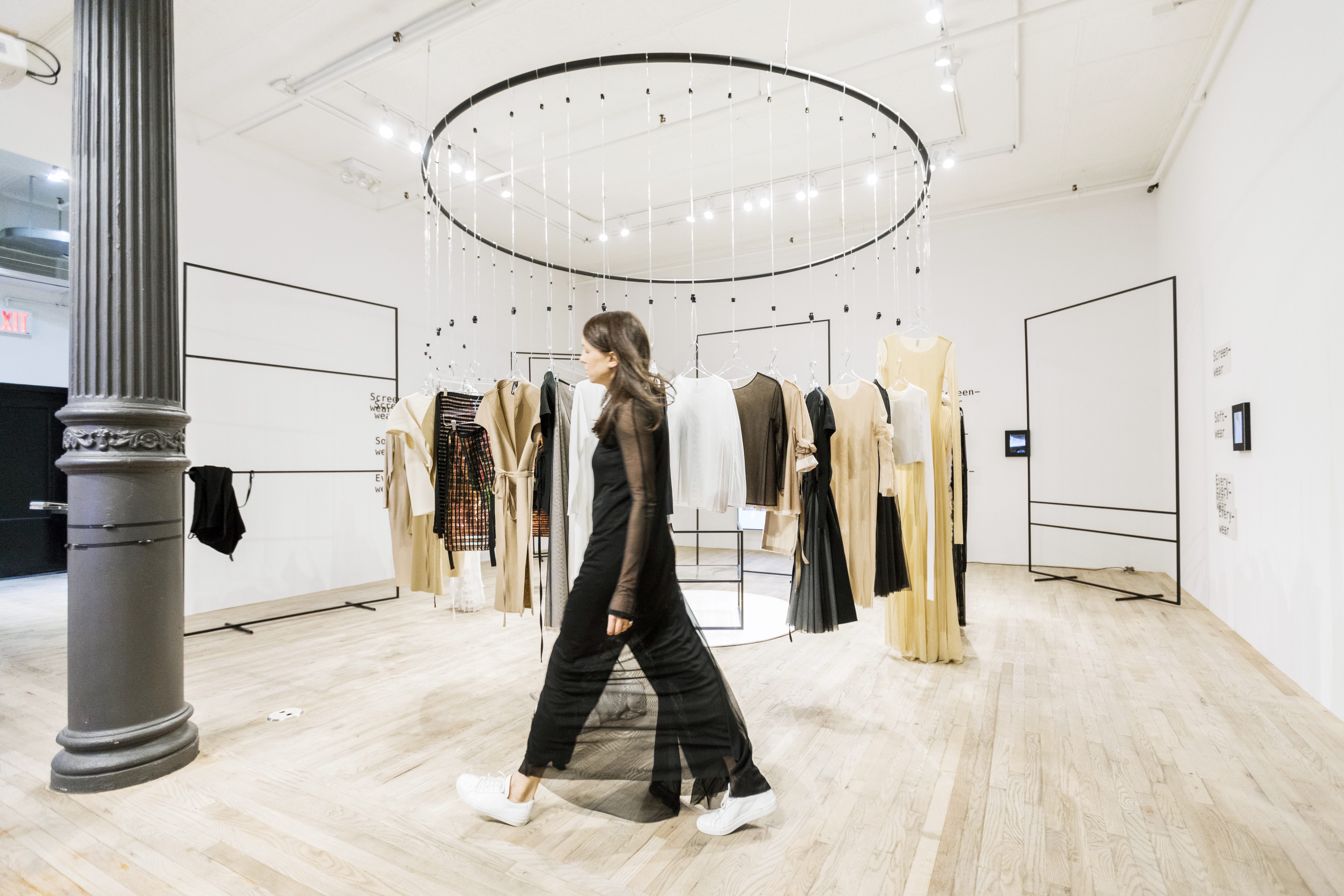 It's also a Juddian knock at the curatorial level. Where fashion exhibitions at the Met and MoMA's koanic Items: Is Fashion Modern? tend to flatten clothes into the shape of anthropological artifacts stripped of their charm, Get a room means to show clothes that feel alive now. You're expected to paw at the fluid cotton dresses and examine the skilled construction of the crêpe de chine sweatshirts, which in their clarity recall early Helmut Lang or Issey Miyake. They're exquisite, but their beauty is partly beside the point. "There are so many beautiful garments," Petrova Jackson told me. "These being inside a gallery doesn't make them exceptional."
Maybe not, but the timing helps. The show is occurring in our post-retail moment, in which physical shops are treated like public showrooms for the Amazon purchase to be conducted later in solitude. Petrova Jackson is interested in what we volunteer for the sake of convenience, and what we lose in the transaction. In Get a room, the aesthetic values of the clothes are upfront, but the performative element repositions the retail experience as something larger. Anyone can wander in off the street, peruse the suspended racks, try on a nylon bomber with peek-a-boo dichroic back panel—in effect, touch the art. But Petrova Jackson would prefer a prospective client book an appointment with her, where the gallery is screened off for a private fitting. It's an anachronistically intimate experience with a punchline: if, at the end, you decide to buy, you must do so online. All that personal attention and you're thrown back into cold embrace of e-commerce.
In this sense, Get a room has a conceptual forebear in Prada Marfa, Elmgreen and Dragset's surrealist Prada store that never opens, stocked with actual Prada merchandise you can't buy, forced into the realm of sculpture. Here, you're invited to touch, to try on, but you can't actually leave the gallery with anything tangible. The Marfa pedigree operates on concurrent planes. Before Ab[Screenwear] was fully fleshed out, Petrova Jackson traveled there to photograph some early prototypes. "I brought them there as a way of marrying them," she told me. "I felt like I needed to do that, the way you bring your children to their grandparents." She meant this in the emotional sense, but also literally—her grandmother was called Masha, but in the complex ontology of Russian names, she was privately known as Marfa.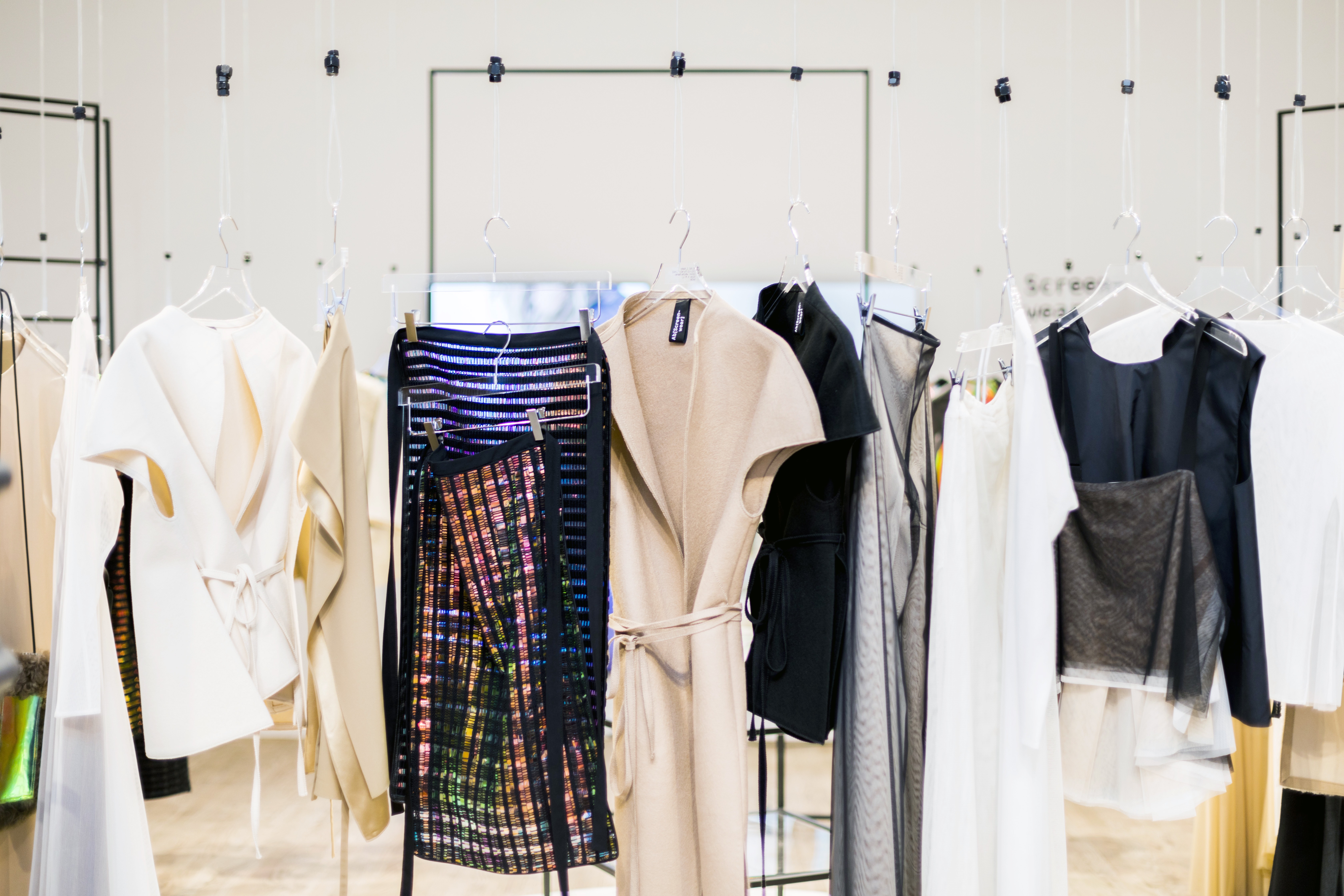 Ab[Screenwear] leans futurist. The name is meant as a natural progression of sportswear (the "Ab" stands for "abstract," but also helps with appearing in lists). Many pieces incorporate dichroic polyurethane, normally used in industrial glass, which Petrova Jackson treats so it behaves like a textile and sews into iridescent panels that throw light and mimic the reflective qualities of smartphone screens, which she has described evocatively as "technology's skin." They look like something James Turrell would make if he decided to make bomber jackets. On shearling mittens they form sleeves through which you can punch away at your smartphone, its screen made public, an organic-inorganic splicing of phone and flesh. All of these are speculative, surrogates for the promise of clothing with integrated, malleable screens. The suggestion is a slightly terrifying but also probably inevitable vision—screens made interchangeable with the body.
Fashion is sold to us as experiments in liberation, conduits of expression by which our truest selves are made possible. Ab[Screenwear]'s argument is that this experiment has failed, that fashion serves to cloister, conceal, and isolate. "There are only so many ways we can approach and touch each other," Petrova Jackson lamented. "I think everyone is just striving for connection, except there are all these rules and rituals that keep us apart. I think the touch quality of our screens allows for new ways. And maybe people will attack me when I say that there will be new touches—like, 'no new touches!'—but it should be different."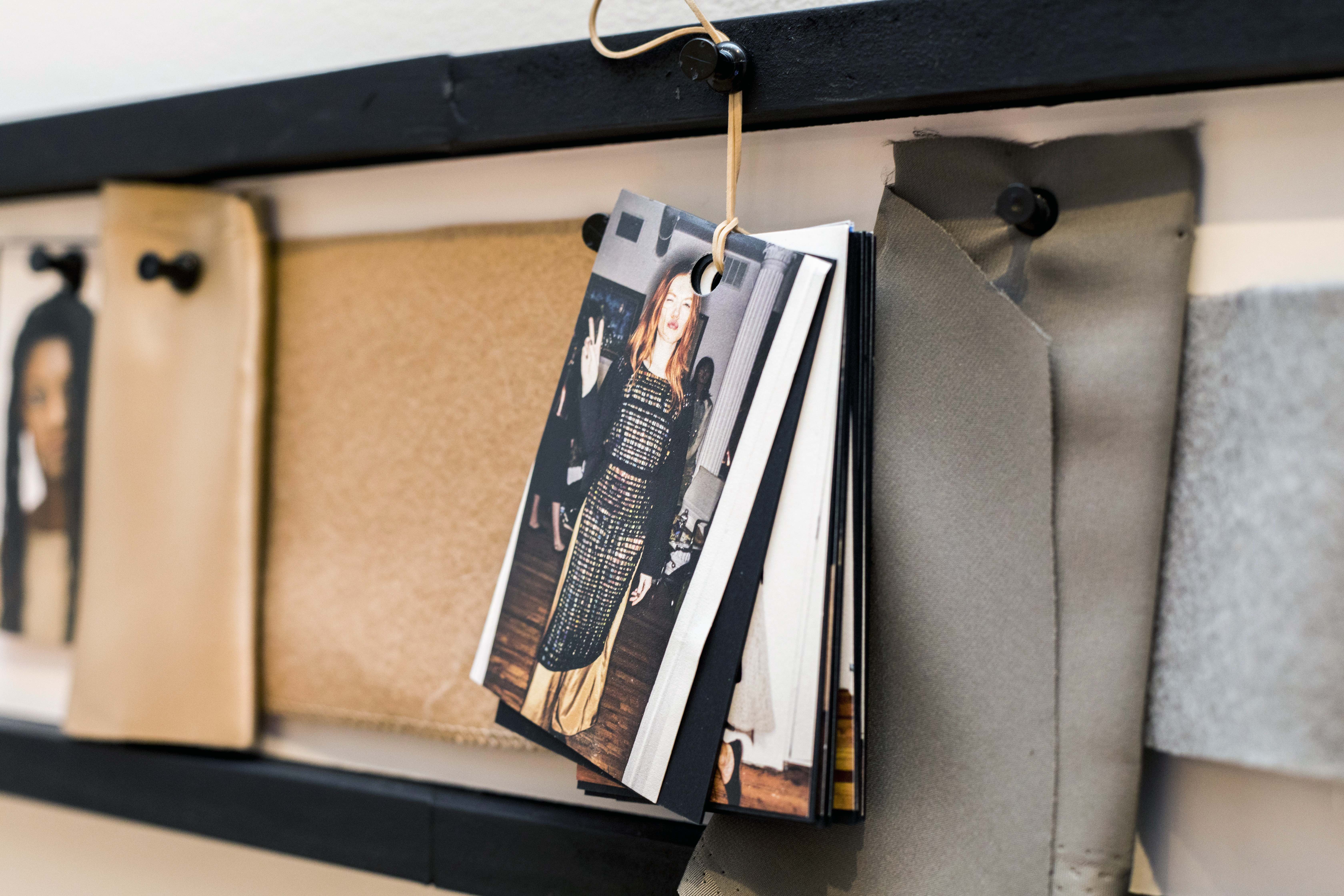 Ab[Screenwear] isn't as much a screed against the existential impact of technology on contemporary life as it is a way of thinking about what clothing can, and should do, in a cultural moment when the relationships we have with our phones are our most intimate. Petrova Jackson's driving idea is that intimacy is exposure. "To me, clothing is the most logical, largest level interface that still belongs to you in the physical sense that it's an extension of your body," she said. "Every other screen can be owned by corporations or other forces, but the one that you own, you will be creating the content, making the choices of what to show, what to expose, what to hide."
To a degree, those choices are already being made through social media, but Petrova Jackson's ethos skews optimistically humanist. As a worldview, it tips into the idealistic. Yet even as placeholders, there's surprisingly little friction between classic materials and those that are technologically loaded. Shifting layers that reveal or obscure each other give off an ethereal quality, a reminder that if fashion is a device like our phones, there will always be gossamer ghosts in the machine.
Ab[Screenwear], Get a room is on view at Postmasters, New York, though December 2.