View of Women's History Museum, OTMA's Body at Gavin Brown's Enterprise. Courtesy of Gavin Brown's Enterprise
Women's History Museum Makes Chaotic Clothes that Are Revolution-Ready
Amanda McGowan and Mattie Rivkah Barringer flex their cut-'n'-stitich aesthetic in a gallery setting.
View of Women's History Museum, OTMA's Body at Gavin Brown's Enterprise. Courtesy of Gavin Brown's Enterprise
Far from being the staid institution its name might suggest, Women's History Museum (WHM) is a contemporary fashion design studio. Established by Amanda McGowan and Mattie Rivkah Barringer in 2014, it aims for a deliberate ambiguity that, as friend and collaborator Ylang Ylang Poon has it, puts the "um" back in "museum." McGowan and Rivkah Barringer's project has more to do with using fragments of fabric to work outside the genre box than it does with reifying gender categories or enshrining history. OTMA's Body, WHM's current exhibition at Gavin Brown's Enterprise, primarily features gorgeously deconstructed clothing from the studio's collections of the past four seasons. Visitors are encouraged to try on and purchase both couture garments and ready-to-wear items made for and sold exclusively at the gallery—a setting in which they seem entirely at home.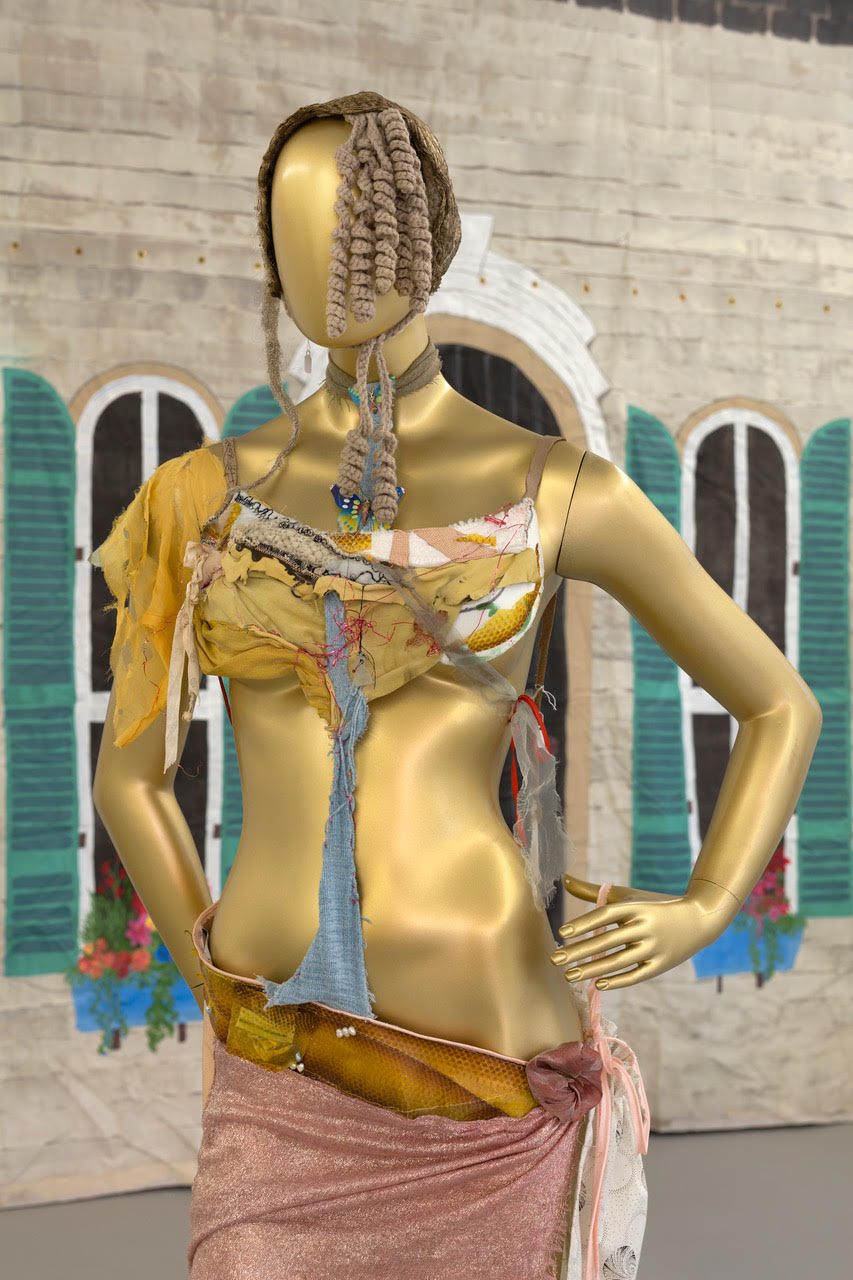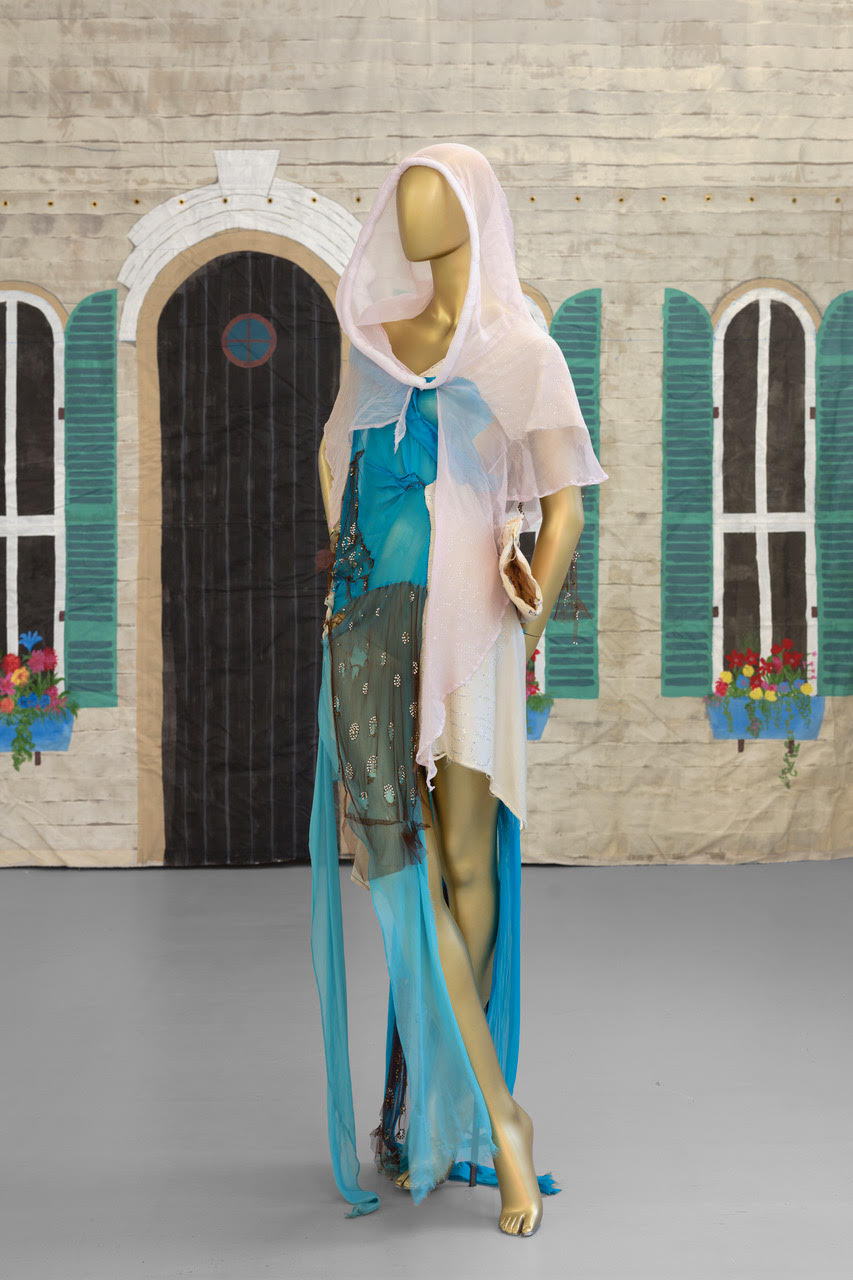 The most elaborate clothing is displayed on faceless gold mannequins, at once futuristic and regal in their innovative rags. The evocative materials in which WHM envelop their subjects are alternately commonplace, like medical gauze, and vintage, like antique lace. One patchwork gown involves materials ranging from nail polish and freshwater pearls to suede, chenille, 1880s printed cotton, and carefully sourced lamé and bullion. Cut into pieces, intricately draped and stitched, this asymmetrical clothing includes a fantastically labor-intensive turquoise gown with a shredded, multi-tier hemline, some of which trails on the floor.
A mauve skirt drapes at a slant across a mannequin's hips, rather like a loincloth that evokes St. Sebastian collapsing in contrapposto, oh-so-gracefully pierced by arrows. This spectacular garment also has an orange-gold mesh waistband peeking out with a small zippered pouch sized for a cell phone—a tiny nod to practicality and contemporaneity. WHM pairs this with a single-sleeved unisex bra made of exquisite unfinished fabric scraps with bits of embroidery, including a crimson swarm of delicate thread around the sternum. A splendid necklace with two butterflies highlights the wearer's trachea and breastbone.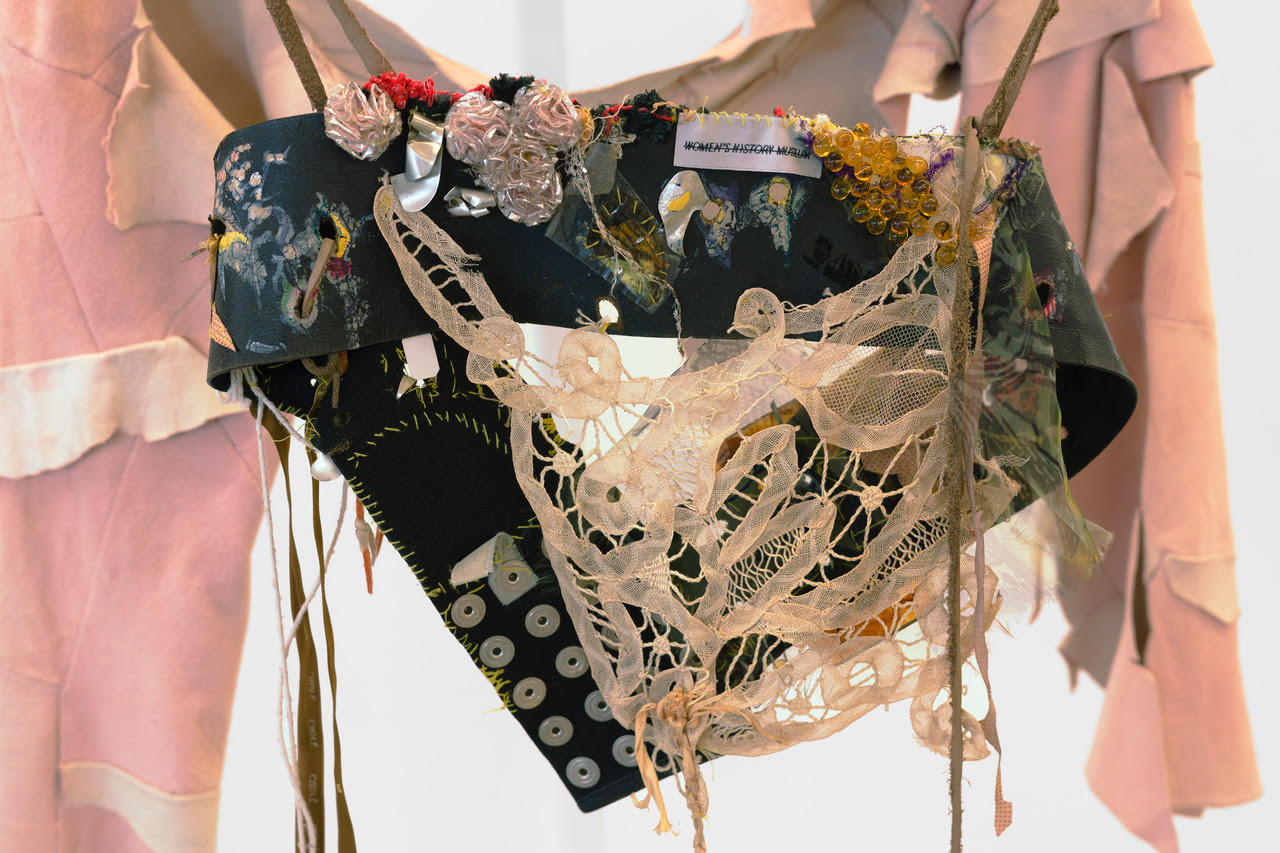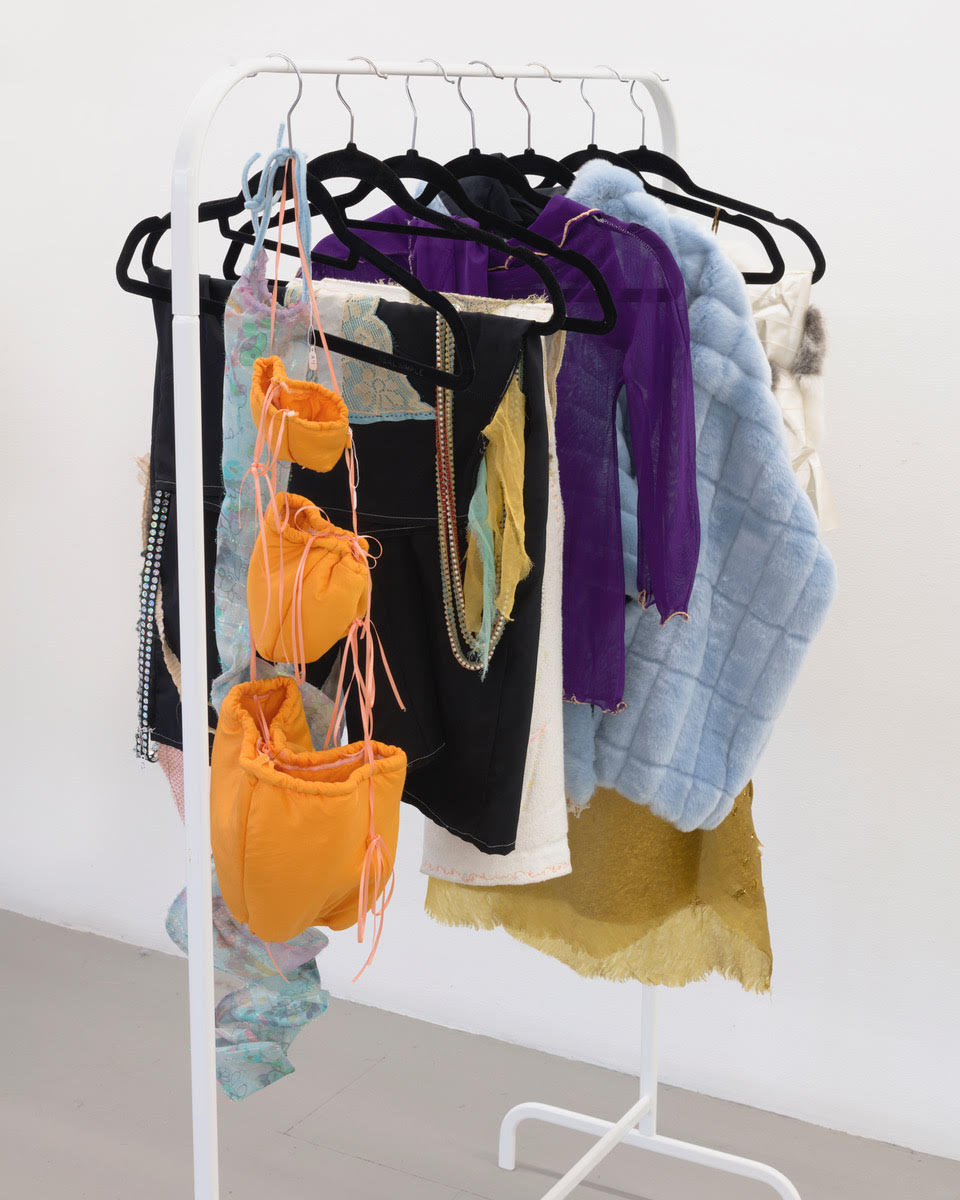 Some garments are suspended from the ceiling, including tunics enveloped in a loose, irregular mesh that evokes a handmade punk or peasant-chic chain mail. The exhibition's hand-painted backdrop, which also serves as the set for fashion shows, depicts a nondescript gray brick building with an arched door, in front of which WHM has sometimes rolled out a strip of turf as a catwalk.
The exhibition's title, OTMA's Body, references an acronym used as a hybrid nickname for the four daughters of Emperor Nicholas II of Russia and his consort Alexandra Feodorovna, combining the first letter of each girl's name in the order of their birth: Grand Duchesses Olga, Tatiana, Maria, and Anastasia Nikolaevna, all of whom were executed along with their parents in July 1918, in the wake of the 1917 Russian Revolution. These 20th-century Imperial daughters merged their identities as an expression of solidarity; the outrageously wealthy siblings had little freedom beyond their interaction with one another, and despite or because of their aristocratic pedigree, were raised to endure relative hardships like camp beds with thin mattresses, simple food, and cold temperatures. Notoriously, they passed their time posing for photographs, keeping elaborate journals, and decorating their shared bedrooms with remnants found around their castle, and with icons and furniture given to them by relatives.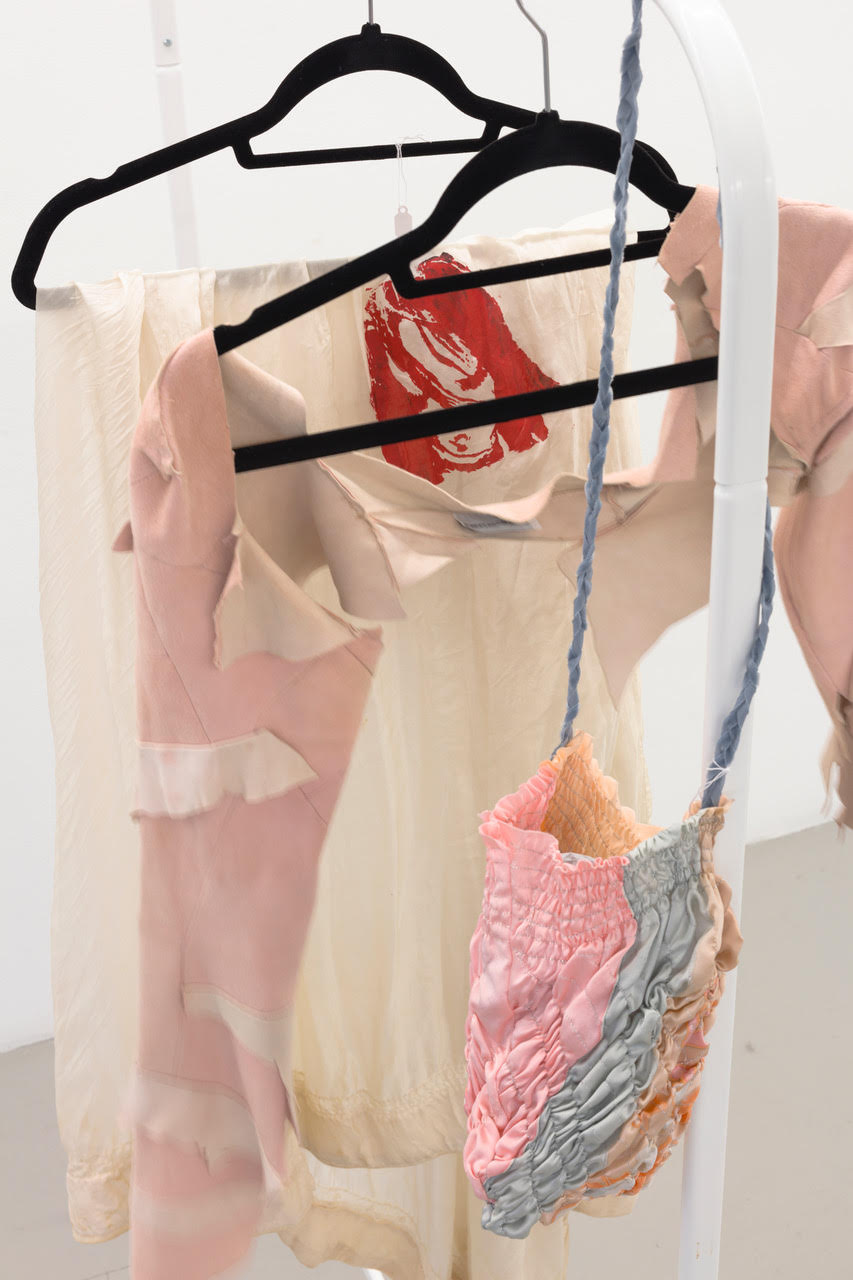 WHM, like the OTMA sisters, mine various familial sources—though for them, "family" is selected rather than hereditary. For the opening of OTMA's Body, frequent WHM collaborator Drumloop contributed electronic music. Gogo Graham, a designer who specializes in custom clothes exclusively for trans women, promises an ASMR-inducing self-help makeup clinic—an orgasmic experience via cosmetics—at some point during the show's run. And also planned is a night of images and words featuring artist Gabriela Rivera-Morales. All these participants will help flesh out the WHM worldview, which McGowen and Rivkah Barringer shape so beautifully by using textiles to make material the things that structure and surround female identity, creativity, and power.

Women's History Museum, Otma's Body is on view at Gavin Brown's Enterprise, New York, through February 25.

Please note: This piece has been amended to acknowledge Ylang Ylang Poon as the source of the quotation in the opening paragraph, and to identify Gabriela Rivera-Morales as an artist rather than, as previously stated, a "high-femme activist."