Joni Mitchell, "Self-Portrait with Bandaged Ear," 1983.
In Joni Mitchell's Self-Portraits, She Finally Makes Her Own Image
The singer's self-portraits are a revelation in how she sees herself.
Joni Mitchell, "Self-Portrait with Bandaged Ear," 1983.
Joni Mitchell arrived late to the hippie party, with wide eyes and a flower in her hand. She was radiant—a California girl from Canada with flaxen hair and a lunar complexion, picked up by a man with a boat in Coconut Grove, Florida, and taken to New York after he saw her perform one song because he just knew. He knew she would be world-famous because she had world-class talent— which she knew, too, but she didn't know how to get there. She had an image of the future in mind, and she knew how to play the part, which was, in part, to be an image.
Her self-portrait for the cover of her 1969 landmark album, Clouds, looks like someone showed her an image of the platonic ideal of bohemian feminine and asked her for a copy. But her expression, inscrutable, is more affixed to her than it is emerging from her face—closer to a mask. The Joni who will, in these years, smile bashfully throughout her concerts and tell the CBC that "the general message of my songs is just happiness…Even the sad songs aren't depressing, they're just sort of wistful." She was less naïve than her persona suggested, smarter than to give herself away.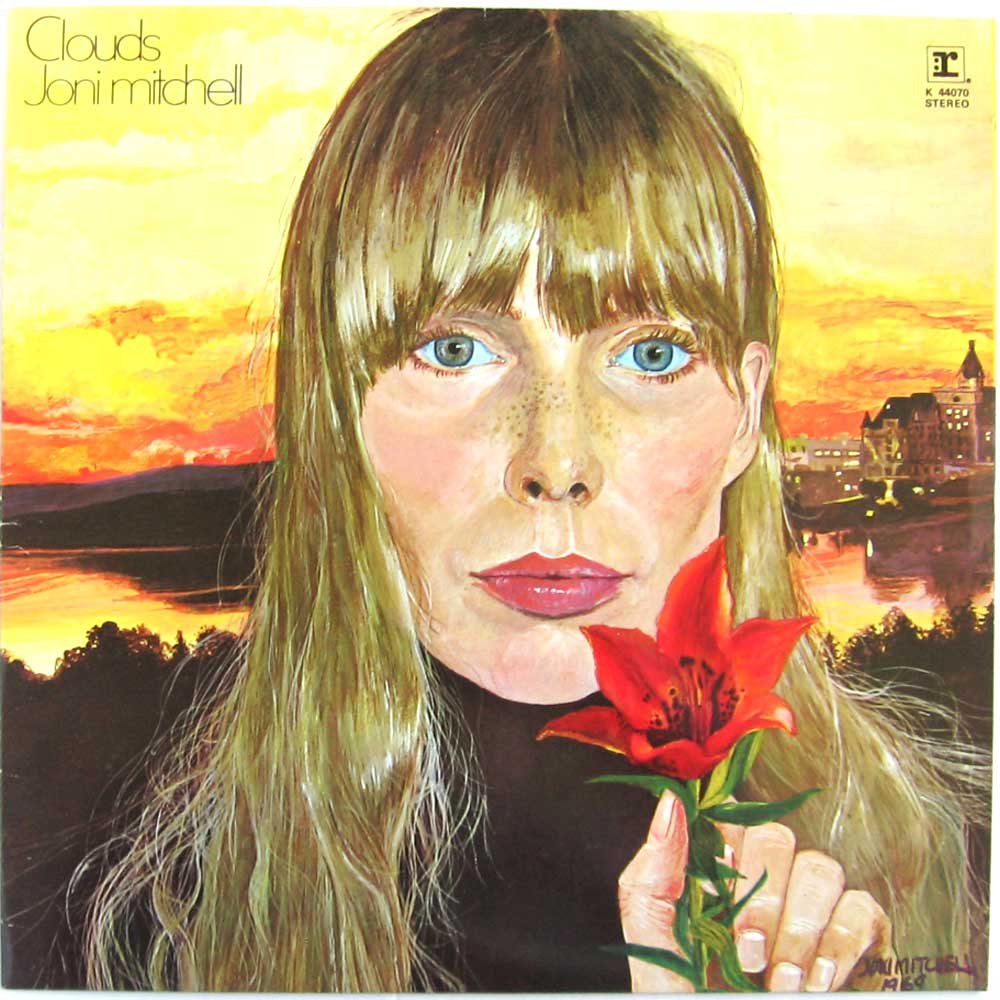 "I had no image of myself," Joni will say of this early period, which, considering the hundreds of doe-eyed photographs that Googling "Joni Mitchell young" brings up, I can only take to mean "I couldn't see myself in any of these images." She had wanted to be a producer and a product—i.e. she had wanted to be a celebrity, but by the time holding a dulcimer and wearing long dresses the color of crushed lilacs became an obligation, not a game, her celebrity was no longer solely her decision. It became harder to square and separate her persona from her private life. If the photographs were simultaneously what she had to give and how she wanted be perceived, her self-portraits—private, ignored—could be how she saw herself.
First and foremost, how she saw herself was as a painter. "I'm a painter. Always have been," she coolly informs Jian Ghomeshi in a 2013 interview, ashing a cigarette in his general direction. "A painter derailed by circumstance." What if we were to, for once, take her at her word? It either infuriated or amused everyone that she called herself a painter, not least of all because (1) it was hers alone, and (2) she didn't care who was looking: a pop star needs a public, and the public expects the star's surrender. Of her 19 studio album covers, 12 are paintings by Mitchell, and most of these are self-portraits. She didn't—or she didn't have the option to? No one, including her, has said—show in a major gallery, unlike many of her male counterparts from the '60s, who parlayed their music success to art world mediocrity (here's looking at you, Bob Dylan). But then there's the flip side: with no one recognizing her as a painter, there was no one to avenge but herself.
Born a Scorpio, and as Roberta Joan Anderson, on the grand, desolate Saskatchewan prairies, Joni wanted what all children want: an escape route. While it seems obvious now that the way out would be through her singular five-octave mezzo-soprano, singing was at first only a side bar, a hobby "for smoking money," and so she did what most aspiring musicians people do, which is to go to art school and hate it.
Would things have been different if, during Joni's brief time as an art student at the Alberta College of Art and Design, she had been shown works by Agnes Martin and not, as she told New York, Barnett Newman? Martin, born in Macklin, Saskatchewan, five hours from Mitchell, had, by 1964, developed the rectilinear grids that would become her signature. While Martin would eventually come to resist any suggestion that her work represented landscape, weather, light, any natural phenomena, replacing these allusions with nominations of "universal" experience (happiness, innocence), it's impossible to not see, if you know, the crepuscular blankness of the prairies in her symmetrical compositions, and tempting to think that Mitchell, who had found minimalism imperiously prescriptive and impersonal, would have recognized something of herself in Martin's tremulous lineaments. Born under the same sky. Instead, she left after a year to play three nights a week in a bar called Depression.
From there, it's a familiar story: the child she would give up, the move to Toronto, Detroit, New York, the steady ascent to stardom until 1974's Court and Spark would inviolably confirm it. Less known—more easily ignored—is how diligently she kept working on the paintings and drawings discarded by the press, by the men in her life, even by her fans, as dilettantish, a foil for her "real" efforts.
She started painted extensively in the '60s and has never stopped, save for a few brief, ill-advised forays into photography in the '80s. The '60s paintings are almost exclusively portraits of those around her, often drawn from reproductions of sketchpad drawings made on the road or in recording studios. Those around her are mostly men: some of them lovers (Graham Nash, David Crosby), some friends and professional barometers (Neil Young, Bob Dylan), but for their cheery, empty impersonality, they might as well be strangers. The loose muscularity and high-keyed palette of these early works are reminiscent of Lawren Harris of Group of Seven, though less surreal, austere, closer to early Pop work of non-American artists like Evelynne Axell. One friend rightly described these paintings as provisional. Who cares about the other people said another.
Photographs of Mitchell steadily deliver the boho icon, or the seductive fantasy of the boho icon (even Hedi Slimane's 2015 Saint Laurent ads have Joni dressed in a folk tunic and fedora, with a guitar in hand, as though time has stood still). But her self-portraits have endless scripts, moving between genres and styles, copying from where they can. If she can, as she does, construct her own self-image and legacy, then it will be less stable than what's put forward, more instinctual, intentional, veering.
My favorite of the self-portraits is the cover for the "unlistenable" 1985 album Dog Eat Dog, in which Joni, carmine-lipped, arms raised, stands in healthy communion with four rabid dogs beside her. Is she victorious? No, she's mad. She looks like Hanna Schygulla as Maria Braun lighting her last cigarette. Her face is lead-white. I'm suddenly reminded that R.W. Fassbinder liked making his stars ugly with makeup. By 1985, no one cared about Joni Mitchell, and Dog Eat Dog looks like a successful revenge plot, even if it's one that ends in career suicide.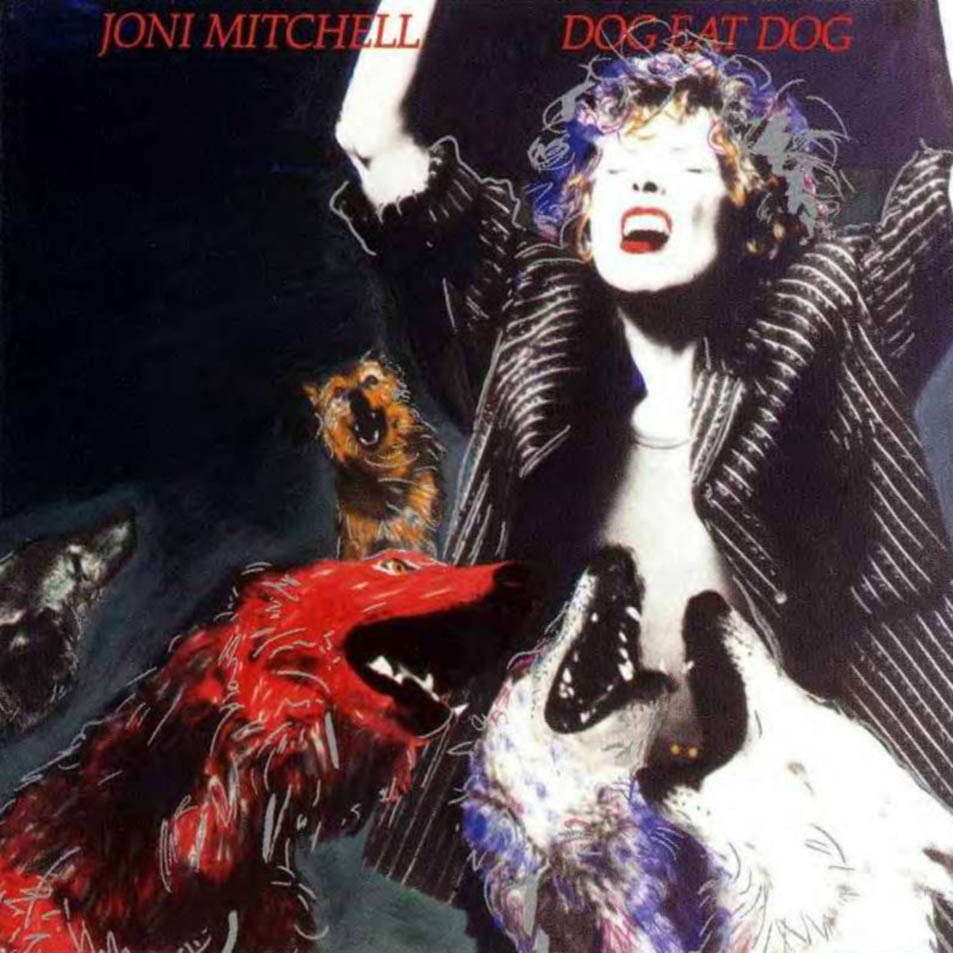 It's far from the psychedelic fantasyland of 1968's Song to A Seagull, which looks like a stoned high schooler's binder; from the messy brightness of the 1970 Ladies of the Canyon, where a few loose lines form a body filled out by a cartoon-like interior of her Lauren Canyon home; from the whimsical landscape of The Mountain Loves The Sea that became the cover of Court and Spark (1974); from the careful take on a Rousseau-ian circus for Hissing of Summer Lawns (1975); and from the self-portrait portrait for 1982's Wild Things Run Fast, where a louche, silver-hued '80s Joni leans against a TV set while horses run free on screen (the back cover, with stiletto pumps thrown askew across a squalid floor, is the memorable portion). By the time of the 1985 cover, there was lots of cocaine, she was losing her soprano, and most of her fans had turned against her. I love the Joni of Dog Eat Dog because she's simply had enough. And finally the work—the paintings—can be good.
She had no image of herself, so she made them. "The city burning is Los Angeles's deepest image of itself," Joan Didion has written. Joni Mitchell's deepest image of herself is of a person alone. She loved Marilyn Monroe's line from The Misfits: "If I have to feel lonely, I'd rather be alone." She had said it in her 1971 song "A Case of You," off Blue: "Oh I am a lonely painter/I live in a box of paints," but it was easier to remember it as a song about heartbreak. Whereas the younger paintings were amateur-charming, the later works, from 1990 on, which most directly copy her longest-standing influences, Van Gogh and Picasso, have the fully developed gravitas that experience and age imparts. (See: the accomplished noir glamor of the 2000 Both Sides Now.)
I first bought Blue when I was 16 and thought, like everyone, that it was about me. I was a girl from the Canadian prairies, I knew a Richard like the one in "The Last Time I Saw Richard," and I was selfish and sad, too. But everyone has their own Joni, which is what makes the work so profound. What makes her singular was her refusal to accept the refracted images we wanted—turning her into a baby lamp, a puppet, an instrument—and delivering something different altogether. I finally know what I think of Clouds: it's the perfect self-portrait; it shows us nothing.